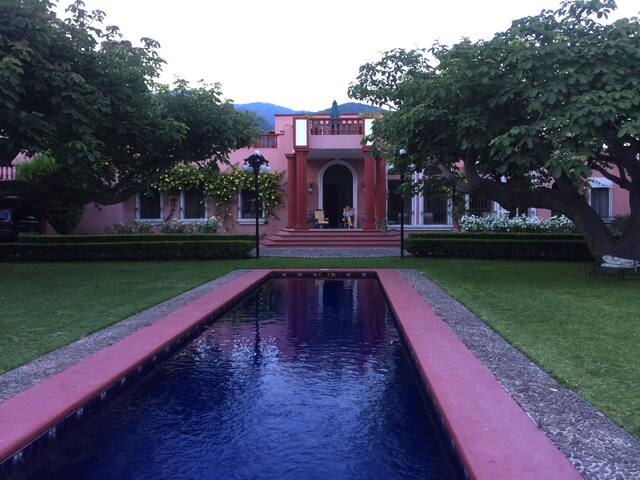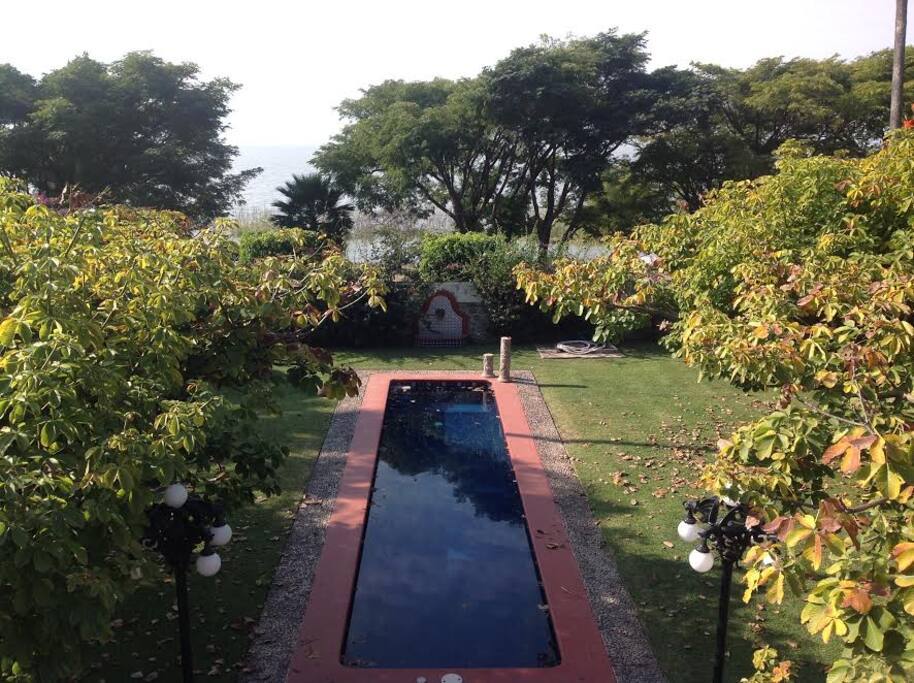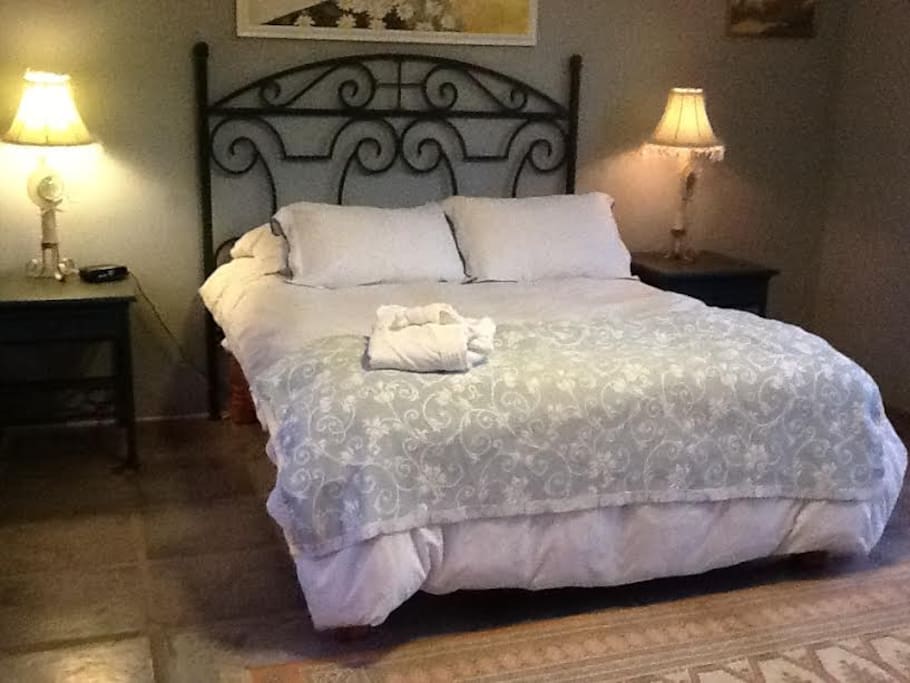 Italian Villa on Lake Chapala in Ajijic center
Private entrance and private bath off your room on the second floor. We are located right on the beach in Ajijic in the center of town. Walking distance to everything. The room has a beautiful private terrace and view of the lake and the mountains. There is a spectacular lap pool. a refrigerator, microwave, coffee machine, flat screen TV washer and dryer.
房源
Access to netflix, large room with large bathroom. Views on both sides. There is a queen bed with pillow top and down duvet. All linen is of the highest quality and pillows and blankets.
房客使用权限
to entire grounds and pool.
与房客的互动
We are usually here for emergencies and we have full time staff that are here 5 days a week.
---
Roseann's place is quite spectacular! The private room is up a flight of stairs and has a wonderful terrace with views of the lake and on the other side is a view of the mountains. The room itself was very nicely appointed. We were able to walk to many restaurants and shops in the village. Both Roseann and Tony were great hosts and provided us with great insights about the area. 5 star all the way - wish we could have stayed longer. Beautiful grounds and pool; two wonderful dogs.
---
Visited in July. Not so many tourist. Hurray. Monsoon Weather. Average temps days 70 to 76F. Nights Rainy. Very Breezy and 60 F Great Sleeping. We woke up feeling like we were in a tropical treehouse. The view of lush colors of mountain greens and fuchsia tree tops were eye candy from our bed. The morning music was church bells often accompanied by singing birds that were enjoying the morning breeze and moist air. We enjoyed coffee in bed or on our private balcony that gave views of the pool and more lush colors of the roses and tree tops. To go with our coffee we had a surprise basket of fruits and breakfast bake goods. This basket of goodies arrived magically each morning at our private entrance to our very private room and surrounding balcony. Rain by night and breezes by morning. Our search for our visit started a while back. after we researched best climates and retirement places in the world and since that time of life is approaching, the Lake Chapala area checks these boxes and many more for us. I went a week earlier and my husband joined me for the following week. I know I'm spoiled plus I retired this year. Our trip cuminlinated in my husband deciding he wanted to visit Ajijic, Mexico for his 60th birthday. The mornings, afternoons and evenings were filled with long walks along the Ajijic malecon enjoying the people and weather or we would sit at an outdoor restaurant/cafe and enjoy the wonderful food. Other times we would relax at the home of Roseann and Tony, our host and enjoy a glass of wine and warm conversation. I have saved the best for last and that really is Roseann, Tony and family. They go above and beyond in caring for their guest. We shared conversation, food, wine. They shared their son and his lovely girlfriend with us over dinner and drinks, Tony took us to get a rental car the next day because my husband's flight ended with his arrival at their home at 2 am. The list goes on and on. Their warmth and friendliness made our trip. Our Happy List: Relaxing at Roseann's and Tony's Home Walking the Malecon in Ajijic and Chapala Visiting local shops Eating at Peacock Restaurant Ajijic Speaking with the expats who moved to Ajijic and other areas Eating at Gossip's Kitchen Ajijic Drinks, Food and Meeting locals. Jardin Plaza Restaurant Best Food and Service of our trip. Monte Coxala Restaurant and Spa Driving the lake shore and checking out the small Mexican towns. Shopping Super Lake Grocery Store and Walmart Our Sad List. We had to leave.
---