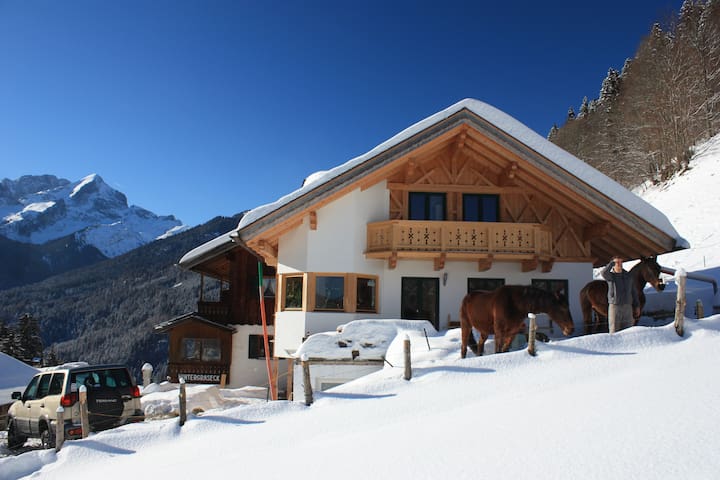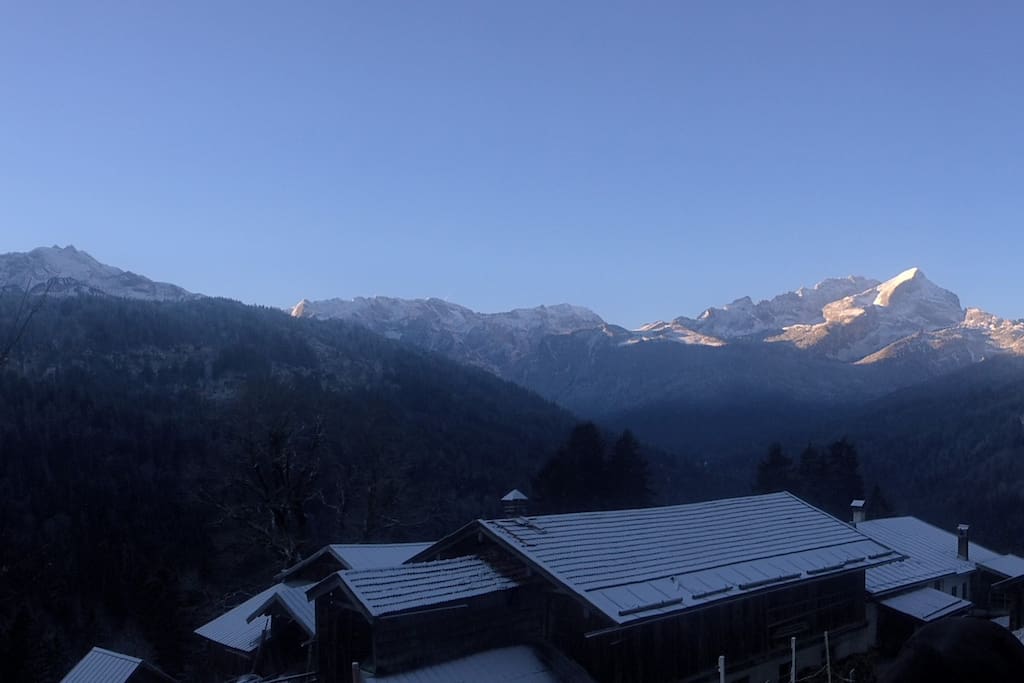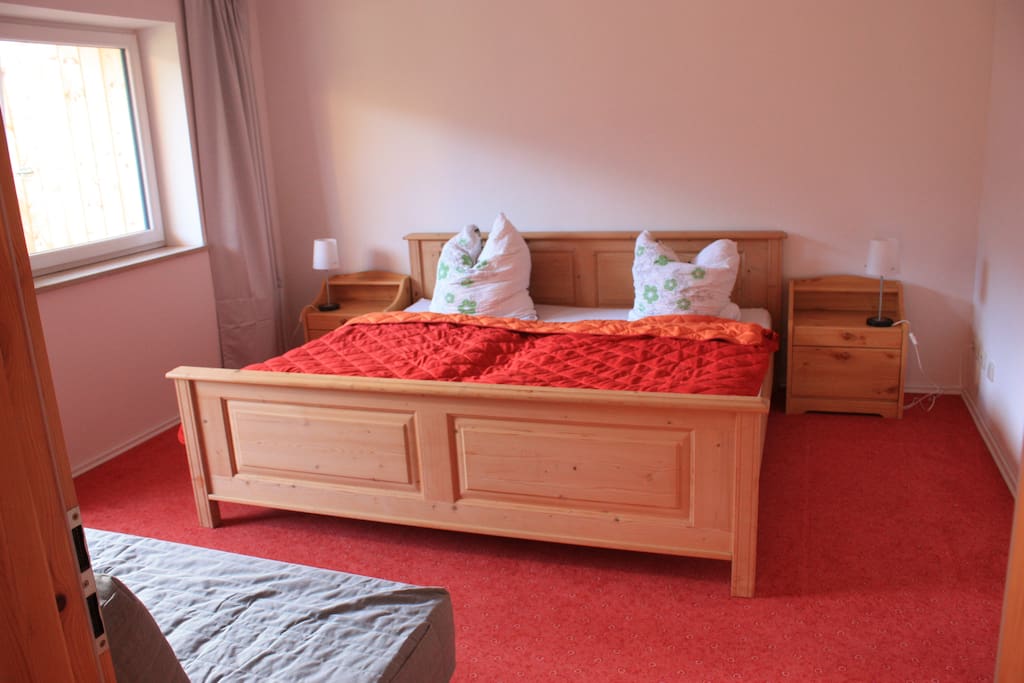 Hintergraseck位于山脉上的Partnachgorge上方,拥有壮丽的自然风光。 Elmau城堡(G7峰会)是东部的邻居,距离酒店4.5公里。 独特的山景。美妙的远足和放松。适合寻求休息的人,山区爱好冒险者,有孩子的家庭。注意不能直接乘车。停车2.8km。行李运输。部分路线可以穿过索道。在公寓附近自由耕作的农场动物
Hintergraseck is situated above the Partnachgorge in the mountains with magnificent nature.
Elmau Castle(G7-summit) is the neighbor to the east, 4.5km away.
Unique view of the mountains. Wonderful for hiking and relaxing. Perfect for couples seeking rest, mountain loving adventurers, families with children. ATTENTION not directly accessible by car. Parking at 2.8km. Luggage is transported. Parts of the route can be crossed by cableway. Free-running farm animals in the vicinity of the apartment
房源
Hintergraseck是一个田园诗般的农庄,由Wamberger山脊南侧的三座房屋和侧面建筑组成。这将北部繁忙的Loisachtal与南部的Wettersteinmountains分开。祖格冰川冰川融化的水域创造了世界着名的Partnachgorge。该公寓于2010年在新建的房子内,于2016年全面装修。 地板采暖 DvD卫星电视 宽敞的步入式淋浴间 炉灶与观察窗口 角凳 窗帘在卧室里 厨房与陶瓷炉灶 一种基本种类的香料油和醋 冰箱冰柜 Padcoffeemachine 陶器和炊具
Hintergraseck is an idyllic farmstead consisting of three houses and side buildings on the south side of the Wamberger ridge. This separates the busy Loisachtal in the north from the Wettersteinmountains in the south. The melting waters of the Zugspitze glacier have created the world famous Partnachgorge. The apartment is in a newly built house in 2010 and was completely renovated in 2016. It has:
Underfloor heating
Satellite TV with DvD
Spacious walk-in shower
Stove with viewing window
Corner bench
Blinds in the bedroom
Kitchen with ceramic hob Oven
A basic assortment of spices oil and vinegar
Fridge with freezer
Padcoffeemachine
Crockery and cooking utensils
房客使用权限
我们房子的40平方米的大公寓位于南侧的一楼。 它有一个单独的入口。 公寓前面的花园区域,包括一个坟墓和屋顶的部分以及草坪,可以用于您的日光浴,烧烤和放松。
The 40m² large apartment in our house is situated on the ground floor of the south side.
It has a separate entrance.
The garden area in front of the apartment, consisting of a gravelled and roofed part as well as lawn, can be used by you for sunbathing, grilling and relaxing.
其他注意事项
车必须停下来。我们的通道仅在特别许可的情况下才能使用。我们带你的行李 互联网只能通过O2在O2网络中进行。您可以通过O2公司的名义在LTE-WLAN路由器中预订一个dayticket。 几个小餐馆距离酒店仅有30分钟的步行路程,那里只提供午餐。如果你想使用这个,请告诉你自己的报价和开放时间。
The car must stay down. Our access road is to be used only with special permission. We bring your luggage.
Internet is only possible via LTE in the O2 network. You can book a dayticket in a LTE-WLAN-Router by the term of the O2-company.
Within a 30-minute walk are several small restaurantes, which offer only lunch. If you want to use this please inform yourself about offer and opening times.
---
If you love beautiful scenery, nature, and hiking, you will absolutely love Till's place in the mountains. This is probably my favorite Airbnb I've ever stayed at. Not only is it beautiful everywhere around it, the apartment itself is equipped with everything you'll need and is very new and updated. Till was a fantastic host and had great recommendations for hikes and tips for enjoying the area. Do not miss staying at Hintergraseck.
---
If you are looking for an Air BNB with an incredible location, look no further... Till's place is absolutely incredible. There is nothing quite like waking up to a panoramic view of the mountains (and a waterfall!) It was a little confusing figuring out how to reach the property. The pictures were helpful, but not particularly instructive. When it comes to choosing which trail to follow, here's the best advice we can offer: 1. The gorge is a beautiful way to go- but you must have Euro ready!! It costs a fee to take trail. It is also a much easier hike (we had our backpacks as luggage). 2. The access road, although much more direct, is pretty steep. We went down from this direction. Also, be aware that anyone staying on a Sunday- all grocery stores in the area are closed!! We thought ahead and brought sandwiches, but otherwise we would have been out of luck for dinner
---
This place is nothing short of amazing. The walk up to the airbnb was somewhat strenuous as expected, yet includes an optional trek through the beautiful Partnach gorge, as well as mountain meadows reminiscent of the Sound of Music. The apartment itself was well appointed and very clean. Till himself was very helpful both before and during our stay, taking a significant amount of time providing valuable advice relating to our travel and hiking plans as well as describing the local area by e.g. identifying mountain peaks.
---
Till's place in the Bavarian Alps is a must book. Don't even bother with anything else. The views alone are worth the cost, especially as you wake up and look outside the window from your bed. A waterfall in the distance (with the sound of the falls putting you to sleep the night before) and the mountain skyline - i can't think of a better way to wake up. The apartment itself was very cozy and warm. It was perfectly suited for 3-4 people with the foldout futon in the bedroom (just realize you will all be sleeping in the same room). There is a fireplace in the corner which we didn't use (since it was still very pleasant outside) but were very tempted to. Till was super friendly and very helpful with meeting us at our meeting point and taking us to the top since we arrived quite late and it was already dark. I have to also thank Till for putting up with us since we had changed our arrival time a few times. It was also lovely to meet his family the next morning - they were all very friendly. The walk down from Till's place to the cable car (and the cable car ride down) is wonderful and evokes Sound of Music type scenery. I already told Till I'm staying with him again when I come back to Bavaria!
---
Absolutely wonderful stay. BEAUTIFUL location in the mountains. Perfect for those that enjoy hiking and being outdoors. You can easily hike down to the Partnach Gorge too. Till was a fantastic host. Very friendly and helpful. House was cozy, comfortable, clean and had everything we needed. Bit of a hike up the hill to get there but you can take a cable car and then just hike up the last bit on the small road by lovely pastures with cows, horses, goats, wild flowers and unbelievable scenary. Short 10 minutes into Garmish from the car park at the bottom - lots of restaurants and shops. We would go back again!
---