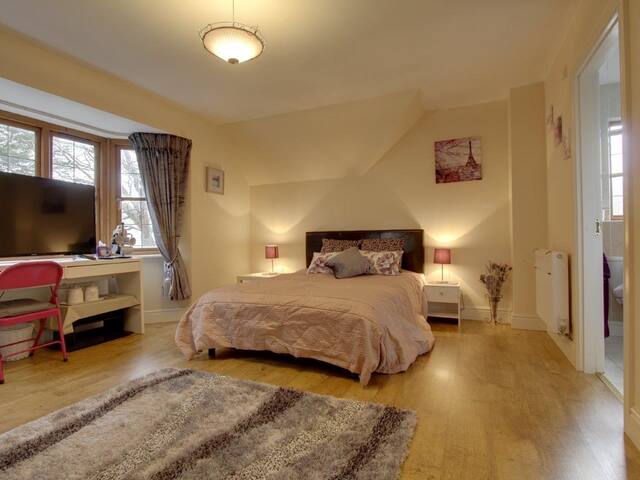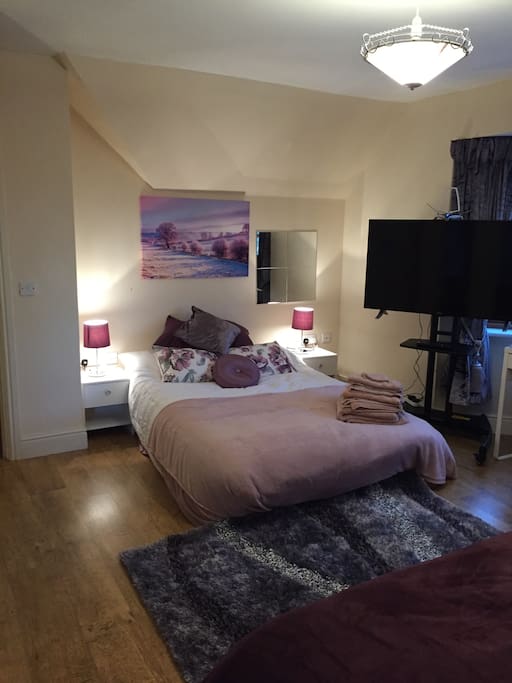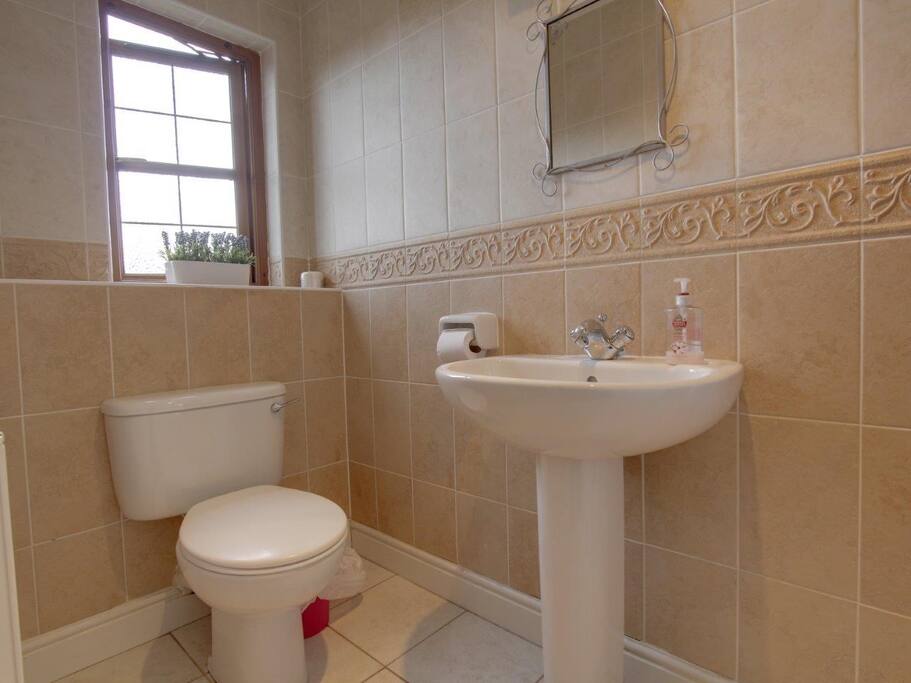 Large room, ensuite, sleeps 5, Smart TV fridge etc
敞的客房位于共用房屋内。特大号床,双人床和单人床带连接淋浴/卫生间。 48"智能电视,Netflix,带小吃的冰箱,早餐吧,水壶茶/咖啡,室内烤面包机,从火车和公共汽车步行1分钟,到市中心7分钟,长袍/拖鞋为您提供舒适慷慨的欧陆式早餐房间有广泛的茶叶可爱的花园。 吃饭的地方 •Ffandangos,High Street Llandaff Village o白天打开精致的早餐和正宗威尔士口音的午餐。这是威尔士可以在国际工匠级别提供的任何东西,您将在诺曼底或托斯卡纳找到的任何东西。用威尔士葡萄酒的黄褐色洗净。对真的!!!! •麦芽糖: o位于加的夫主要道路对面的大型酒吧对面的村庄高街入口处。尽管"Maltsters"附带有一个停车场,但如果您不熟悉当地的地理位置,单向系统将使噩梦获得通行。变得更加容易变成村庄高街,并在右边使用停车场。食物以高标准烹饪,种类繁多。几个地方啤酒提供,强烈推荐。 •普利茅斯武器,圣法曼人村 o优质的食物,葡萄酒和啤酒在一个正宗的老式酒吧环境中,当天气晴好时,桌子外面有一个很好的乡村风格。只有十分钟的车程。 •加的夫湾 o十五或二十五分钟的车程,取决于交通,您可以漫步在滨水区开发,并可以选择各种典型的多出口饮食场所,享有人造湖景。 Cadwalladers在晴朗的早晨非常适合咖啡和冰淇淋。 感兴趣的地方 •加的夫城堡 基于罗马和诺曼的基础,这被19世纪的威廉·布吉斯(William Burgess)广泛地改编为呃侯爵夫人的指示,被认为是当时世界上最富有的人之一。维多利亚风格的优雅彩色玻璃和一些季节性的展览。 •Castell Coch 在距离城市北部A470路标的几英里远的地方,这是维多利亚时代的又一次维多利亚风格的浪漫主义风格,基于对哥特式理想的重新诠释。它是原始的童话城堡,坐落在一个树木繁茂的山坡上,经常被用作无数电影和电视幻想的地点。 •兰德拉夫大教堂 从家里步行距离远。它位于村庄高街的尽头,基本上是基于诺曼基金会的中世纪哥特式,像所有威尔士主教座位一样,连续性可以追溯到6和7世纪。 •威尔士生活博物馆 基于圣法曼人,占领一个庞大的场地,在这里您可以看到许多原始的白话威尔士建筑得到拯救和重建的例子,被置于当时典型的花园之中。允许一整天多,因为你仍然看不到这一切。 •玛格丽特修道院和橘园 在一天的旅程中,将M4向西约30英里。很好的路标,不要被远离塔尔博特港钢铁厂的意见推迟。这也包含了一个被凯尔特人箭杀死的基督教罗马军团最早知道的坟墓。 •凯勒龙罗马堡垒和露天剧场 o由莫蒂玛·惠勒爵士在20世纪30年代开始,露天剧场特别保存在非常好的状态。知道在两千年前进行斗士角斗争甚至重建的海上战役给人留下了一种罕见的历史感,甚至在对他人的命运敏感的人中也有一点点刺激。沿着M4东向Newport,沿着距离大约15英里远的Caerleon的标志。 •蒙默思 o在威尔士的最后一个城镇,基于古老的罗马城镇Blestium。它拥有亨利五世的诞生地,这是该国唯一幸存的强化港口桥梁,许多精美的餐饮场所,图尔特人被试过的郡郡厅,俯瞰着它。Kymin,纳尔逊海军上将和他的情妇艾玛·汉密尔顿(Nyk Hamilton)所享有的观点。乘M4,然后A449,A40路标到米德兰兹,沿着高速公路和双行车道行驶50分钟。 •加的夫湾 o乘坐水上巴士探索人造湖,在Penarth码头或城镇中心自由下车。探索堰坝,如果你幸运的话,看到鲑鱼跳跃,或者在堰坝的海边的低潮处,踩在泥滩上的海豹。惊叹于世界第二高的潮汐范围,超过十二米在春季潮汐是常见的。优秀的免费钓鱼从堰坝。沿着堰坝行走是完美的治疗任何宿醉(URL HIDDEN) 建议游览 •A48 West- Cowbridge - B4524 Ogmore By Sea - 南极 格拉摩根之后,蜿蜒的未受破坏的奥格莫尔河与着名的鹈鹕在她的虔诚古老的酒吧和格拉摩根遗产海岸线。梦幻般的散步,闹鬼的杜伦城堡的废墟,壮观的景色和世界级的捕鱼为低音。注意潮汐! •A470北 - Merthyr Tydfil - Brecon - A438 - B4350 Hay on Wye oreally野生和高山威尔士,沿着良好的道路穿过布雷肯信标国家公园(冬天有冰冷的雪地!)这次旅行结束于Wye上壮观的干草城,其主要城堡和书店在每一个角落。这是夏天Wye文学节上的Hay的场景,是欧洲主要的文学活动之一。 •M4 - M48 Chepstow - A 466 - Monmouth - A 40 Abergavenny o壮观的驱车前往历史悠久的部分围墙的Chepstow镇。然后沿着风景如画的怀耶谷(Wye Valley)前往珍珠修道院(Tintern Abbey)的被遗弃和被绘的废墟,经常经过路标和价值观,再到红布鲁克(Redbrook),然后是蒙茅斯(Monmouth),穿过拉格朗城堡壮观的遗迹,那里的鸭子仍然在阿格拉瓦尼美丽的乌斯克谷与附近的葡萄园在通往布雷肯信标的门户。
Spacious room in a shared house. King size, double and single bed with ensuite shower/toilet. 48" Smart TV, Netflix, fridge with snacks, breakfast bar, kettle tea/coffee, toaster in room. 1 min walk from train and bus, 7 mins to City Centre. Robes/slippers for your comfort. Generous continental breakfast in shared dining room with vast choice of teas. Lovely garden.
Places to eat
•Ffandangos, High Street Llandaff Village
oOpen during the day. Fine breakfast and lunch with an authentic Welsh accent. This is what Wales can offer on an international artisan level, the match for anything you will find in Normandy or Tuscany. Wash it down with a flass of fine Welsh wine…. Yes Really!!!!
•The Maltsters:
oA large pub of the main Cardiff road opposite the entrance to the village high street. Although there is a car park attached to The Maltsters, the one way system makes ti a nightmare gaining access to it if you are unfamiliar with the local geography. It's far easier to turn into the village high street and use the car park a little way up on the right. The food is cooked to a high standard with a great deal of variety. Several local beers on offer, highly recommended.
•Plymouth Arms, St Fagans Village
oExcellent food, wines and beers served in an authentic vintage pub environment with a good rural aspect outside with tables when the weather is fine. Only ten minutes by car.
•Cardiff Bay
oFor a fifteen or twenty five minute drive, depending on traffic, you can stroll round the waterfront development and choose from a wide variety of typical multi outlet eating places with views across the man made lake. Cadwalladers is excellent for Coffee and ice cream on a sunny morning.
Places of Interest
•Cardiff Castle
oBased on Roman and Norman foundations, this was extensively remodelled by William Burgess in the 19th Century to the instructions of the Marquis of Bute, reputed to be one of the richest men in the World at the time. Flights of Victorian fancy, excellent stained glass and a number of seasonal exhibitions.
•Castell Coch
oLying a few miles out of town, signposted from the A470 to the north of the city, this is another Victorian flight of romantic fancy based on a reinterpretation of a Gothic ideal. It is the original fairytale castle set on a wooded hillside, which has frequently been used as a location for innumerable film and TV fantasies.
•Llandaff Cathedral
oEasy walking distance from the house. It lies at the end of the village high street, largely mediaeval gothic based on Norman foundations, like all Welsh Episcopal seats it has continuity going back to the 6th & 7th centuries.
•Museum of Welsh Life
oBased at St Fagans and occupying a massive site, here you can see many examples of original vernacular Welsh architecture rescued and reconstructed, set among the typical gardens of their time. Allow a whole day and more, for you will still not see it all.
•Margam Abbey and Orangery
oWorth a day trip, take the M4 westward for about 30 miles. Well signposted, don't be put off by distant views of the Port Talbot steelworks. This also contains the earliest known grave of a Christian Roman legionary who was slain by a Celtic arrow.
•Caerleon Roman Fort & Amphitheatre
oExcavated by Sir Mortimer Wheeler in the 1930s, the amphitheatre particularly is in a very good state of preservation. Knowing that gladiatorial combat and even recreated sea battles were performed here almost two thousand years ago gives a rare sense of history and perhaps even a slight thrill among those of you sensitive to the fate of others. Follow the M4 east towards Newport and follow the signs for Caerleon, some 15 miles away.
•Monmouth
oThe last town in Wales based on the ancient roman town of Blestium. It has the birthplace of Henry V, the only surviving fortified portcullis bridge in the country, many fine eating places, the Shire Hall where the Chartists were tried and overlooking it The Kymin, a viewpoint enjoyed by Admiral Lord Nelson and his mistress Emma Hamilton. Take M4, then A449, A40 signposted to the Midlands, 50 minutes drive along motorway and dual carriageway.
•Cardiff Bay
oTake the waterbus to explore the man made lake, free to get off at Penarth Marina or in the Centre of town. Explore the barrage and if you are lucky, see salmon jumping or a seal basking on the mudflats at low tide on the seaward side of the barrage. Marvel at the second highest tidal range in the World with more than twelve metres being common during spring tides. Excellent free fishing from the barrage. Walking along the barrage is a perfect cure for any hangover(URL HIDDEN)
Suggested Tours
•A48 west- Cowbridge – B4524 Ogmore By Sea – Southerndown
oVale of Glamorgan followed by the meandering, unspoilt Ogmore river with the remarkable Pelican in Her Piety ancient pub and the Glamorgan Heritage Coastline. Fantastic walks, haunted ruins of Dunraven Castle, magnificent views and world class fishing for Bass. Pay attention to the tides!
•A470 north - Merthyr Tydfil – Brecon – A438 – B4350 Hay on Wye
oReally wild and high mountain Wales, through the Brecon Beacons National Park along good roads (Icy and snowy at times in winter!) This tour ends at the spectacular town of Hay on Wye with its dominating Castle and bookshops on every corner. It's the scene of the Hay on Wye Literary Festival in the summer, one of the principal literary events in Europe.
•M4 – M48 Chepstow – A 466 – Monmouth – A 40 Abergavenny
oA spectacular drive to the historic and partly walled town of Chepstow. Then along the picturesque Wye Valley to the much loved and painted ruins of Tintern Abbey, then past often signposted and well worth while pubs to Redbrook then Monmouth, past the spectacular ruins of Raglan Castle where ducks still swim in the moat finishing at Abergavenny in the beautiful Usk Valley with a nearby vineyard at the gateway to the Brecon Beacons .
---
---
---
- HOUSE RULES Be relaxed and have a great trip. You are most welcome and my place is relaxed and easygoing. ***PLEASE READ MY LISTING DESCRIPTION BEFORE BOOKING*** ***PLEASE CHECK THAT WHAT I AM OFFERING IS WHAT YOU ARE LOOKING FOR*** TEXT ME YOUR ETA TO ENSURE THAT SOMEONE IS AT THE PROPERTY TO MEET YOU AT AN AGREED TIME, TO ENSURE YOUR SMOOTH ARRIVAL AND CHECK-IN AND TO ENSURE THAT NO OTHER RESIDENTS OF THE BUILDING ARE DISTURBED IF GUESTS ARRIVE WITHOUT NOTICE AT A TIME WHEN WE ARE NOT AT THE HOUSE*** -No loud music or shouting or any behaviour which can be heard outside the room or disturb neighbours. **Particularly no slamming doors.** -Neighbours' bells/doors must NOT be pressed or knocked under ANY circumstances. - Any guests who cause a nuisance or disturbance to neighbours or other Airbnb guests will be required to leave the premises immediately irrespective of the time of day or night, without penalty to me. -No food or drinks (which could cause stains) to be consumed in the bedroom -No burning of candles or incense sticks -It is essential for guests to provide me with an arrival time at least 2 days prior to their arrival. -Only named guests agreed in the booking can come inside the apartment unless I agree otherwise. All guests in the booking party must already be known to each other. -A pet may be allowed, please discuss before arrival. -Please treat me, my home and belongings with respect. -If you think something is broken, please tell us about it, do NOT attempt to fix it yourself. If you accidentally break or damage something, please don't worry but just inform us and don't try to fix it yourself. -No smoking inside. You may smoke in the gardens. -If I feel unsafe or extremely uncomfortable in the presence of a guest, I reserve the right to ask the guest to leave and terminate the booking immediately without incurring any form of penalty. -All guests must be in a coherent/rational/sober state whilst inside my home -Do not bring anything illegal into my home.
---
---
---
---
I'm outgoing and welcoming, speak Spanish, French and Portuguese and enjoy meeting people from all over the world. However I'm very respectful of people's privacy and space and will only engage with you if you seek me out for advice etc. I love cinema, jazz and fine dining.
语言:
English、Español、Français、Português