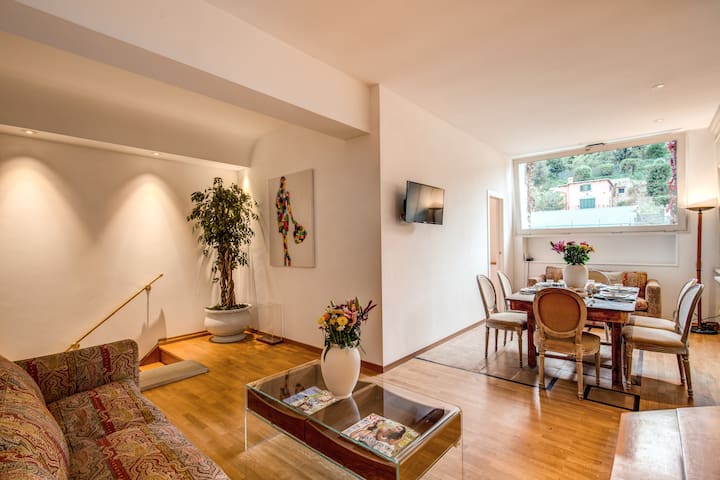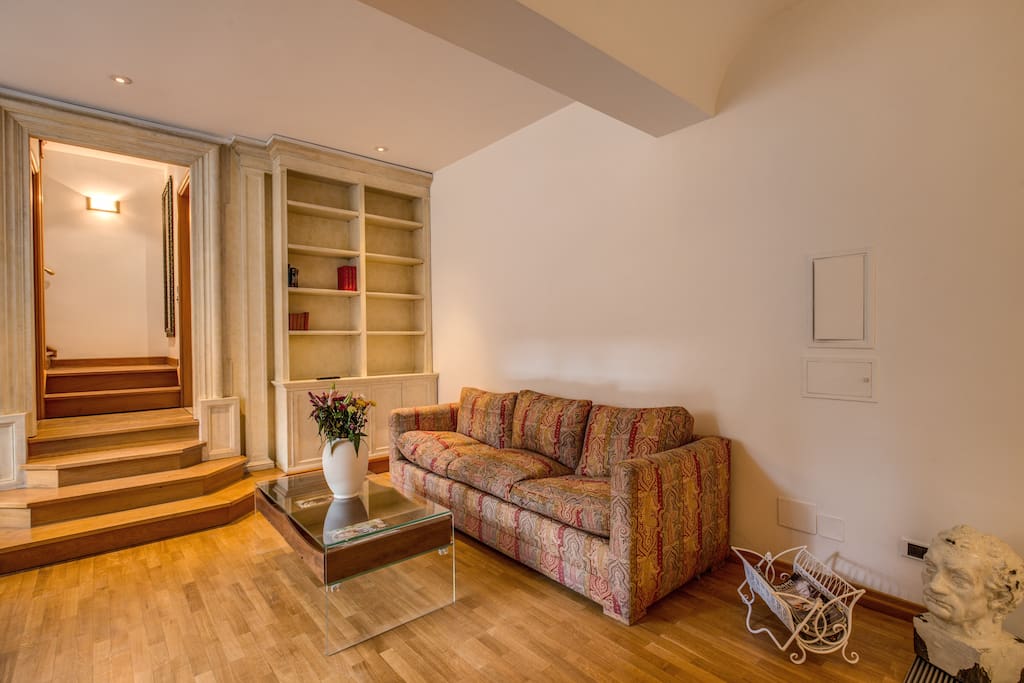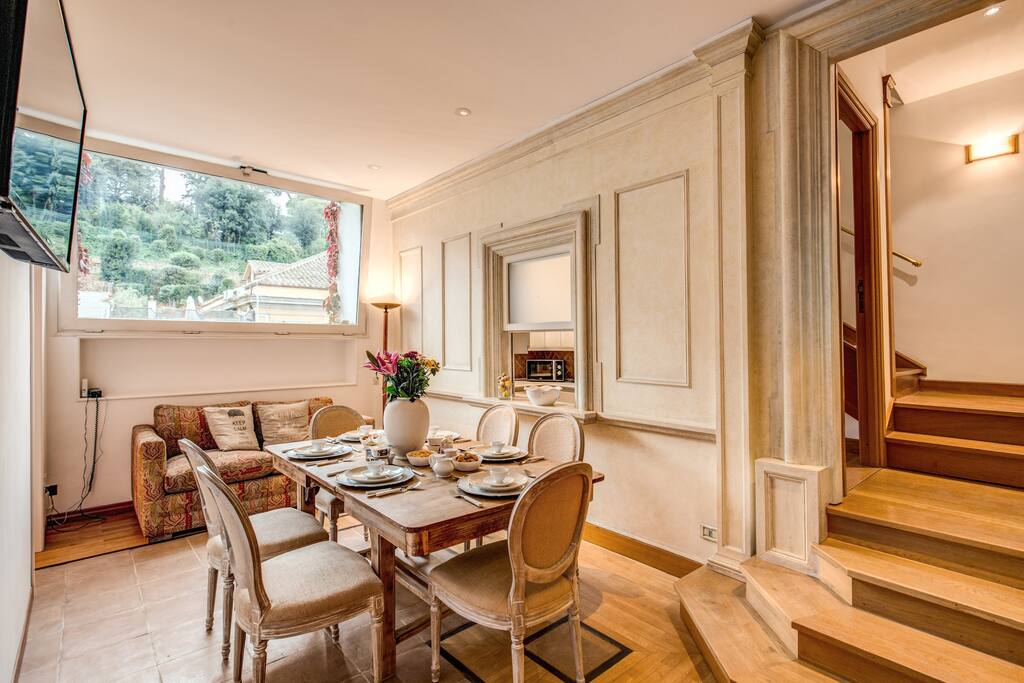 寓位于最美丽的Via Roma,艺术家街道,他们住在罗马最富有的街道,距离地下PIAZZA OF西班牙50公里,公寓设有一个带凸窗的大客厅,俯瞰Villa Borghese,设备齐全的厨房配有微波炉,炉灶为cucinar,烤箱和咖啡机三个双人卧室,一个与双床,一个浴室带按摩浴缸。 SPANISH STEPS区是罗马最美丽的地方之一,非常方便步行访问所有的旅游景点,MT 50 UNDERGROUND 200 MT Via Del Corso购物街,300 MT Fontana Di Trevi,400 MT别墅Borghese这是一个公园坐落在罗马的中心,那里有美丽的湖泊参观水钟和许多其他景点。
The apartment is located in the most beautiful Via Roma, the street of artists, in the street where they live the richest in Rome, 50 MT from underground PIAZZA OF SPAIN, the apartment has a large living room with a bay window overlooking Villa Borghese, equipped kitchen with microwave, stove for cucinar, oven and coffee machine three double bedrooms, one with twin, one bathroom with jacuzzi.
The SPANISH STEPS area is one of the most beautiful in Rome, very convenient to visit all the tourist attractions on foot, MT 50 UNDERGROUND 200 MT Via Del Corso shopping street, 300 MT Fontana Di Trevi, 400 MT Villa Borghese which is a park nestled in the center of Rome, where there are beautiful lakes to visit the water clock and many other attractions.
---
This place is great! The location was perfect - central yet secluded. The Spanish steps was only a 5-10 minute walk and via del Corso, Pizzale Popolo and Villa Borghese are only a stone's throw away. It's in a street where artists and their workshops are located so really lovely. The walk up is a turn off (although it's really hard to find apartments with lifts or ground floor units in Rome) but the apartment itself was beautiful and very well appointed! Also, Tom was an excellent host: easy to talk to and even picked up and delivered our laundry for next day service as there was no on site washer/dryer. All in all this apartment made our stay in Rome really enjoyable! Would definitely stay here again. Highly recommended.
---
This apartment is located in a prime location. Close to Spagna, Popolo and wonderful shopping district. Easy to walk to the best spots from there. Spacious apartment with all the amenities. This was my first airbnb booking, so I was a bit apprehensive, but had a great experience. I may have been mistaken when I booked, but I expected a washing machine and a full second bathroom as we had five family members there. Only one full bath with an awkward hand shower and a second half bath. Because of the heat, it was difficult to cool the rooms, so we never used the third bedroom upstairs. The unit was much too small to cool the entire upstairs space. The heat is not the fault of the owner, of course, but a few fans could have helped spread the cool air around the room. We managed to shut the hot water off at some point, but Tom was very quick to respond and tell me how to fix the problem. Also, no washing machine but Tom arranged for someone to pick up our clothes to wash. Overall, the stay was excellent and would have been even better during the spring or fall. I would absolutely stay there again.
---
First time in Rome and we were there for my son's wedding. We had three other families also staying in airbnb' s so here are the pro and cons that we came up with this airbnb... PRO'S-location, size, decor, cleanliness we loved!! CON'S.. No WIFI never would stay connected (horrible), Air Conditioning was two units that stood on the floor and were useless. You had to sit right next to it to feel any sort of cool air. So needless to say, we stayed pretty hot and uncomfortable the whole time. The last thing was not enough towels.
---
In one word....WOW! The apartment was perfectly suited for my family of five persons. Easily sleeps six. Two spotless bathrooms. One interesting shower/bath combination upstairs. Fast wifi...used by teens constantly. Comfortable temperature with two brand new air conditioners. Grocery store nearby for fruit, drinks, and breakfast supplies. Literally steps to the spanish steps. Tom arranged all our drivers. To and from airport, as well as a four hour city tour with Lorenzo. Tom replies quickly to emails. We really had a great time at his home. Other reviewers had comments I would address. I was concerned about comments about the poor air conditioning. There was no problem at this time. We were always cool when outside it was 98/35 degrees. There are 52 steps to climb. Was not an issue for us. The bathtub drained quickly. There were no bad toilet smells. House was clean. We would stay there again. Molto grazie Tom.
---
This is a great little apartment located within easy walking distance of Piazza di Spagne, several shops and restaurants, Trevi Fountain, and some fabulous churches. Domitilia met us and got us settled, showed us around, and told us where to eat. The only issues we had were lack of sponges/wash rags and towels in the kitchen, as well as lack of extra toilet paper, and a leaky hand-held shower head in the bath tub. The tub/shower thing IS an adventure (basically it's a tub with a hand-held shower head), but we made it work. If you are using (SENSITIVE CONTENTS HIDDEN) Maps, please note that there are two 53 Via Marguttas, you want the one a little to the right, opposite a charming restaurant, behind the big iron gate with a little gravel courtyard to welcome you. All in all, a great place in a fabulous location.
---
Fairly clean, but showers and sink in bathroom drained very slowly, leaving scum. A big dust bunny in the dining room. We are tech literate and none of our devices worked with the wifi. The system was broken and no amount of resets or troubleshooting on our part was successful in getting it to work. The big disappointment was that there was no air conditioning. The apartment is advertised as air conditioned, but beware. There are two new-looking portable units, one on the first floor and one on the second. Neither was installed. We turned them on thinking perhaps they were a new miracle model that worked without being vented to the outdoors. Just a fantasy. Cool air blew out of the front and hot air poured out of the back. We called the caretaker, Flavio (who was otherwise a help) and he told us that a maintenance worker would be by soon to take care of things. We waited four hours on the hottest day so far (at that point, May 16) in Rome in 2017 but no repair person showed up. We missed some things we had intended to do, the baby cried, everyone was hungry, etc. Not good. I eventually rummaged around and found some ducting and a few odds and ends that I presumed were to be installed with the units and paper-clipped and chewing-gummed one of the units to vent through a partially opened window. Welcome, bugs. Eat us. Reservations and check in were flawless. Getting the owner, Tom, to respond to the faulty wifi and A/C was a problem. And when he did finally respond by email to the A/C problem, his response was, basically, "too bad." If everything worked as it should have, the value would have been 3 or probably 4 stars. But the problems torpedoed that possibility. A shortfall of respect for guests, cutting corners, and misleading advertising means a low score.
---