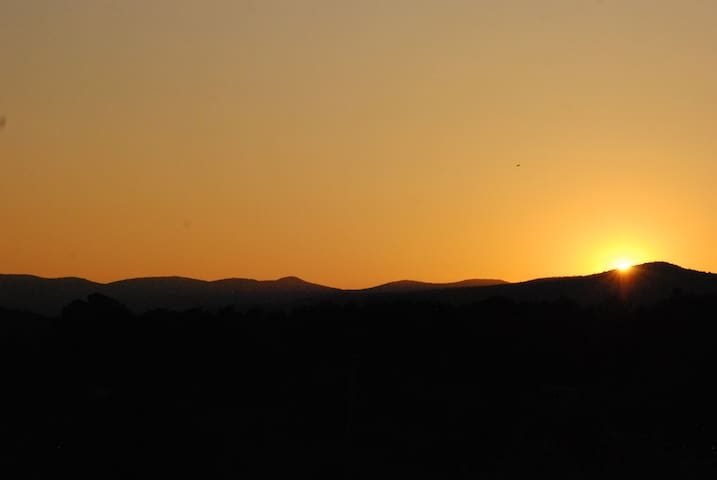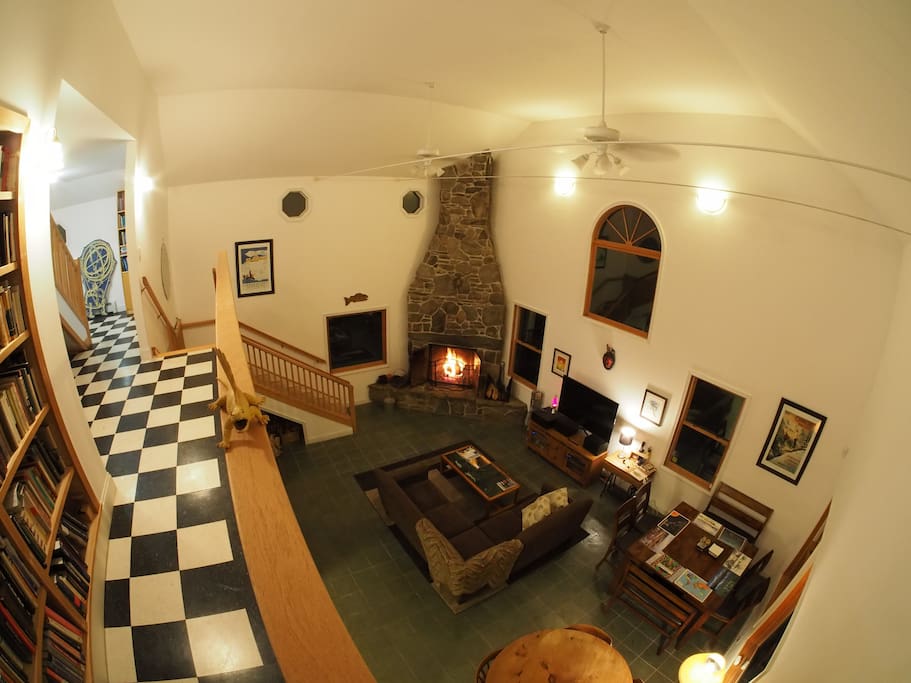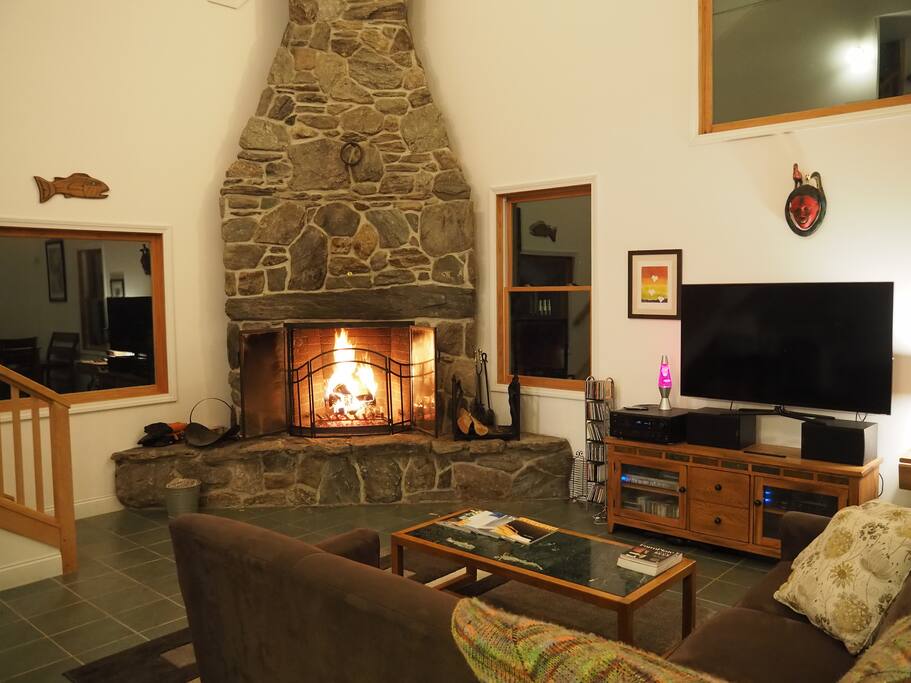 Relax and revitalize with your friends and family at Sunset Haus. High in the Vermont mountains with hiking, biking and ski trails at your doorstep, and a spectacular mountain view. It has a large swimming pond, a huge yard and an enchanted forest. Ideal for nature lovers, outdoor enthusiasts and one or two families. The house has a large great room with majestic fireplace, seating for 14, 3 bedrooms (one dorm room) heated garage, plenty of amenities and is wheelchair accessible.
房源
Sunset Haus is the perfect place to relax and revitalize with your family and friends. The house has a wonderful master bedroom with a queen bed, a large dormitory with 4 twins and a queen that sleeps 6 and a guest suite with a queen bed and private bath that is perfect for older kids, friends, or relatives. The house is handicap accessible. Sunset Haus has its own great room – Valhalla – complete with a massive fireplace made with stones from the property, full media entertainment, old fashioned board games, and two dining tables with seating for 14. The kitchen is finished with a unique stone 'Verde Antique' that comes from a quarry down the road. If you need to get some work done, Sunset Haus has a quiet study on the third floor that can be made available. Sunset Haus has a large practical mudroom, laundry room and heated garage. The house has 5 zone heating including ground floor radiant and wireless controls. Not that you would ever need it in Rochester, but Sunset Haus does have a powerful alarm system.
For nature lovers and outdoor enthusiasts, Sunset Haus is a paradise. You can hike, bike, swim, cross country or back country ski right out the door. Sunset Haus has a large swimming pond built with children in mind that has a shallow end with sandy bottom. In addition to the many old logging trails that crisscross the mountains behind the house, Sunset Haus has direct access to the growing network of sports trails being developed by the Rochester Area Sports Trail Alliance - RASTA. Sunset Haus is less than 25 miles to Killington and Sugarbush. The Middlebury Snow Bowl -a family and racer friendly old fashioned no frills mountain that offers free skiing for beginners on its magic carpet- is only 11 miles away.
All guest packages include personal check in/out. (Though you may not be greeted the moment you arrive, you will be on your first day.) Upon check in you will be shown everything you need to know about the house to enjoy your stay and feel secure. And should there ever be a problem, help is only a local phone call away. There are other options that can make your stay even more memorable and enjoyable. You can even rent just a part of the house (upstairs or downstairs allowing the host to be down or up). Please contact the host for details.
房客使用权限
Assuming you take the whole house, you will have access to everything except: the back closet on the 2nd floor which is locked. The 3rd floor study- though it can be made available -please contact the host for details, the ground floor pantry closet and the far half of the garage.
Also, there is a beautiful suspended tree house in the forest behind the house. We plan to finish the upper part in 2017. Our insurance, however, steadfastly refuses to cover any guests (or us for that matter). So until we find an appropriate insurer, we cannot permit guests to use the treehouse. If guests could demonstrate independent coverage we would reconsider.
与房客的互动
The host lives in Cambridge, MA. If guests take the whole house, the hosts will not be nearby. Guests will be taken care of by a local Haus keeper.
If guests prefer to take only part of the house (2nd floor bedrooms or first floor bedroom), then the host may be present. (Guests would never share the house with other unknown guests.) And then it's up to you. If you prefer communal dining, and socializing, that's great. If you prefer to keep to yourself, that's great too.
其他注意事项
Depending on how you want to enjoy your time and what you brought along, the host can help you find bike, ski, snowshoe and other equipment rentals. We had wanted to provide equipment but ran into insurance problems. We can help you secure local foods as well. In fact Sunset Haus is right next door to one of the finest all natural, humane, grass fed cattle farms in New England - North Hollow Farms.
---
---
---
---
- All guest stays include personal check in/out. Upon check in you will be shown everything you need to know about the house to enjoy your stay and feel secure (e.g., heating – 5 zones, fireplace safety, alarm system, remote controls etc..). And should there ever be a problem, help is only a local phone call away.
- For insurance purposes, you will be required to sign a rental contract prior to check-in and provide a security deposit authorization (not looking for payment) for $800. The rental contract has an attachment that includes useful planning information, FAQs, local Haus keeper's number and some options to make your stay as enjoyable and memorable as possible.
- The rental and/or any associated services offered are not intended to be resold or commercialized in any way. Nor is the House intended to be used for commercial events, demonstrations, trade shows, large parties (other than family and friends gathering).
- Each bedroom has a queen-sized bed. The dorm additionally has 4 twins. The house can sleep a maximum number of 10, if you push it (all in beds). For insurance reasons, we cannot welcome any more than that. The house is ideally suited for one or two families whose kids enjoy sleeping together in the dorm room (if there are two sets of adults). The dorm room beds are perfectly fine for adults so the house can work for 3 couples as well. But there is a door between the two upstairs rooms. Louder noises will carry upstairs but not between floors.
- Though we could not find a way to provide these options through the Air BnB menu, it is possible for you to stay in less than the whole house. If you are a couple and do not mind the hosts presence, you are welcome to stay in the downstairs bedroom which has a private bath. Similarly, if you are a family that needs only the two bedrooms upstairs and don't mind the host's presence downstairs, you are welcome to take the upstairs bedrooms only. Price differences for these options would be very fair. You would still have full use of the house. Please note, should you prefer to stay in less than the whole house, no one other than the hosts would share the house with you. Please contact the host if these options are of interest to you.
- The house is child, elderly and handicapped friendly, but not child proof. No specific measures have been taken to safeguard children. If you have small children and wish to have gates, please contact us and we will try our best to accommodate.
- We accept dogs in the downstairs portion of the house (excepting the downstairs bedroom.) But you must let us know beforehand.
- This is a no-smoking house.
---
---
---
---
What a fantastic house. My friends and I stayed for a long weekend to go skiing at Killington. Erik was extremely prompt in communication and addressed every need and made sure to have a phone call with me ahead of time to iron out any details and questions I had. He also made sure to have a housekeeper drop by and show us the property when we checked in. We were immediately impressed by the setup of the house and the quality of the furniture, kitchen, fireplace, etc. It felt like a real house and not just a rental property. The open floor space makes it great for large groups, and had enough space to hang out around the living room and eat together at the dinner tables. The uphill driveway was snowy during the winter so be careful if you don't have winter tires or AWD. Erik made sure we were aware ahead of time so we could plan properly, and it worked out fine. Distance is about 40 minutes from Killington slopes and to the north about 30 minutes is Sugarbush.
---
Gorgeous spot in a truly Vermont place with forests, mountains, nearby farms....and those sunset views. The house itself has some great features -- including an amazing fireplace and a mezzanine/library that looks down onto the fireplace-focused great room. The Kitchen is spacious and well-equipped for both elaborate preparations (if you want) as well as quick sandwiches and microwave meals (and everything in between!). Beds were comfy. Water pressure in showers nice. Great satellite TV service and decent internet. Warm, welcoming and, all - in -all, a great stay. Thanks Erik!
---