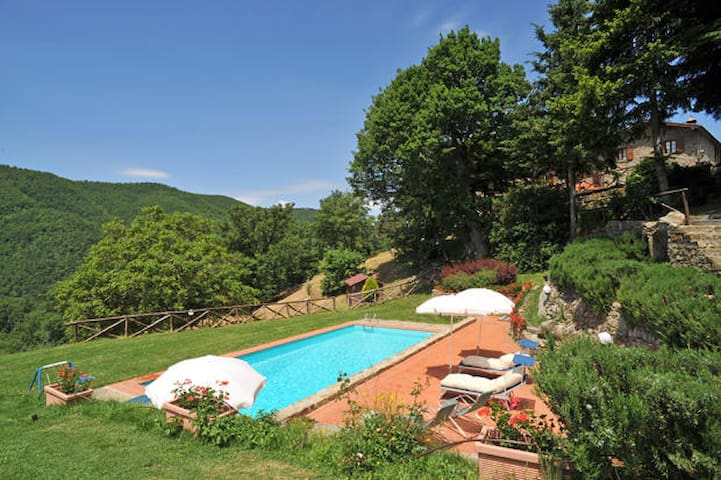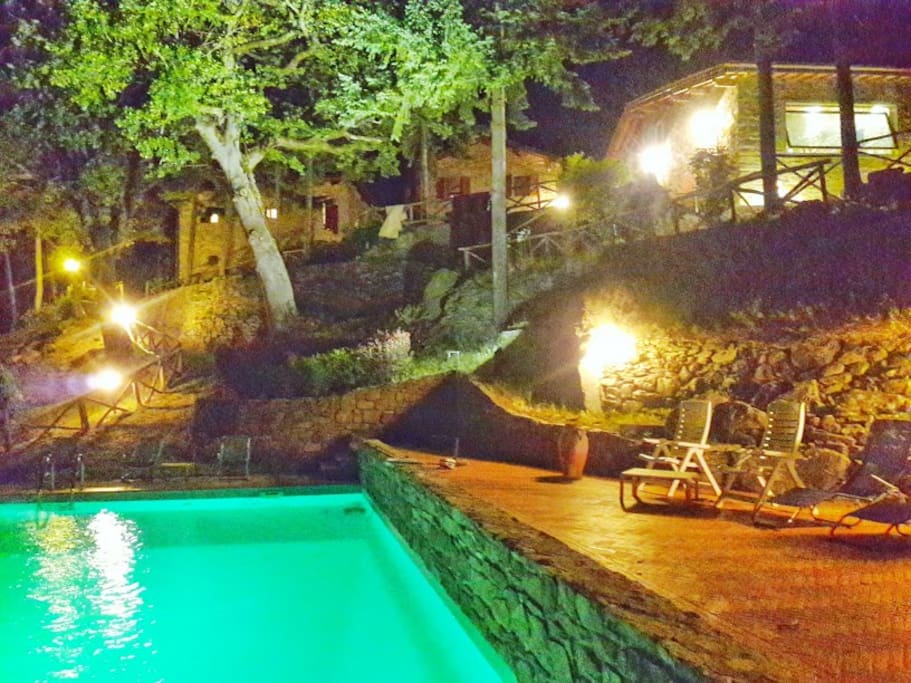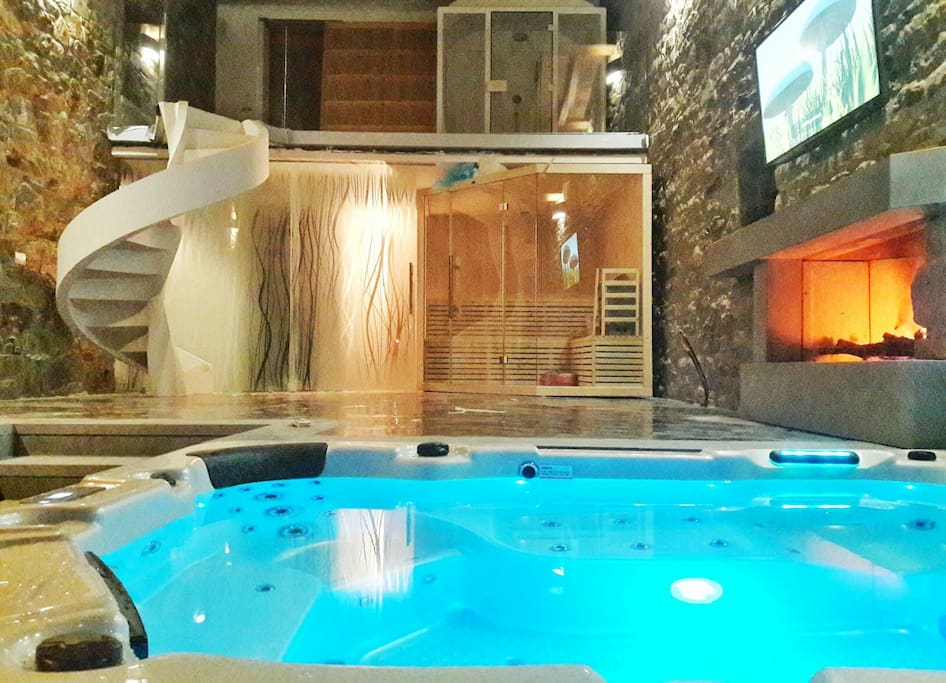 别墅高树是一个美丽的转换水厂房地产建于1100AD。 别墅坐落在15公顷(36英亩)的土地上,享有托斯卡纳Rufina山谷的壮丽景色。
这个地区曾经在佛罗伦萨的贵族家庭Frescobaldi在中世纪期间拥有。 许多古老的废墟和教堂可以在附近找到。
Londa镇距离酒店有9公里,设有当地面包店,咖啡馆,杂货店和餐馆。 庞塞斯的大城市距离Londa大约15分钟路程。
房源
别墅拥有超过400平方米的可用生活空间,最近更新了一个现代化的健康中心,包括大型桑拿,游泳池,按摩浴缸和土耳其蒸气浴。
有三个独立的别墅在房地产,包括一个5卧室3浴室的家,3间卧室2浴室的家和一个独立的健康中心与阁楼卧室。
内部是完成高高的天花板是不常见的大多数老托斯卡纳物业。 房地产坐落在美丽的山谷之上,附近没有邻居。 这个物业有36英亩的私人土地,所有的访问,是伟大的户外活动。 在土地上,我们有一个活跃的橄榄树林。 酒店毗邻一个大型的国家森林,您可以看到许多类型的野生动物。
这个庄园是伟大的全年,将配备任何场合。 大电视,无线网络,5.1音频,蓝牙,燃气取暖和烹饪只是几个现代化的设施。
房客使用权限
该物业有电子门与代码访问。 还有一个编码的密钥箱,用于您需要的所有必需的密钥。
客人可以使用所有的设施,包括两个厨房,5个壁炉,洗衣设施以及户外家具,派对和活动。
房产被分成三个主要建筑物。 别墅有5间卧室,3间浴室,设备齐全的厨房,3个壁炉和私人入口。
别墅2有3间卧室和2间浴室,设备齐全的厨房,壁炉和私人入口。
别墅三是一个健康中心完成在2016年底与按摩浴缸,土耳其浴,桑拿浴和1.2x1.2米淋浴。 3号楼还设有带大号床和私人阳台的阁楼。
与房客的互动
我们不会在您入住期间在现场。 如果在您逗留期间有任何需要,我们只是打电话,可以安排以下。
当地葡萄酒之旅
一日游到佛罗伦萨和托斯卡纳景点
私家车/客车
私人厨师/烹饪课程
私人女按摩师
松露狩猎旅游
类的乳酪
木柴交货
特别要求
---
Wow! What an amazing place. We were 6 adults and 7 kids and we had a fantastic time. If you want to stay on a beautiful isolated property with all the amenities you need, this is the place for you. The house is simply stunning. It is located high on the mountains so a good 30min drive from Londa. Can be a tricky drive so I suggest you don't get there in the dark. A few drives and we were used to it though. The property has everything you need - amazing kitchens, wood fired oven, gorgeous fireplaces with firewood supplied, Netflix, huge TVs, great spa and swimming pool that the kids loved and simply the best mountain views ever. Maurizio was such a friendly and helpful host. He is also an awesome chef. He and Michaela cooked us a gorgeous meal one night. We are still raving about the chocolate cake. There are still some kinks to be ironed out as it is a new rental but Maurizio was very helpful and responsive. We had the best time - thanks!
---
We had an absolutely fantastic time staying at Maurizio's place. The house was simply stunning and in a truly gorgeous setting. We were a group of 12 staying at the house; Maurizio made sure we had everything we needed and was on hand to answer any questions we had about our stay. Himself and his partner Michela even cooked for us one evening - the food was delicious and they were the perfect hosts! Highly recommended!
---
This place is so unique. After a winding road of about 30 minutes (quite adventurous) you reach the house, where you feel completely isolated and have a beautiful view over the valley. The house itself is stylish and old, but perfectly equipped and offers everything you need. All functions well and the place is very spacious. With a family of 7 adults and 5 kids and 1 baby, we had more than enough room and it never felt crowded. The swimming pool is located just below the house, still overlooking the hills and is perfect. The kids loved it of course, as did we all love the spa! Once you get used to the drive down to Londa, it's easy to do bigger groceries in the next village. We had Maurizio and Michaela cater for us one night, which we absolutely loved. Very good home-style Italian food, I'd definitely recommend it. Also, if there is anything you need or have any questions, Maurizio is very easy to reach and is very helpful. Nothing short of a perfect week up in the Tuscan hills :-) Thank you Maurizio and Michaela for making it very relaxed.
---
There is absolutely nothing bad or negative I can say about Maurizio's place. The old medieval watermill and surrounding area, the charming houses, the cosy inner courtyard, the terrace, the kitchen and the rooms... they're all well equipped and simply perfect. The house is utterly charming and breathes a pleasant and relaxed atmosphere, and has everything you need. The swimming pool was excellent and the kids loved it, even the Wi-Fi was flawless. The views from the house, overlooking the hills and rough countryside were nothing short of spectacular - the colours changing every hour, we never got tired of it! If you're looking for a unsurpassed setting to unwind and relax... well, you've found it! Maurizio was kind, relaxed and very accommodating and made us feel right at home. One thing to bear in mind is that it's quite a long (30 minutes) drive up hill from the valley and the town of Londa... long winding mountain roads and finally a rather challenging gravel path that goes up for about 2.5 km - we were very happy with our 4 x 4 rental car. It's not an easy drive at first, and I wouldn't advise driving up there in the dark, but you'll soon get the hang of it... and trust me, once you find your way to the top of the mountain, overlooking the beautiful valley... well, it's more than worth the drive!
---
We stayed there with a big group for a week and it was great, we loved everything about it. Really beautiful and private property, everything you need is there and if not Maurizio will definitely help you. Ride from Londa takes some time but it is worth it when you are looking for privacy and a real Italian style villa with great views.
---
I think we were one of the first people to stay, so the property was only being finished off right before we arrived. Unfortunately on arrival the kitchen cutlery/glasses/Delph needed a spin in the dishwasher before we could use them. The oven was also dirty. Also there were some dirty towels left in two of the bathrooms. I think these issues were due to the rush of getting the property ready in time for us so hopefully others won't have the same experience. People should be aware there is a 10km drive (which takes approximately 20 mins) Londa (closest shop) to the property, which is very steep and winding, with the last 2km on a gravel surface. A 4x4 vehicle is most suitable if staying here. We met four deer on this road over our four day stay. We had a baby with us and unfortunately there was no cot so she slept with her parents in their bed which was OK but not ideal. The washing machines were a little unreliable in that they stopped working a few times, which we fixed by plugging them out and restarting. Otherwise, the property is amazing! The property is very spacious and ideal for large groups with lots of double rooms to choose from. Spectacular views, excellent pool which is nice and deep for diving. The jacuzzi and wellness center is fantastic (although the Turkish bath wasn't up and running for our stay). Maurizio is always very helpful if there are any issues/questions.
---