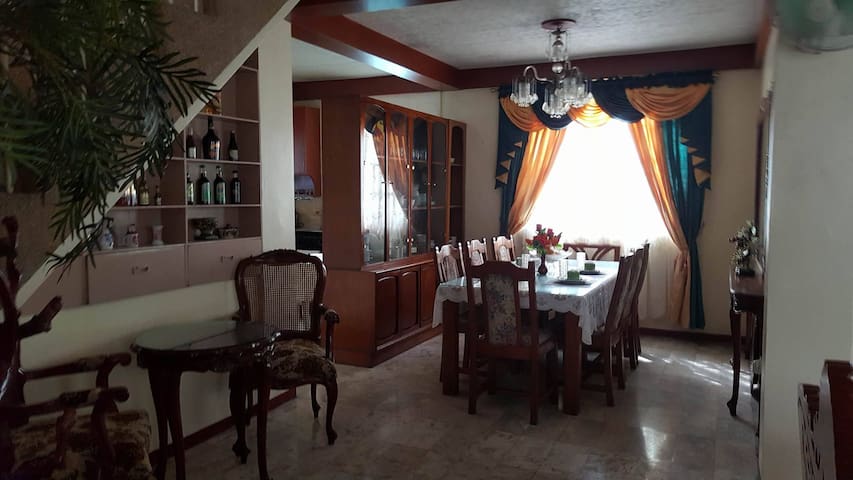 ---
---
---
- No pets allowed
- Smoking is not allowed inside the house. However, you can smoke as long as it is done outside the house and the cigarettes are disposed properly.
- Place all the garbage in a plastic bag. Do not leave any litters scattered everywhere.
- Drinking the liquors displayed in the living room shelves are prohibited.
- The use of tableware displayed in the dinning room is prohibited. It is for display purposes only.
---
---
---
The home is nicer than what you can see from the pictures. Everything we needed was there, the house is clean and cozy, ideal for resting and relax during holidays, especially for our honeymoon. We had an excellent communication with the host and his kind representative, who was very flexible in welcoming us at home. It was a great opportunity to merge with the locals, and definitely worth to repeat the experience for us. Thanks Michelle and Adelina!
---
Check in was complicated. Caretaker (next door neighbor) was late, clueless and made snide and unnecessary remarks to guest before handing over key. WIFI was non-existent (Day 1) due to incorrect network and password provided by host. Guests had to figure this out on their own. Day 2-Maintenance and caretaker led themselves in the premises without prior notification and violated guest's privacy. House was accessible, spacious, clean, with a very homey-comfortable feel, however, pots and pans were rusty and unusable. Saving grace to this booking was Adelina (host) who was very apologetic. Hopefully, she finds a personable help for us to book again.
Once again, I would like to apologise for all the inconvenience. It's just that at the time of the guests arrival, our representative had a sudden situation that prohibits her to welcome and induct the guests. Hence, I asked my neighbour for a favour to welcome the guests instead. In the future, I would make sure that this will not happen again. If by chance my representative is not available, I would find a friendly and well-informed personnel to welcome the guests. Also, in regards with the issues with the wifi, for some reason, the password changed at the time of the guests reservation. The guests that are staying in our house at the moment was able to connect in the internet with the former password we gave them - not the password that Khristina's guests are able to decipher when they are having internet connection issues. With the privacy issues, there seems to be a misunderstanding. Our personnel informed me that she asked for the guests permission to do maintenance in the house. I was not informed by the worker that he'll be doing the maintenance on that day. Hence, I do not have any control of that matter. I have now informed him that he should not do any sudden work without confirming it with me. Lastly, with the rusty pots and pans, our personnel at that time doesn't know where the pots and pans that guests can use are located. After receiving that information, I have informed my representative straight away where the pans and pots that the guests should use located. It was a roller coaster ride of situation where all sort of problems happened at the same time. And unfortunately, it happened during your stay. Despite the inconvenience you experienced in our place, I would take everything in consideration in order to improve our services. Hope you can book again with us, and I promise that you'll be welcomed with an improved service. Hope all is well with you and your family. Kind Regards
---