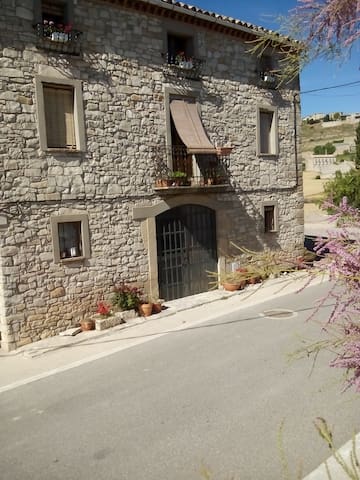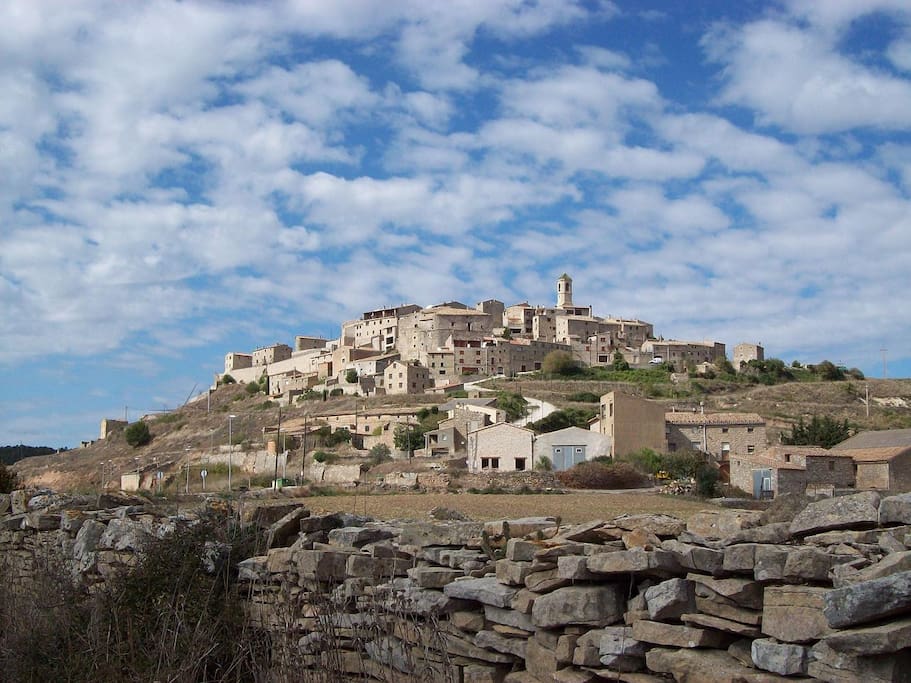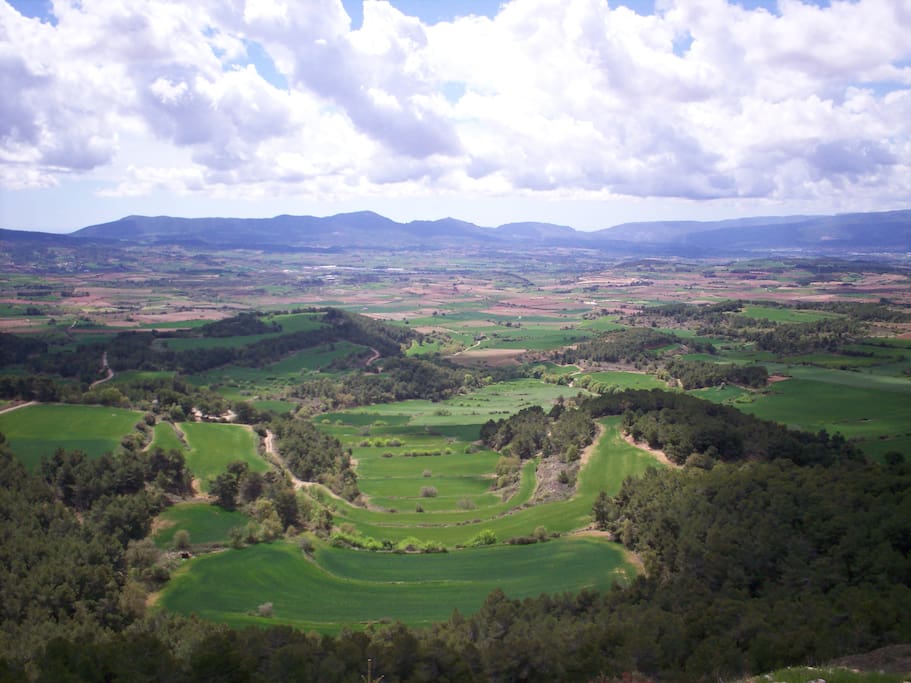 Places of interest: The Cistercian Route (GR171) (105km, pleasant on foot, 5/7 days, or by bike - 3/5 days) the Camino de Santiago (GR175), or car; Incredible views, art and culture, the beach at 50k ... pools, we guide you on local gastronomy with very reasonable prices. The height (865m) gives much freshness in summer. Well equipped kitchen. Sat TV, yoga room. Bike rides. Bar/restaurant nearby. Very cozy space.
My accommodation is good for couples, adventurers, and families (with children)
房源
Rural apartment with or without breakfast in the beautiful Conca de Barberà. An ancient stone house completely restored eco - friendly, very comfortable, for holiday base on the Cistercian Route, with fantastic views from the Pyrenees to the Camp de Tarragona. Close to luxury thalassotherapy center (15 € / 2h). All the Cistercian monasteries nearby, easy access to the 3 famous historic monasteries, Santes Creus, historically fascinating, Vallbona de les Monges, quaint and still functionning, and Poblet, beautiful and much-appreciated, with natural beauty sites, caves, swimming pools: we guide you on the excellent local gastronomy. Fully equipped kitchen. Bed linen included. Satellite TV, yoga room. Bike rides. Bar / restaurant nearby. Large queen size comfortable quality double bed. The height (865m) gives much freshness in summer; When below on the coast they sleep sweating in a sticky heat, here there is a wonderful freshness. Which explains why no air conditioning is needed! Optional services: - internet: there's rural wi.fi .- free, just good for mails etc, not streaming. Breakfast: € 5 / person - sauna: € 3 / person / 30 min. Only very well behaved pets like lap dogs. I ask you to check with me before entering the property with pets.
Accommodation registered in Official Tourism Registry with number HUTT-5412
房客使用权限
In the living room you will find a scrapbook, full of information on places to see and visit, a walk or a drive.
In the downstairs bathroom, where the washing machine is located, there is a steam shower / sauna cabin with music, lights and foot massage. Session 3 € half an hour approx ...
与房客的互动
In addition to welcoming you (with a cup of tea if you want), we are always at your disposal in our separate apartment to help you with any problem or to give you information about the best value restaurants in this gastronomically-known area, or nice places to visit and how to get there.
其他注意事项
Our house is in the lower part of the village, which prevents it from being wrapped in clouds as is the top when it is cloudy, but just as cool in summer, and is located in places roughly the same altitude as several local sites that Can be reached by bike (we have 2 adults bicycles we can rent you very cheaply) along the tracks improved by the windmills installers. Windmills provide great interest for the younger generation, and although at first their presence scared the majority of our local eagle population, we have recently been noticing the return of the towering great birds of prey in front of the village in the skies of the Conca.
All our guests have had a very pleasant stay here; If you have come to visit the wonderful monasteries of the Route of the Cisters, to visit the numerous modernist wineries of the Conca de Barberà DO, to do more touristy things like taking the luxury spa circuit or going underground in impressive caves , doing healthy things like nice local walks on foot and bike paths, or just to relax in the pleasant atmosphere of the top of our house, away from it all, but whatever you need, you have to remember to bring it, since the nearest super is 5km away which is a bit far to go if you have forgotten the pesto sauce, and I may not be able to help.
Some comments made previously:
Pierre De Piervil
I'm going to speak in French so no hesitations, you can go to Philip's place, it's lovely, quiet and very beautiful. Philip was here from the beggining till the end to help us in the new area in Spain. Quelle surprise de retrouver au milieu des montagnes dans ce village of Forès plein de charme et constitué de vieilles pierres. La vue est magnifique, l'appartement est sublime et on se sent quickly comme chez soi. Je vous recommande Philip pour vous accueillir et vous aider à découvrir la région qui possède une belle histoire. Il vous faudra cependant plusieurs jours pour en voir une bonne partie. +++++ sublime expérience +++++
August 2016
Gustavo Kuhn
The place is very cozy and super clean!
August 2016
Vincent Depuydt
Super accueil Très bon souvenirs Merci Philip
July 2016
Bea Jm
Very good experience! The house is great to disconnect in a rural setting, has all the amenities and is very cozy. The location is perfect for visiting the area by car and hiking trails, visits to monasteries laden with history and charming villages. The communication with Philip was very simple and smooth, he welcomed us with great kindness and provided us with everything we needed during our stay. Just mention that the internet connection is not very good, but for us, that we were going to disconnect from the city, it was not a problem at all. We will repeat!
June 2016
Amelia Ortego
Phillip is Don Quixote de la Conca, in the best of senses. Charming and friendly, it informs you very well of all the activities that can be carried out in the area. On the other hand, the space is very nice and cozy, as much or more than what you can see in the advertisement, perfect for disconnecting and being at ease. Totally recommended.
December 2015
Victor Valenzuela
A perfect place to disconnect from the overcrowding of the city and relax in a quiet, quiet and beautiful environment at the same time. The views from the top of the village are breathtakingly beautiful. Really inside the village there is much to do, nothing more than to rest and relax reading or watching a movie. If you are looking for this plan I recommend you come with a battery of films or series from home, since the Internet connection is not very powerful and the streaming will be very slow. Apart from that, in the surroundings there are other towns and tourist attractions worthy of visiting, as well as the possibility of making routes and other leisure offers. Philip is also a very open and friendly person who will have no problem helping you with whatever you need. Totally recommended.
November 2015
---
Hemos compartido unos días espléndidos con los anfitriones, muy acogedores y atentos. Merece la pena viajar hasta Forés, si buscas paz y tranquilidad. La comunicación es muy buena, en pocos kilómetros encuentras vías de comunicación que te llevan a lugares que merece la pena visitar. En definitiva, muy recomendable.
---
A wonderful rustic vacation rental on the Cistercian route! We loved exploring the rural towns which are much less crowded than those closer to Barcelona. We also visited the Gaudí Center in Taragonna as well as the beach. We have a big family (5 staying at this rental) and it worked out really well for us. Highly recommend if you want to be in a more rural location with access to great hiking and bicycling.
---
Despues de 7 años de trabajos, hemos reconvertido esta antigua granja en alojamiento muy confortable, sobre todo en el piso superior, donde se alojan la mayoría de nuestros huéspedes, para dar una sensación de paz y bienestar. Todo lo que hemos instalado es eco-friendly; agua caliente solar, bajo consumos, y reciclaje de vidrio, papel, envases, plasticos non-extrusionados, y la electricidad se fabrica por eolicos. Nos daría placer enseñar los muchos atractivos locales, de la manera que hace falta; en papel, virtualmente a distancia, explicado a la llegada, y incluso, para los que no disponen de coche (recomendado) podríamos hacer de guía con nuestro VW con aire-condicionado, por las tardes a partir de 1pm, visitando monasterios, cuevas, museos, pueblos medievales, y restos arquológicos: 15€ por persona y día; mínimo 3 personas, max.; 8.
语言:
English、Español、Français