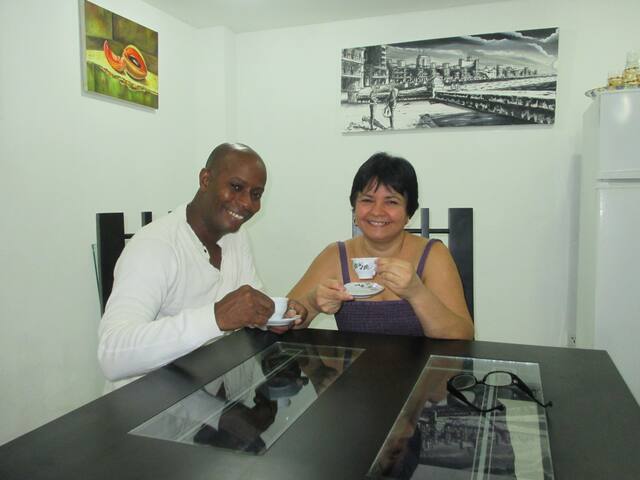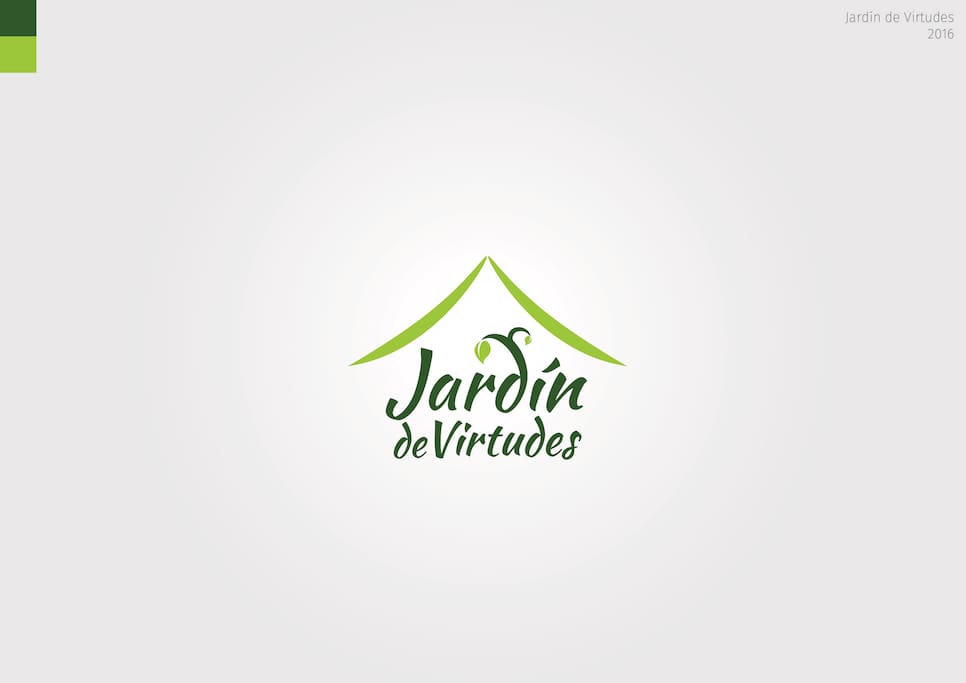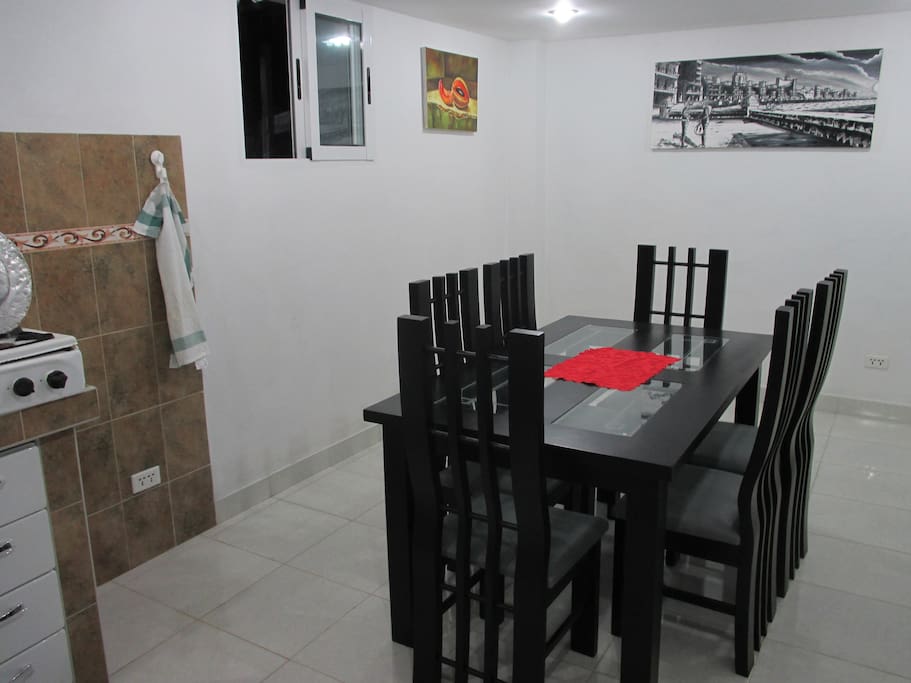 Sights: Just 5 minutes in car from the Malecon and 2 minutes from the Paladar La Guarida. It is also close to the Coppelia ice cream shop, the Habana Libre Hotel, the historic center of Old Havana, the Chinese neighborhood and Paseo del Prado. You will love my place because of its atmosphere, the outside areas, the people and the atmosphere. My accommodation is perfect for couples, adventurers, business travelers, and families (with children).
---
---
不适合儿童(0-12岁)入住,或不能为儿童提供安全的住宿环境
---
Jardin de Virtudes was an incredible place to stay. Rolando and Nina took wonderful care of us. The home is nice and plenty of space for up to four guests. The AC in both rooms was a great help during some of the hotter days. It's located in a very central location that allowed us to do some easy exploring by foot. Never once felt anything less than completely safe. I would stay with Rolando again in a heart beat.
---
Roly, Ines and Nina were very kind and helpful during our stay. Having the ability to order breakfast and dinner in the casa took a lot of stress out of planning. The location is quite good for those who want walk to most downtown Havana destinations in 10-40 minutes. Very close to the Malecon and parks with Wifi ( must have an ETSCA access card). The surrounding neighborhood central Havana provided many opportunities to interact with locals ( grocery stores, barbershop, soccer in the street). I felt walking around at night. The neighbors are quite friendly.
---
Si vas a visitar Cuba, no dudes en quedarte con Rolando en el Jardín de Virtudes. No hay mejor sitio para quedarse en la Habana que este y estas son las razones: Rolando estuvo pendiente de nosotros desde que el avión aterrizó en cuba hasta que llegó el día de irnos y nos volvieron a dejar en el aeropuerto. Rolando es muy diligente y siempre que pediamos que nos ayudara a cuadrar alguna actividad a los pocos minutos ya todo estaba listo. Nosotros queriamos ir a casa de Hemingway, al Cabaret Tropicana, a la Fábrica del Arte Cubano, a la Habana Vieja y a Varadero en un lapso de 3 días, y logramos visitar todos estos lugares gracias a que Roly organizó el transporte y tenía toda la información pertinente a precios y horas de funcionamiento de cada lugar. Roly tambien me hizo el favor de mandarme a arreglar unas sandalias que se me dañaron y que acababa de adquirir. Por favores, atención y consentimiento, no sufrimos porque nos dieron todo lo que pedimos. En casa Inés (Purita) siempre estuvo pendiente de nosotros. Tanto con cositas de la casa como prender el calentador del agua, pedir toallas y la limpieza diaria de las habitaciones, como con otras atenciones como estar pendiente de si habiamos llegado tarde de bailar o caminar por el malecón, mejor dicho de nuestra seguridad. Nina es la chef del Jardín de Virtudes, con ella organizamos tanto los desayunos como las comidas. El primer día en la Habana comimos por fuera de casa en un establecimiento del estado y la verdad que la comida fue pésima y costosa. Después de esa experiencia decidimos pedirle el favor a Nina de que nos cocinara y fue la mejor decisión que tomamos. El desayuno siempre tuvo fruta, jugo natural, café, huevos con jamón o salchicha y pan con mantequilla. La comida fue variada entre lo que comimos hubo sopa o algún grano, arroz, carne de res o puerco, pollo, jugo natural, tamales, malanga, postre, aguacate y ensaldas. Toda la comida siempre estuvo fresca y cocinada sin muchos condimentos o grasa. Juan y Ramón fueron las personas encargadas de transportarnos en Cuba y también fueron muy atentos en todo momento. Nos llevaron por todos los sitios que queriamos ver y también nos llevaron por sitios que tal vez no son tan conocidos por todos pero que son icónicos. Cuando fuimos a Tropicana, Ramón nos esperó una hora más de la hora pactada ya que la fiesta estaba tan buena que mi esposo y yo nos quedamos bailando y salimos tarde, pero el estaba ahi esperandonos. Sólo tengo cosas buenas que decir de nuestra experiencia en Cuba y todo fue gracias a NUESTRA FAMILIA CUBANA del Jardín de Virtudes.
---
We stayed for 8 nights at Jardin de Virtudes. Rolando was extremely helpful and responsive, both before we arrived and while we were there. He facilitated anything we needed, from taxis, to changing money, to suggesting places to go. The unit is in the back corner of a small courtyard building and is on two floors. It was extremely clean and we were very well cared for by Ines and Nina. Nina was very interested in learning about our food preferences and made creative and varied breakfasts for us featuring different Cuban specialties, and accomodated our vegetarian requests. The other families in the building were very warm and helpful. The narrow courtyard has birds, fish, and turtles and plants. The home is in a typical central Habana neighborhood and if you want the experience of everyday life in Habana without a lot of tourists around, this is a great choice. We liked sitting on the stoop and taking in the activity on the street and getting to know folks in the building. Very warm and nurturing hosts.
Muchas gracias Patricia, a ti y a su familia por la visita. Somos nosotros sus anfitriones quienes les agradecemos la confianza y la disponibilidad para compartir su tiempo junto a nosotros. Ustedes ya son parte de nuestra familia y esperamos verles de regreso. Fue un placer compartir experiencias con ustedes. Gracias por todo, incluyendo su comentario
---
Where do I stay! Rolando was absolutely amazing! From the minute we walked into the Jardin de Virtudes we felt so welcomed and like family. Truly an amazing group of people to stay with and there is always someone who can help you! It does help alot to be able to speak spanish as this is their first language but Rolando can speak english reasonably well. The place was clean, had ac units in the bed rooms which was amazing because Cuba is really hot! Nina was amazing and she cooked up breakfast almost every day and dinner on occasion when we asked (make sure to give her times of when you want meals to be ready and she is always on time and the food is delicious!). They change out dirty towels for you throughout your stay as well. The location is perfect as it is a 10 min walk or a little longer if you walk slow to Old havana so the only times we had to use a cab was to get to Fabrico de Arte and to go to veradero and vinales! La guardia a great restaurant is right around the corner and highly recommend! If i go back to Habana I will definitely stay here again!
---
El Jardin de Virtudes was such a wonderful place to stay in Havana. Rolando was a wonderful host and took care of us like we were family. He gave us tips on what to do, coordinated rides for us, and helped us with everything we needed during our stay. Inez did our laundry and kept the place clean. Nina cooked us breakfast every day which was very convenient. One of us got sick and Nina and Inez took care of her which was so thoughtful. Located in central Havana, it was easy to get to old Havana and Vedado. There are nearby shops to buy water and snacks. It's also near the Malecon which was beautiful and has many restaurants around. We have nothing but amazing things to say about this place. Rolando made it so easy for us! If I ever go back, I definitely would stay at this place again!
---
Yo soy tú Amigo.

Adoro compartir una buena conversación, escuchar todo tipo de música según la ocasión y amo bailar salsa. Disfruto una buena una taza de café con amigos o un refrescante coctel.
Me gusta conocer y visitar lugares alegres e intercambiar sobre temas históricos y culturales rodeado de buena compañía.

Gracias por dedicar tu tiempo a leer este Anuncio.