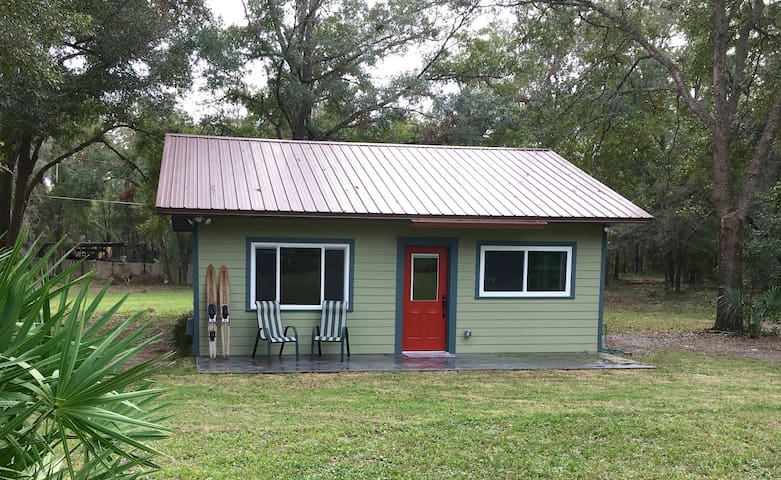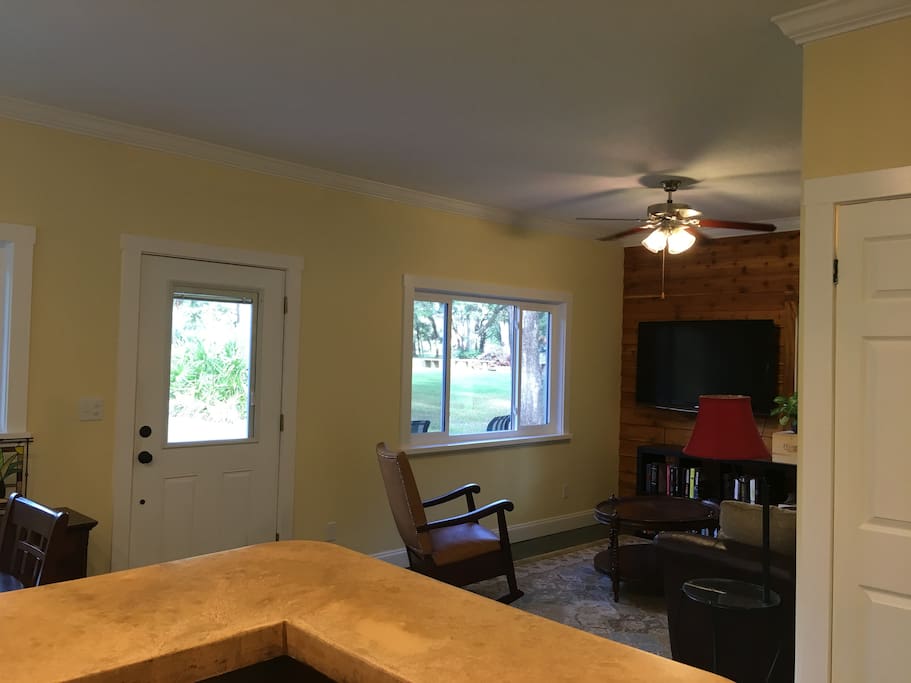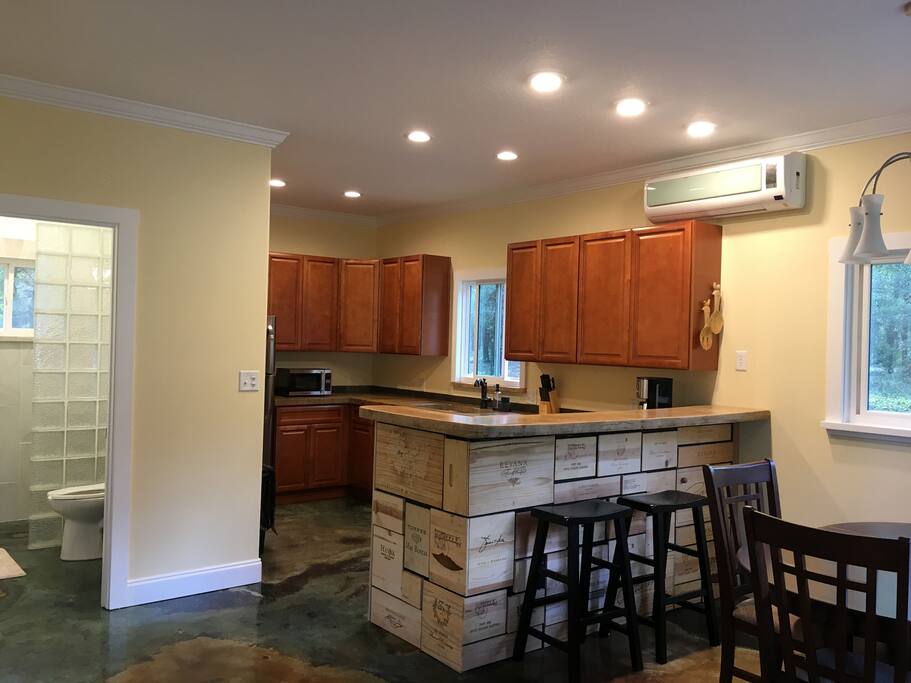 Brand new 1 bedroom, stand alone bungalow. Beautiful wooded setting. Full kitchen, king sized bed, Lots of privacy. Close to Daytona International Speedway, the Atlantic beaches and all Orlando has to offer.....
---
This little cottage was amazing! Such a beautiful little place but with soo much space. Me and my wife had a blast will definitely recommend this to anyone that is gonna be in the area. If I am back in the area I don't think I could stay anywhere else..
---
My husband, son and I totally loved this Bungalow! We had a whole weekend planned with things to do, but I really just wanted to hang out back at the Bungalow... relax indoors, stroll through the wilderness or hang out by the pool that's like a tropical oasis.... That's how awesome it was there. We even had the chance to see some wildlife. A beautiful, beautiful place...super clean and quaint. The decor has a nice touch, beautifully put together. Rick and Kathie were so accommodating. I had so many questions before I even committed to renting I thought I would surely annoy Kathie. But Kathie was so sweet and more than willing to answer all of my many questions. Rick was there to greet us and had a ton of amazing recommendations on where to eat. If you like home southern cooking, try Gram's kitchen! We were there for the Daytona race which was about a 20-minute drive. Daytona's world famous beach was a 30 to 40 minute drive, depending on the time of day. The drive didn't bother us because we were looking for something different, a place to unplug. If you are looking for a place to get away from City Life you will absolutely love it here! Doug and I loved it so much that we are looking forward to a weekend soon where we can get away and just do nothing but relax at their super comfy bungalow. Rick and Kathie are amazing people. The kind of people that you just want to hang around. :) We loved their pets, too! Thanks for having us!
---
If you are looking for perfection in a private area, this is it! Away from the noise and hustle of city life, this cottage gives you a sense of peace. Not only was it built beautifully but the surrounding area was great as well. Communication was kept open and easy with Kathie and Rick. Everything we needed was available in the cottage. It was super clean and the pool was a major plus. About 30 mins away from Daytona and New Smyrna beaches plus the grocery store is literally 3 minutes away. Would definitely recommend this place and will definitely consider coming back to Florida just to stay here.
---
Kathie is a great host and was very attentive to our needs. The place was just as described in the photos. Beautiful decor, clean, and very secluded and private. I would most definitely recommend this place to anyone. I was unable to check out the pool but it looked so nice and very different from most pools I've seen, almost eauropean like. I would have loved to take a dip in it. I will definitely consider this place again for future stays. Thank you for letting me and my guest stay here. We were VERY pleased with our experience.
---