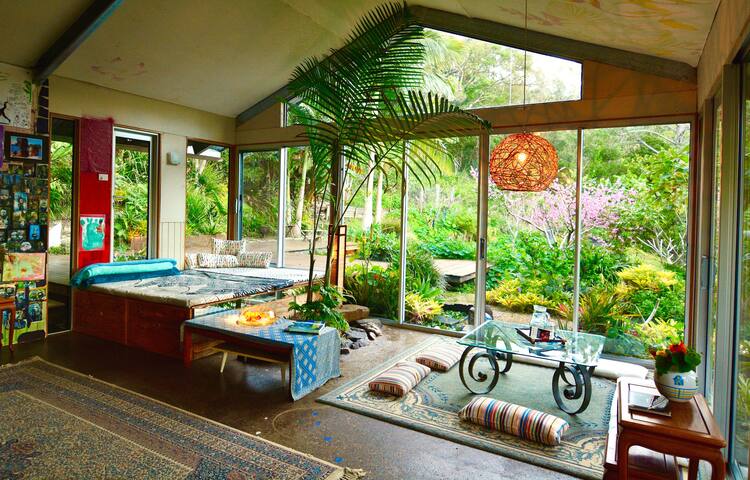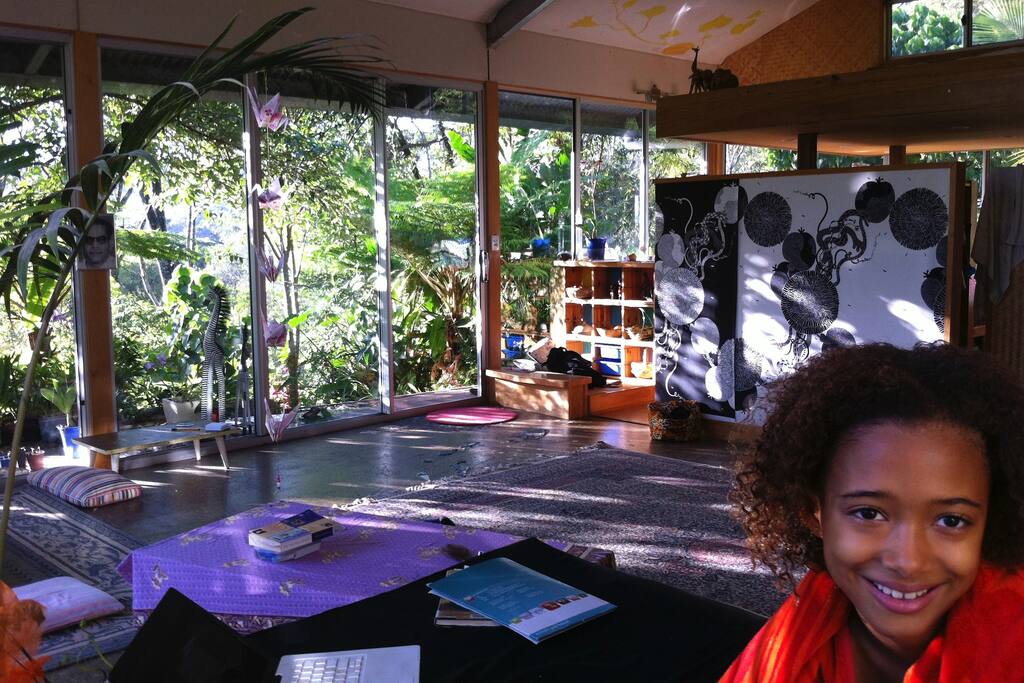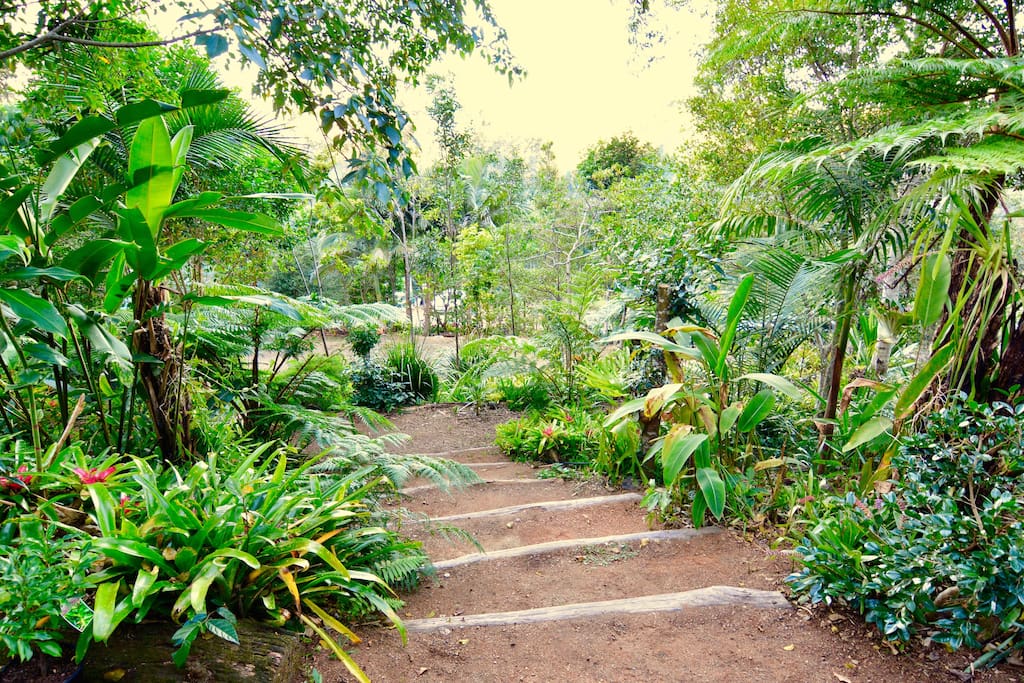 Rainforest meditation retreat for yoga, relaxation, vegan detox and nature immersion.
Sentient, secluded paradise garden of unique wildlife.
Ecological glass studio architected upon Japanese impressions and simple living.
We host yoga wellness detox retreats packages, providing garden fresh meals and graduated juice fasting. Includes emotional processing, natural therapies, forest walks. Affordable full package prices for three $990 to five $1650 nights.
français disponible
提前预定,可提供中文服务
房源
For an overnight or weekend visit, the studio was uniquely designed for living within nature, with palms and an indoor garden growing in the living room and rainforest gardens lit up through the glass at night.
All guests are welcome to take advantage of our garden, sit by the waterlily dam, wander through the ancient rainforest, or for the more adventurous, a hike to the creek.
Garden activities, edible vegetable and seasonal fruit harvesting and earth to table meals are also available.
Extra Classes are available, and have been popular with our regular guests; $60 per hour (couples) include;
*Yoga and deep relaxation
*garden alkaline cooking,
*wellness emotional release
*natural therapies - including a choice of steam, mud and sun baths, evening hot steam soaking off the deck under stars, creek exfoliation rubs.
You are also welcome to join us for free each dawn for 5am morning meditation and chanting.
Starlight Evening dinners by the fire pit can be pre booked for $60 a couple - A seasonable sample menu is available-
.
Our family have been active in wellness support for decades, and are great listeners, able to tease out unhelpful blocks in thinking and support emotional processing that may arise during detox.

The accommodation space is open plan, with basic comforts - king size tatami loft and single tatami mat bunks available. As in traditional Japan, thin foam mattresses used for sleeping are folded away in the morning.
* the loft area is 3mts x 3 mts without railings. Please be aware of the edge! We advise that sleep walkers sleep in the beautiful double bed window box sleeping area, used for sitting during the day.

We prefer a traditional Asian yogic lifestyle -our dining seating is around a low table with cushions upon the floor.
Lovely outdoor bamboo toilet and hot showers are separate from the studio, 15 meters stunning star walk at night. Situated at the edge of the garden forest, a lovely space for bird and possum watching! We use torches at night.
One of the outside showers is off the deck, under the tree ferns, if you like a completely natural experience.

The area is secluded and private from all other houses, with rainforest gardens on all sides. Lights on the decks, paths and trees at night create a spectacular backdrop to the glass living space. Often nocturnal animals, such as squirrel gliders and possums can be seen through the glass.

The decks and patio area provide outdoor dining with a fireplace and BBQ available.

The community is vegetarian, and we also cater for vegans. We appreciate non-veg food to be eaten in the restaurants in Maleny township, famous also for its variety of cafes and gourmet selections. ( Colin James cheesery is well known for it's award winning ice-cream made from local Maleny Dairy cream and Monica's cafe is especially valued for it's delicious weekend breakfasts.
我们是Madhu和Kate,从事正统的Ananda Marga冥想和瑜伽工作超过30年。我们在亚洲及非洲生活多年,对以上区域的文化具有亲切感。我们可爱的家庭客房和工作室位于布里斯班以北100公里,阳光海岸以西50公里的小镇Maleny,从小镇驱车10分钟可达。
考虑到和自然的充分亲近,以及随时可以和鲜花植物相伴,我们的客房采用全落地玻璃的开放空间设计,充满艺术气息的室内装修。我们只有一幢独立的客房,并且被一个巨大而美丽的花园围绕,您完全无需担心隐私问题,尽情享受浸入式的自然住宿体验。
我们同时还以合理的价格提供为您个人定制的专属冥想、瑜伽、素食排毒套餐,天然有机蔬果大部分来自我们自己的花园(注意:所有餐食均为纯素)。户外烧烤区域可供素食BBQ,让您从身体到心灵获得焕然一新的体验。
同时,您和您的家庭还可以获得以下额外免费福利:
1、在我们可爱的日式花园漫步,邂逅、近距离接触澳洲独特的野生动物:袋鼠、鹦鹉、锦鸡、蜥蜴等等。您的孩子一定会非常享受亲手喂金刚鹦鹉。
2、步行15分钟,您可以享受私人的溪流体验,游泳、泥浆浴、或者在小溪边做瑜伽和冥想。
3、每天早上5点,您可以加入我们的家庭冥想和诵经,或者对于冥想有任何的问题,我们都非常乐意分享我们的经验。
我们所在的小镇Maleny是一个充满艺术气息的小镇,非常有名且美味的冰淇淋商店food co正位于这里,同时镇上还有很多浪漫情调的咖啡店、风格独特的服装店以及艺术品、古董商店。
从小镇驱车30分钟可游览著名的Glasshouse Mountains,或者15分钟驱车可欣赏此景点;40分钟可抵达海滩,游览Caloundra等度假胜地。
非常期待和欢迎您和您家庭的入住,相信我们用心经营的,这个充满爱与美的独特民宿能给您带来难忘的体验。
房客使用权限
通往我们家的通道是700米的非密封路基,可以是多尘的。我们建议慢慢开车。汽车停在房子下面没有盖子。通往房子的道路通过花园有15个陡峭的台阶。雨季可能需要雨伞。 内部没有鞋子保持适合瑜伽和放松的空间在地板上。
The access road to our home is 700 meters of unsealed road base which can be dusty. We suggest to drive slowly. Cars are parked below the house without cover. The path leading to the house has 15 steep steps through the garden. Umbrellas may be needed in the rainy season.
No shoes inside to keep the space suitable for yoga and relaxation on the floor.
与房客的互动
几十年来,我们致力于婚前的瑜伽和冥想指导,我们的家庭生活在亚洲和非洲,并且在农村喜欢各种各样的文化和社区生活方式。 我们的目标是将这种与自然的联系包括在客人身上,我们很高兴领导那些对意识体验感兴趣的人,包括克里克步行,自然冥想,早晨瑜伽课和环境艺术经验。我们还教育感兴趣的家庭如何从花园到桌子准备美味的绿色冰沙,汤,蘸汁,果汁和沙拉。 3 - 5天特殊瑜伽健康包计划: *每日瑜伽,自我按摩和放松课程 *碱性和果汁禁食 *上午和下午的诵经和冥想课 *在健康车间成为您自己的健康硕士幻灯片 *自然疗法 - 克里克剥离,泥,脚和蒸汽浴,脊柱放松,晚上热水浴盆浸泡在星星下, *从花园新鲜烹饪课程 情感释放和艺术加工研讨会
During the decades we dedicated to yoga and meditation instruction before marriage, our family has lived in Asia and Africa and loved the variety of culture and community lifestyle in the countryside.
Our aim is now to include that connection to nature to our guests, and we are excited to lead those interested in awareness experiences, including creek walks, meditating in nature, morning yoga classes and environmental art experiences. We also teach interested families how to prepare delicious green smoothies, soups, dips, juices and salads straight from the garden to table.
3 - 5 day special yoga wellness package program:
*daily yoga, self massage and relaxation classes
*graduated alkaline and juice fasting
*morning and afternoon chanting and meditation lessons
*'be the Master of your own Health' slide show on wellness workshops
*Natural therapies - creek exfoliation, mud, foot and steam baths, spinal relaxation, evening hot tub soaking under the stars,
*cooking classes fresh from the garden
* emotional release and art processing workshops
其他注意事项
该地区是半热带雨林,花园内有各种无害昆虫和蜘蛛。在森林散步期间,我们建议覆盖的脚凳,并在返回家园时检查抽搐。 酒店还设有Lacy Monitor蜥蜴,大型地毯蟒蛇和较小的害羞种类的蛇。这些都是受保护的,而且是非侵略性的,尽管如果发现我们建议保持一个明智的距离。
The area is semi tropical rainforest with a variety of harmless insects and spiders in the garden. During forest walks we advise covered foot ware, and to check for tics when returning home.
Lacy Monitor lizards, large carpet pythons, and smaller shy species of snakes are also found on the property. These are protected, and non aggressive, although we advise to keep a sensible distance if spotted.
---
---
不适合儿童(0-12岁)入住,或不能为儿童提供安全的住宿环境
- treat all wildlife with love and care
- Sentient meditation and yoga space
- Bring your heart inside, please leave shoes outside
- we have snakes in the area - torches provided and are necessary after dark
- Wellness detox juices and meals available upon request
- drug and alcohol free community
---
Kate and Madhus glass house in the forest is absolutely amazing. From picking vegetables from the garden for dinner to an outdoor hot candle lit bath surrounded by nature under the moonlight....lifetime memories made. We will be back again and again!
---
Kate and Madhu's yoga studio is a real delight to stay in. The studio itself is exceptional and sitting amongst the gardens and listening to the birds is divine. I have to recommend the walk to the creek although it is challenging for anyone not up for a few steep climbs and a little dirt on the shoes. I want to go back in summer for a swim that's for sure. Kate made a superb vegetarian meal from their garden one night - highly recommended. It's a great place to chill out and relax and Maleny is a cool town to hang out in. Make sure you get coffee and eat at Shotgun Espresso plus the are many great walks around the town.
---
Amazingly relaxing and peaceful location. Lots of wildlife, things to explore. Privacy. Kate & Madhu are great hosts that love to share a meal, their meditation sunrises. We were very inspired by their love for gardening, environment and living in harmony with nature. Would recommend to anyone who wants an Airbnb stay with a difference and a relaxing peaceful weekend away.
---
A wonderful experience for our first time using Air BnB. We loved the space and the feeling Kate has created. It was very tranquil and wonderful to be able to enjoy natures offerings. We had a delicious healthy dinner cooked by Kate and Rashmi and enjoyed an evening of good conversation and the opportunity to learn more about Kate, Mohdu and Rashmi lives. A fantastic place to escape the hustle of everyday life and re centre. Absolutely recommend staying.
---
Nestled in the hillside, with rainforest plants surrounding, is this little slice of paradise. The glass and wood studio has everything you need, and none of the things you don't when you're trying to escape. The reception is patchy, which is great for an occasional message home, but forces you to detox digitally. Every which way you look has beautiful staghorns and gorgeous orchids. Bring a few books, some walking shoes and prepare to relax. I encourage you to take Kate up on the offers of guided meditations, one on one yoga, relaxation and reflection sessions and don't leave without eating a meal cooked by the family and enjoyed under the stars around a campfire. Their property is further enough away that you can have total privacy if you want. The conversations I enjoyed with Kate have cleared my head, helped me set a better direction and let go of some troubles. Unexpectedly, I had a holiday with a self made life coach. I am better for it.
---
It's beautiful, private and comfortable all in one. We loved the space and really recommend having a meal cooked by Kate, it was so yum+healthy and we loved just talking to Kate and Madhu, beautiful people who you can learn a lot from.
---
Married for 12 years, with a teen daughter, our family meditates and cares for our surrounding native wildlife. After 20 years of teaching yoga and meditation to women and children around the world, my husband and I met in India and worked together in his home country, Ivory Coast, west Africa. We are now establishing a wellness centre on the property for families and guests wishing to experience connection to a deep ecological lifestyle.
We love creating raw meals and juices from our abundant vegetable garden, and both love caring for guests who want to unwind and journey inward.
Our home is within 100 meters of the studio, just a short walk through the rainforest, and you may like to join us for early morning chanting and meditation with the birds!
语言:
English、Français