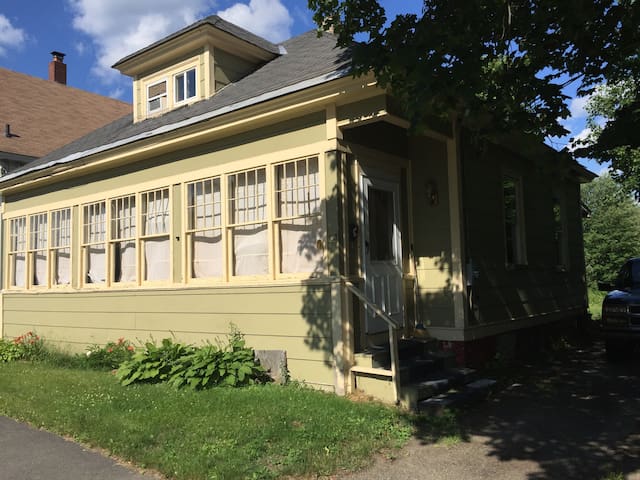 Basecamp Cottage Rental on Millinocket Stream
A nearby walk offers antique shops, galleries, restaurants, and playgrounds.
On the stream, kayaking, fishing, and bird-watching are all available right from the yard. Boat with motor, kayaks, life vests, and fishing nets are all available on-site, as well as a registered Maine Guide and licenses.
The area offers many hiking opportunities including the Appalachian Trail, Baxter Park trails, and Mt. Katahdin. Swimming, moose tours, rafting, hunting, and snowmobiling are also nearby!
房源
Pots, pans, dishes, utensils, linens for the beds, towels & washcloths, hot water, heat in the Winter and AC in the Summer are all included in our cozy, vintage home. We also have a space-heater for additional heat in the winter, if required. I am also a Registered Maine Guide and can issue both fishing and hunting licenses for an extra fee, as well as actual guiding services.
For those that might need WiFi, we haven't selected the checkbox that WiFi is included with this listing because there isn't a router in the rental itself, but we do have a range extender in our house to try to push the signal over to our rental. There are 2 rooms in the rental that get "decent" signal. WiFi details are listed on a sheet in the house if you desire to try it. Laptops will get better signal than phones as they have a larger antenna to pull in the signal.
As far as beds go, there are 6 physical beds: 5 twins upstairs, 1 double downstairs, and a number of floor mattresses are available if more sleeping arrangements are required. Comfortably, the accommodation can sleep 7.
I want to mention children under 12 are free! So on the checkout, just select the number that are coming minus children under 12. That being said, we do not provide crib space for sleeping.
房客使用权限
Full house + backyard are included with the listing. For parking, there is a driveway in addition to ample street parking (4+ vehicles).
与房客的互动
We live in the house to the left of the listing (# 139), so please feel free to come over with any questions or concerns (or to check in)! If you wish to request any of the aforementioned guide services (moose tours, hiking, fishing, or hunting, etc.), that can be requested both in-person as well, or via the website before arrival.
其他注意事项
Considering our house and our AirBnB rental are adjacent, we have some of our stuff stored in the backyard of the rental, but please just ignore it and use the space as if it were your own.
---
Al's place is a very rustic space in a fairly rural area. It had the essentials for cooking, and several beds for a large group. It was very clean, and Al's communication was good, and check-in was easy. Al can help with information on the area in numerous areas, and could probably answer any questions you might have. But for the two of us, it was a bit disappointing. The space has clutter on the front porch and in the back yard, and the back enclosed porch is still being finished. It would have been nice if the front porch could have been bright and the windows uncovered, but the clutter would then be visible from the street. As it is, the space is dark. These issues don't prevent you from bathing, cooking, or any essentials, but they do set the mood. If you're looking for a large space for a large group to crash, this may be just what you're looking for. Millinocket is a great launching pad for numerous outdoor activities. Al mentioned there is wifi on the end of the house nearest their place, and we did get some coverage in the downstairs bedroom.
If you thought the room was dark, you should have opened the blinds on the front porch, yourself. We did not want to disturb your visit with the noise of renovating our back porch. Hence, the stack of flooring in the back yard. We try to work when the cottage is unoccupied. But being that it has been enjoyed by so many appreciative hikers and vacationers, this year, finding those windows of opportunity has been a challenge. I don't know how you could have missed the fireplace, chairs, picnic table and benches by the stream! You obviously didn't walk down the lawn. I guess I'm not sure what 'mood' we should be attempting to set. You were extremely stressed when you arrived, and relaxed when you left, I guess our Basecamp provided what you needed. We hope you enjoy chilling out in Canada.
---
The cottage was as described. Al is an excellent host, really decent, honest and friendly. Al knows a lot about the area and as a very experienced certified guide can provide useful information and advice on the areas many outdoor offerings. The house is small with older furnishings, but this adds to the charm and coziness. This place had everything we needed for a few days use as a base camp for Baxter hiking. The Jacuzzi was a blessing after 13 hours on Katahdin. If you like hiking or outdoor activities this is the perfect base for that. This isn't a place or area for sitting around watching tv. The place was clean and within walking distance to downtown restaurants and bar. We had a fire one night in the fire pit with a relaxing sit by the river at the end of the garden. Al even provided some gear for fishing after I forgot mine. The house is in a residential neighborhood, but it is very quiet, safe and exceptionally friendly. We would stay here again for sure, great value for the price paid.
---
Great location. My husband and I stayed here the night before a white water rafting trip. It was only a few short minutes to our final destination. The town is quite and has a few nice restaurants. Alfred's place is still under some minor remodeling, and we were not aware of this before booking- this was a bit of a disappointment. However, all necessary amenities were provided for our stay.
---
Alfred's place was exactly as described. Very simple, cozy, and safe. Can not beat this price. Alfred is very nice and helpful with hospitality and local recommendations.
---
We had a great time staying with Al and his wife Sue. The cottage is next to their residence on a neighborhood street. There is a creek behind the house that is nice to sit by in the morning. We had the house to ourselves and it was clean and neat. One of the bonus features was the jacuzzi hot tub we used after 13 hours of hiking to the peak of Mount Katahdin. We literally melted into it. There is a full kitchen and a nice grocery store up the street about a mile. The restaurants, Scootic In and our favorite breakfast place The Appalachian Trail Cafe are within walking distance. Al and Sue gave us some great advice on local activities, where to spot moose and the best fishing spots. Al is also a fishing guide and can sell you your fishing. license. We HIGHLY recommend staying here.
---