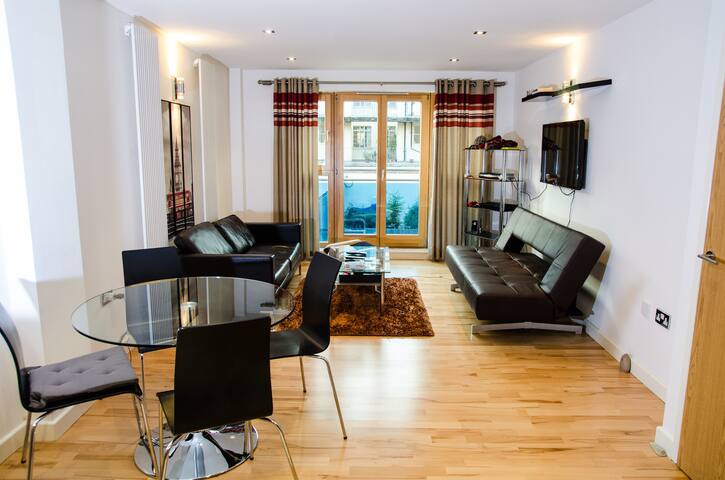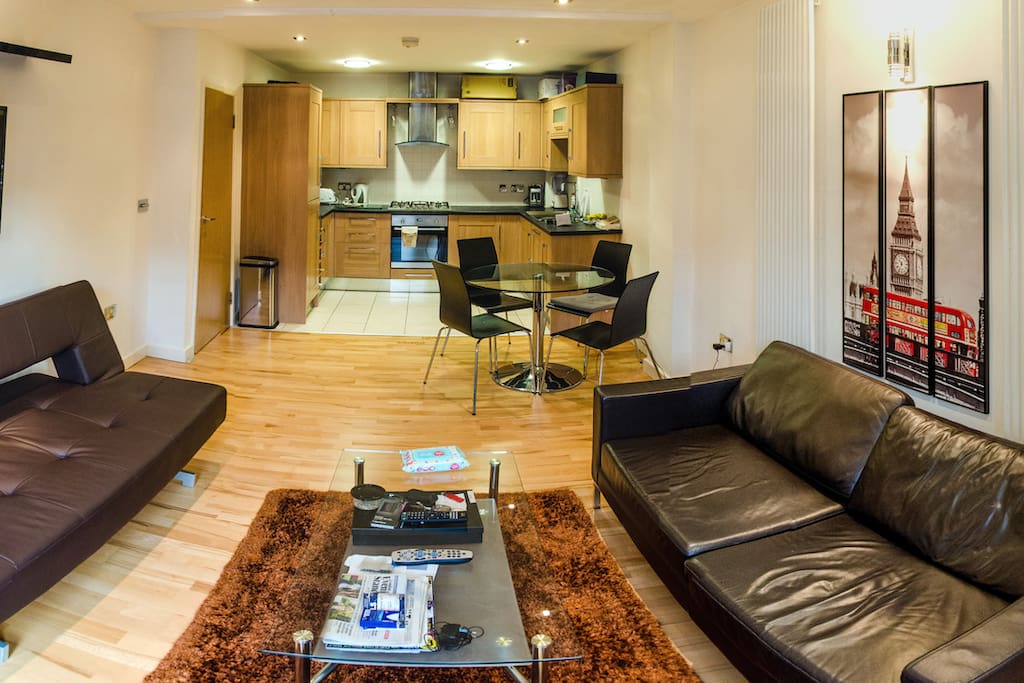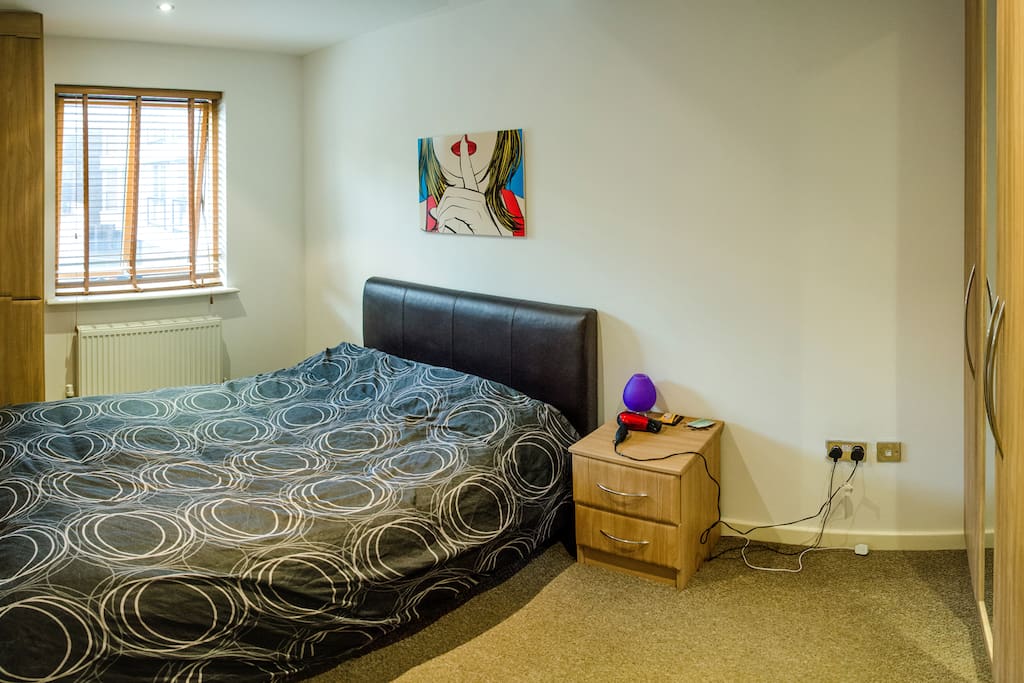 房源
PLEASE KINDLY ASK FOR AVAILABILITY BEFORE BOOKING
PLEASE GET IN TOUCH FOR LONGER STAYS AND GET THE BEST DEAL
I have other flats in the same area if this one is not available.
Situated in the heart of one of London's most fashionable districts.
Each flat has hardwood flooring throughout, as well as sofas for extra guests and a flat-screen TV. The bathrooms come with complimentary toiletries and each kitchen has a washing machine&dryer,dish washer , an oven, a fridge and a microwave.
The international bars and cuisine of Shoreditch are on the property's doorstep, and further eateries and boutique shops are 5-minute walk away in Shoreditch.
Soho and London's West End are 30 minutes away by public transport and Tower Bridge is 10 minutes away by bus.
Hoxton Overground Station is a 2-minute walk away. Liverpool Street Railway Station is 10 minutes walk away and offers direct train and bus connections to Stansted/Luton/Heathrow/Gatwick Airport.
Also, Hoxton has a strong Shakesperean history. In the 1500's Shakespeare's Romeo & Juliet was performed here, starring William Shakespeare himself!
It is a perfect place to enjoy east London bars, restaurants and art or design galleries and shops. You will notice that Hoxton is central London's coolest area.
You will receive a set of keys on arrival.
For laundry there is a washer&dryer in the apartment and clean towels, bedsheets and linen are all provided for you. Everything you need is in the apartment waiting for you when you arrive. There's high speed WIFI internet, cable TV in the flat.
Before you arrive the apartment will be professionally cleaned and on arrival a member of our team will be in the apartment waiting to greet you and explain all you need to know about the apartment, the area and answer any questions you may have. Let me know if you would like any further information or special requirements, I'm always pleased to help!
We are LGBT-friendly!
The perfect choice for:
Holiday makers
Business people
Students on short courses
Workers on short contracts
Temporary accommodation while looking for a permanent home
Short lets during home renovations
Accommodation for friends or relatives
*********FREQUENTLY ASKED QUESTIONS******
Q- Do I have to share the flat with anyone else ?
A- No, you have the whole entire flat.
Q- Where will 6 people sleep?
A- There are 2 bedrooms with double-sized beds so 4 people can stay in 2 different rooms. 3rd bed is a double sofa-bed so 2 people can stay in the living room.
Q- How central is the area?
A- We are located in ZONE 1 which is the heart of the city.
Q - What is the closest Station?
A - Hoxton station is 2 minutes walk away.
Q - What Time is Check in & Check out?
A - Check in is 3 pm ; Checkout 11am but we can be flexible on that according to previous and next guests.
Q - Can I check in early?
A - We try to be flexible on that according to previous guest.
Q - Can I drop my bags there early?
A - We try to be flexible on that according to previous guest.
Q- Can I check in Late ?
A- Yes we accept late check ins as long as letting us know the estimated time of your arrival.
Q - What Time is Check Out?
A - 11:00 am. But we can be flexible according the next guest.
Q - Do you live close to the apartment?
A - I live very close by if you will need anything that I will be happy to help.
Q- What is the best way to get to the apartment from Luton?
A - From the airport taking the shuttle bus to Luton Airport Parkway Station; trains from there run frequently to St Pancras Station in London taking about 30 minutes. From St Pancras take the
Underground Victoria Line(Northbound) to Highbury & Islington and take the overground to Hoxton Station which is 2 mins walking away from the flat. After ST Pancras to the flat will be around 20 mins journey . You can buy a through ticket from Luton Airport to include the Underground section of the journey in London.
Q - What is the best way to get to the apartment from Heathrow ?
A - The best way from Heathrow is getting the tube. You can take Piccadilly line from Heathrow and change it at South Kensington to District Line, and you can change again at Whitechapel station and take the overground to Hoxton station. It is 2 mins walk from Hoxton Station.
Q - What is the best way to get to the apartment from Gatwick ?
A - You can take the First Capital Connect train to Farringdon, and change onto the Circle Line - 2 stops to Liverpool Street. Then you can either walk from Liverpool Street or take a 5 mins bus ride with 149 or 242 n the closest bus stop is Waterson Street station which is just on the property's doorstep.
Q - What is the best way to get to the apartment from Stansted ?
A - You can take the couch from Stansted to Liverpool Street n then you can either walk from Liverpool Street or take a 5 mins bus ride with 149 or 242 n the closest bus stop is Waterson Street station which is just on the property's doorstep.
Q - What if I need to check out very early ?
A - We have an easy check out without hassle ;so you can just leave the keys in the mailbox while you leave the apartment.
---
Hilmi was a fantastic host. He was so attentive to any questions I had and also stayed quite late when my flight was delayed to give me the key. The apartment is large and clean with two big beds and a fantastic set of couches. It's very close to the whitechapel tube stop which made my commute to work in the morning less than 20 minutes. For families, couples or business travelers, you cants go wrong staying here.
---
When my two friends and I decided we were going to spend a weekend in London, we immediately tried to find a place to stay in Shoreditch. Hilmi was very nice and available by email before and during the stay. The studio was as advertised: clean, spacious and comfortable. For three friends, it was perfect and really well located on Shoreditch's main street, where there are a lot of nice bars, restaurants, shops and galleries and a few minutes only from Brick Lane. Would definitely recommend and would stay there again considering the interesting rate and the location. However, if you are looking for a typical British experience, you might want to look for something else.
---
Our experience at Hilmi's flat was extremely positive. He stayed an extra hour in his office to greet us even though we were unable to call and let him know we would be late (and subsequently carried our heaviest bag up 3 flights of stairs). The flat is spacious and very clean. The surrounding area is nice, trendy, and had tons bars, clubs, and restaurants. The apartment window faces the street, so the street noise can be pretty loud sometimes. Also, the heating, while quite effective, is on the old side and can be a bit loud as well. On the whole, the experience was very positive and I would stay there are again and would recommend it to anyone.
---
This apartment is in the perfect location. Just a block from The Grocery, a nice health food store with lots of vegan options and close to fun things in Shoreditch. It is near an intersection with the best cafe and a bar open late with good beer. Just below is a kabab / falafel place open late. The apt is just 1.5 blocks from Hoxton St. (overground) it is easy to get around, and the bus runs just outside as well. It was very affordable, but you do get what you pay for. It is not fancy and is without decor and has poor night lighting (just big overhead fluorescent lights). The kitchen is tiny, but well appointed with appliances. The bedding and towels were new. Hilmi was GREAT and let me check in 1 hour early. He was easy to reach via text and airbnb and the office is right across the hall, so it was easy to ask for things (like a hair dryer and toilet paper). Not fancy, but a great value compared to other places in the same neighborhood. I'll stay here again for sure.
---