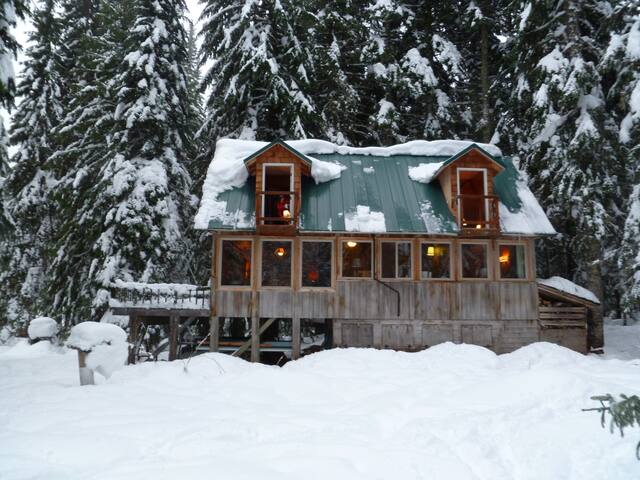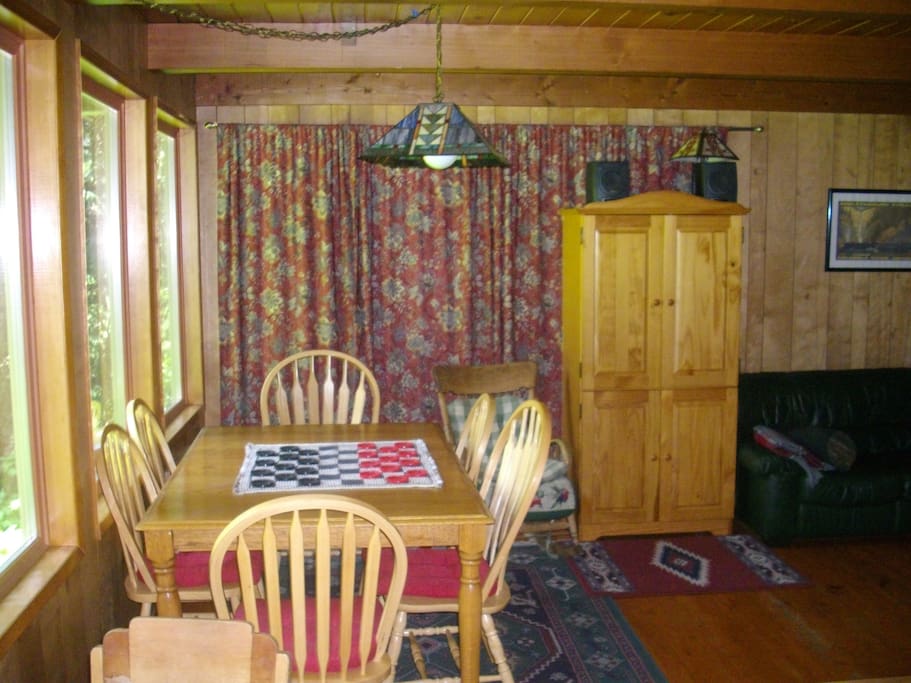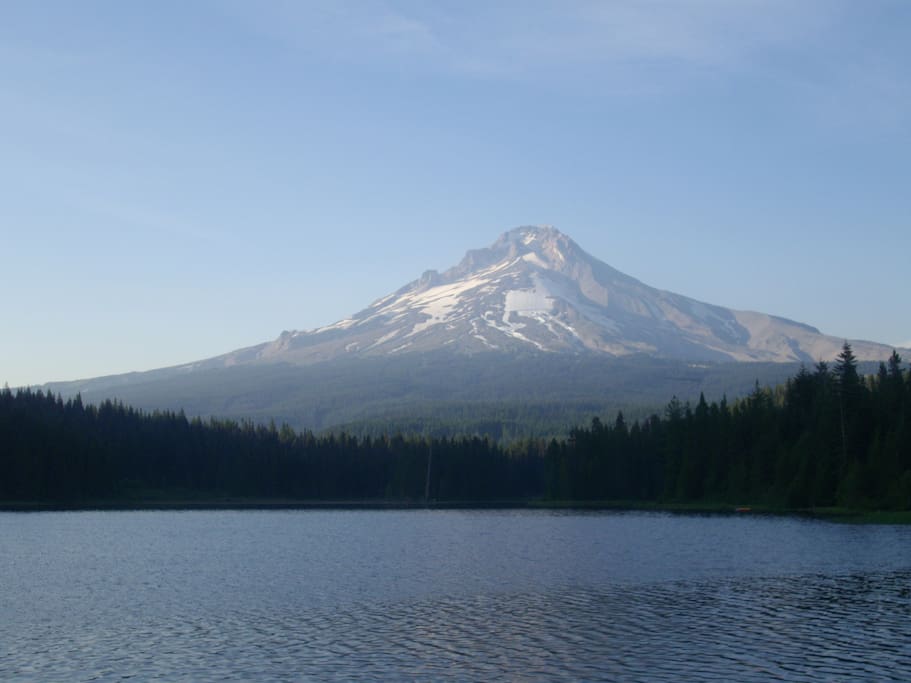 Trillium Lake Basin Cabins
Barlow Cabin has great Mt Hood (11,249 feet) old growth and meadow views. One mile to Trillium Lake and close to hiking trails. King sized bed on main floor, 2 additional bedrooms 2nd floor. Woodstove with glass window, firewood is supplied but always good to bring newsapers and kindling) Can sleep up to 10 Sounds of Mineral Creek are heard, outdoor cedar sauna, hiking trails. In winter we are 1.5 miles in on snowshoes or xcountry skis.
房源
We are within 1 mile of Trillium Lake and 2 miles to Government Camp. Great views of Mt Hood including Palmer snowfileld Hoggs back and the peak. See summer skiers. Our acccess in winter is 1.5 miles in on snow shoes or xcountry skis or hiking if there is light snow or hard pack snow
We offer wifi Netfliks dvd (kids vcrs) with collections CD player coffee maker 4 burner electric stove and oven full size refrigerator woodstove with glass window Charcoal bbq grill (bring charcoal and lighter fluid) for summer weather outdoor deck, firewood, outdoor cedar sauna, outdoor fire ring Great Mt Hood views
Bedrooms 2&3 are up a steep strair case (1/2 way between a ladder and a staircase Not suitable for young children who might climb the stairway unsupervised or those with limited abilities. Main floor has a king sized bed
房客使用权限
Great deck in the summer with Mt Hood view BBQ grill Outdoor cedar sauna
与房客的互动
我们做的最小的互动只是通常只是检查。总是可以通过文本电话电子邮件问题文本是最好的联系方式
We do minimal interaction just usually only to check in. Always available via text phone email for questions Text is best way to contact
其他注意事项
请注意,我们鼓励多个晚上,许多单人住宿有50美元附加费,请查询有关日期
Note we encourage multiple nights, many single night stays have a $50 surcharge please inquire regarding dates
---
This place was perfect for what we needed. I surprised my gal with a birthday getaway to this cabin and we had a very peaceful weekend. Plus we were able to bring our pups! Great experience overall, but, I booked on short notice and was willing to pay more to secure a place and the cost is something to think about. For a couples getaway weekend this place is great. Two couples would even be cool. But I wouldn't bring more than 1 kid if you are a family looking for a place. Pros: Dog friendly, secluded yet close to civilization, close to hiking trails, most everything you need kitchen wise is there, a driveway for your car & most importantly its very quiet Cons: After you paid for the place through Airbnb you then were sent to another website where you needed to download and sign a separate rental agreement (not a big deal but adding another step is always annoying), They ask if you would like to pick up the keys in Portland which is an immediate turn off, but then later follow up with asking if you would prefer to just use the lockbox on site. Why have any other option? Who wouldn't chose the lockbox? Lastly, we were asked to do a TOTAL clean up before we leave. I stay at a lot of airbnbs and typically do a good clean, but never do I do the wash the sheets/towels, take the trash home or vacuum etc. We would be charged more if we did not do this and since we were already paying a ton there was no way I was going to pay more, so we cleaned everything. Given that I already paid a cleaning fee through airbnb it just seems odd and for sure a first for me. Kinda made the ending of our relaxing weekend turn into a chore. This and this alone makes me feel like the total value wasn't there. Felt like we were staying at a friends cabin for free rather than paying top dollar for one.
Hi Mark glad you enjoyed your stay. Apologize if there was some misunderstanding upon leaving. Many guests have the option of doing self cleanup which gives them 2-3 more hours at the cabin and we also then base a cleaning refund upon how much time it saves our cleaners. I've been traveling in Alaska without cell service and find out from the cleaning crew that you did a splendid clean up so we will be getting a refund to you. All the best, Elliott
---
Lovely setting off gravel road, in woods, view of Mt Hood and fern gully. Host was polite and communicative. Wifi worked great. Firepit, sauna, wood stove were great. Cabin felt a bit dark, dingy and dusty to our group for the price. But....Logistic were necessarily complicated..... 1.) KEYS. I was told I needed to "pick up a key in Portland", which was inconvenient and time consuming. When I asked for another option, he said there was a lock-box at the cabin. I'm not sure why that was not the default option....... 2.) SECOND CONTRACT. Later I was requested to visit an outside website and download another rental agreement and send it in. This required several more emails and time and effort, especially since ABB email does not allow attachments. I am an experience renter and a landlord myself and this extra step is new to me.... 3.) LINENS. Later I received another email stating: "With that many people (there were only 5 people, all adults, and the place has beds for a dozen!), we need you to wash and dry towels the NIGHT BEFORE you leave (so no morning shower on departure day?!)" "Then in the morning-right away, start some sheets and move them to the dryer." Being a conscientious renter, I ALWAYS strip all the beds, bring all linens to the laundry room, and do a few loads while we pack and eat breakfast, but this demand was unexpected and in my experience unprecedented.... 4.) CLEANING. This is my fault for not reading the fine print--but--that second non-ABB contract I had to sign- said there are 2 types of check-out, with and without cleaning. I just assumed that since there was a cleaning fee, all I needed to do was leave things tidy and bring dirty linens to the laundry room. Furthermore, the instructions at the cabin say: "You need to clean the cabin to the state it was in when you rented, it, as it is difficult to have cleaning staff in and out in our remote location," vacuum, laundry, make beds, clean dishes, and clean out wood stove. Please know that I completely understand the challenges of a remote location logistics, but it should have been very clear. Either cleaning is required or it isn't. And if cleaning is required then the cabin is overpriced. For a weekend stay, we did not budget for cleaning time. So for a short weekend visit there was a lot of emails, texts and logistics. But Elliott was always polite and responsive. We had a good time regardless in the PNW wonderland of Trillium Lake.
---
This is the most beautiful airbnb I have stayed in to date. The entire experience provided myself and a few friends (and our dogs) an incredibly relaxing weekend in the snow. The cabin is beautiful and the view of Mount hood was amazing. Communication with Elliot was fantastic.
---
Our group had a great Thanksgiving at the Barlow cabin this year. We really enjoyed our stay and had all the amenities we needed, including kitchenware, warm blankets, fire wood, and games. We loved the sauna and the short drive to Government camp and Timberline lodge. We also hiked around Trillium lake and saw post card views of Mt. Hood. Many thanks for a great stay and a beautiful Thanksgiving!
---