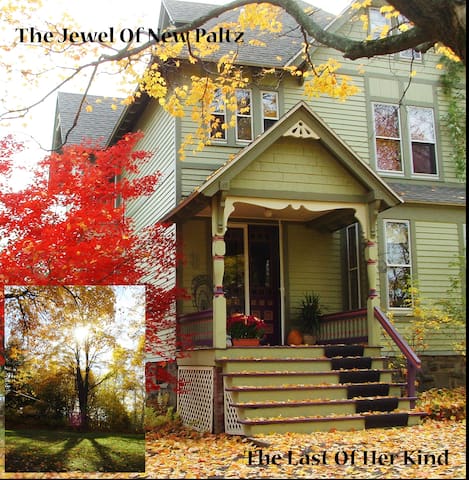 Our home is a little oasis located in the very heart of downtown New Paltz Village. We are "As the Crow Fly's" 90 secs to main street! (Yes I timed it!) Our place is a Treasure, an 1890 Painted Lady Queen Anne Victorian in short walking distance to many American and ethnic restaurants, shops, parks, historic Huguenot Street, and many friendly bars & Pubs.

New Paltz is known for many things but nothing compares to it's stunning Sunsets which can be enjoyed from 3 of our 4 porches.
房源细节
Our entire family are all SUNY alumni and Tom has been here since 1950 when his father, a professor, moved his family of 8 counting himself to this awesome town. Just like so many we all cant imagine not living here. :)

We are a very short walking distance to Campus..about 2-1/2 blocks away. We sleep 6-7 comfortably and can provide very nice camping cots with the blow-ups! Tom and I have used them a few times and have had our own family sleep on them.. lots of great compliments and good nights sleep!

We are now booking into next year 2018.

Your main entry in the back (the best of all three entry's) will have access to a private Parisian style deck with flower boxes and room for 5-8 to enjoy alfresco meals when weather permits.

We will accept well behaved children based on the parents say so. Believe me I understand how tempting stairs are to energized kids I was one of them and the oldest of 4 kids only a year apart! My poor mama! ;)

We also accept dogs when the parents tell us that their pup is well behaved and house broken.

Please contact us to discuss your family before booking. Thank you for your understanding ~J

We charge an additional 50.00 per person over 6 up to 8 people.

The entire apartment is Ice cold on those disgusting hot days we've been having this summer 2017! There are 4 NEW AC units that blow cold and 3 of those have remotes!

Welcome to your large 1200 sq.ft apartment. Its larger than most of the houses in NP! It's a warm and cozy home away from home with a large comfy overstuffed Sofa that's meant for lounging and there's a huge 2 person chair in the living/common room perfect for snuggling.

The coffee table is perfect for putting your feet up! Go ahead it's fine! There's a 40 inch TV with cable and Wi-fi that we cant live without. We set the room up so it's perfect for doing nothing but especially when it's snowing. We are open for Christmas and New Year's Eve!

It's beautiful here.

There are plenty of extra pillows and blankets for lounging.

The charming and whimsical attic was renovated with two eave bedrooms and the full bath. The smaller one is a beautiful space, it's romantic and very comfortable.. it's also the most popular room because it's cozy and has a fabulous soft Queen bed meant for lounging in.

The larger room also has a beautiful soft comfy Queen bed and a softer than soft double bed with a thick feather and down mattress topper. Its all about comfort and for me it's always the beds first and the lounging area next.

The smaller bedroom, "The Zen" room or The "HoneyMoon" room is under the eaves with a view into a huge old sugar maple where Squirrels and chipmunks are often seen playing by the veggie gardens and flower beds.

This year we had a tiny fawn born on our property! Watching this little one devour my flowers and adores my bean patch has been a mixed reaction for me! We did find that she wasn't frightened of us one bit! :)

There's a tiny frog pond on the back of the property and there is also a small pond off the side porch with a restful and tranquilizing waterfall. A peaceful Zen Buddha has chipmunks living underneath - the cute little monsters that like to eat my veggies enjoy the view while sitting on Buddha's big head!

Many of our guest have fallen in love with the charming upstairs Romeo & Juliet porch just off the living room with its Pagoda roof off the living room. We are still waiting for the proposal from the patio to the balcony!!

In the evenings the outdoor lights are on and you can enjoy the magical and musical sounds of the water and in the spring and summer you will enjoy the view of the veggie garden we even have bunnies!

This year we've added a rose garden and extra flower beds for cutting inside our veggie garden to protect them from deer and baby Bambi! They weren't saving any lily's or roses for me and I got tired of feeding them!

All this and the Village too!

Your private space has a separate rear entrance with paved parking for 2-3 cars.
At the top of your entrance you will enter into a large formal dining room that seats up to eight. Through the dining room is a well supplied modern eat-in kitchen.

Just before your arrival we stock your fridge with bagels, bread, eggs, cream cheese and butter, juice, and McCafe coffee from McDonald's (it's really the same beans as Starbucks!) ummm good and my favorite. There is a coffee press as well as a coffee pot. Some of our guest prefer walking into town for coffee and bakery goods or a great breakfast at the Bistro a quick walk from here.

We also have a nice assortment of teas and are adding a collection of dried herbs and spices, fresh are available throughout the season from the gardens.

I've added a small assortment of spices and have many to choose from if you need them. Ask! Even though I've supplied a couple of pots and pans and utensils I have a very large arsenal of pots and pans available and convenient to choose from even two woks. Just ask...

For quick food shopping there are several delis for cold cuts and great subs and the shopping marts are uptown. This town caters to Vegan and Vegetarians so I'm sure you'll find all your culinary cravings just up the road! Literally a short block or two walk..
房客使用权限
Guest Access:
Our beautiful New Paltz offers the Gunks, Great hiking trails at several close by state parks and Mohonk Mtn Resort where our entire family has worked throughout the years as kids and Musicians.

We are a very short walking distance to Campus.. we sleep 5-7 comfortably and can provide very nice camping cots with the blow-ups! Tom and I have used them a few times and have had our own family sleep on them.. lots of great compliments and good nights sleep!
You will have access to a private Parisian style deck with flower boxes and room for 5-6 to enjoy alfresco meals when weather permits. You can enjoy a meal, glass/bottle of wine (or both) in the evening or coffee in the morning. Tom and I often enjoy sitting in light rain with the large umbrella up on the rear deck while enjoying the hummingbirds.. until the wind blows lol - and of course on warm, sunny days you can enjoy those hummingbirds swooping in over your heads. My gardens cater to those tiny flying jewels and it's one of the best parts of my summer.
The deck's privacy walls were built to resemble a little outside place we visited in Paris! Two gates can be locked open or closed for safety. You can see our 14 year old pup, Orbi (short for Orbison), peeking through the rear gate. Aw Sweet boy...
与房客的互动
Because Tom and I live in the lower part of the house and share part of the 2nd floor we are accessible most of the time. We are people people and easy going musicians and theater geeks! Tom has lived in this town since he was 7 years old back in 1950 making him practically indigenous to New Paltz! lol I'm a Georgia girl but have lived in NY between Woodstock and New Paltz since 1966.
We are a house of musicians. Tom (Bass) and his brothers have been playing at Mohonk since he was 15. Fast forward "Many" years later we formed our own top 40 disco/wedding band in 1980 and continued the tradition of entertaining at Mohonk that later included our daughter Becca on Vocals (a vocal performance major) and brother-in-law Gene on keys and vocals.
All Musicians and even the tone deaf are welcome!!
On nice evenings we often sit outside watching bats eat bugs and roast marshmallows for S'mores. We've often roasted hotdogs over the open fire also. I swear as a child I could eat a hundred of those!! Tom will be more than happy to start a fire in the pit if you would like to spend an evening chillin' on the property and we might even join you if you wish.. we are both experienced S'more makers- just ask.
其他注意事项
A Continental breakfast is provided for the first morning you are here. The usual bagels, cream cheese, butter, eggs, bread, OJ, coffee with liquid coffee-mate and half and half (if you like milk there's a Stewart's quick mart a couple blocks away) and several jelly's. Its really a full breakfast but you do the cooking! ;)
Next year we hope to have chickens where you can fetch your own eggs!
卧室2
1张大床, 1张双人床, 1张沙发, 2张充气床垫, 1张幼儿床
We do accept well behaved dogs. We also have a qualified pet sitter on the premises who is registered with Rover but all you have to do is send her a text and If she isn't busy she would be happy to sit while you go out for dinner:) I have no idea what her rates are.
We do not allow smoking anywhere inside the house but will allow it in a safe area outside. For instance there is a table and chairs out in the lawn.. we will be adding an appropriate container for butts... please no exceptions. This has been an unbelievably dry season here in the Hudson Valley area and this old lady was built in 1890 .. we love and respect her and hope you will too.
您还必须确认以下情况
需爬楼梯 - There is a flite of stairs from the parking area and another set up into the apartment. The bedrooms are another flite up to the attic bedrooms
可能会有噪音 - Running up and down the stairs in shoes and boots is very noisy. Please remove your shoes by your entry door or just into the dining room. Thankx
有共用区域 - There is a high full Princess Bed & A Queen in the large shared room.
房源内养有狗
New Paltz is a amazing town for hiking, biking, great restaurants and adventures. Jeanette's Place is 1 block from our favorite sushi restaurant and so close to all the great places downtown. The house is very comfortable and cozy. All the essentials and nice extras in the kitchen. Enjoy the days exploring the the trails and scenario of the area then have an amazing diner in town.
---
We had such a wonderful stay. Jeanette and Tom were so so welcoming to their beautiful home. They were the sweetest couple and made us feel so taken care of. The place itself was the perfect little escape. It was cozy and so so pretty. We absolutely loved how close it was to everything we love about New Paltz. One of the best things was that they were so welcoming to our puppy. We don't like to travel without her and they went above and beyond to make our puppy feel so loved! We couldn't have asked for a better experience!
---
We loved staying at Jeanette's Serendipity upstairs apartment. It was plenty of space and cozy! Fantastic location just 1-2 blocks from the center of town. The apartment had everything we needed & we enjoyed sitting out on the back deck patio. We plan to stay there for future trips to New Paltz!
---