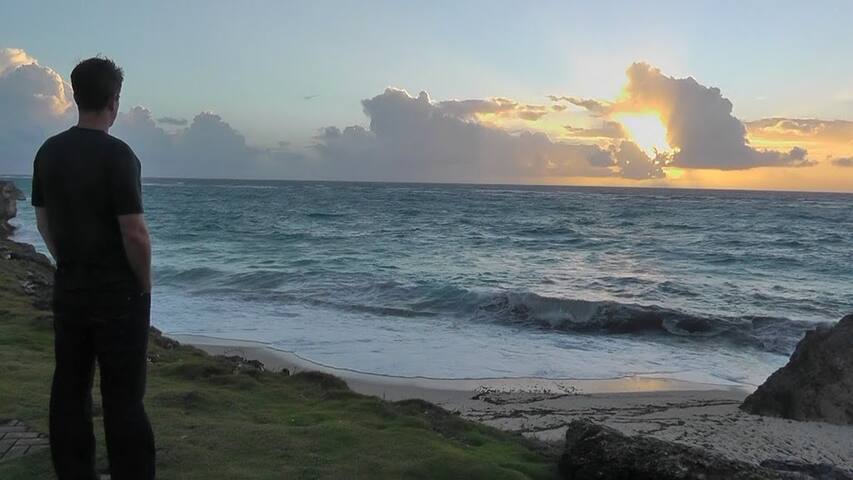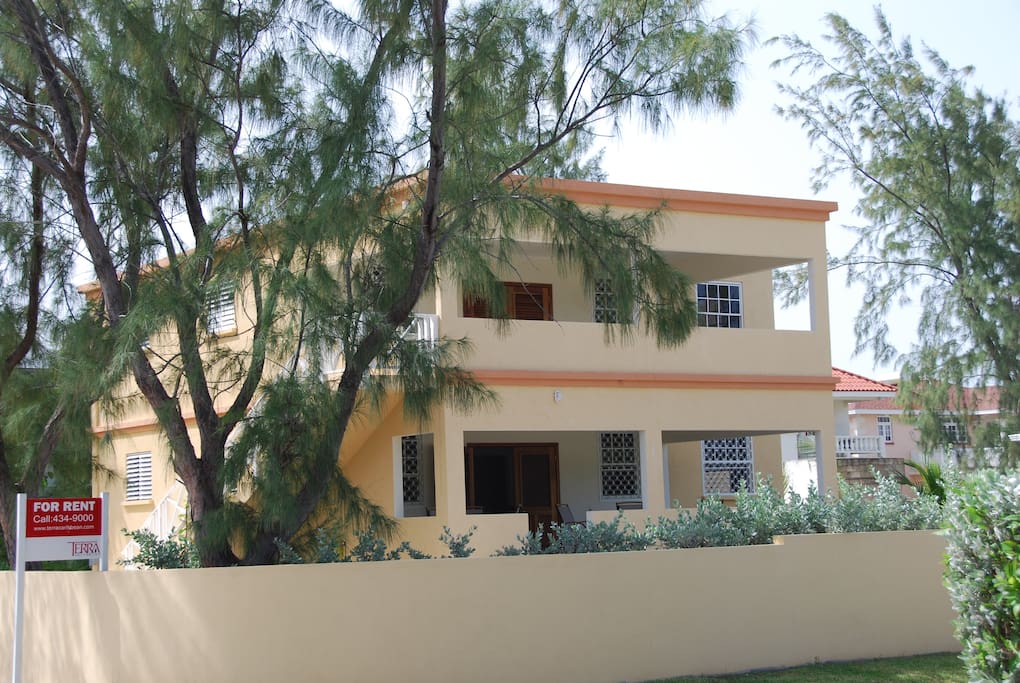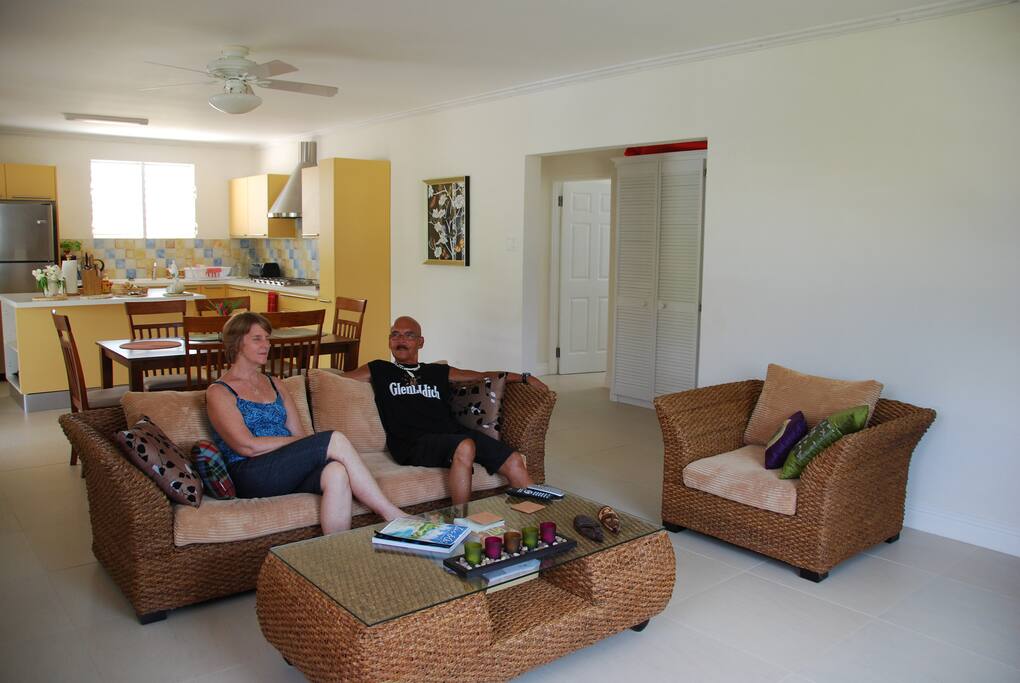 LOWER APARTMENT - #1
Minutes walk to beautiful, uncrowded beaches, this modern, spacious, comfortable, 2-bedroom, 2-bathroom apartment is designed to capture the wonderful, cooling, south-easterly Atlantic breezes.

房源
Open plan living/dining/kitchen area opens on to large veranda, perfect for your morning coffee, and cool drinks in the afternoon. Modern well-equipped kitchen designed by a foodie who loves to cook!
Laundry area with washer/dryer.
Ceiling fans throughout for your comfort.
10-15 minutes drive from airport and local amenities.
Bus stop is 5 minutes walk from apartment.
With its rugged, beautiful scenery the quiet and friendly Belair neighborhood is a welcome change from the hustle and bustle of the south and west coasts.
Come and enjoy the beautiful south-east coast of Barbados where "bajans" choose to vacation.
For larger groups or family re-unions we can recommend several similar properties nearby.
其他注意事项
25 REVIEWS OF OUR APARTMENTS FROM OTHER LISTINGS
18 five star and 7 four star
Benoit M.
Peaceful retreat in cozy neighbourhood
5 of 5
Submitted: Mar 2, 2014 Stayed: Feb 2014

Alyse D.
BEAUTIFUL, CLEAN, AND SPACIOUS APARTMENT.
4 of 5
Submitted: Aug 31, 2013 Stayed: Aug 2013

Maxym W.
NICE PLACE AND REASONABLY PRICED FOR WHAT YOU GET
4 of 5
Submitted: Apr 30, 2013 Stayed: Apr 2013

Michael P.
WHAT A DELIGHT!
5 of 5
Submitted: Mar 24, 2013 Stayed: Feb 2013

Tonya
Portland
HIDDEN GEM IN BARBADOS SUPER CLOSE TO BEACH
5 of 5
Submitted: Mar 11, 2013 Stayed: Feb 2013

Laura K.
GREAT HOLIDAY!
5 of 5
Submitted: Mar 2, 2013 Stayed: Feb 2013
Kate M.
AWESOME APARTMENT BY THE BEST BEACH IN BARBADOS!
5 of 5
Submitted: Feb 8, 2013 Stayed: Jan 2013
Jana K.
BEAUTIFUL, SPACIOUS, AIRY AND SAFE!
5 of 5
Submitted: Feb 7, 2013 Stayed: Dec 2012

M H.
LOVELY PLACE TO STAY
5 of 5
Submitted: Feb 5, 2013 Stayed: Dec 2012
Tina S., Ontario
WHAT VALUE FOR MONEY
5 of 5
Submitted: Oct 16, 2012 Stayed: Oct 2012 Source: (SENSITIVE CONTENTS HIDDEN)

Ingrid B.
London, Ontario
FANTASTIC TIME AT TAMARACK
5 of 5
Submitted: Aug 14, 2012 Stayed: Jul 2012

Paul J.
READY FOR OUR NEXT STAY AT TAMARACK
5 of 5
Submitted: Jul 1, 2012 Stayed: Jun 2012

Laurie J.
Whitehorse, Yukon Territory, Canada
CHARMING HOME AWAY FROM HOME
5 of 5
Submitted: May 3, 2012 Stayed: Apr 2012

Tina S., Ontario
A (URL HIDDEN) STAY HERE
5 of 5
Submitted: Mar 27, 2012 Stayed: Mar 2012

Monica B.
Seattle, Washington
WONDERFUL STAY
5 of 5
Submitted: Mar 4, 2012 Stayed: Feb 2012

Marcel E. - Ontario, Canada
WONDERFUL TIME AT TAMARACK
5 of 5
Submitted: Feb 25, 2012 Stayed: Feb 2012

David-Joanne L.
Lloydminster, Saskatchewan
LOVELY NEW APARTMENT IN THE TRADEWINDS.
5 of 5
Submitted: Feb 10, 2012 Stayed: Jan 2012

wendell S. - Ottawa, Ontario
A HOME AWAY FROM HOME!
5 of 5
Submitted: Feb 4, 2012 Stayed: Jan 2012

Tom A. - Ontario, Canada
BARBADOS BELAIR BLISS - TAMARACK
4 of 5
Submitted: Jan 18, 2012 Stayed: Dec 2011

Heather H.
VACATION RENTAL HIGHLY RECOMMENDED!!
4 of 5
Submitted: Jan 8, 2012 Stayed: Oct 2011

Melisa H.
STAY A WHILE AND UNWIND
4 of 5
Submitted: Dec 1, 2011 Stayed: Nov 2011

Katrin
Tallinn, Estonia
PERFECT PLACE TO STAY AT!
5 of 5
Submitted: May 2, 2011 Stayed: Apr 2011

---
---
---
All guests are required to read and agree to abide by the House Rules which will be sent to them by Airbnb once their booking is confirmed.
HOUSE RULES
The Guest shall keep the property and all furnishings in good order and hand over the premises and its contents in the same condition as it was obtained.
Smoking is not allowed inside. Smoking is allowed on the veranda and outside only.
People other than those set forth in the Rental Agreement may not stay overnight in the property without consent of the Owner. Any other person in the property is the sole responsibility of Guest.
Pets are not allowed.
1. The Guest shall:
a) Make no alterations to the property without written consent of the Landlord.
b) Not sublet the property.
c) Grant the Landlord access to the property with twenty-four hour notice, except in the case of an emergency.
d) Hand over the premises and its contents in the same condition as it was obtained.
e) Not use the premises for any weddings, parties or events during their occupancy. Should this take place, Jane Ponte (or her local agent) has the right to remove the occupants from the property without a refund of any monies paid for this reservation.
f) Hold the landlord exempt from any liability, for injury or death, arising from the improper use of the premises or the surrounding beaches/oceans by the occupants of the property and their guests.
N.B. The sea/ocean in this area is generally turbulent and should be approached with utmost respect/caution at all times. There are no lifeguards.
2. The Owner is not responsible for any accidents, injuries or illness that occurs while on the premises or its facilities or for the loss of personal belongings or valuables of the guest. By accepting this reservation, it is agreed that all guests are expressly assuming the risk of any harm arising from their use of the premises or others whom they invite to use the premises.
3. Information requested in the Contact Form must be submitted to the owner prior to arrival.
4. Guest agrees to abide by the House Rules at all times while at the property and shall cause all members of the rental party and anyone else Guest permits on the property to abide by the rules at all times while at the property.
5. All renters are encouraged to purchase traveler insurance.
* Charges for water and electricity in excess of the usual charges for normal usage will be the responsibility of the Guest.

---
---
---
I had a great time in Jane and Elton's place. The hosts are very communicative, friendly and informative. The apartment was very nice and very functional with 2 large bedrooms, 2 bathrooms, washer/drier and a large kitchen/dinning/living area. The kitchen is great and very well equipped, I really took advantage of it! The house does not have air conditioning, and it can be very hot in Barbados. Personally, I don't like air conditioning, and the house is equipped with a lot of fans, so it was comfortable despite the temperature outside. I am just mentioning this for those who are used to air conditioning. Lulu, the house manager, was also very helpful and friendly. I wish all airbnb rentals were just like this one...
---
Jane and Elton's place was spacious, comfortable, and well appointed. It was really a pleasure to stay at this apartment. There was a beautiful, secluded beach a minute walk away -- we ran into others only rarely, but there's no shade and the water isn't safe to swim (at least not in March), so not a place you want to settle into for the day if you are fair-skinned. We liked to go there in the evenings, and during the day we took the bus down to Crane beach, where there are loungers and umbrellas for hire ($20 for the day for two chairs and one umbrella) and some local guys selling coconut cocktails, which is quite nice! (A bus line runs into Bridgetown and along the coast with buses every thirty minutes -- but bring a hat as there is no bus shelter!) Delon's Roti is around the corner from Crane, a tiny place definitely worth a visit for their tasty and inexpensive rotis, and Marco Polo just down the street for an evening beer and a snack. We also booked a trip with Tiami catamarans, which come to pick you up wherever you're staying. So there are definitely ways to branch out, even without a car, at least for a few days. Overall, lovely place -- serene porch, fantastic kitchen, and comfy sofa. Thanks, Jane and Elton!
---
The apartment was very nice. Close to a few beaches but when we were there in February you cannot swim in them. The house is clean and they have beach chairs, towels, and coolers, which are very handy. It's about a 30 minute car ride to the west side of the island with beaches many many beaches there as well as food options. It's a nice quiet neighborhood with great kitchen amenitities. We had a great time.
---
I really enjoyed my stay in beautiful Barbados! The apartment listing was exactly as advertised and I found the space to be large, comfortable, and welcoming. Set in a quiet residential neighborhood, you feel safe and at home, though it's location DOES require a car unless you are comfortable with walking 5 minutes to the bus stop. Lulu, the Property Manager was outstanding at taking care of any issues and provided great recommendations...she was very kind and accommodating. Also, communication with Jane was prompt and thorough from the very beginning. This is a great rental with kind owners and staff, rent it!!!
---
Born in Barbados. Living in Toronto since 1989.