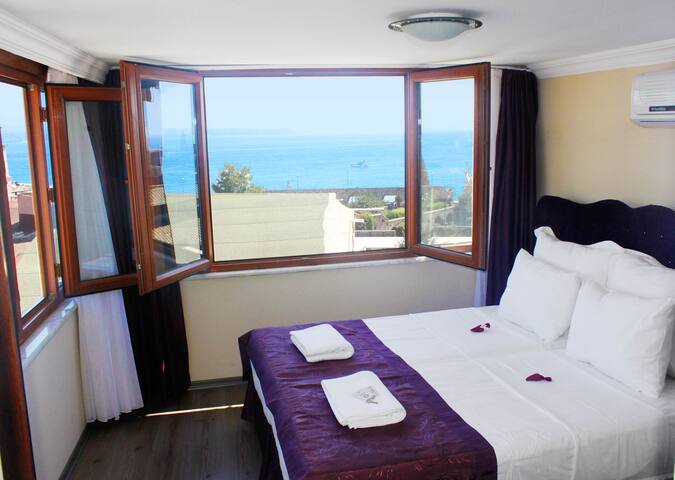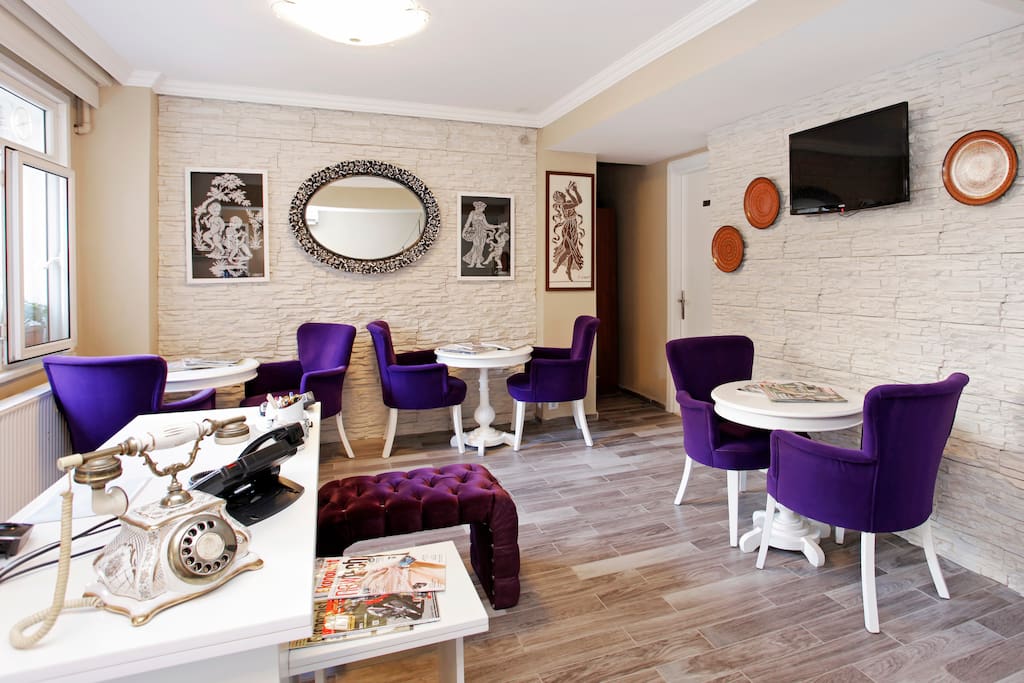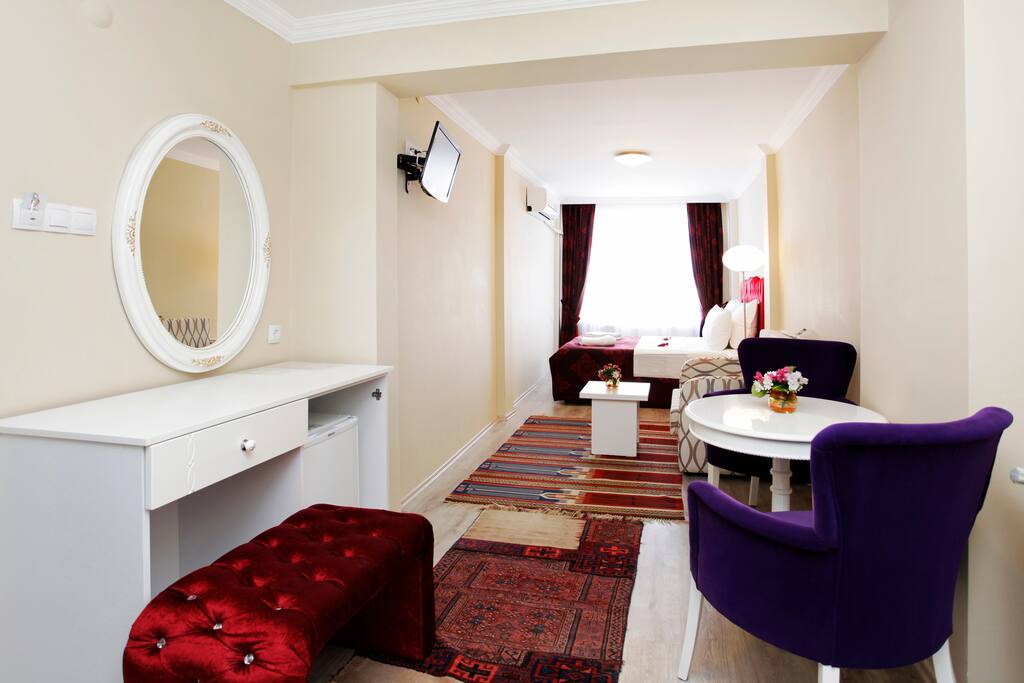 房源
我们位于伊斯坦布尔最古老的地区,是拜占庭式和奥斯曼帝国的首都,距离蓝色清真寺,圣索非亚大教堂,托普卡帕宫等主要旅游景点仅几分钟的路程。 我们的酒店非常适合在伊斯坦布尔度过轻松而安静的住宿。留在我们身边会让你感觉像在家一样。 露台景观我们有单打,双打,三合一和四人家庭间。我们的每间客房均设有连接浴室,免费早餐,LED电视,笔记本电脑大小保险箱,迷你冰箱,免费无线网络连接,电话,洗浴用品,吹风机和空调。从我们的露台,您可以欣赏到马尔马拉海,公主岛和亚洲方面的美景
We are located in the most ancient part of Istanbul , the former capital of the Byzantine and Ottoman Empire and only couple of minutes walk from all the major touristic places including the Blue Mosque, Hagia Sophia, Topkapı Palace and etc.
Our hotel is perfect for those looking for a relaxed and quiet stay in Istanbul. Staying with us will make you feel as if you were at home.

terrace-viewWe have Singles, doubles, triples and quad family rooms. Each of our rooms feature an en-suite bathroom, Free Breakfast, LED Tv , Laptop size safe, Mini Fridge, Free Wi-Fi,Phone, toiletries, hair dryer and air conditioning. From our terrace you can enjoy the great view of the Marmara Sea, Princess Islands and the Asian side

---
We were not able to stay at this specific listing. Days before our trip, Coskun moved us to another location close by, called Star Hotel/Cafe. If you are able to book Star Hotel for the same price as this listing, it is a killer deal. If not, it is still a good deal but a little more expensive. So for all purposes, this review is for the Star hotel. The hotel has basic amenities but it is close to everything in the old district. We could walk to pretty much all the major attractions like Topkapi Palace, Hagia Sofia, Blue Mosque, Basilica Cistern and many more. Just be aware that any hotels in this area are bound to be loud at night. The old district streets and bustling with tourists and loud music till early mornings. We were aware of this and took good ear plugs. The breakfast on the roof was a great perk. The attached bar is a nice place to chill and drink a few beers while puffing a water pipe. If you are looking for an affordable, no frills accommodation that you want to crash at nights after touristing all day, this place is great. Just pack earplugs. We never met Coskun, so I cannot comment on his hospitality. He is responsive through email, and flexible with putting us up at his other listings. The staff at the Star Hotel were friendly and helpful. We pretty much did our own thing, but they were pretty helpful getting a shuttle to the airport (5 euro per person, a good idea if you leave enough time to get to the airport ~45min-1hr, taxi ride is ~45TL).
Dear Ravi . Thank you very much for your good review. I know we coudnt meet , unfortunately ı wasnt around ı was takeing care of some other property. Im happy to hear that you are prety much happy to staying with us . We wish to haveing you stay with us again on beter posisitons. Have a great time Coskun
---
Thanks so much to Coskun for his great hospitality!! Adorable place just a few steps off the main row of hostels and hotels in Sultanahmet. Great price, and the rooms are nice and cozy. The staff was super helpful and you could tell everyone wanted to be sure that all the guests had an enjoyable stay. I'd definitely go again!
---
This hotel was just ok. The location was awesome and the staff was friendly, although two of three of them tried to tell us to stay at another, nicer hotel the next time. Also, I felt like we were part of a scam at one point, with one of the employees demanding my friends pay him 100 lira for inviting two people in for drinks one night. Everyone says Coskun is a wonderful host but we barely saw him at all, so I have nothing to comment on that. My room had a gorgeous view of the sea- i was like a little treehouse. If you can get a good price I would stay there, otherwise maybe not.
---
It was wonderful experience to stay here, but I didn't know here is a normal "hotel". If I know here is "hotel", I'm sorry but I didn't choose because I wanted to find a private residence, that's why I was trying to find in airbnb. Anyway, here is a good location to wander the old Istanbul, and staffs are very friendly.
---
Coskun is a kind, funny and hospitable man. I stayed at his B&B for three nights and it was the best stay I've had in Istanbul. The B&B is conveniently located near the major attractions, and after a long day for sightseeing, I relax in Coskun's bar and enjoyed the scenery and a few drinks. Thank you so much for your hospitality. My stay was very enjoyable, and I enjoyed listening to your stories. I will definitely stay at your place on my next visit to Istanbul. ADA
---