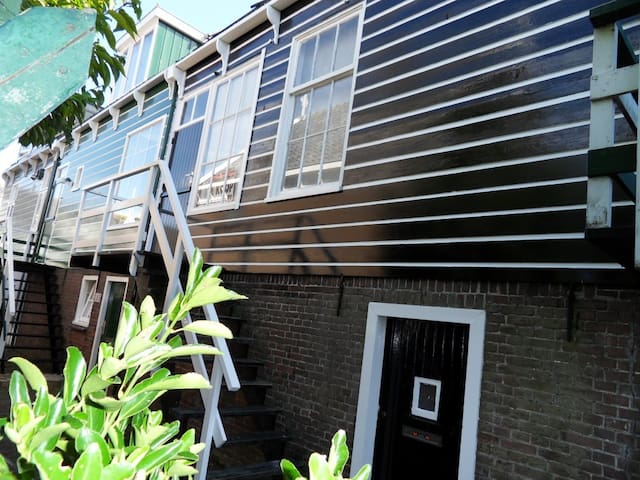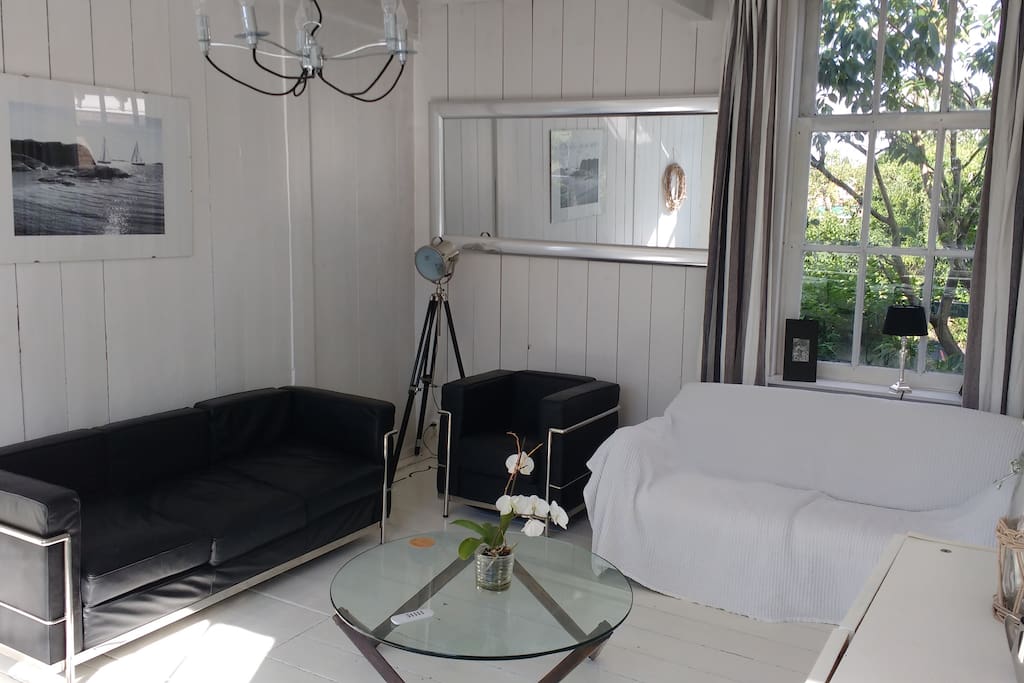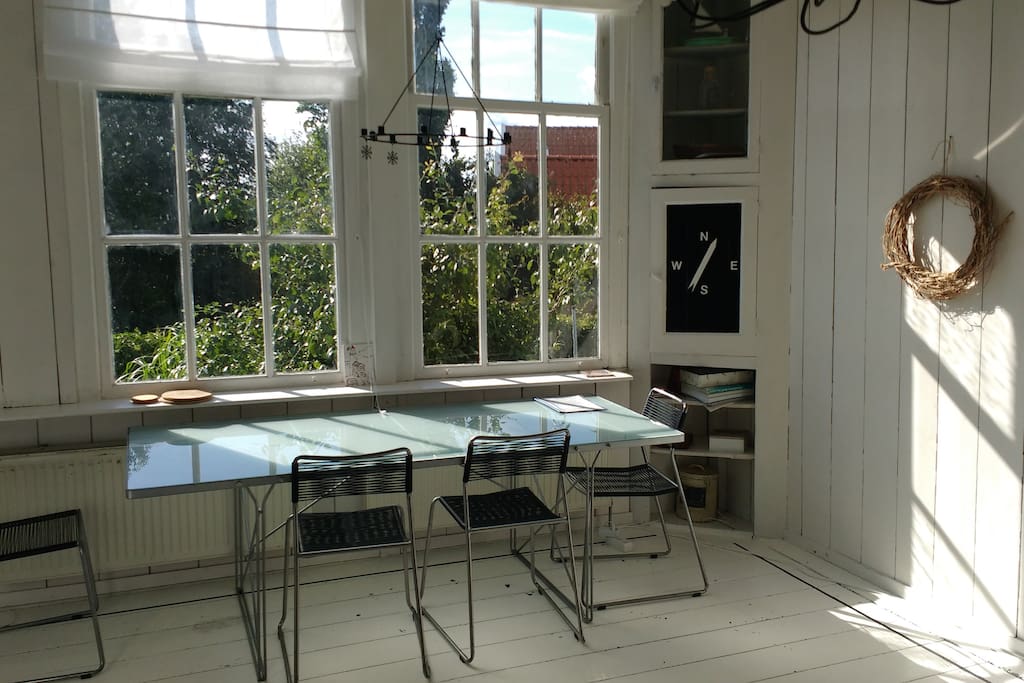 地道历史木房子在美丽的村庄Marken。惊人的风景在为它的服装,木鞋子和宁静知道一个美丽如画的环境。寻找当地的黑天鹅!
Authentic historical wooden house in the beautiful village Marken. Stunning scenery in a picturesque environment known for its costumes, wooden shoes and tranquility. Look out for black swans locally!
房源
这所房子保持了原来的Marken房子的所有正宗的特点,同时提供所有的模式,为您的舒适和方便。
This house has maintained all of the authentic features of an original Marken house, whilst providing all mod cons for your comfort and convenience.
房客使用权限
整个房子都可通往,包括阳光明媚的花园,享有岛上的美丽景色。
The whole house is accessible, including the sunny garden with beautiful views over the island.
与房客的互动
我会永远在那里欢迎你,并给你一些有用的本地信息的有用的提示。
I'll always be there to welcome you and give you some helpful tips with interesting local information.
其他注意事项
付费停车每天约9欧元在停车场只是在老中心外,大约300米的房子。只有当地人有许可证才能进入旧中心。 房子是一个迷人的老渔夫的房子,与现代化的设施,但与薄墙壁。因此,重要的是注意邻居。房子是完美的人谁搜索一个平静,轻松的环境。
Paid parking costs about 9 euro a day on the parking lot just outside the old centre, about 300 meters away from the house. Only locals have permits to drive into the old centre.
The house is a charming old fisherman's house, with modern amenities, but with thin walls. Therefore it is important to notice the neighbours. House is perfect for people who search a calm, relaxing environment.
---
---
---
It is important that guests do not make noise later than 10 p.m. as there is an elderly lady next door!
---
---
---
Bart was the most wonderful host that one could ever ask for. He was friendly accommodating, and easy to talk to. He gave us pointers for things to see in Marken and Amsterdam. He even drove us to Amsterdam when we missed our bus! Marken was also wonderful--it was great to see some of the beautiful Dutch countryside while Amsterdam is still accessible from a 40 minute bus ride on Bus 315. I can only recommend Marken and Bart's place!
---
Wir hatten einen wunderschönen Urlaub in Marken, das in einer herrlichen Landschaft liegt und bester Ausgangspunkt für Ausflüge war. Amsterdam ist gut per Bus oder auch mit dem Fahrrad (20 km am Deich lang- bei gutem Wetter ein Traum) zu erreichen. Der Ort Marken wird am Tage von vielen Touristen besucht, hat aber neben einem Supermarkt kaum Geschäfte. Abends ist es sehr schön am Hafen. Bart war ein sehr netter Gastgeber, der uns persönlich begrüßt hat und jederzeit erreichbar war. Das Haus ist einfach, aber gemütlich ausgestattet. Für kleinere Kinder eignet es sich wegen der steilen Treppen nicht. Wir haben uns sehr wohl gefühlt.
---
Dit karakteristieke huis is volledig ingericht en van gemakken voorzien. Oude elementen zijn behouden, met een lichte 'sfeer' wat het een prettig en leuk huis maakt waar je je thuis voelt. Marken verkennen kan lopend vanaf het huis. Winkel op loopafstand net als de bussen. Bart is gastvrij en communicatie goed verlopen. Hartelijk dank! Fam Schrier.
---
Das Haus war eigentlich recht nett aber um dort einen wirklich schönen Urlaub verleben zu können, sollten unbedingt ein paar Renovierungsarbeiten durchgeführt werden. Die Fenster ließen sich nur mit äußerster Anstrengung öffnen und ebenso schwer wieder schließen wobei sich die Leisten am Fenster sogar ablösten. Von den beiden Sofas war eines nicht zu nutzen weil die Sitzfläche so schräg war, dass man vom Sofa rutschte. Bei starkem Regen tropfte Wasser von der Decke. Die Küche war eher sparsam eingerichtet, auf dem Besteck waren fettige Fingerabdrücke und der Wasserkocher total verkalkt. Alles in allem konnte man sich nicht wirklich wohlfühlen. Dazu kommt, dass man auf einem öffentlichen Parkplatz parken muss mit horrenden Parkgebühren. Marken an sich ist sehr schön, wir werden dennoch nicht wieder kommen.
For English scroll down "Liebe Patricia, Es tut mir sehr leid, dass es ein Leck von der Decke gab. Ich verstehe nicht, warum du mich nicht angerufen hast, als dies geschehen ist, da ich dann gekommen wäre, um dir zu helfen und ich habe deutlich gesagt, mich anzurufen, wenn du etwas brauchst (als ich euch alle im Haus begrüßt habe). Ich habe einen Sachverständigen bestellt, um zu kommen und sich dieses Problem anzuschauen... aber ich hätte das auf der Stelle getan, wenn du mich nur angerufen hättest! Es tut mir auch leid, dass du die großen originalen Schiebefenster im Wohnzimmer nicht mochtest. Das Haus ist ein authentisches hölzernes Fischerhaus und die meisten der ursprünglichen Merkmale sind erhalten worden, anstatt ersetzt zu werden, um sicherzustellen, dass der Charakter historisch genau ist und erhalten bleibt. Viele Häuser in Marken sind im Innenraum recht modernisiert, aber dieses Haus schafft die Atmosphäre der ursprünglichen Häuser in "Marken" und wird entsprechend auf der Basis solch einer seltenen Erfahrung beworben. Dennoch gibt es auch noch andere Wege/Fenster, um das Zimmer zu belüften. Es tut mir sehr leid, dass es einen Fingerabdruck auf dem Besteck gab, vielleicht hat ein früherer Mieter ein Stück wieder rein getan, das nicht benutzt wurde. Ich versuche, alles gründlich zu überprüfen und es steht ein Geschirrspüler zur Verfügung, um meinen Gästen zu ersparen, alles abspülen zu müssen. Es ist eine zierliche kleine Küche, aber es gibt auch einen Herd, Mikrowelle, Kühlschrank, Saftpresse und einen vollen Schrank mit Utensilien und Geschirr. Der Wasserkessel braucht wohl etwas Zitronensaft und ich werde mich darum kümmern, danke, dass du mir das erzählt hast. Es tut mir auch leid, dass eines der beiden Sofas nicht bequem war. Schließlich verwirrt mich, dass du sagst, die Parkgebühr sei schrecklich. Dies ist in meiner Werbung eindeutig erwähnt und ist ein gutes Preis-Leistungs-Verhältnis für diesen Teil von Holland. Das Parken in Marken kostet ca. 9 Euro für einen ganzen Tag. Eine halbe Stunde Fahrt entfernt in Amsterdam CS beträgt die Gebühr Euro 80 pro Tag, die niedrigste Rate ist Euro 40 pro Tag mit Vorausbuchung! Ich denke, es ist sehr traurig, dass du alles so enttäuschend gefunden hast, die meisten Leute, die hier sind, haben eine wundervolle Zeit, daher bin ich wirklich sehr überrascht. Mit freundlichen Grüßen." Dear Patricia, I am very sorry that there was a leak from the ceiling.  I don't understand why you didn't call me when this happened, as I would have come to help you and I clearly said to call me if you needed anything (when I welcomed you all to the house).  I have arranged for an expert to come and look at this problem... but I would have done that immediately if you had called me! I am also sorry that you didn't like the large original sash windows in the living room.   The house is an authentic wooden fisherman's house and most of the original features have been preserved, rather than replaced, to ensure the character is historically accurate.  Many houses in Marken are quite modernised in the interior but this house recreates the atmosphere of the original "Marker" houses and is advertised on the basis of being that rare experience.  Nevertheless, there are other ways/windows to ventilate the room. I am very sorry that there was a fingerprint on the cutlery, perhaps a previous tenant replaced a piece that was unused.  I try to check everything thoroughly and there is a dishwasher available to save my guests having to wash up.  It is a dainty little kitchen but there is also a hob, microwave oven, fridge, juicer and a full cupboard of utensils and dishes.  The kettle is probably needing some lemon juice and I will see to that, thank you for telling me about that.   I am also sorry  that one of the two sofas was not comfortable.   Finally, the parking charge which you say is horrendous confuses me; this is actually clearly mentioned in my advertisment and is good value for this part of Holland.   Parking at Marken costs Euro 9 for an entire day, in Amsterdam the charge can be Euro 80 per day, or Euro 40 per day with advanced booking!   I think it is very sad that you found everything so disappointing, most people who stay here have a wonderful time, so I am really very surprised.
---
This is a great, atmospheric old house in an historic district of Marken, which manages to be central (a few minutes' walk from both the car park/supermarket and harbour) without being on the umbrella-wielding tour group trails. It's a beautiful location. The house itself is well restored and kept very clean. The pictures are accurate, although the picture of the main living/dining room doesn't show how good it is - it's a big, bright, light-filled room, which is a very pleasant place to spend time. The kitchen does well too for its size - we ate in every night (with a small child) and it worked very well. Marken is a great place to visit, and it's a pleasure to be there, in particular in the morning and evening. As well as the harbour and Kerkbuurt, there are very pleasant short walks or bike rides to be done to Rozenwerf, the lighthouse of "Paard van Marken" with its little beaches" and the sea walls around the island. The Deen supermarket in town does very well for its size, but for anything else, Monnickendam is a short journey away (and, frankly, Amsterdam and Purmerend aren't that far either). Bart was a great host - friendly, helpful and flexible throughout. Thoroughly recommended.
---
Nous avons passé 3 nuits en famille dans la maison de Bart. l'emplacement est parfait pour visiter Amsterdam et Marken est un petit bout de terre charmant. La maison est très belle et Bart nous a accueilli chaleureusement. Nous avons envi d'y retourner et avons conseillé l'endroit à nos amis.
---