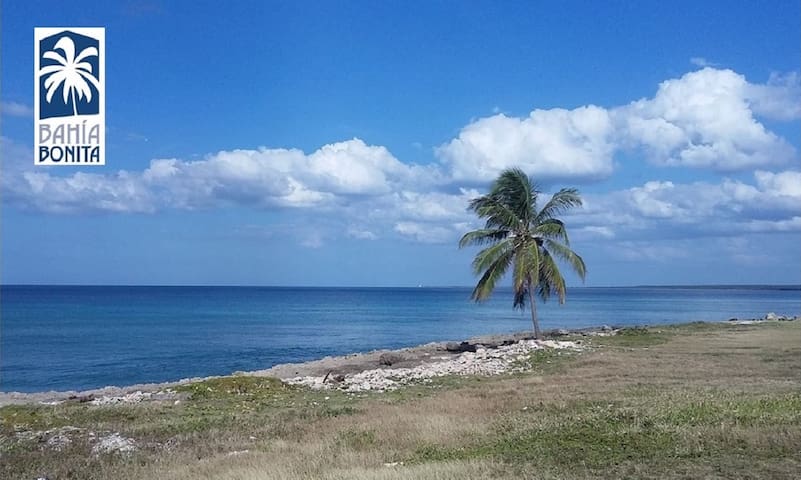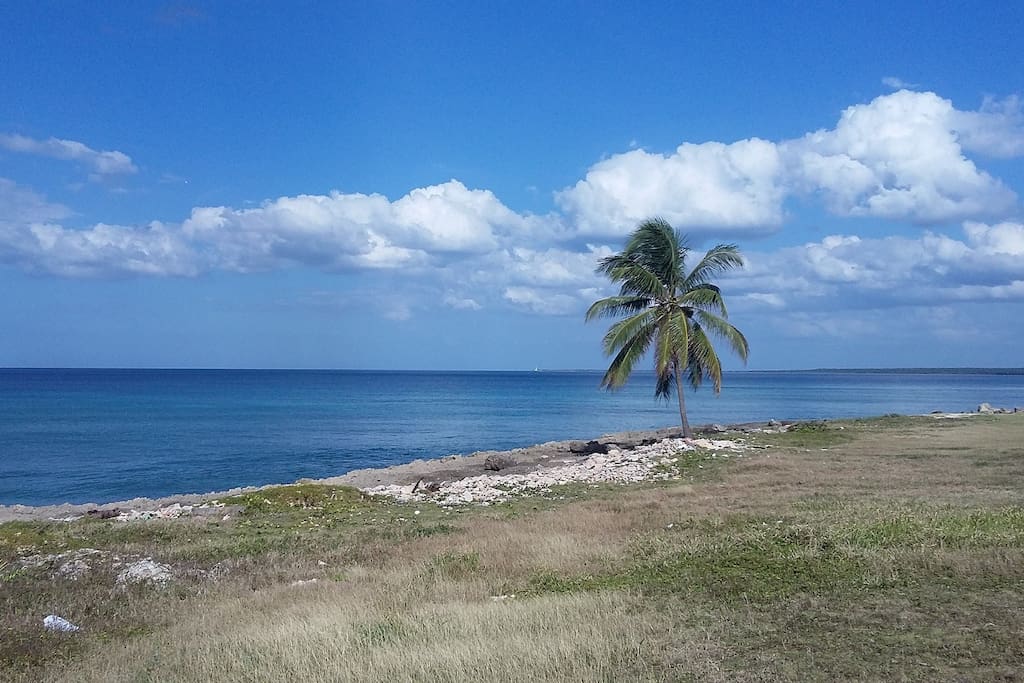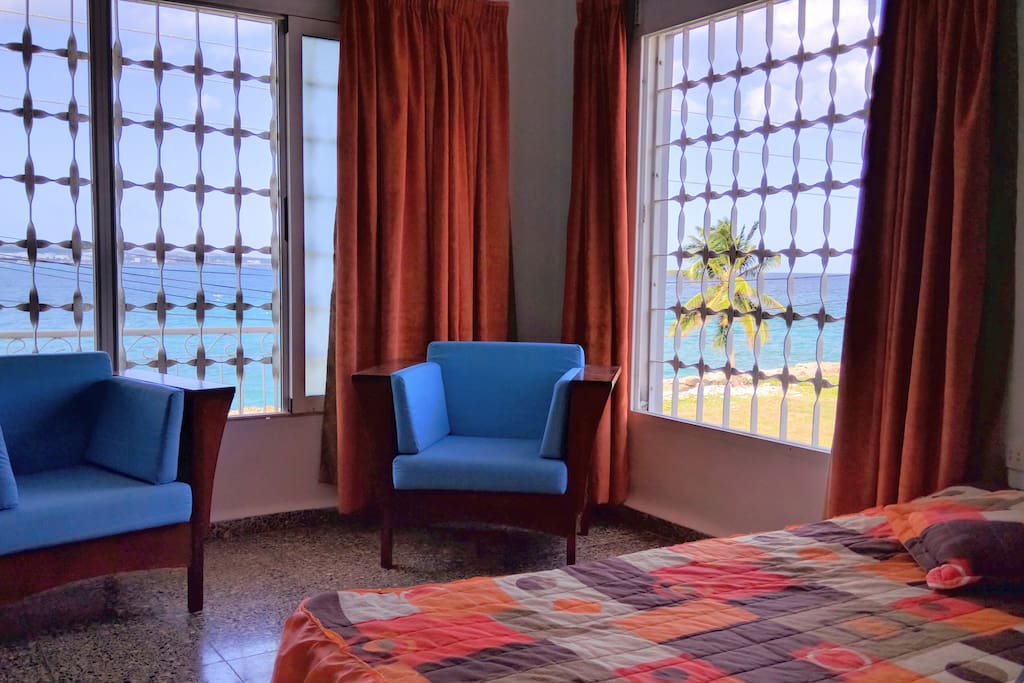 Casa Bahia Bonita de Cuba/Private room.
Casa BAHIA BONITA DE CUBA:UN ROMANCE CON EL MAR。欢迎回家!!!!
Casa BAHIA BONITA DE CUBA: UN ROMANCE CON EL MAR. Welcome Home!!!!
房源
长期以来,我们的梦想是欢迎来到古巴的游客前往,与他们分享我们对国家,文化和家庭的热爱。在我们建造我们的家的时候,我们精心设置每一块石头,在田园诗般的环境中创造一个美丽的空间。我们的梦想现在成为现实,因为我们向你们敞开我们的家园和心灵。我们的乐园位于海湾的一角,卧室,客厅和阳台享有壮观的海景。方便前往一个小型邻里海滩,距离我们家仅有200米。该位置还提供附近的马坦萨斯(Matanzas)的天际线景观,那里乘坐短途出租车可以带您游览这座历史悠久的城市。如果您希望在非正式,友好的家庭环境中体验真正的古巴款待,欢迎您来到Casa Bahia Bonita de Cuba!
It has long been our dream to welcome visitors to our home in Cuba to share with them our love of country, culture and family. With that goal in mind as we built our home, we lovingly set each stone to create a beautiful space in an idyllic setting. Our dream is now a reality as we open our home and hearts to you. Our slice of paradise is situated on a corner of the bay with spectacular ocean views from the bedroom, living room and balcony. Easy access to a small neighborhood beach, is only 200 meters from our home. The location also offers a skyline view of nearby Matanzas, where a short cab ride will bring you to explore this historic city. If you wish to experience true Cuban hospitality in an informal, friendly, family setting let us welcome you at Casa Bahia Bonita de Cuba!
房客使用权限
as detailed in the pictures : bedroom - bathroom - living room - balcony
与房客的互动
欢迎来到Casa Bahia Bonita de Cuba,很高兴知道您选择了我们的Casa特别度假来度过您的一部分。格拉西亚斯。 我的名字是Saili Dominguez Cruz,2008年7月毕业于哈瓦那大学,作为记者,我在ACN古巴通讯社工作,直到2013年4月,主要撰写旅游文章。目前,我正在照顾我的两个儿子佩德罗天使和巴勃罗天使,并协助客户愿意在Casa Bahia Bonita品尝这片天堂。 我的丈夫佩德罗·路易斯·雷纳尔多自1999年以来一直在古巴从事旅游业,他讲德语,荷兰语和英语。他曾担任过多个职位,曾在欧洲公司工作,其中包括来自荷兰和比利时的Kuoni的目的地经理,目前是来自古巴旅游网络的巴拉德罗客户服务代理,主要为来自世界各地的客户提供服务。 你需要关于如何使这个令人难忘的假期的建议吗?一直到Z的技巧古巴?等等等等那么我们的责任就是与你分享我们的经验,其中包括让你感觉像家外之家。 我们期待着与您在一起,与我们和Hasta la Vista,
Welcome to Casa Bahia Bonita de Cuba, It's a huge pleasure knowing that you have selected our Casa Particular to spend part of your holidays. GRACIAS.
My name is Saili Dominguez Cruz, I graduated at the University in Havana in July 2008 as a journalist, and I worked at the ACN Cuban News Agency until April 2013, mainly writing articles on Tourism. Presently, I'm taking care of my two sons Pedro Angel and Pablo Angel, and assisting clients willing to taste this slice of paradise at Casa Bahia Bonita.
My husband Pedro Luis Reynaldo has worked in tourism in Cuba continuously since 1999. He speaks German, Dutch, and English. He has held various positions, he has worked for European companies, including being the Destination Manager from Kuoni Netherlands and Belgium and at the moment being the Customer Assistance Agent in Varadero from Cuba Travel Network primarily servicing clients from all over the world.
Do you need advice on how to make this one an unforgettable holidays? A till Z tips on Cuba? Etc. etc. and more? Then our duty is to share our experience with you and, among others, to make you feel like home away from home.
We look forward to having you here with us and Hasta la Vista,
其他注意事项
PLAYAS
Playa Bahia Bonita: in front of our house = 200 meters
Playa Allende: 2.9 km = 10 minutes' walk
Playa Buey- Vaca: 10.8 km =
Playa Coral – Snorkeling Area: 14.7 km = 10 minutes' drive.
Varadero: only at 25 minutes' drive

Nature Lovers:
Picnic Area Camping "La Arboleda": 15 minutes' drive
Canimar Camping Place River: 10 minutes' drive
Saturn's Caves: 15 minutes' drive
Bellamar Caves: 15 minutes' drive
Valley Yumuri: 25 minutes' drive
Playa Giron = circa 2 hours drive.

Casa de cambio CADECA Money Exchange: 423 meters
Banco Financiero Internacional: downtown at 10 minutes' drive.
4 x Grocery Stores located just few meters away from the house
Supermarket "La Galeta": 15 minutes walk
Supermarket "La Sirenita": 15 minutes walk

Hospital Militar: 4.49 km
Pharmacia: 3.4 km
Hospital Provincial: 7.22 km

Baseball Stadium" Victoria de Giron": 5.98 km

Internet wifi: WIFI IN CUBA IS NOT FREE. All over the place, but it is not for free. You need to buy an Internet card for a price of 1.50 cuc/1 hr. The card has an User name and password for connecting using your own device.
Where to eat in the area?
Private Restaurants
JaiMaike: 10 minutes walk
El Bukan : 10 minutes walk – Matanzas province best rated by Trip Advisor.
Salsa Suarez :10 minutes walk
Frenesi BBQ: 15 minutes walk
El Chiquirrin: 10 minutes drive

State Restaurants:
Polinesio at 12 floor building: less than 10 minutes' walk
El Bahia Cuban cuisine: 10 minute walk
Restaurant Cabaret La Salsa: 15 minutes' walk
Canimar Look-out: 10 minutes' drive
Monserrate Look-out: 10 minutes' drive

Night Life:
Centro Cultural Atenas: 10 minutes walk
Dancing Club La Salsa: 15 minutes walk
Cabaret Tropicana Matanzas: 10 minutes drive
Varadero Discos and Varadero Casa de la Música: 30 minutes drive
Buena Vista Social Club: 35 minutes drive
---
---
---
不适合婴幼儿(2岁以内)入住,或不能为婴幼儿提供安全的住宿环境
smoking is allowed but in the balcony , not in the living room or bedroom.
---
---
---
Saili and her husband were great hosts. Unfortunately our taxi driver did not know where the address was and dropped us off a few minutes away. A couple of people in the community took us into their home to let us borrow their phone and call Saili's number. Saili's husband was kind enough to pick us up and bring us to their place. The view from our room was great. And the stand for wifi cards as well as the wifi park were within walking distance. Varadero was a 20 cuc taxi ride away. Great family, hospitality and food.
---
I personally loved this Airbnb! The location was amazing. It was quiet and with a great view! The sun sets right in front of the house and the beach is very nice. Everything is walking distance. There's a money exchange 5 minutes away in walking distance, there's little cafeterias every where also in walking distance and varadero is only 20 minutes away in car! It was truly an awesome experience. Saili and her family were kind to us and very responsive to our stay. They helped us with everything and their home was beautiful. I'm very glad I stayed here.
---
Saili and family home is very comfortable. Peter helped us with our excursions going to Havana and the Coral Beach. We also had the best coffee and cuban breakfast. It is close enough to walk to shops and restaurants. The bank for exchange is in walking distance. Saili and her husband Peter speak and write english. The accommodations are fantastic as a spoiled American and well traveled globe trotter I appreciate the hospitality from her family. The bed is comfortable and the water is HOT. The bathroom is private, the view is great. The value is worth it and more.
---
Saili and her family are amazing. Please do choose to have breakfast. Delicious and very filling. Welcome drink is perfect pairing with the view on the balcony. We loved having our windows open. Never needed to use the air conditioner except on our last night for maybe 3.5 hours. We look forward to returning to Matanzas as well as staying with Saili and her family. Pedro Angel and Pablo Angel are the most adorable and loving children. I enjoyed the time I got to spend with them. Just mailed out the drawing Pedro Angel gave me to send to my mom.
---
What a view!! From the moment we arrived and were handed our delicious welcome Pina Coladas to the day we left, we felt like family. Saili and Peter have a beautiful home and are very proud of what they have done so far as well as their future plans for their house. The balcony off of the common room is fantastic. We loved having the windows open so we could enjoy the view and breeze. Saili is extremely informative, friendly, and super helpful. Matanzas and surrounding neighborhoods has so much to offer. Everyone we encountered was super friendly and proud. We didn't want to leave. The huge, beautiful and delicious breakfasts' are perfect. Saili is a great chef, bartender, mom, daughter, wife and soul. After discovering that our credit cards or ATM cards were not accepted at banks, restaurants or certain establishments, both Saili and Peter were extremely helpful in assisting us. They'll never know how grateful we are for having met them or what they mean to us. Thank you so much for having gone above and beyond. Your sons are beautiful.
---
We had the pleasure of staying with Saili and her family for three nights while in Matanzas. Her spouse, Pedro, greeted us at the airport and also arranged for a taxi to take us to a bank to exchange money. The room was very clean and spacious with wonderful views of the ocean, and only a 5 minute taxi ride to the city center. Saili and Pedro were more than helpful with suggestions regarding everything from where to go for dinner to where to find a taxi, as well as how much we would expect to pay to get from location to location. Saili is a fantastic cook and every morning we awoke to a breakfast of fresh fruit, eggs, sweet breads, toasted ham and cheese sandwiches, fresh juice and coffee. One of out highlights of our entire trip to Cuba was being able to spend time with Saili and her two adorable boys, Pedro and Pablo. She is a fantastic host and mother, and she made us feel very welcome during our entire stay. I would definitely recommend Saili's home for any travel to Matanzas.
---