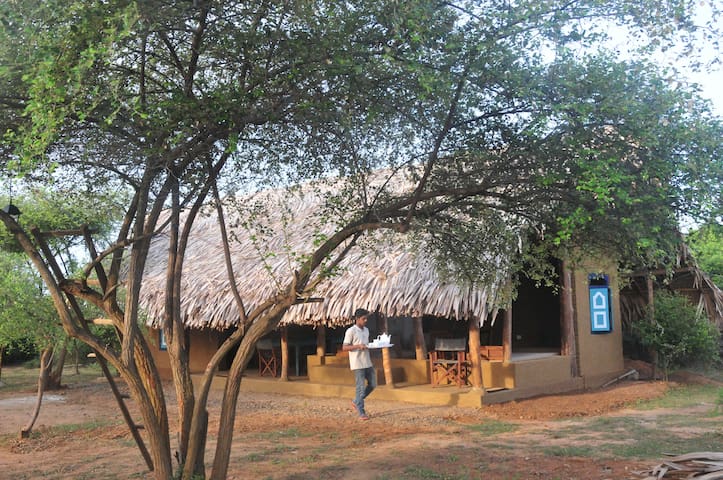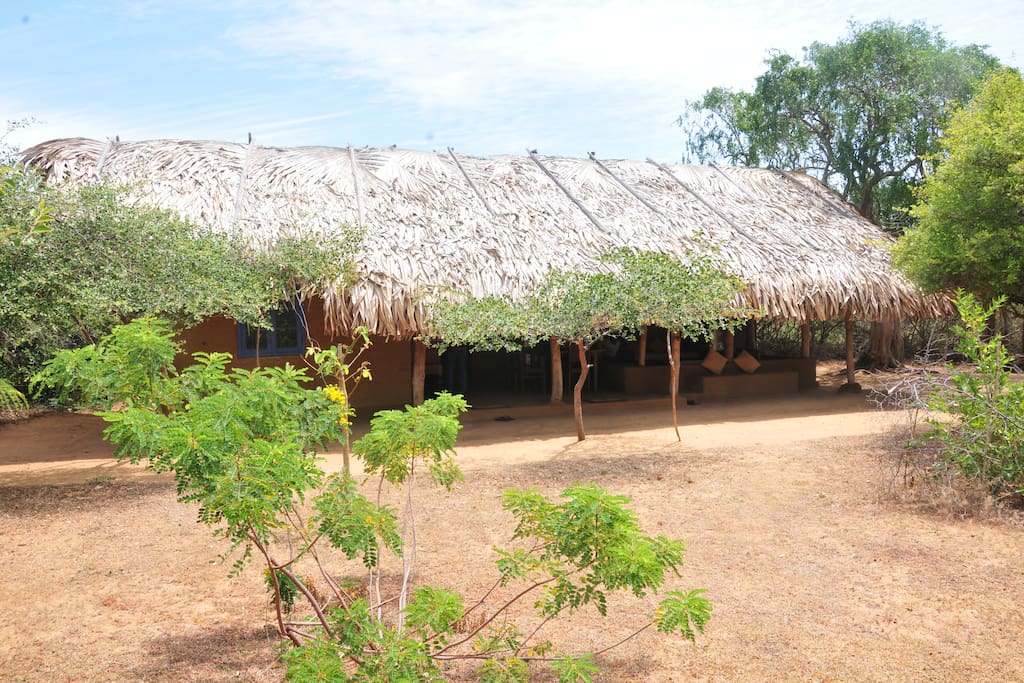 - 接近野外 - 只有15分钟。从Yala NP,在海滩旁边 Beyond的背后 - Safari Lodge Yala是一个安静的回家,经过一天的探索后回来。随着月亮升起在无形海洋上,休息在开阔的阳台上,一片清凉的天然微风,就是生活在遥远的干燥村庄的浪漫之中。 有2个小屋,设有一个大型开放阳台,供客人用餐,休息和睡觉;他们可以单独或一起预订 - "马利坦"(5人)和"Debara"(7人)
- Get closer to the wild - only 15 min. from Yala NP, next to the beach
Back of Beyond - Safari Lodge Yala is a peaceful home to come back to, after a day of exploring. To rest on the open veranda with a cool natural breeze as the moon rises over the invisible ocean, is to live the romance of the remote dry zone villages.
There are 2 cottages with a large open veranda, for dining, lounging and sleeping; they can be booked separately or together:
- 'Malittan' (5 pers.) and 'Debara' (7 pers.)
房源
星星和冉冉升起的月亮,海底的声音破坏在森林悬崖之下的岩石上,是您在Yala国家公园漫游一天漫长的一天,或者探索Ruhuna的古老遗址的完美结局。对于旷野的爱人,小屋和野生动物的共生将使你在自然与自然中感到正确。 Beyond - Safari Lodge Yala酒店被设计为典型的公园小屋,设有一个大型开放阳台,供客人用餐,休息和睡觉,还有一个小型的封闭区域可供睡觉和保持装备。我们受到传统的粘土墙和茅草屋顶干燥的家园的启发,我们的小屋是用泥砖建造的,与talipot叶子茅草,并有一个半清洁的花园,与磨砂土地和丛林融合。 我们的Safari Lodge酒店由两间独立的小屋组成,"Malittan"住宿5人,"Debara"7位客人(共12人)。小屋有一个封闭的房间,每个睡3人,其他人将遵循斯里兰卡野生动物园的传统,在温柔的微风中摇曳的蚊帐下的阳台上睡觉。传统的简单干燥区家庭的特点与舒适的亚麻布和通风的现代化浴室融为一体,配有热水。 在这个乡村小屋里,您可以享受Yala和超越哲学的感觉,空调和电视。 我们的友好的工作人员包括一个管家和厨师。食物一直是弥补我们假期回忆的重要组成部分。为了配合"超越之旅"的传统,我们在雅拉的厨师将准备各种各样的斯里兰卡菜和西餐。沿海南部的风味在斯里兰卡食物中占主导地位,西餐具有独特的"斯里兰卡感"。如果您正在进行一整天的野生动物园或游览活动,我们也可以打包野餐。 靠近野外!
The stars and the rising moon, with the sound of the sea breaking on the rocks hidden below the forested cliff is the perfect end to a long day out on safari at Yala National Park, or exploring the ancient sites of Ruhuna. For the lover of the wilderness, the symbiosis of lodge and wild will make you feel right at home in and with nature.
Back of Beyond - Safari Lodge Yala is created as typical park cottages with a large open veranda, for dining, lounging and sleeping, with a small enclosed area for sleeping and keeping your gear. We have been inspired by the traditional clay wall and thatch roofed homes of the dry zone, our cottages are built with mud bricks, thatched with talipot fronds and have a semi cleared garden that merges with the scrub land and jungle beyond.
Our Safari Lodge consists of 2 separate cottages – 'Malittan' accomodating 5 and 'Debara' 7 guests (a total of 12). The cottages have one enclosed room each which sleeps 3 persons, the others will be following the tradition of Sri Lankan wildlife parks, sleeping out on the veranda under the mosquito nets swaying in the gentle breeze. The character of the traditional simple dry zone homes is merged with the comfort of crisp linen and airy modern bathrooms with hot water.
Keeping with the feel of Yala and the Back of Beyond philosophy, air conditioning and TV are not available in this rustic cottage.
Our friendly staff includes a house-keeper and cook. Food has always been a vital part of what makes up our holiday memories! In keeping with the traditions of our Back of Beyond retreats, our cook at Yala will prepare a wide variety of Sri Lankan as well as western dishes. The flavors of the coastal south predominates in the Sri Lankan food, and there is a distinct 'Sri Lankan touch' to the western dishes. We can also pack a picnic lunch should you be doing a full day safari or excursion.
Get closer to the wild!
房客使用权限
The guests have access to the entire cottage, the grounds and the closeby beach.
与房客的互动
我在大部分时间都在科伦坡,但根本就没有问题,因为我们的工作人员将会照顾好。
I am based in Colombo most of the time but that is no problem at all, because you will be looked after well by our fantastic staff.
其他注意事项
- 可以预订整个小屋以及一个小屋。司机住宿和餐点每晚10美元。 - 我们可以安排一辆野生动物园吉普车去参观Yala或Bundala国家公园。 - 我们不在酒店出售酒精 - 欢迎您携带自己的酒。 - 在这个地区沐浴海是不安全的。 保护自然环境对我们很重要。我们保留了每个财产独特的自然地形和植被,避免了在建造小屋时清理土地。我们试图用现代化的环境建设方法,持续地实行可持续的能源使用。超越物业的背后,大部分土地不变,或作为野生栖息地在需要时恢复活力。我们正在发现这些"野生口袋"对于野生动物来说至关重要,因为人们越来越多地控制自然景观 - 即使在最偏远的地区。请注意,最好以最小的干扰自然活动的方式静静地观察野生动物。 客人进行预约时,已经承认并接受进入野生动物区域,入住不受保护的财产,并且进行的住宿/旅游可能会使其接触野生动物(包括蛇,蜘蛛,野生动物)公猪,大象等)。超越工作人员,联营公司和/或代理商之后,不得对涉及野生动物行为的任何遭遇负责。因此,入境和进入野生动物区域和Back Back Beyond物业是您自己的风险和责任。
- It is possible to book the entire lodge, as well as a cottage.- Drivers accommodation and meals are provided at USD 10 per night.
- We can arrange a safari jeep to visit Yala or Bundala National Parks.
- We do not sell alcohol on the premises - you are welcome to bring your own.
- The sea is not safe for bathing in this area.
Preserving the natural environment is important to us. We have retained the natural topography and vegetation that is unique to each property, and have avoided clearing land when building our lodges. We have tried to use modern methods of environmental construction and consistently practice sustainable energy use. Back of Beyond properties leave a major proportion of the land untouched, or rejuvenated as a wild habitat where needed. We are discovering how critical these 'wild pockets' are as refuges for wildlife, as man increasingly takes control of the natural landscape - even in the most remote areas. Please note that it is best to observe any wildlife silently with minimal disturbance to their natural activities.
By making the reservation, guests have acknowledged and accepted that they are entering a wildlife area, staying in an unfenced property, and that their stay / tours conducted might take or bring them into contact or vicinity of wild animals (including snakes, spiders, wild boar, elephants etc.). Back of Beyond staff members, associates and/or agents cannot be held liable for any encounters involving the behavior of wild animals. Thus, the stay and entry into the wildlife area and Back of Beyond property is at your own risk and responsibility.
---
Amazing location !!! Perfect to fully unwind, get in touch with nature and forget about the hustle and bustle of citylife. The staff were great !!! The food was awesome !!! And we'd love to come back one day ! If you book this place, make sure to bring towels (not provided) Thank you for having us !
---
Yohans place is amazing. Far away from city noice, secluded in the middle of nowhere - just what we needed after a little bit to much of buzzing city life or tourist (URL HIDDEN) very rustic while still being well (URL HIDDEN) far my favourite place we stayed at while being in Sri Lanka. The bungalow is completely open (people who have issues with getting close to animals/insects might want to consider not staying here...) which was a great experience for us. Its just a short stroll to the beach which isn't safe for swimming but still beautiful to spend some time at. At night you can fall asleep with the sound of the waves crashing onto the beach and the cicadas humming... I'd love come back to stay at this place again, knowing the set up now I'd make sure to pack a towel since they weren't provided aswell as a sleeping bag since not all of the beds had blankets and those provided had been used by other guests without being washed inbetween uses... Internetjunkies beware that the connection is really unreliable here, so rather expect no internet to be surprised if it does work. But to be honest, this place is perfect to just be "temporarily not available" and just live in the moment. Yohans cook is awesome, we all wanted to take him and his curries home with us ! He's also very helpful with organising rides, safari trips to Yala etc.
---
I am the founder of Back of Beyond - eco lodges in Sri Lanka. Back of Beyond was an idea started due to my love for travel and nature, and the difficulty faced in trying to find suitable accommodation to suit my budget and taste. I am based in Colombo but I travel frequent…
语言:
English