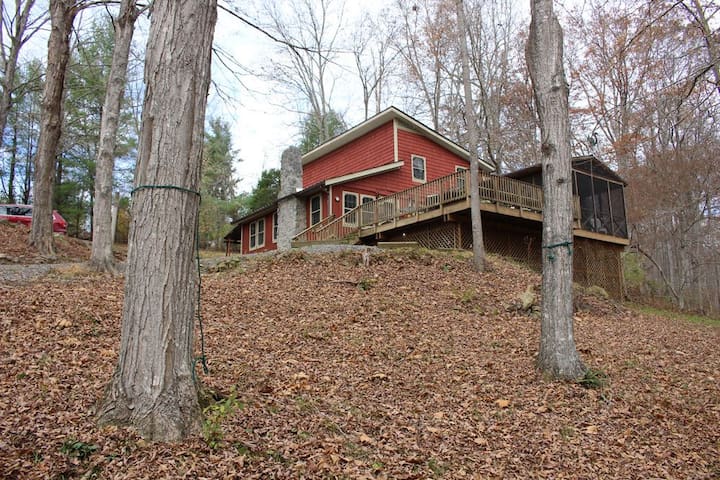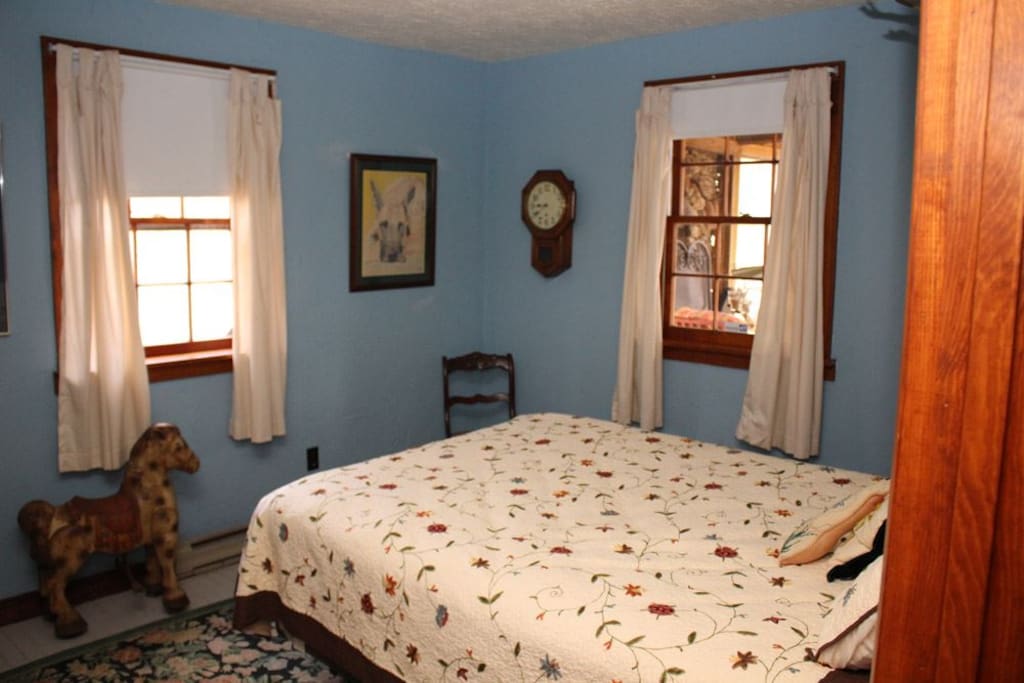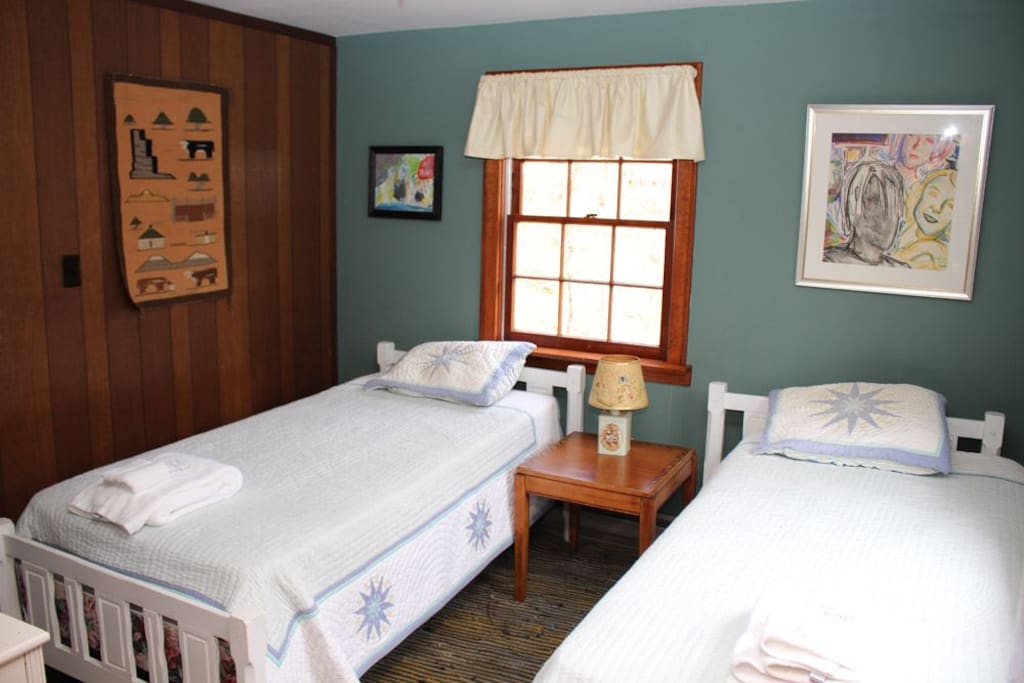 Our comfy cabin is 3-5 minutes by foot to the beautiful Greenbrier River and Greenbrier River Trail. Lewisburg is just a 10-minute drive. An 18-hole golf course is just a couple of miles down the road, along with other family-friendly activities such as a bowling alley, public swimming pool, and Lost World Caverns. The world-renowned Greenbrier Resort is approximately 20 minutes away...the perfect adult field trip! Save money on lodging during ski season! Snowshoe is just 60 miles away.
房源
Please note that in addition to the four bedrooms and six beds, we also have a full-sized futon and two futon chairs that are appropriate for children in front of the fireplace on the sleeping porch. There is also on the property a large canvas tent purchased from a local boy's camp that can sleep 4-6.
与房客的互动
We will be out of your hair while you enjoy your stay. We have a local manager who can assist if any issues occur, but we will otherwise wish you well to explore the house and surroundings as you wish.
---
This is an awesome place for family time! We spent every night on the porch with a roaring fire! Daytime was sent on the river or enjoying family and friends in Lewisburg and White Sulphur Springs...a short drive to both! The home is comfortable but the kitchen is small...not like you want to spend much time in the kitchen on vacation anyway! However, they have lots of outdoor cooking space too! It was lovely and we will rent again and again!
---
Great cabin in the woods, we could hear the Greenbrier River from the screened in porch. We all really enjoyed our stay. There were 7 of us, and we had plenty of room. Kitchen was fully stocked. We really enjoyed sitting outside eating dinner and listening to the river at night. It was an easy walk right to the Greenbrier River Trail and the river. I would highly recommend this cabin if you are just looking for a quiet stay in Lewisburg. It was very convenient to get to downtown Lewisburg, stores, and the Interstate as well.
---
We had a great time at the house. Very rustic which was nice. The outdoor screened porch with the fireplace was fantastic. Bed comfort was fine. We had 12 adults and 3 kids in the house and had plenty of room. Kitchen is tiny, but works. Some slept in the screened porch. We did not run out of water, which was nice. :) Access to the river was easy. Neighbors were super friendly. Highly recommend this house. The drive to Lewisburg is fast as well. April responded quickly as well.
---
This cabin was perfect for my family trip. My siblings and I bought our parents the trip for a Christmas gift, and planned it for the spring. Even though it rained most of the time we were there, the accommodations were wonderful enough that we didn't mind staying in the cabin. We played cards, read magazines, listened to music, and relaxed to the sounds of the birds and the river. We particularly loved the screened-in porch with fireplace outside, where we spent most of our time. We were secluded enough that we felt we were in the country, but just a few minutes' drive to town. Being so close to downtown Lewisburg was wonderful, too, because we were able to go shop around, visit the Irish Pub, and grab dinner, but be back at the quiet cabin in no time. It was truly the best of both worlds. The only thing that wasn't perfect were the mattresses. Of course, it's a cabin, so we didn't expect five star accommodations, but I did feel like those could be updated. Overall, this was one of my favorite Airbnb stays I've experienced, and my parents loved their Christmas gift. :)
---
Thank you for sharing your home with us over Thanksgiving- you have a very nice cabin with view of the Greenbrier river and short 5 min walk to the river and trail. I went for a few runs on the trail and the wash-out form the flood wasn't too bad until you get a mile or two away. We enjoyed spending time with family away from the city and away from electronics. We enjoyed skipping rocks down on the river bank, and fires in the fireplaces (inside and on the screened porch). The kitchen is small, but we were able to make the most of it- including cooking our Thanksgiving feast! Additionally, check-in was a breeze with the keypad access. We were initially concerned about running out of water when we learned about it being on rain water- but we did not have any issues. Would recommend to others for a nice rustic family retreat- also seems like a great place to enjoy in the spring/summer with the porch and kayaks/canoes/fishing at the river. Much appreciative, Mike
---
This is a great place - it is hospitality without a host - you have the feeling that you get to know the family without seeing them. Also - from coffee to toothpaste - everything is available - this is a perfect stay - the village is about 15 minutes away - from Walmart to 8 movie theatres - so if you want quietness you stay at home and take walks along the river and watch some deer - you want to get some dinner or grocerys - luxury is just 10 to 15 minutes away ... this is really perfect place to stay and we loved Every minute ...
---