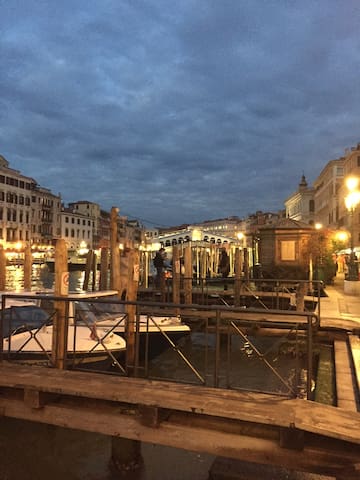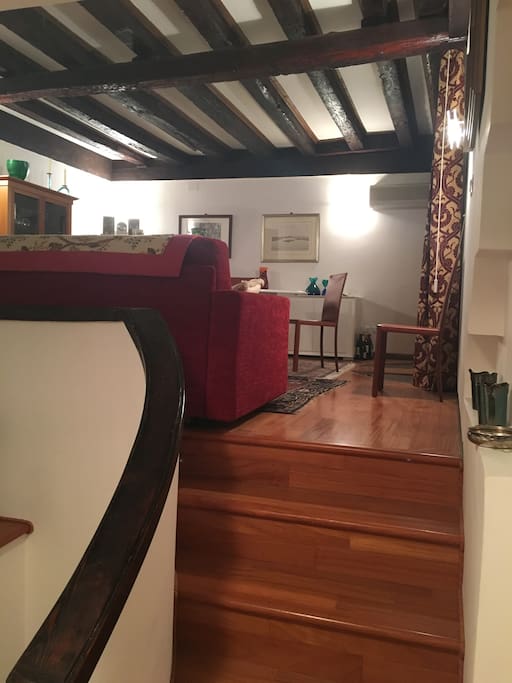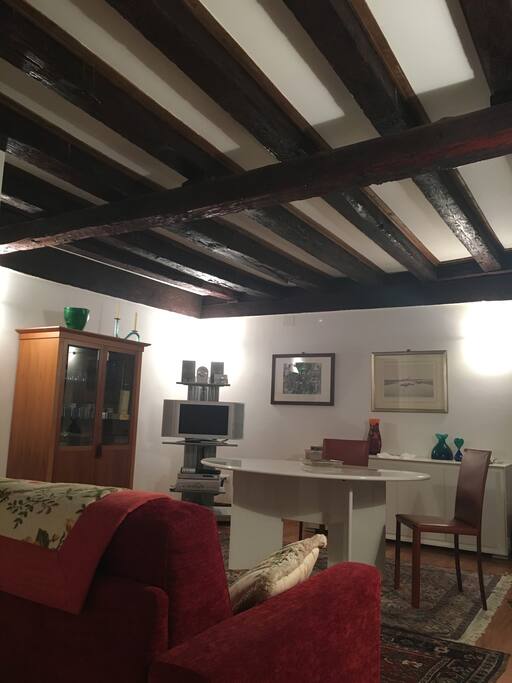 Il pied-a-terre si trova in magnifica posizione centrale, 2 minuti a piedi dal Ponte di Rialto e 5 da P.zza S. Marco. A 30 metri si trova l'attracco del battello da e per Stazione/P.le Roma. Ubicato su due livelli, con ingresso, cucina, soggiorno e, al piano inferiore, camera matrimoniale e bagno. Appena ristrutturato, con arredi e finiture di pregio. Ideale per coppie in soggiorno romantico, può accogliere altri due ragazzi in comodo divano letto. Riscaldamento/climatizzazione autonomi. Wi-fi.
房源
FROM MAY 2017: FREE WI-FI
Years of travelling worldwide, especially in Capitals or historical cities, teached me something crucial: success of journeys depends for the most part on your accommodation's position. You have to stay as close as possible to centre town. With all that you need just around you. So, I'm glad to offer my guests a perfect solution: a classy pied-a-terre, recently renovated, with Rialto's Bridge and S. Marco Square respectively 2 and 5 minutes walk away. You'll leave home, take Sotoportego del Carbon on your left and in ten short steps you'll see the magnificent of Canal Grande in front of you, with Rialto 100 mt far on the right and the new Luxury Maison FondacoT just beside the fabulous Bridge. Differently, coming out from the apartment, you can turn to the right and reach Corte del Teatro (the back side of Goldoni's Theatre) in a minute, charming Campo S. Luca (with one of the best pastry shops in Venice) in two, Bacino Orseolo -with Hard Rock Cafè- in four and S. Marco Square in five. Forgive hard walks with suitcases: steamer (our "vaporetto") 's stop to and from S. Lucia Railway Station, P.le Roma or Venice Tessera Airport is located 30 steps outside the house. And if you want to buy food and drinks, you'll find a supermarket (named "Coop") less than 50 mt. The apartment, with living room and kitchen at the first floor and bedroom -with king size bed- and bathroom downstairs, is perfect for couples in romantic travel, but even for families with one or two sons who can sleep on large sofabed. Trust in me: I'm Venician, proud of this wonderful jewel I live in and I want to make your journey a really great experience!
与房客的互动
If you hear someone telling you eating in Venice is too expensive, don't trust him. Certainly, you can spend 100 or 150 € for person to have lunch or dinner. And sometimes, coming out of the restaurant, you won't be happy for the food quality. But there are also many and many taverns (in Italian "osterie", in Venetian "bacari") in which you can eat -especially fish plats- and drink very well, spending not more than 25/30 € pp. The secret to find them is simple, and it is not in your city guide: ask to me. I'll give you names, phones and addresses. And if you want to book a table for a special dinner before coming in Venice, I'll do it for you. My guests are even friends of mine.
---