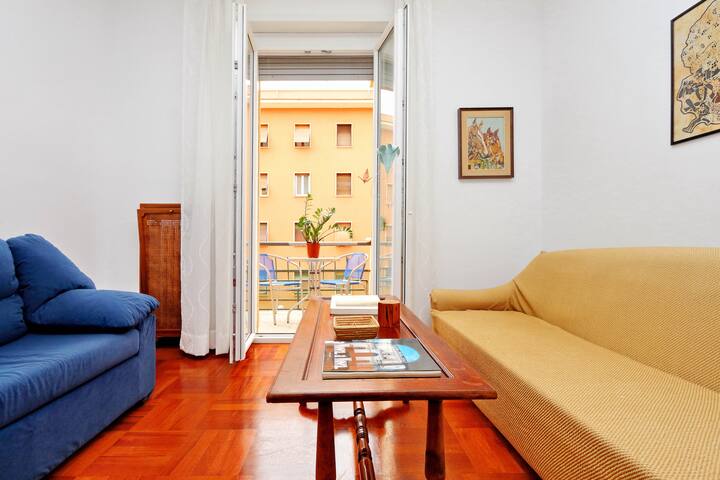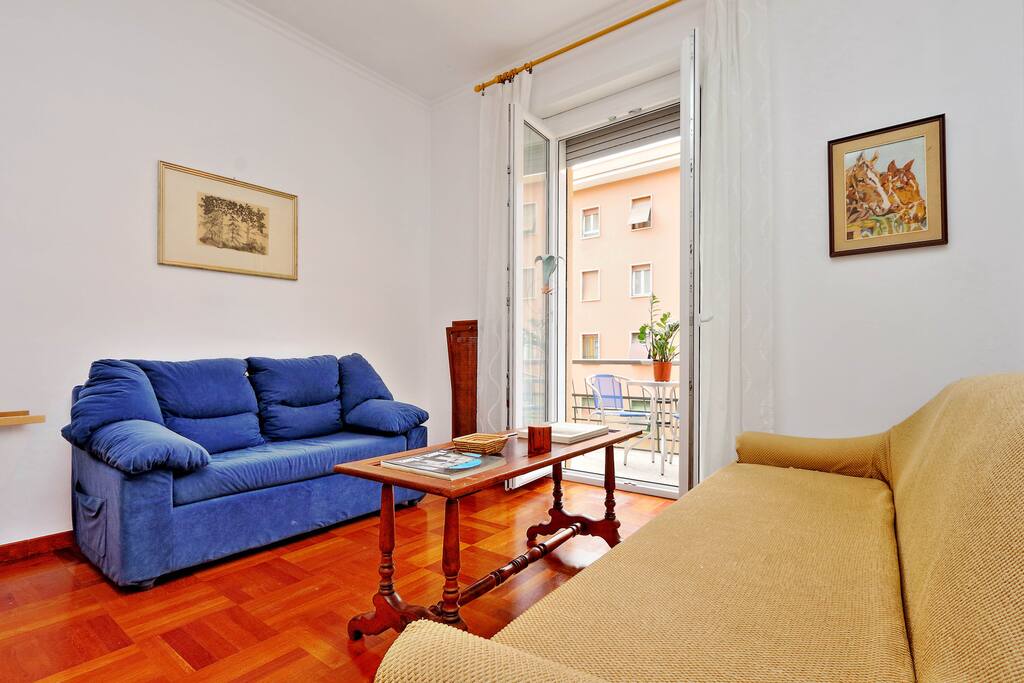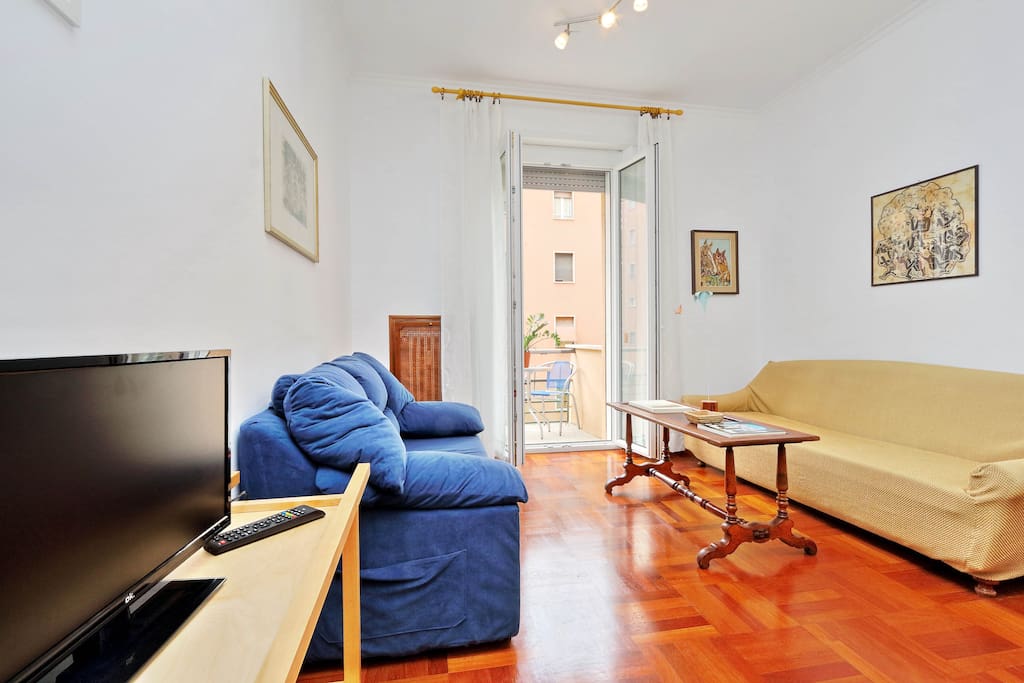 Bright, spacious and cozy 85 sqm apartment, located in the northern part of central Rome, in an elegant building in the Trieste neighbourhood, a residential area with many local markets and open-air bars, a short walk from Largo Somalia.
Libia metro station (line B1) is only a 15-minute walk away.
房源
The apartment is located on the third floor and consists of a living room, two bedrooms, a kitchen, a bathroom and two balconies.
Entering the house you will find a large hallway which opens onto all the rooms of the apartment.
The living room, furnished in a simple and functional manner, has two sofas, of which one is a single sofa bed, TV corner and a table with five chairs. From the living area you access a balcony, which is furnished with a small table and two chairs.
The first bedroom is furnished with a double bed (160cm x 190cm), two bedside tables, a dresser, a chair and a walk-in closet. The second bedroom has a double bed (145cm x 190cm), a wardrobe, a desk with chair and a bookshelf.
The bathroom, modern and functional, has a bath with hand shower.
The kitchen is equipped with a refrigerator, oven, stove top, dishwasher, microwave and cutlery and crockery for six people. From the kitchen you access a second balcony where the washing machine is located.
The apartment has air conditioning in the bedroom.
---
This apartment is privately owned and managed by a company called Halldis. I need now to divide this review in two parts: review of the apartment, and quality of the services provided by Halldis. The opinion on these two components is highly non homogeneous.. For the apartment in Mancinelli, my individual scores summarize our opinion. It is absolutely not worth the money (over 2000 eur per month). The apartment itself is not bad, but kept in horrible conditions. Furniture are very cheap and in bad conditions. Electronic appliances conditions would disfigure even in a discharge dump. The photos published DO NOT represent the reality. On a positive note: good Internet (optical fiber) and good location. We requested Halldis to change the apartment. They allowed us to do so even if conditions on airbnb would not have allowed it, after paying an extra (quite generous) fee. We are grateful for that. The new apartment we moved to (Via Carlo Alberto Racchia 2) was absolutely GREAT and I think worth the money (considering Rome). People in Halldis Rome are very young and I believe they do really their best to satisfy their customers. They are quite responsive in communication, and very friendly. However, some of their procedures are not very effective and need improvement. For example, they have mobile 4g routers for apartments with Internet problem (such as the one we moved to). This is good, however the number of devices they own is not enough to cover the needs of a city like Rome. In case of emergency, somebody stays without Internet, especially during weekends in which none of them is working (this happened to us). Another "feature" of the services of Halldis is the following. They only give one change of towels and bed sheet. They say it's an apartment and not an hotel. If you want more you have to request it (with possible extra fee). So question: if one stays one month or more how can (s)he wash towels/bed sheets if there is no other change to replace them? The general problem with Halldis is that they provide LESS services compared to what individual owners on AIRBNB provide (I did rent many times apartments in Rome, always through individual owners). For example, all private owners I've been provided something like 4-5 changes for bed sheets and towels, plus they were available 24/24 and 7/7. They say it's normal given they manage 150+ apartments in Rome alone. But I say it's NOT normal as the customer is paying MORE, and not less, so (s)he is expecting more services. A final problem I had with Halldis is that, when we changed apartment, they did a mistake in calculating the amount of money I owed them (I paid around 200 eur more what I should have). They admitted this over the phone and said they are going to refund me. I asked the to write me a written confirmation about this but so far I haven't received anything and I'm already...
Dear Eliseo, first of all I would like to thank you for having submitted such a detailed review. Then I would like to clarify some aspects that you've stressed out in your comment. In my profile's description it's written clearly that I'm working for a company which operates in Property Management (Halldis), in order to make our work as open as possible. Regarding the extra towels and bed sheet issue, the Company has a policy that allows us to provide for the first set. Any other request will be consider an extra cost. Regarding your refund I'm glad to inform you that the process it's already on its way. It's been a pleasure hosting your family and you. Sorry once again for any inconvenience that has occurred during your stay and thanks one more time for having submitted this review which will help us to improve our service. Best regards, Bettina
---
Hello! I live in Milan and I work at Halldis, a property management company, specialized in short term rentals of apartments throughout Italy and Europe. We manage furnished apartments in several location: Milan, Rome, Florence, Naples, Bologna, Paris, Bruxelles, London. My col…
语言:
English、Italiano