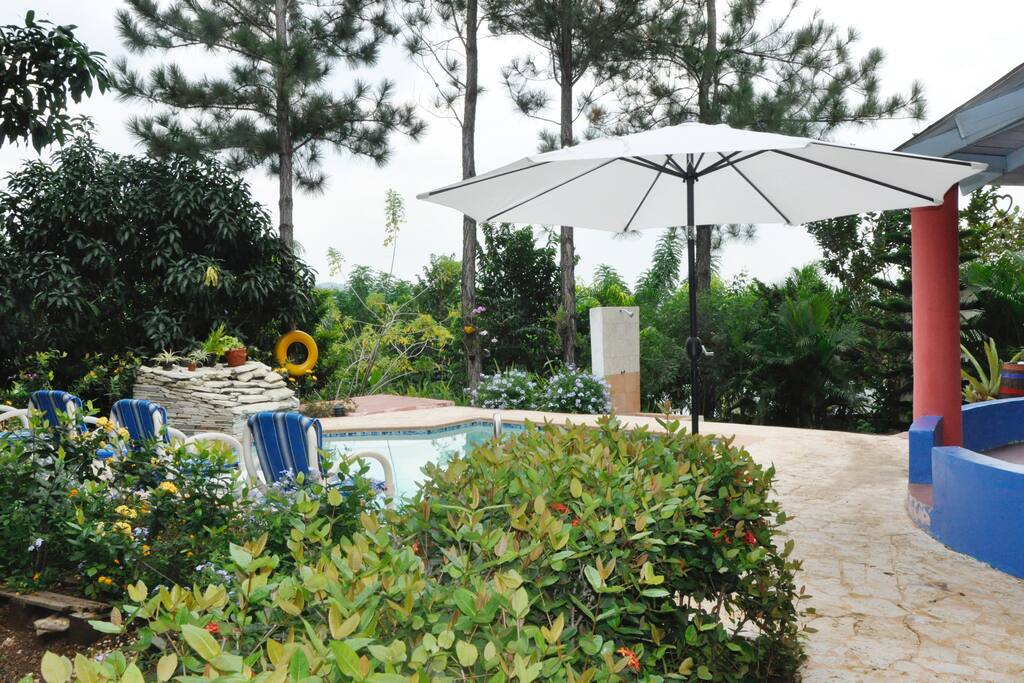 Beautiful and Cozy Villa near Santo Domingo.
Beautiful and Cozy Villa near Santo Domingo.
A fantastic Villa just 30 minutes away of Santo Domingo with everything you need! Enjoy the beautiful landscape, the fully furnishedhouse, rest in a hamaca and let your thoughts float away in the pool. This villa is the perfect place to spend your weekends or vacation with families, friends and pets. Come and find out why.
I'll be happy to give you advice on how to get to the villa and help you with anything you need.
The Villa's house can welcome comfortably up to 7 persons.
房源
The house.
Our lovely house is fully furnished, it has a nice common space with a full table, and two comfy couches. There are also two rooms and each of them has a bathroom (with a toilet, hand washer and shower). The main room is the only one with air conditioner, and it only works when the electrical power is on. But don't worry, you probably won't need it since the weather is nice and fresh most of the time.
The Kitchen.
The kitchen has everything you need to cook a delicious meal (a fridge, the stove works with gas, pans, pots, cutlery, plates, blender and glasses, etc). There's also a washing machine in a little room next to the kitchen. Feel free to use anything you need from the fridge to prepare your meals.
The pool area.
The pool has space for at least 15 people. It's not big or deep enough to swim freely, but is great to just float around and relax. You will also have access to two dressing rooms. Each of them have a shower and a toilet.
The Barbecue Station.
Get some sausages and a few nice pieces of meat and prepare yourself a great lunch or dinner in our barbecue station. The caretaker will help you light it up if you need help.
You can rest by the pool, dance or play domino like a true dominican while you wait for your delicious lunch.
For your Information.
If you are a foreigner and don't know much about our country there are a few things that you should know before you arrive to our villa.
1) The electricity in the Dominican Republic is not stable, the power goes out from time to time, in a daily basis. Sometimes for a couple hours. For this reason, we've installed an inverter generator at the house that works automatically once the power goes out. With this you can turn on lightbulbs, fans, connect computers and other small devices. But it won't turn on the fridge, washing machine, iron press, the air conditioner, the water heater or any other big consuming machines or devices. Remember tu turn off lightbulbs that you are no using in order to save energy.
We also have an electricity generator that works with gasoline. You can use it for an hour or so every time you need to turn on the AC, or too cool off the fridge if the power takes too long to come back. You can't do it yourself, but you can tell the Villa's caretaker and he will do it for you. Don't be shy about it.
If you encounter any problem don't forget you can call me or write me at anytime :)
Warning.
If the power goes out while you are using the water heater DONT FORGET TO SWITCH IT OFF. You might leave the house and forget about it, once the electricity comes back it could damaged the equipment or cause a fire. Always check it before you leave the house.
2) We have a dog, his name is Terry and he's pretty big and dorky. He's usually friendly and every time guests arrive we move him to another area and keep him on a leash. Even though he's friendly we ask you not to touch him or go near him to avoid any incidents.
And also...
The beautiful tropical weather of our country comes with a price, and that price is bugs. We dominicans are used to it but many foreigners find it hard to deal with them. We have screens in many of our windows, specially the ones in the room. But you won't be dealing with an army of bugs or anything like that. But the truth is that the house is surrounded by nature, even if we transform the house into a bunker, some friendly bugs and lizards will probably find their way in. That's what they do, they are bugs. They are harmless and quite neighbours. But hey, feel that great dominican weather around you! No winter! yay!
Now go and enjoy a drink by the pool (:
房客使用权限
You have access to the whole house, the barbecue station and the pool area.
We have a caretaker that sleeps in a separate house near the entrance of the villa. He's really friendly and he will help you if you need anything (like preparing the barbecue station or turning on the little fountain of the pool).
I know that your privacy is important, which is why he has instructions not to get to close to the house unless you need help with anything.
与房客的互动
Myself or one member of my family will deliver the keys and guide you to the villa. You can contact me at all time if there's anything you need.
其他注意事项
We produce a lot of things in the villa, like lemons, eggs, yucca, coconuts, green bananas and several tropical fruits. We will happily provide you some of them so that you can have a great meal, free of charge!
---
---
---
---
- No additional guests allowed without approval.
- May the bad luck occur that you loose the key or accidentally take it with you when checking out, we will have to charge you replacing the lock and making new key cuts.
- Save energy and water by turning off the lights and making sure to close the water faucets.
- The caretaker at the Villa who sleeps in a separate house will gladly help you deal with the pool or other things regarding the place. But he's not your personal assistant.
- While you can eat and drink around the pool area, please don't go inside the pool with food or drinks.
- If you use the barbecue station, remember to put down the remaining fire and make sure that everything is in it's place.
- If the power goes out and you are using the water heater DONT FORGET TO TURN IT OFF. You might leave the house and forget about it, once the electricity comes back it could damaged the equipment or cause a fire. Always check it before you leave the house.
您还必须确认以下情况
房源里养有宠物 - We have a dog in the property / Tenemos un perro en la propiedad.
便利设施缺陷 - Actualmente no tenemos Wifi.
---
---
---
---
beautiful remote getaway - if you are looking for quiet, this is the place that is except for roosters waking you up at 5am landscape/grounds was beautiful lizards were a huge problem, on one day/night, there were 8 of them in the house - screens are needed in the kitchen, dining and living room - screens in bedrooms needed to be repaired before we arrived not during our stay. ants in kitchen - drowned them with homemade vinegar solution and sealed window frame with toothpaste to stop them from coming in through window frame - sink needs attention electricity and water problems - only air conditioner did not work properly - some nights it was cooler outside than inside, had to purchase insect/mosquito coils when we were outside - if electricity went out, we were not able to do anything inside since we were unable to open windows due to no screens - I strongly recommend investing in a better generator or solar panels. a television or wifi would be a great addition key was not on premises, had to wait outside for folks to bring key meanwhile we needed to use bathroom after long trip pool needs cleaning every morning and evening due to leaves and bugs dog needs additional training - rushed toward my sister causing panic and fear for her for the remainder of stay then he bit and scratched my husband who needed medical attention
Miss Irma and her husband were the guests who has stayed the longest time in our villa. And it was definitely a challenge. I agree that we can improve in some areas but there's also a lot of things in Irma's review that need a bit of context. 1) My parents were at the villa at the time the guest had to arrive according to our arrival RULES and the time we had agree to meet. Irma and her husband arrived hours later. My parents waited for two hours, then they had to go home to eat and drive back again. We were trying to contact them the whole afternoon (but they would not answer because the signal was not good at their location, and when they did, they said they were in a family activity and would not tell us the exact time they would be arriving). So when they finally arrived they had to wait, because they arrived late and almost at night. We never leave the key to the villa's caretaker, we always open the house ourselves after meeting the guests for the first time. 2) Electricity in our country has always being a HUGE problem, sometimes the power is out for hours and because of that we have installed electrical generators in the house, and another one that works with gasoline. As a house rule i always urge our guest to turn off all devices and lightbulbs that are not needed to save energy, if one of the generators runs out, you can use the one that works with gasoline but only for an hour or so, otherwise it might damage the equipment. The caretaker in our villa informed us that sometimes our guests would leave the house leaving a lot of lightbulbs on and when they came back they would find the generator without power, logically. We are doing everything we can to make our guests comfortable in this regard but the reality is that the electrical problem is bigger than us. 3) Sure, there are bugs, and sometimes they enter the house, it's not an army of them. We've already installed screens at the bottom of the doors. We do need to make some repairs to some screens, and we are definitely going to replace them for new ones, specially in the rooms. We fixed the air conditioner while the guests were away. We are definitely considering installing a tv and wifi in our villa. Although people who come to our villa come to getaway from routine and want to disconnect. I understand this might be an issue for guests that have longer stays. We are going to work on it. 4) There was a small incident with our dog Terry, he's a big dog, really playful and friendly, until this incident. The incident was a surprise for us as well. We've paid for the medical expenses and as of that moment i have advised to all of our guests not to go near Terry to avoid repeating that. 5) We've ALWAYS clean thoroughly the house and property before the arrival of our guests. We even offered Irma and her husband a maid FREE OF CHARGE to clean the house during the middle of their time with us. I sincerely thank you and your husband for your suggestions, i know that your stay with us had its ups and downs. We are learning a lot from each experience and we are always eager to help you have a great experience in our villa. Thankfully our guests have had positive experiences, and we are working to keep it that way. Much love!
---
Me and my team, Rob and Dahiana were looking for a quiet place close to town for our mini-convention earlier this year. We found the perfect place. Everything was in order. A spacious gazebo that gives us a beautiful view of the surrounding area and where we celebrated our meetings most of the time. A small but rich and clean pool and clean and cozy rooms including the living room and kitchen. Our stay was great and the best of all were the attentions and always availability of Jean Mitchell our host. The communication was excellent! Me and my team of Mente Elástica would recommend this villa not only for business that was our case but to share quietly with your friends and loved ones. Thank you Jean Mitchell for everything.
---
Now let me take you through my experience from beginning to end. This was my first time using airbnb and I had a lot of questions and (was a little nervous). I am so thankful my first stay was at Jeans villa. From the moment I sent my first message to Jean to all of my questions and nervousness went away. Jean responded in less than an hour and answered every question I had. Upon arrival I was greeted when I arrived and given a tour of the house and property. We were left a basket of fruit that is produced right from the property, (absolutely delicious). The house was perfect for my family and I. We enjoyed many meals together and a wonderful BBQ outside one of our nights :) the pool was perfect and we enjoyed afternoon naps in the Hammock. My stay simple put was wonderful. I cannot Thank Jean enough for everything! Very very happy with my experience and will use Airbnb for my future travels.
---
Dominican fellow.
I love to travel, specially because i live in a really small island. So i want to see and experience the greatness of other countries. And I've been lucky enough to travel a little bit around the world.

Intuitive and curious.
I love reading fiction and short stories.
28 years old.
AdGuy.
Writer.
I like to laugh a lot and make others laugh.

语言:
English、Español、Français