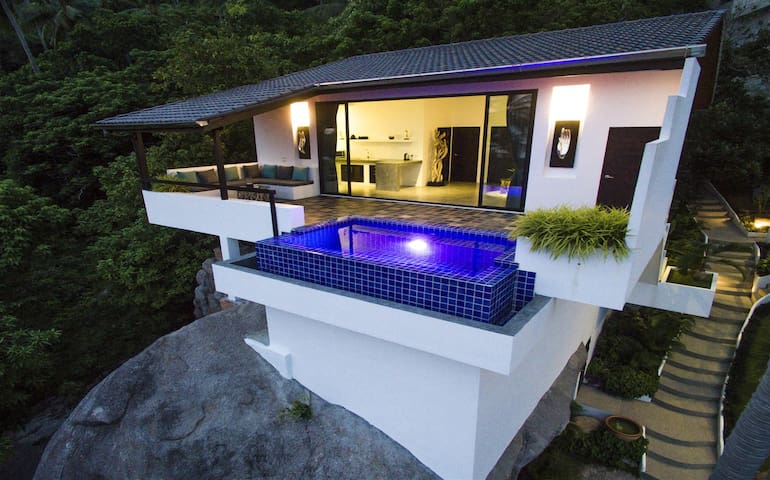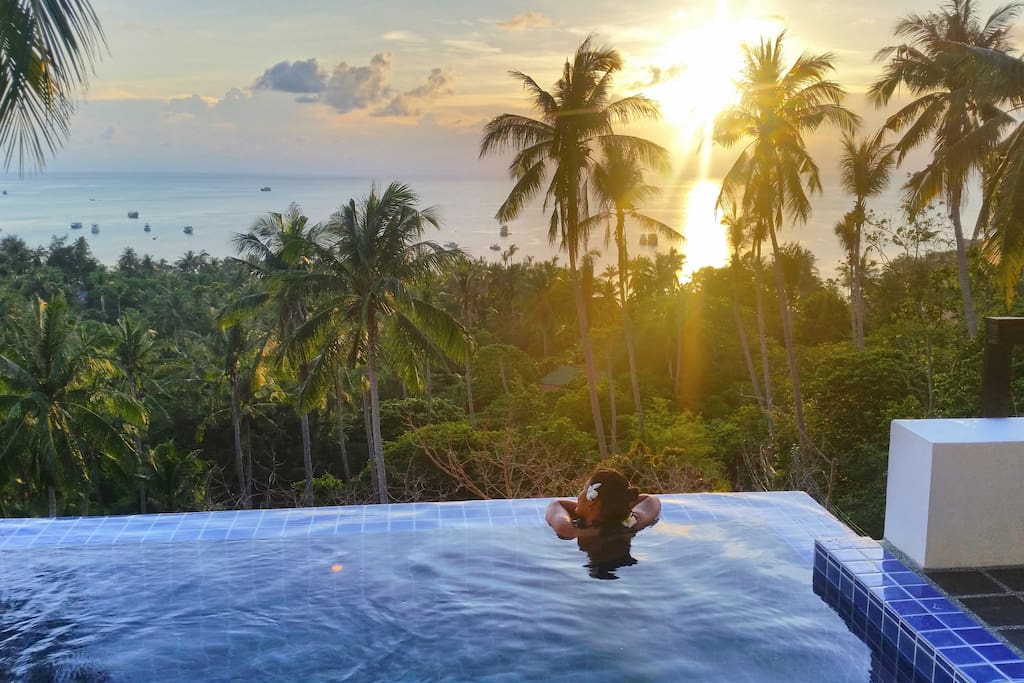 此房源的描述已由谷歌翻译从英语翻译成您的语言,但谷歌翻译并不能保证翻译的准确性。
个令人惊叹的两卧室别墅铺满了无边泳池,俯瞰壮观的海景。它的建造是为了使其环境与4.7米高的天花板相匹配,使得热空气逸出,室内保持凉爽。距离Sairee海滩仅有300米,方便客人前往。所有现代化的设施都经过精心思考,无线上网,空调,电视和一个大厨房。这个空间是私人的,令人惊叹的,真正的豪华。
从码头到别墅的免费出租车。
---
I was beyond pleased with our stay here. Everything looked exactly like the pictures. Two bedrooms with comfy beds and a nice couch to relax, enjoy films and have quality time with the people your with. We were greeted when we arrived and shown around the villa. It was beautiful and Robert went out of his way to provide maps, movies, and a take out menu so we didn't have to leave the house that night. The beach is walking distance, you can see it from the fantastic view provided. And the pool was just what we needed after a long day of soaking in the sun! We would stay here again in a heart beat! The communication was great, every time we had a question, the response was immediate!
---
The villa was absolutely beyond our expectations. After spending our time in Koh Tao, me and my husband's highlight was walking up the stairs to our villa and opening the door to patio that has such a breathtaking view. We both needed to get away from the hustle and bustle of working and being a mom and dad and this place was perfect! The location was a 10 minute walk from the central part of town. We walked everywhere, it was great! Thip had a taxi for us ready once we departed the ferry and had us checked in right away. She also helped us setup a taxi in the early am when we were leaving Koh Tao. She was so helpful and ready to tell us the tips and tricks of Koh Tao. I can't wait to go back and now all of my friends want to stay at this villa. Miss it already :)
Dear Bridget, It was our pleasure to have you and your husband as our guests. you are a real positive energy person nice to be with, we are happy you like our villa and kohtao. will be very happy to have you, your family and friends as our guests again next time. Big hug and Best regards Thip and Robert
---
We had the most amazing stay in the pool villa. Thip was a great host & extremely responsive when needed. The villa was clean & had all basic amenities, the pool & outside chill area was definitely the highlight! I have already recommended this place to friends as well as bookmarked it for my own travels. I will definitely be back as we found the place very relaxing/secluded but also close enough to the hub of Sairee. The Plantation is located on a hill so best to hire bikes if you not too keen on hills but we managed just fine & it was a good workout :)
---
Very nice appartement (as a villa) in the small resort with a magnificent view of the sea. Quite far from the center (15 min walk), quiet and very clean. Thip was a super friendly host. He pointed out where to rent scooters just 100m or even direct us for excursions. Very good stay on Ko Tao. Thanks again Thip for everything and to next year surely. ;-)
---
Hi I'm Thip from The Plantation Boutique Resort management team! The Plantation is a pretty special place, nestled in a coconut plantation that gives it it's name, over looking the spectacular views of Koh Tao's glistening sea, and only 300 Metres from Sairee beach. We're lucky enough to have the best of everything…only a short walk from the hustle and bustle of Sairee restaurants, bars and shops, but set back from the crowds enough so you can enjoy your luxury retreat and have a quiet peaceful night's sleep. Our Private Luxury Villas and Apartments are serviced for your comfort. We're not a big operation so we take great care to make sure your holiday is exactly as you want it to be.