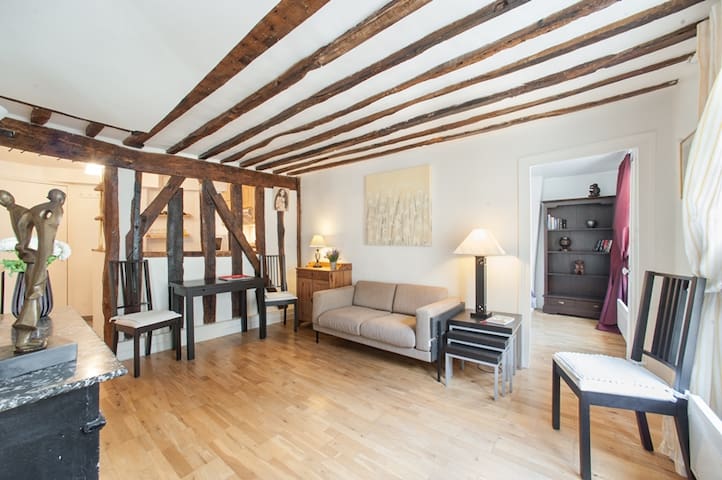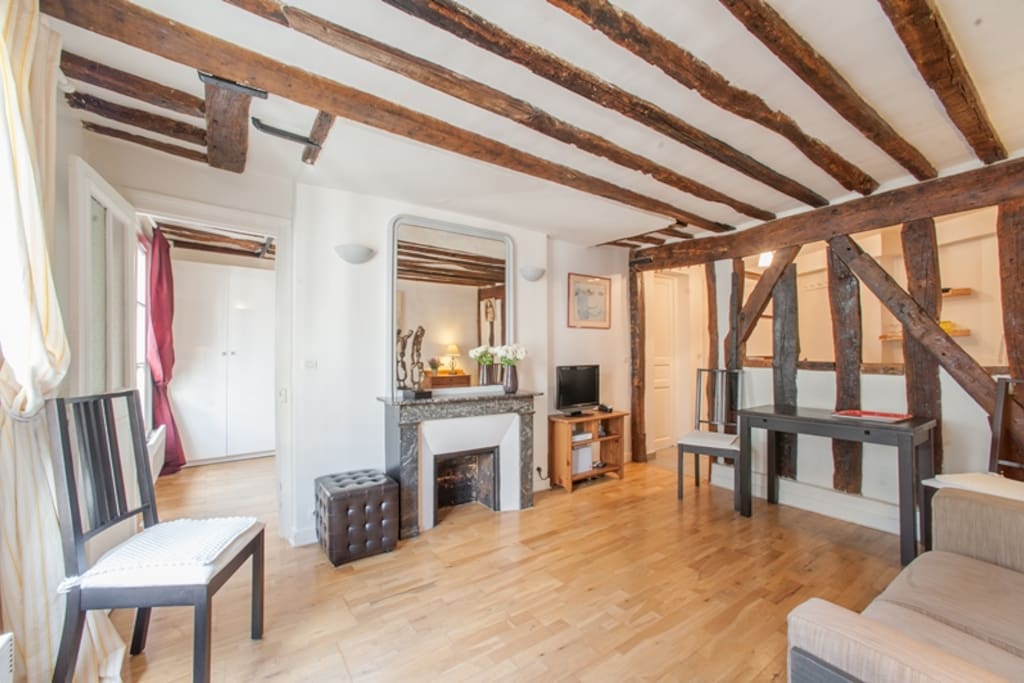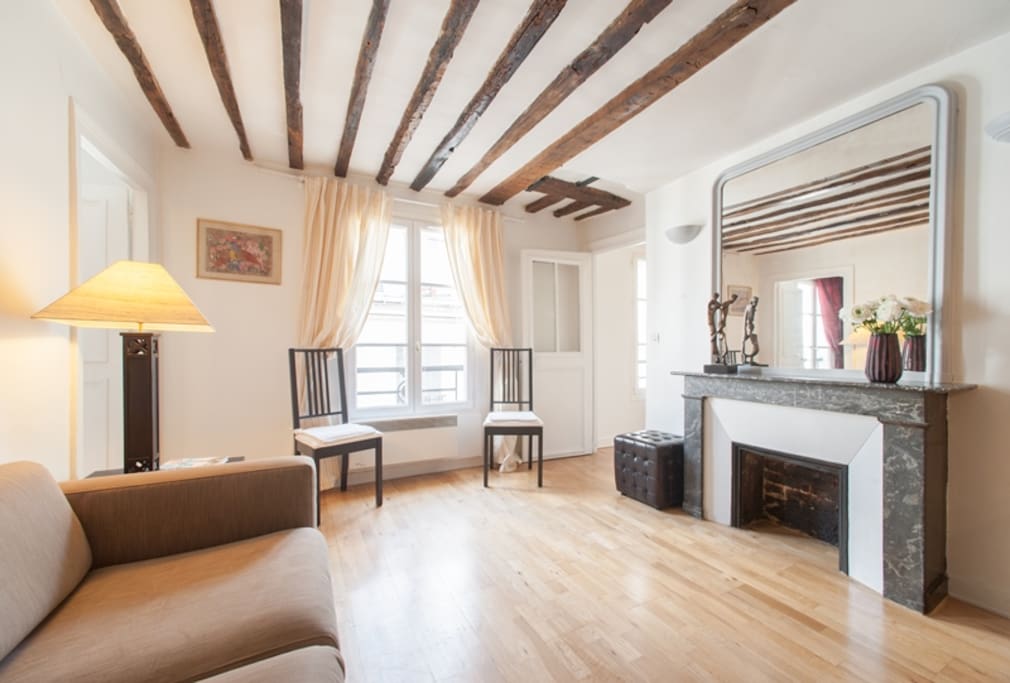 这个高雅的58平方米,两卧室,1浴室公寓均匀分布在中央客厅/餐厅/厨房周围。 非常平静轻盈,公寓理想地位于Marais的中心,靠近市场街Rambuteau,为所有的购物需求。 帅气,时尚,历史悠久的Marais拥有跨越几个世纪的建筑,以及一流的餐厅,咖啡馆和购物场所。您可以步行到许多地点,否则在东西方的地铁1号线附近。
This tasteful 58 square meter, 2-bedroom, 1 bath apartment is evenly distributed around a central living/ dining / Kitchen.
Extremely calm and light, the apartment is ideally located in the heart of the Marais, near market street Rambuteau for all food shopping needs.
The hip, trendy, historically rich Marais boasts architecture spanning centuries and excellent restaurants, cafés and shopping. You are within walking distance to many sites, and otherwise near metro line 1, an East West artery.
We kindly ask you to respect the tranquility of the neighborhood.
Non smoking apartment and pets not allowed.
When the monthly rate is applied, electricity is charged separately based on your effective consumption.
Extra fees of 50 € for arrival or departures on Sunday or on a non working day.
Extra fees of 50 € for arrival after 20:00.
For Christmas & New Year********* Strictly No Check in & out : 24/12 PM (after 1:00 PM), 25/12 (all day), 31/12 PM (after 1:00 PM), 01/01 (all day).
It's difficult to beat the kindness of Carlos and the quality of his apartment. The location is perfect: close to restaurants, groceries and public transportation. It's very quiet so you can sleep like a baby after a day of walking and shopping in Paris. We were two adults and a kid and it was so perfect for us we planned to come back next year. Merci Carlos!
---
Carlos' apartment is in a wonderful location right in the heart of the Marais. Lots of great cafés, beautiful historic houses, and boutiques are right out the front door. I loved his home for its' rustic beauty. It is really perfect for two couples, or two individuals wanting to have their own bed each. It was great to be able to cook. Highly recommend his rental.
---
Carlos's place was well-equipped, conveniently located and remarkably quiet. The location is central, and the fact that it was so very quiet was a wonderful surprise. The neighborhood felt safe. Markets nearby, walkable to a plethora of sightseeing, and a great place to "come home to". Carlos was prompt to respond to messages and graciously shared information. The kitchen is particularly well-equipped. To note, it is up several flights of a spiral staircase, if mobility is an issue for anyone in your travel party. It was all that we needed it to be for our stay - while not super-modern, it was clean and warm, had a place to make breakfast/snacks, and a reliable internet connection. It was in a fantastic location with a gracious host. Bon voyage!
---
Carlos was a great host and the apartment was as described. It is simple, clean and perfect for two people. It is located in a great part of Le Marais and surrounded by fun bars, restaurants, patisseries and cheese shops. It is easy to access and it was safe for us, as we were two American girls traveling internationally. Carlos was a great communicator and met and showed us the apartment and how to use the washer and dryer, a hard thing in France if you are not used to it! He left us with two sets of keys, instructions and a bottle of wine, perfect!
---
Carlos's place is a wonderful base from which to explore the Marais, a great district, and the rest of Paris. It was comfortable and well equipped. We loved the neighbourhood with its superb bakeries and fine restaurants. Each morning, we had baguettes and pastries from a terrific patisserie a block away. The apartment is close to the Metro, Centre Pompidou and the Louvre. We were up for walking, so we made it by foot to Notre Dame, Musee D'Orsay, Musee Cluny, the Pantheon and the Latin Quarter. In short, Carlos's place was an ideal location to make the most of our trip to Paris.
---