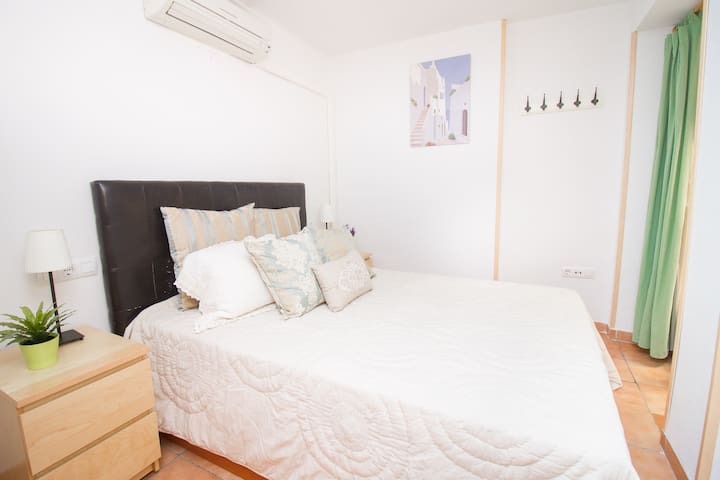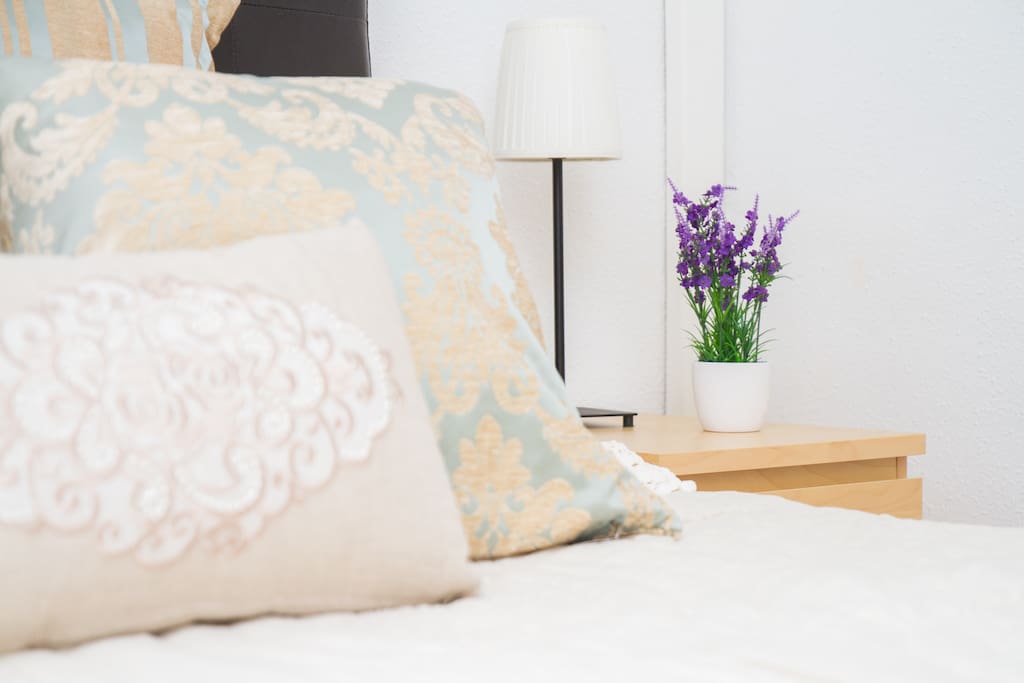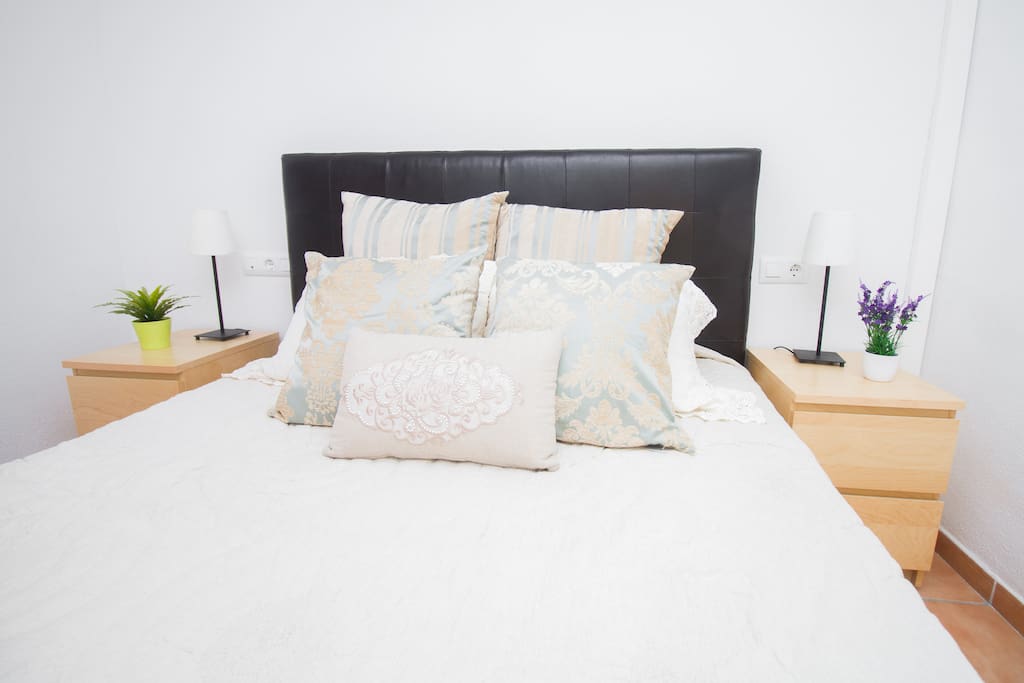 迎来到马拉加!我们在中心的舒适公寓一定会使您的逗留愉快。最多可容纳3位客人,我们的公寓是一个完美的选择,如果你寻找一个价格优惠的中心位置。设有一间带一张双人床的卧室,一间带沙发床的起居室,一间设备齐全的厨房和一间带淋浴的浴室。还有一个停车位,每天15欧元。不要再看了 - 你找到了一个完美的住宿地点!
Welcome to Málaga! Our cosy flat in the centre will surely make your stay enjoyable. With capacity for up to 3 guests, our flat is a perfect option if you´re looking for a well-priced and centric location. Contains 1 bedroom with a double bed, a living room with sofa-bed, a fully-equipped kitchen and a bathroom with shower. There is also a parking space, available for €15 per day. Look no further – you found a perfect place for your stay!
---
---
- Key collection takes place in our centrally located office, found at Calle Carretería 85.
- The normal check-in time is from 14h until 20h. Check-out time is before or at 11:00.
- Arrivals and departures that fall outside of the aforementioned times will be subject to a €30 charge.
- Our office hours are uninterrupted from 9:00- 21 :00 (Mon-Fri) and 11 :00 – 18h (Saturdays and Sundays)
- When checking-out of the apartment at 11:00, simply leave the keys in the accommodation on a table or kitchen service and close the door behind you. We ask that your departure is prompt as our cleaning service works with a timetable.
- Unconfirmed late departures will be penalised with a €30 charge per hour. We're sorry to be strict but this way we can effectively co-ordinate the cleaning after you leave!
-Quiet hours are between 10pm and 8.
- Total number of occupants will not exceed the quoted number unless agreed.
-All trash and perishables must be disposed off and dishes washed before departure.
- Failure to return the keys will entail a €50 Charge.
- 2 Towels per person,1feet & hand towel per bathroom will be at the apartment at your arrival.This towels are just for using at the apartment, do not take the towels to the beach or with you at departure €30/Towell,will be charge in case of disappearance or beach use.
---
War in Süd Spanien unterwegs, und habe allein die ganze Unterkunft für 6 Nächte gebucht. Die Lage ist super, im Zentrum in der Nähe von Restaurants und Sehenswürdigkeiten, aber keine Parkmöglichkeit. Die Unterkunft selber hätte ein Update nötig es fehlt ein Tür in der dusche in dem doch sehr kleinem Bad. Die Glühbirnen habe ich im Badezimmer selbst ausgewechselt weil das hauptlicht an der Decke garnicht funktionierte und die eine Glühbirne über den Spiegel zu wenig licht gab. Der Schrank im Schlafzimmer ist sehr billig und schließt nicht richtig. Das Kunstleder am Schlafzimmerbett ist total abgenutzt und sieht einfach schmuddelig aus. Die Matratze war aber ok. Das Bett Sofa im Wohnzimmer ist durchgesessen und alt. Es gab für die ganzen 6 tage nur ein Handtuchset, was ich finde zu wenig ist. Beim checkout habe ich etwa um 11uhr die Wohnung verlassen um das Auto zu holen und dann das Gepäck zu holen ( offizieller checkout 12uhr). Um 11.30 hab ich ein Anruf bekommen wegen meinem Gepäck in der Wohnung. Als ich dann pünktlich angekommen war! Waren die Putzfrauen schon fast fertig mit putzen. Sie haben meine Sachen im Kühlschrank schlecht zusammen gepackt und Sachen die ich mir gerichtet hatte wie Waschmittel rausgenommen. Und dirvHälfte hab ich dadurch vergessen. Da meine Reise nicht zu Ende war und ich diese Dinge noch brauchte, war ich sehr enttäuscht. La Recepcion Ist ein Unternehmen die sehr viel Unterkünfte vermittelt, also organisiert mit Angestellten! Da erwartet ich einfach mehr Professionalität.
---
The woman we were speaking with that works for La Recepción was made aware earlier in the day of our check in that we would be arriving later than the closing time of the office where we were to pick up our keys. She then made arrangements with us to meet outside of our flat and hand us the keys then. Upon arrival later in the evening we waited thirty minutes in the rain and she never showed up, was unreachable, and the office had closed for the day. We were forced to find alternative accommodation for the evening that ended up costing us triple what we had already spent on the company's accommodation for the evening. The next morning when we went to resolve the problem the receptionist claimed that they were different from a hotel and we must understand/accept those circumstances. However, you are a business and I have paid you money in exchange for your housing and you did not come through on your end. Will not book again with this company.
Hello Margaret, first of all we all really sorry about your inconveniences. However we have to disagree about your message due the next reasons: 1) We told you to call/contact us once you have arrived to Málaga. When someone has this kind of situations normally make a phone call, otherwise, how could we have known that you have arrived? The matter that your phones did not work , weren't our fault, i am sorry. We tried to help you out kindly, but it seemed that you didn't want to be helped. You are bullshitting when you say " She then made arrangements with us to meet outside of our flat and hand us the keys then. Upon arrival later in the evening we waited thirty minutes in the rain and she never showed up, was unreachable, and the office had closed for the day." We told you to GIVE US A CALL!!! BECAUSE YOUR FLIGHT WAS ON DELAY!!!! AND YOU ARRIVED AT MIDNIGHT!!!! Sorry for the situation once again, But no need to lie in order to get a small refund.
---
Thank you to La Recepcion and its wonderful staff for making our week-long stay in Malaga a pleasant experience. We were met by a friendly Moroccan lady who gave us all the information we needed. Everything went smoothly.
---
very nice and spacious apartment, 5 minutes walk to the city center. groceries shops and bars around the corner, la recepcion office at the opposite of the street. arrived late night, keys were place at the safe box in the office, where you can enter anytime with a code. private parking for 15€ in a garage 500 metres away. everything fine and uncomplicated!
---
Logement idéalement situé, très proche des rues piétonnes, des restaurants, des commerces et de l'animation. Literie et équipements de qualité, hormis la salle de bains (porte de douche cassée, inondation assurée de la machine à laver et de la pièce). Petit bémol : l'appartement est très humide et sombre. Si vous arrivez de nuit, faire attention à bien avoir le bon code d'entrée pour éviter de passer la nuit dehors!!
---
Here at La Recepción, we do all we can to make your stay with us as pleasant as possible! Offering a real personal service, with great attention to detail and fantastic customer interaction, we strive to create the best service possible for our guests. Please check out our brilli…
语言:
English、Español、Français、Italiano、العربية