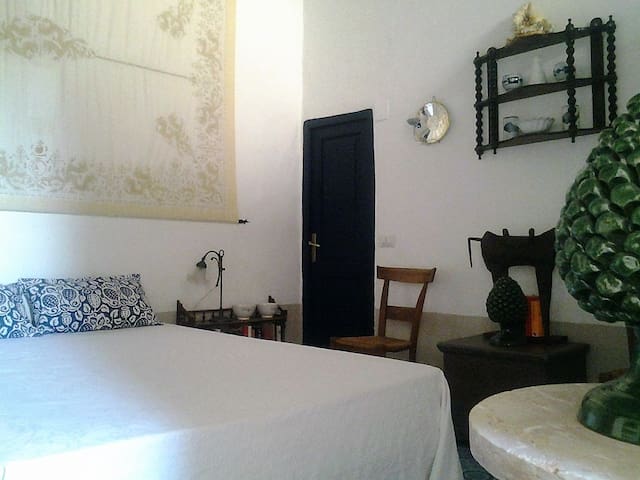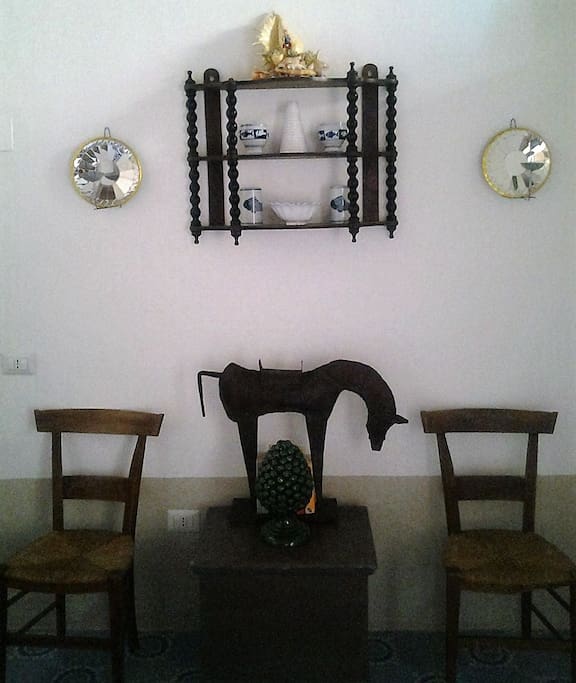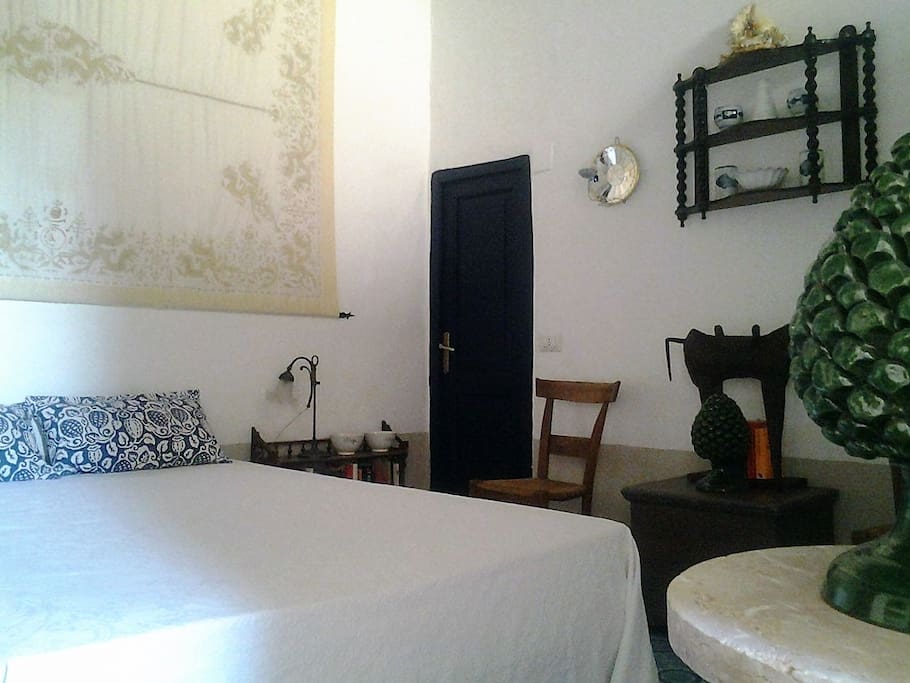 房源
Casa Monti-Luca Bed and Breakfast is located in the fraction of "Rocca de Ciaule" after about 60 meters from the main street that communicates to all other fractions of the island. The family "de Biase Monti- de Luca" purchase in the 1980s this house, which still retains the original structure in the art noveau style which gives a particular atmosphere.
There are three rooms, two doubles and a triple with private bath, a reading room at the top of the house with a terrace (with panoramic view from Messina to Cefalù.
This double room is located in the back of the house, with a little garden and small private terrace.
All the terraces of the house are equipped to provide maximum comfort: it is here where every morning breakfast is served.

The terraced garden is the pride of the house; a collection of rare cactus and tropical plants give adequate relax after the day beach.

In the different ambients has been decorated with fornitures and objects that belonged to the private collection of the family Monti-de Luca, already in the 1700s founded a museum in the city of Matelica, in the Macerata's province.

---
Amazing bed and breakfast wonderful cosy rooms . The garden and outside terrace areas are really lovely with lovely views . The breakfast is the best we had in Sicily by far and Miguel and Renzo are both helpful friendly and very welcoming A beautiful relaxing place to stay with perfect hosts
---
Si potrebbe scrivere un piccolo trattato sull'arte dell'ospitalità adoperando Renzo e Miguel come gli esempi viventi di come accogliere con garbo, raffinatezza, riservatezza, spirito ed empatia siano la chiave che apre all'ospite le porte di una felicità piena, seppur fugace. È una pratica riservata a pochi quella che questa coppia ha nell'istinto, e nella infinità di dettagli che accarezzano chi alberga in casa Monti de Luca c'è il loro modo di stare al mondo; un mondo che vale la pena conoscere. Ci sono più belle isole che grandi ospiti: se avete scelto Filicudi siete già sulla buona strada ma se volete veramente essere certi di passare una vacanza indimenticabile arrendetevi -senza condizioni- alla loro gentilezza. Andando sul ragionieristico: - Grande cura del decoro e della pulizia - Prime colazioni curate, varie e con ottimi ingredienti - Massima disponibilità - Grande correttezza: luoghi ancora più belli delle foto pubblicate su airbnb. Tutto questo va incoraggiato con il massimo dei voti! Francesco
---
We had a wonderful relaxing stay on Filicudi and Renzo and Miguel were lovely and kind hosts, who even came and picked us up from the port and showed us the sites and people of the island, as well as helping us to arrange taxis and boat trips. The room was beautiful, with all sorts of interesting objects and artworks, and the terraces were so lovely it would have been easy to stay there the entire day and see nothing of the island! Breakfast was also delicious, with homemade pastries and plentiful coffee. We can't wait to go back for another visit!
---
Our hosts were terrific and very friendly and helpful.
Grazie per essere stati nostri ospiti in casa. L'orografia dell'isola prevede un certo dislivello dalla strada carrozzabile che dista 60 metri dalla casa, a richiesta sarebbe stato possibile organizzare il trasporto dei bagagli. La bellezza dell isola e proprio di non avere sentieri illuminati. a disposizione ci sono delle torce per gli ospiti, oppure usando i vostri cellulari. Essendo la prima volta che ci informano della bassa illuminazione della camera, sara nostra cura provvedere. Rinnovo i miei cordiali saluti, Renzo
---
Renzo and Miguel have created a beautiful sanctuary on what can only be described as one of the most beautiful islands in the Aeolian. Their attention to detail is meticulous and the terrace with its beautiful views come to life at night with a soft candlelight adding a special touch from morning to night. The only regret is that we couldn't stay longer, what a special place!
---
Isola selvaggia e meravigliosa, vista mozzafiato, alloggio ricercato e curato nei dettagli, quelli che fanno la differenza. Il tutto condito dall'accoglienza impeccabile e dall'estrema disponibilità di Renzo e Miguel. Non dimenticheremo facilmente le vostre golose colazioni e sicuramente torneremo, certi di aver scelto la migliore sistemazione in quel di Filicudi.
---