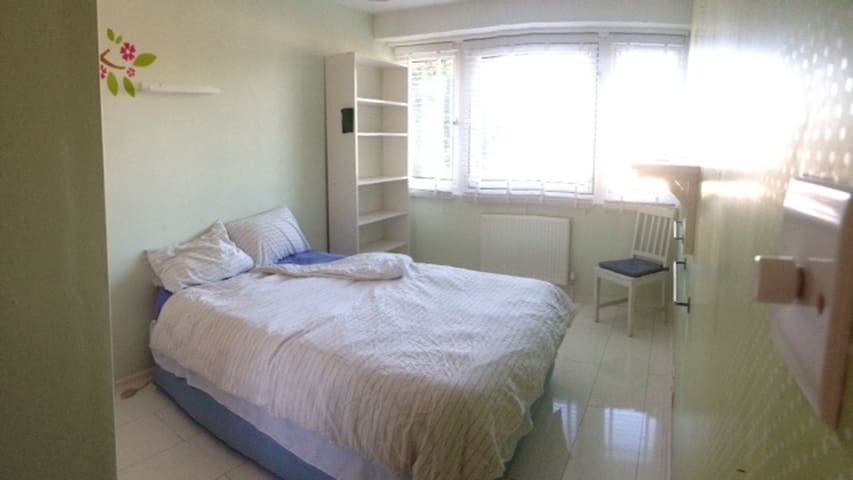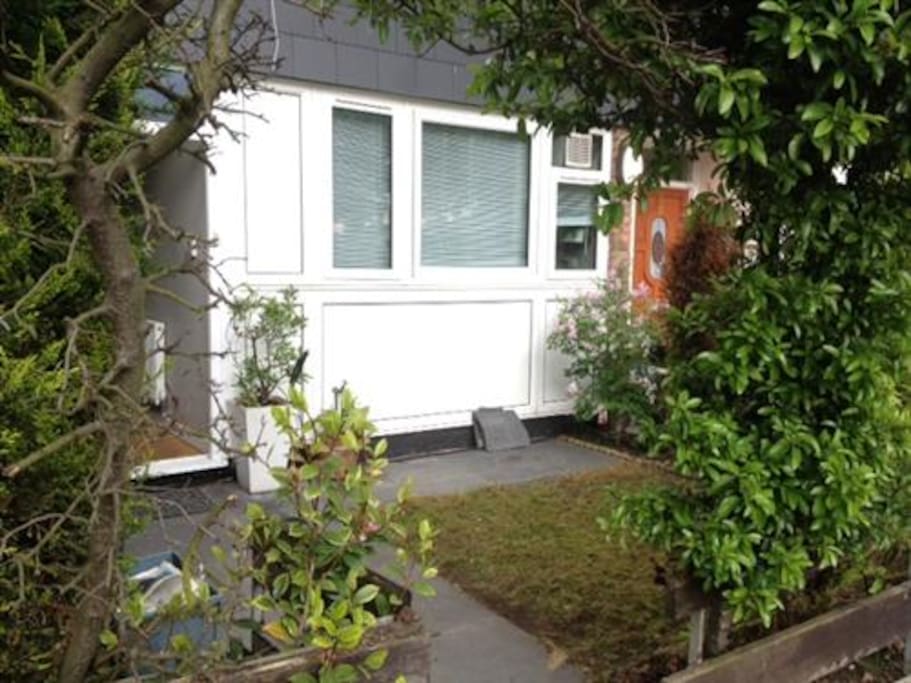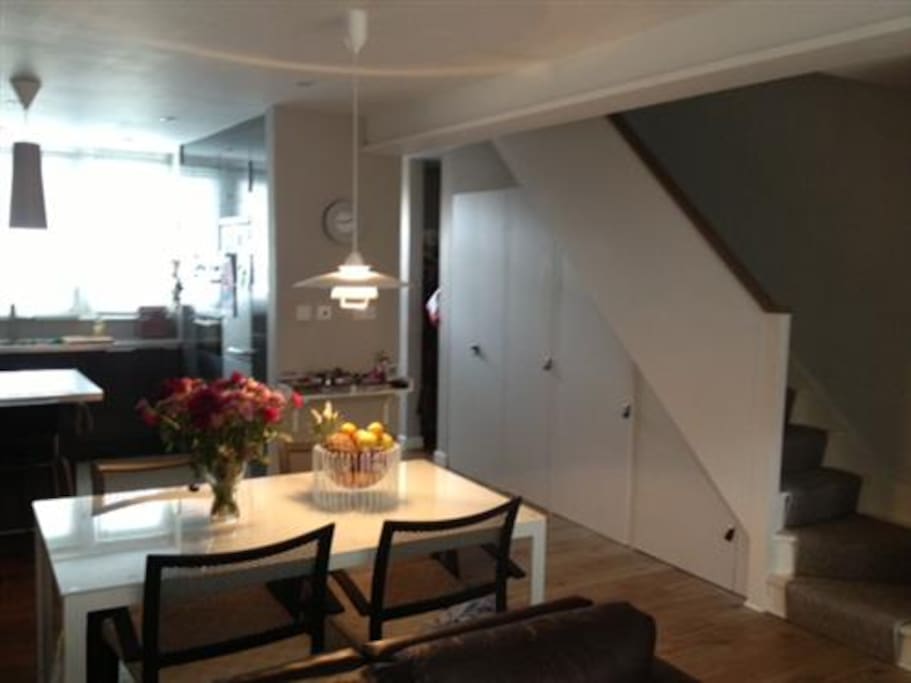 在最近经过翻新的房子里,非常好的双人房。洗碗机,洗衣机,独立烘干机,天空电视,推测式烟雾和热报警器,光纤Wi-Fi,熨斗和熨衣板。房间内置了衣柜,包括吊轨,货架和深冲,您可能需要的一切都在这里。 *浴袍 - 洗发水 - 护发素 - 肥皂 - 毛巾*标准配置。从地铁站接机
Very nice double room in a house which has recently been refurbished. New bathroom/toilet, kitchen, open plan living, fantastic rear garden decking, etc. Dishwasher, washing machine, separate dryer, SKY TV, Inferred, smoke & heat alarms, Fibre Optic Wi-Fi, iron, & ironing board. Room has built in wardrobe comprising of hanging rails, shelves and deep draws, everything you could need is here. * Bathrobes - Shampoo - Conditioner - Soap - Towels * are provided as standard. Pick Up from Tube station
房源细节
适合在西区或城市工作的人士。非常明亮洁净的房间内置存储。位于最近翻新的开放式住宅。大型后甲板上的烧烤,您可能希望的一切。 Clapham Common距离酒店几分钟路程,拥有美妙的夜生活。请注意,我们在Clapham Not Streatham。
Ideal for someone working in West End or The City. Very bright and clean room with built in storage. Located in an open plan home which was recently refurbished. BBQ on large rear deck, everything you could wish for. Clapham Common is minutes away which has fantastic night-life. Please note we are in Clapham Not Streatham.
房客使用权限
休息室,厨房,甲板/花园,浴室,前花园。街道上有停车位,因为没有分区。
Lounge, kitchen, deck/garden, bathroom, front garden. Parking available on street as there is no zoning.
与房客的互动
Depend on how much a guest likes to interact, so please let me know.
其他注意事项
这里的交通连接是太棒了,管,巴士和地上火车。我们也被Clapham Common&Tooting共同美丽的开放空间所包围。还有两个网球俱乐部,壁球俱乐部,健身房和超市步行5分钟。
The transport links here are fantastic, Tubes, Buses & overground trains. we are also surrounded by Clapham Common & Tooting Common beautiful open spaces. there are also two tennis clubs, squash club, gym & supermarket within 5 minutes walk.
不适合儿童(0-12岁)入住,或不能为儿童提供安全的住宿环境
No Smoking, please be clean tidy & respectful.
Steve's flat was picture perfect. My room was clean and spacious. Steve provided everything I needed to feel right at home. Kitchen was also well stocked. Didn't get to chat too much since I wanted to be out and about very early, but I felt like I could always reach out to Steve if I had needed anything. Great that the bus stops were super close for my 4am trip to the airport. Would gladly stay here again next time I'm in London!
---
Steve is a nice guy and means well. After my brief frustration about getting from him details about his location, he sent me a link to a government website and a "Cheers". He seems uncomfortable around women as he uses profanity every other word. I was really offended with the vulgar language, so after a couple of conversations I kept to myself. He did have another American guest from Australia to chat with. Expect an 1-1.5 hrs each way to center of London each day (buses don't run often on weekends) and a bus to get you to the metro. I stayed for a week, my room was at the front of his apartment and open to the noise from traffic. It was hard to fall asleep and at times woke up in the middle of the night. On the plus side, it is close to a public park where you can bike on those days you're not up to going to the city. Except for occasionally leaving the kitchen a mess, with leftover takeout, garbage, grease, egg shells in the sink, etc, the rest of the place seemed clean. If you don't mind any of the above, by all means, go for it.
OH my word, where do we begin here? I think the best think is to answer each point individually (at this stage it may be easier to read the reviews of the countless other people who have stayed, but having said that this may prove interesting). Point 1 "All I received was a link to a government web site and cheers" to address this I have copied all correspondence with Gabbi below. Hello I'm a Gabi from San Francisco. Looking forward for my stay in London. I'll be coming by plane from Edinburgh with one luggage and a backpack. Can you tell me how convenient is your place from airport, I will book flight to whichever airport is more convenient? Many thanks. Gabi. 25 Jul 2017 Hi Gabi Do you know what time you will be here on Thursday? Cheers Steve 5 Sep 2017 Hello Steve. Expected arrival time at STN airport around 16:05. Any directions you might offer to get to your place would be appreciated. Many thanks. Gabi. 5 Sep 2017 Get the train to Liverpool street station, the train leaves from underneath the airport. From Liverpool street make you way towards Clapham Common on the northern Line. From there you can catch the bus 50 towards Croydon or the 137 or 417 check (URL HIDDEN) for further details See you then Thank Steve. Sorry but not clear on what you mean "make your way to Clapham Common on the northern line ". Is this a bus station outside Liverpool station? Thanks. Please give me your address so I can (SENSITIVE CONTENTS HIDDEN) my way to you. Thanks. 5 Sep 2017 Hi Gabi Go to (URL HIDDEN) there a journey planner on there I would love to do that if I know where am I going. Forgive me but what is your address please. Is Birkwood Close your home or business address? Thanks. 5 Sep 2017 It's my home, just enter the postcode in the TFL travel planner and you in business. It's this SW120AU Cheers Steve (PHONE NUMBER HIDDEN) 5 Sep 2017 Hi Steve. I am at the Clapham common bus stop. No. 50 leaves in 10 min in your direction. See you soon. Thanks. 7 Sep 2017 No mention of "he just sent me a government web site and said Cheers" Point 2 "Uncomfortable around women" This is the oddest thing anyone has ever said to or of me, however there may be a little more to this, I can't be sure but I think Gabbi is trying to tell the world I'm gay, as it happens I'm straight, however whatever my sexual orientation is it's not for Gabbi to question. I would also recommend that if your reading this review please read the reviews of the many women who have stayed with me. Point 3 "its 1.5 hours from the airport to central London" Yes, believe it or not this is part of the criticism. Its now my fault that either airport was built too far away or London has been in the wrong place for the best part of 2 thousand years, I will write to my Member of Parliament to see if we can these places brought together for Gabbi Point 4 "you should control your other guests, rude, insults, etc. At the time this conversation took place I heard a little portion of it, Alec another American was staying over, Gabbi entered a conversation praising the good deeds of a D Trump, and his thoughts and deeds (I believe this is where the "uncomfortable with women comes into focus) Alec courteously said, I don't think I'm going to agree with your views so we better not carry on the conversation" If this is considered rude I'm at a loss, I think he was very considerate, as I'm sure he could have told her what he felt. Also, I think Gabbi is old enough to manage her own conversations, without dragging 3rd parties into her nonsense. Point 5 "Noise" Err, London is a big city and it has cars, van, trucks, moterbikes, etc. very similer to everyother city in the world. My house is set back from the road by about 30 meters, the hosue across the road just sold for £2.5 million they are not set back from the road so I would guess its slightly noiser. But what ever way you look at it this is London and its not going to change for Gabbi Point 6 "Busses don't run as often at weekends" When Im in charge of London Transport I will change this for you Point 6 "towels, linen, kitchen, shower were dirty" This is utter nonsense, Gabbi needs to remember she not renting an empty apartment but living with an active household, where people live and work. Point 7 "language" Just about the oddest thing and once again completely untrue, again please read other reviews, Gabbi kept herself to herself because I don't think anybody was that interested in talking about A: the Queen and Royal family B: D Trump Point 8 This is not part of Gabbis review, howeere on the morning of leaving I explaind to Gabbi that you cant pay with cash on buses or trains, as her 7 day travel card had expired, this induced a brief meltdown, with blame librelay scattered between london transport, myself and Alec. In summery this was not so much a review but more of an attack, on airports, London, the transport system, etc. I think in future Gabbi may be better suited to a Hotel, unless of course you want to go thiugh what Ive just had to. I think this just about covers eerything should you have any questions for me araising from this review please get in contact. Cheers Steve
---
STEVE IS AWESOME. I loved living here for a month so much that I extended my time in London. :) Can easily get anywhere from here, as the bus stop takes you straight to the tube (or you can walk when the weather is sunny!). My room was comfortable and clean, with a lot of light and ample space to store things, with the best wi-fi a digital nomad could ask for! Steve let me use the home as though it was my own, even his weights and blender for fitness days. I would highly recommend Steve's flat to anyone visiting London, long term or short, as he really makes it feel like home.
---
Steve is a super nice guy and his house was so lovely. It was a cold weekend when I stayed so I was always happy to return back to the house where it was always warm and cozy. Room is decorated cute and house was impeccably clean and comfy. Really couldn't be more glad to have stayed, it was the perfect place to come back to after a long day!
---