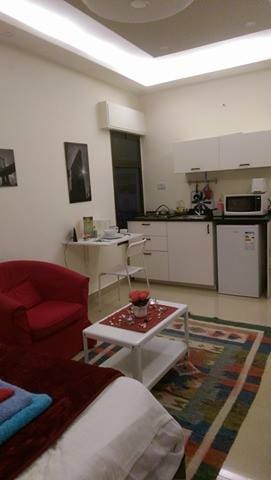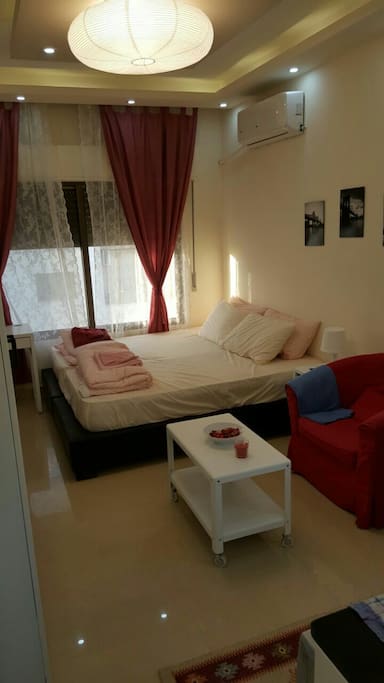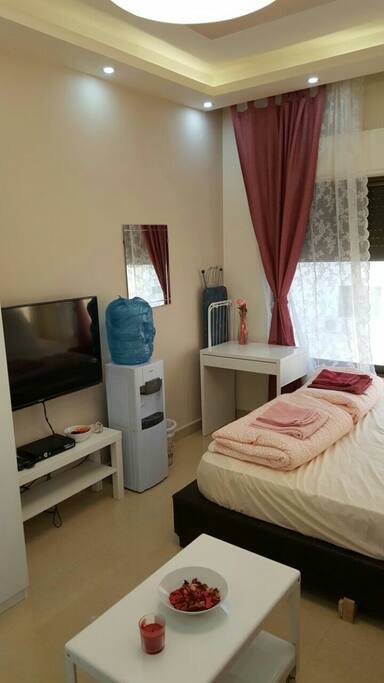 位于AL-swefeyhh-安曼的中心....商店,餐馆和出租车在同一条街上。 1-20分钟从机场。 2-20分钟到唐镇。 3- 2分钟通过脚到主街。 4- 1分钟靠近一个大商场。 5同一栋建筑中的干洗店。 6只3分钟从杂货店步行去购物。 我的工作室在一个安静的建筑里。 8 - 工作室很干净,有厨房做饭。 9新式舒适的家具。
located at heart of AL-swefeyeh- Amman.... shops,restaurants, and taxis in the same street.
1- 20 min. from the airport.
2- 20 min. to Down Town.
3- 2 min. by feet to the main street.
4- 1 min. by feet to a near big shopping mall.
5-a dry clean shop in the same building.
6-only 3 min. by feet from grocery shop for daily shopping.
7-my studio is in a quiet building.
8-the studio is very clean and there is kitchen to cook.
9-new and comfortable furniture.
房源
1-我的工作室设计精美,让您在入住期间感到舒适。 2-这个地方很干净,床单,毛巾和毛巾总是被干净的替换。 3-小厨房配备了所需的工具。 4-额外的毯子和枕头,如果需要免费。 超过1000个频道的5-电视。 6-免费提供清洁饮用水。 如果需要任何帮助,我会很乐意帮助你。 8-洗衣机和烘干机不在公寓内,但在同一栋楼的较低楼层设有干洗店。
1- My studio is well & simply designed, so you feel comfortable during your stay.
2- The place is very clean, the sheets, covers & towels always replaced by clean ones.
3- kitchenette is fully equipped with the needed tools.
4- Extra blankets and pillows if needed for free.
5- TV with over 1000 channels.
6- Clean drinking water is provided for free.
7- If any help needed, i will gladly help as much a i can.
8- The washer and dryer are not in the apartment, but there is a dry clean shop at the lower floor of the same building.
与房客的互动
1-我可以接我从机场只有35 $与我的空调个人车。 2-抵达时,我将帮助您行李,并向您显示周围的地点和周边地区。 我打算离开我的个人手机号码,以防需要帮助。 4-我会每隔两天与你联系,以确保每件事情都顺利进行。
1- i could pick you up from the airport for only 35$ with my air conditioned personal car.
2- On arrival, i will help you with luggage, and show you the place and the area around you.
3- i'm going to leave my personal mobile number with you in case help is needed.
4- i will contact you every 2 days to make sure every thing is going okay.
其他注意事项
我可以在机场抵达后接你,离开机场就可以离开,每个只有30美元,我的舒适豪华的私人车空调福德融合:)
I can pick you up on arrival from the airport and drop you off on departure to the airport, each for only 30$ with my cozy luxurious personal car air conditioned ford fusion :)
---
---
---
---
We want you to know you are very welcomed in our place, and to feel very comfortable in your stay, we will help you as much as we can.
4G internet (WI-FI & LAN) available upon request for:
one day: 5 $
one week: 30 $
two weeks: 50 $
three weeks: 60 $
one month: 70 $
and in the same time hopefully you take care of the place so the next guest can feel cozy or even you in the next visits.
---
---
---
Hamzeh is an absolutely amazing host and the apartment and area are great for short or long stays in Amman. I stayed for 6 weeks and Hamzeh was always available to help me with anything I needed, from finding things locally to renewing my visa paperwork, etc. The apartment has everything you could need from a washing machine to stove top and a variety of kitchen appliances for those who are staying long enough to need them. The area is also within walking distance of everything you need. There are two grocery stores within 4-5 min and the Galleria Mall, a 4-5 story mall with another grocery store in the lower level, is about by a 10 min walk away. 7th circle is also the hub for many of the buses going to different locations in Jordan. I highly recommend staying here!
---
He was an amazing guy, very neat and educated person, clean, helpful, generous, he gave me a ride in his car! He also gave me addresses for incredible restaurants in Amman! The studio is amazing very clean and you have everything you need, actually I felt like I am in a five stars hotel at some point, The neighborhood is very quiet tons of places around there supermarkets, coffee shops, easy access to Taxies, I just enjoyed every moment, thank you so much mister Hamzah! My recommendation to every one to not think twice to take a nice experience at the cozy gorgeous studio!
---
함자의 방은 깨끗하고 좋은 방이었습니다. 가까운 곳에는 번화가가 있고, 백화점 또한 있었습니다. 어디를 가든 가까운 거리에 있어서 쉽게 이동 할 수 있었습니다. 또한 가까운 거리에 큰 식료품점이 있어서 정말 좋았습니다. 함자의 그의 친구들은 매우 친절 했습니다. 필요한 모든 것을 해주었고, 신경 써주었습니다. 만약 요르단에 다시 오게 된다면, 반드시 한번쯤은 다시 오고 싶습니다. 앞으로 함자의 호스텔에 방문 하시는 모든 분은 반드시 만족 할 것입니다. 그리고 반드시 행복 해 질 것입니다. Hamza's room is clean and nice. There is downtown, and there is department store near. I was able to move easily wherever I want in a short distance. It is also very nice to have a large grocery store nearby. Hamza's friends are very kind. They did everything I needed. If i come back to Jordan, I want to come back once in a while. Anyone visiting Hamza's hostel will be satisfied in the future. And you will surely be happy.
---
Hamzeh is very nice and warmly host , if i need anything,i just call him. Always he reply and help me immediately. The room is complete furniture, and includes everything i need. And its in a very very nice place,close to big mall, supermarket, and restaurants are around it. If i go to jordan,i will book this house again for sure.
---