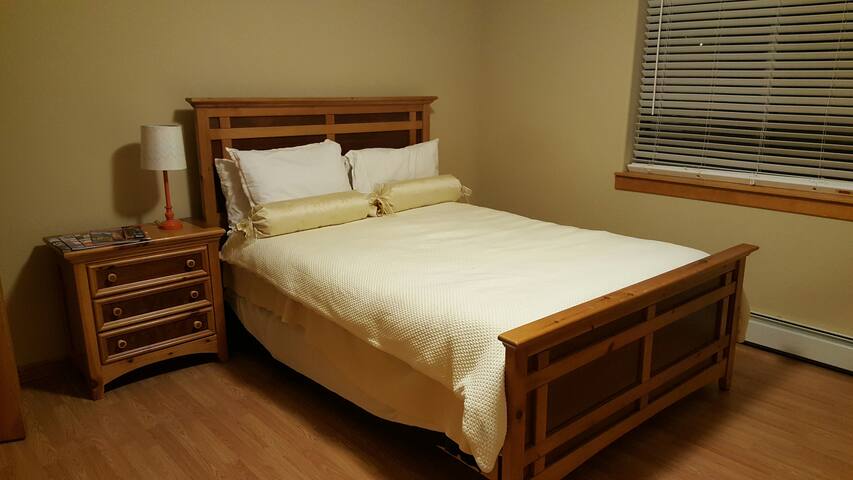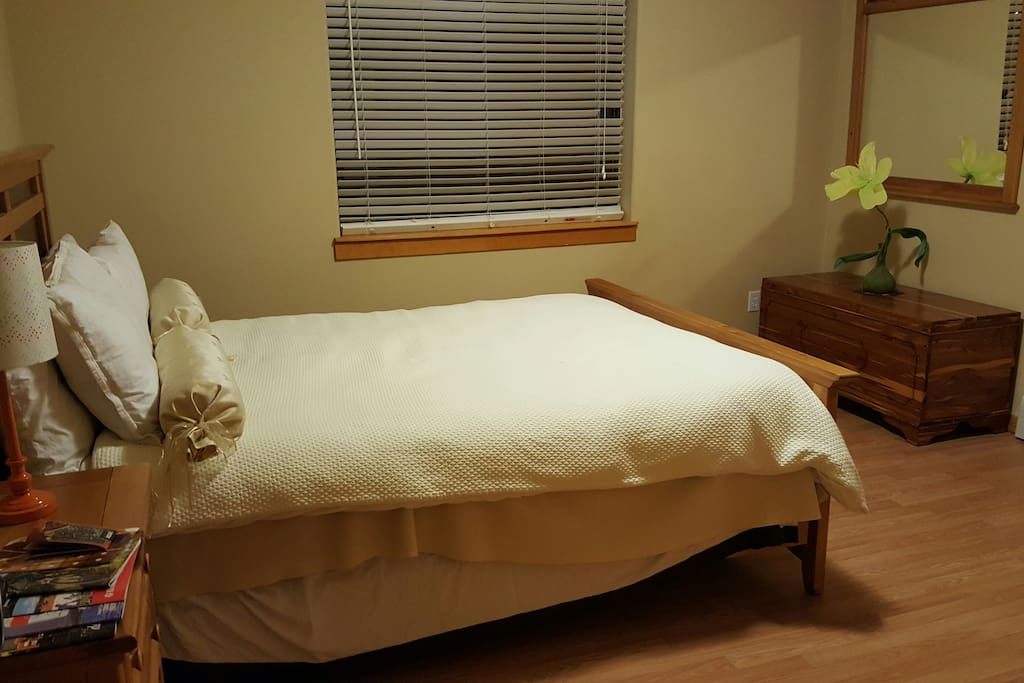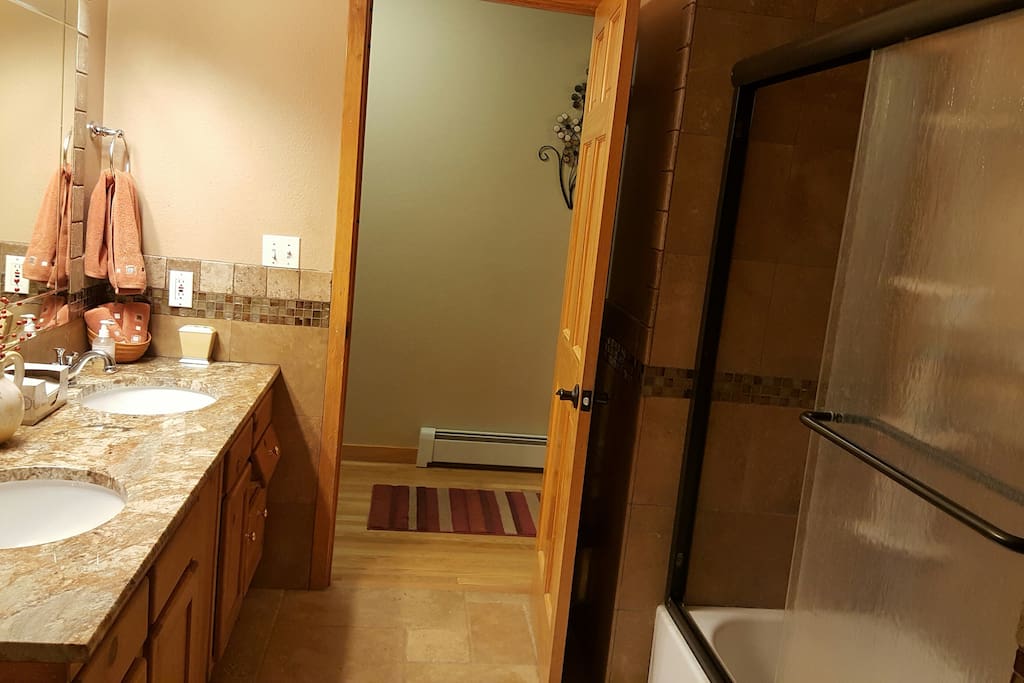 Our home is close to many ski/tubing resorts (Keystone, Breckenridge, Copper Mountain, Loveland, A-Basin) Lake Dillon, The Continental Divide, microbreweries, Factory Outlets, kayaking, & too many hiking & biking trails to list! You'll love our home because of the extremely comfortable bed, location & access to all Summit County has to offer, breakfast, and the amazingly warm, friendly hospitality. Our home is good for couples, solo adventurers, business travelers, families, & furry friends.
房源
Please come join us in our lovely mountain home! Enjoy a large room with closet, nightstand, and queen-sized bed. All guests have access to our spacious living room with fireplace and 55 inch TV, kitchen, full bathroom with shower, and wrap-around deck with phenomenal views. ***PLEASE NOTE: A $50 CASH PET FEE WILL BE COLLECTED (PER PET) UPON ARRIVAL IF A PET IS TRAVELING WITH A GUEST. A KENNEL IS NEEDED FOR EACH PET TO SLEEP IN AT NIGHT AND THIS IS NOT PROVIDED. EACH PET WILL BE WITH THE GUEST AND NOT LEFT IN THE HOME WITH THE GUEST BEING PRESENT UNLESS WRITTEN CONSENT IS GIVEN.
房客使用权限
***PLEASE NOTE: THIS LISTING IS FOR A QUEEN BEDROOM IN OUR HOME ONLY, NOT THE ENTIRE HOUSE.
与房客的互动
Depending on when you will be staying, you will get to stay with both homeowners (husband and wife) who love to offer recommendations about places to go/restaurants/local discounts/etc. We welcome pets and children but currently do not have any of our own. Please note we also have a nearby room with King bed with a TV in the room that may either be rented by 1 family in addition to this room or may be rented by other guests when you are staying.
其他注意事项
If you are bringing children or pets, please bring all items you will need for them/their safety including child-proofing products. Access to the home will be through a key pad lock with a personal code for the time of your stay.
No cigarette smoking on the property.
Check-in 3 PM. Check-out is 11 AM.
***PLEASE NOTE A $50 PET DEPOSIT WILL BE COLLECTED (PER PET) UPON ARRIVAL IF A PET IS TRAVELING WITH A GUEST.
We thoroughly enjoyed our stay at William's home and look forward to returning there when the opportunity presents itself. Very spacious public and private rooms, thoughtful amenities and great attention to detail. Extremely beautiful setting and gracious hosts. Definitely ranks as one of our best experiences.
---
Bill and Kelly were both lovely hosts, and their house was well-kept and felt homey. The location was perfect, as it was close to plenty of shops and restaurants but still surrounded by gorgeous mountains and scenery. We would most definitely like to return to this AirBnB if we ever find ourselves back in Dillon.
---
Long story short: Stay somewhere else. Check-in: Host not present. Finally shows up and acts surprised that I have my dogs in tow even though we had exchanged a lengthy email conversation to that effect. Heights/weights/ages of dogs - the whole nine yards. Check in also includes a discussion about how the neighbors don't like the fact that the hosts are running an airbnb and recommend that you just tell any neighbors who inquire that you are a "friend of the family". It's always a good sign when you first meet someone and they ask you to lie for them, right?!? Pet "deposit": $50/pet and supposedly refundable. Demands cash at check-in and springs upon you a form for signature that includes "shedding" and "barking" as grounds for keeping the deposit. Not even a best-in-show dog could behave well enough to meet these standards. Make no mistake. This is a pet fee disguised as a deposit. But we already established that lying is ok so this probably should not be a surprise to me. Check-out/aftermath: my dogs who were confined to a crate at any time they were in the house (less than 6 hours on both nights we stayed) apparently created a half hour worth of extra cleaning for their crew. And since that wasn't quite enough to require forfeiture of the entire deposit, now I'm told that there was, unbeknownst to me, apparent blood stains on the bedding for which I should be responsible. I will add that these dogs have spent probably 1000 nights on the road with me in their 10+ years of life and I have never experienced anything so inhospitable. All in all a terrible experience.
As you can see from the majority of our reviews, most people truly enjoy staying with us and have had great experiences. Unfortunately, we had to have a pet deposit since we are charged an extra fee for pet hair from our cleaning service which has to be passed on to the pet owner for us to maintain relatively low fees for staying here. Since your stay, including the difficulty in getting you to pay for what happened during your stay and your feedback, we have changed our pet deposit to a fee to avoid this type of situation in the future.
---
I live in Summit County Colorado and I grew up about 165 miles west of here for most of my life. I have a background in business and in my younger years I had a passion for Football, Kickboxing and MMA fighting. As I grew older I found a way to teach the sports that I truly enjoyed through a non-profit and empowered the youth to look beyond the current problems that they faced. The past ten years I have found a great deal of enjoyment in Whitewater Kayaking, Snowboarding, Starting Businesses, Mountain Biking and Road riding. Beyond this I enjoy spending time with my wife and just relaxing. The best part of relaxing to me is being able to travel and when I get to travel I simply enjoy just having the chance to "BE". I enjoy simply taking everything in wherever I am. I enjoy providing the space for people to do the same. I have always believed that I am called to be a servant to God and enjoy that daily.
语言:
English