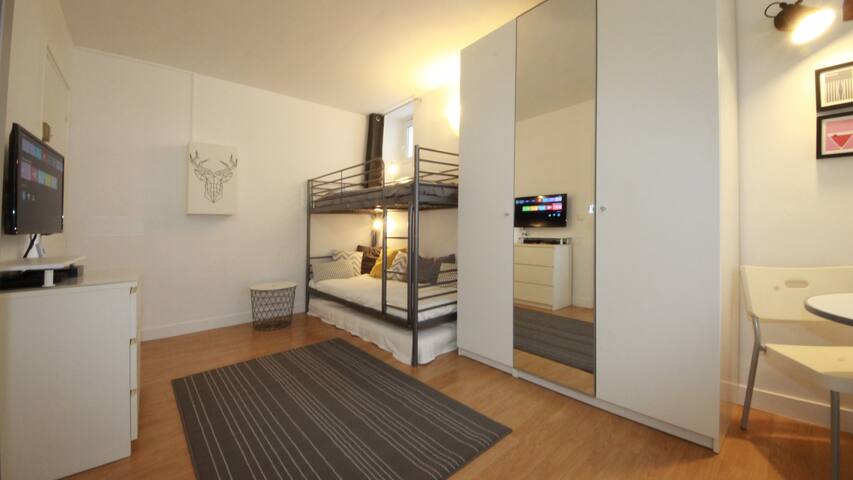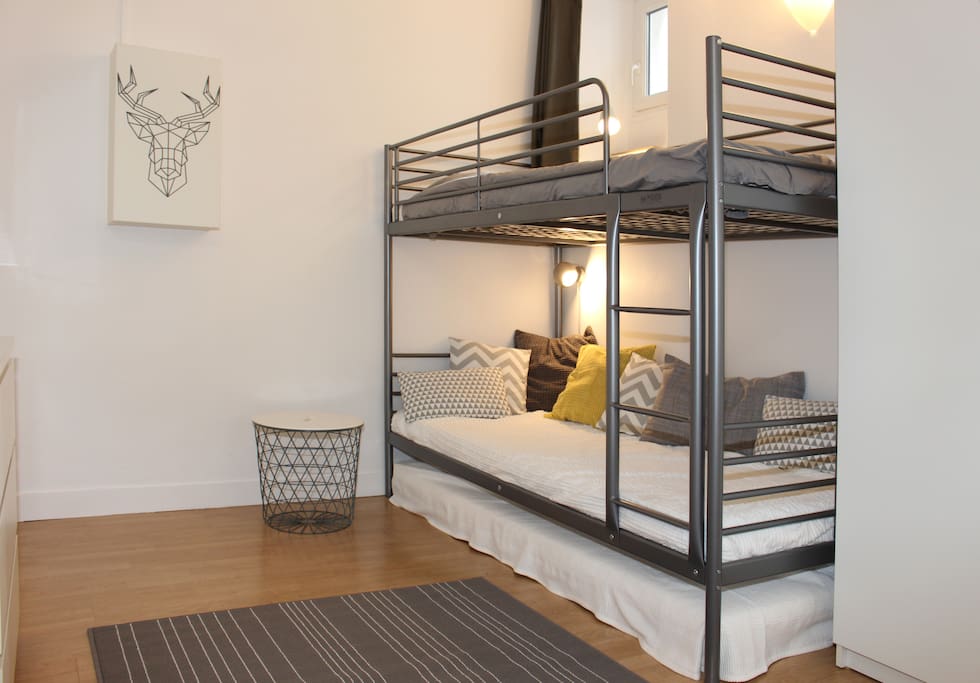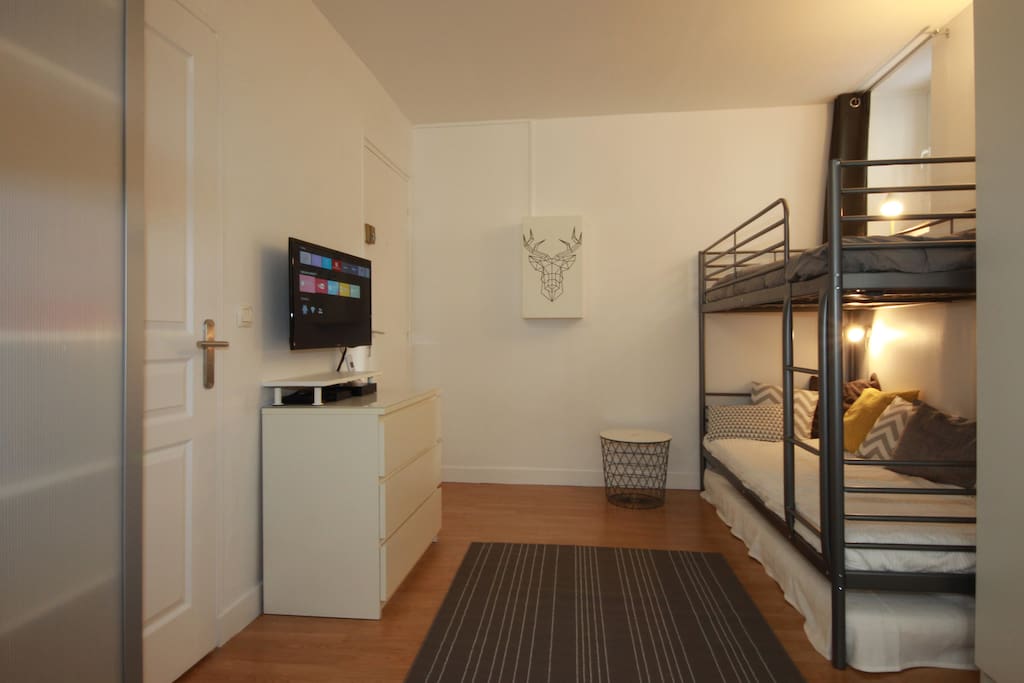 STUDIO PÈRE LACHAISE 250m/0.15M of the Metro ❤️
Nice studio, quiet and friendly, in a typical Parisian district, close to the famous Pere Lachaise Cemetery.
It is located on the first floor in a quiet courtyard, no traffic noise.
The neighborhood is very family friendly, but you will also find many bars and trendy restaurants by visiting the Bastille via Rue de la Roquette.
The main monuments of Paris (Notre Dame, the Louvre, Champs Elysees, Eiffel Tower) in few minutes by metro M2 and M3 (250 meters/0.15 mile) and M9 (650m/0.4 mile)
---
---
---
---
Plages horaires :
- Arrivée : 14h00 à 19h00
- Départ : 09h00 à 11h00
Les horaires sont communiqués au plus tard 3 semaines
avant le début du séjour,
à défaut ils seront définis par le propriétaire.
Tout changement dépendra de notre disponibilité.
Retard rendez-vous des locataires :
un nouveau check in sera planifié dans la journée
mais suivant nos disponibilités,
un supplément de 20 € sera facturé
Les arrivées tardives:
ayant lieu après 19h00 sont soumises à des frais d'accueil
complémentaires de 35 €.
Au- delà, de 22h nous ne pouvons plus garantir votre accueil.
Le locataire doit être âgé de 25 ans minimum pour réserver,
devra fournir une copie de son passeport ou pièce d'identité,
et communiquer les noms et âges de tous les occupants.
La caution est entièrement conservée si les locataires quittent l'appartement avant le rendez-vous prévu pour le check out et
sans la remise des clés en personne.
Electricité
Le prix comprend un forfait de 5 kwh/jour.
Un supplément de 0,15 €/ kwh (prix coûtant)
est appliqué en cas de dépassement.
"Mettons en lumière notre action climatique"
Time slots
Arrival: 2 pm to 7 pm
Departure: 9 am to 11 am
Schedules will be communicated no later than 3 weeks before
the start of the stay, failing which they will be defined by the owner.
Any changes will depend of our availability.
Delay appointment tenants:
A new check in will be planned but according our availability,
and an extra cost of 20 € will be charged.
Late arrivals after 7 pm are subject to an extra cost of 35 €.
Beyond, 10 pm we can not guarantee a check in.
The Renter must be 25 years of age to book this Vacation Rental,
provides a copy of his passport or identity card, and shouldl communicate the names and ages of all the occcupants.
The safety deposit is fully retained if tenants leave the apartment before the appointment planned for the check out, without handing over the keys in person.
Electricity:
The rental includes 5 Kwh/day.
An extra of 0.15 €/kWh (cost price)
is applied in case of exceeding.
"Shine a light on climate action"
---
---
---
---
I would highly recommend the apartment. My stay was very nice and comfortable. Though it is a compact apartment, it is very well furnished. The kitchen is equipped with some electronics like toaster, coffee machine and has more than enough utensils (this was a pleasant surprise). Sofia was very helpful in answering our queries and also allowed us to check in early.
---
Ich finde es schade, in der heutigen Zeit immer noch Menschen zu erleben die rein aus einem finanziellem Aspekt auf dieser Seite Ihre Wohnung vermieten, auf Kosten des gastes sich erlauben Ihre schlechte Laune auszuleben und mit Menschen umgehen als wären sie etwas besseres. Gastfreundlichkeit oder Hilfsbereitschaft kann man von Sofia in keinster Weise erwarten - man darf diese Gastgeberin nicht einmal fragen ob sie ein zweites Handtuch hat denn dann fühlt sie sich direkt angegriffen. Für 3 Tage gab es lediglich ein einziges Handtuch, 4 Stunden Stress zur Ankunft und sie wollte mir Ihr Appartment nicht anmieten weil sie meinte ich hätte mich an die Ankunftsuhrzeit nicht gehalten. Sie ist eine unberechene Person und ich würde keinem Airbnb Nutzer empfehlen dieses Appartment anzumieten. Außerdem hat das ganze Appartment schlecht gerochen und das Bett war weder Sauber noch gemütlich.
Jara is our worst experience. First she wanted to rent the apartment for long term, and wanted a discount, then from a few months it became for 5 days and then 3 days wth still a discount. Right after booking she informed us that she will leave the apartment on the last day at 4am (in the house rules we wrote that chekout has to be between 9am and 11am). We decide to please her and find a solution she will leave the keys in the mail box without checking-out with us. For her checkin we scheduled to meet at 2pm at the apartment. At 10:45am she started to call me several times leaving messages she was requiring impolitely and immediately the apartment. Once again I did my best and did eveything so she could settle down as soon as possible. Then it started to be very complicated. When she arrived she wanted someone to carry her luggage to the first floor, me or the cleaning lady or anyone else. As I refused she strated to be insulting and very rude. At this point I decided to contact AirBnb for an advice. They told me that I could cancel the reservation and loose the renting. As I refuse other renting, and I didn't want to loose this one, I decided to leave her the renting. The day before her depature by telephone message Jara confirmed me that she was going to leave the keys in the mail box as we agreed. When I arrived in the morning I found the keys in the right place but the apartment was very dirty and in a huge mess incredible for just 3 days. Too bad for me! But the bigest suprise was when on the next day AirBnb called me to informe me that this person was pretending that she didn't stay in my apartment and wanted a refund. I had to proove to AirBnb that she was lying, so I sent them the telephone messages ( very clever Jara, no messages thru Airbnb, everything thru by telephone message!). Jara is dishonest, unscrupulous and rude. Not at all in the AirBnb spirit. And on top of all that is that we give her the opportunity to allow a review of her stay which will not be objective since it comes from a liar and dishonest person! About the apartment, the paint was completely redone,much of the furniture is new as the bed and the mattress on which she claims to have slept badly!!! I ABSOLUTELY DO NOT RECOMAND THIS PERSON !
---