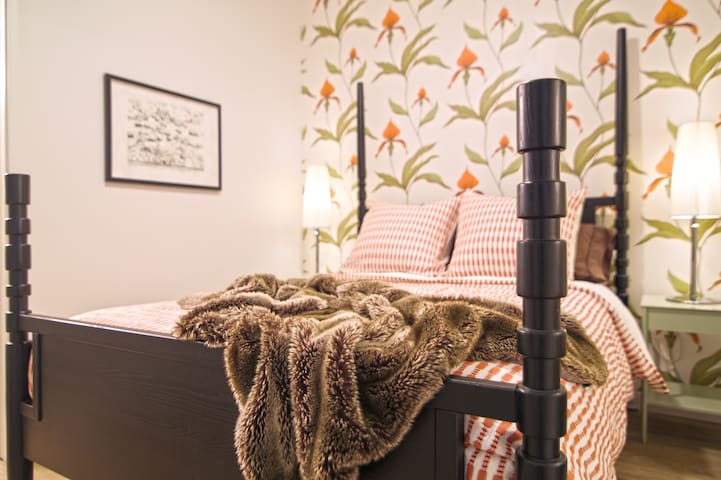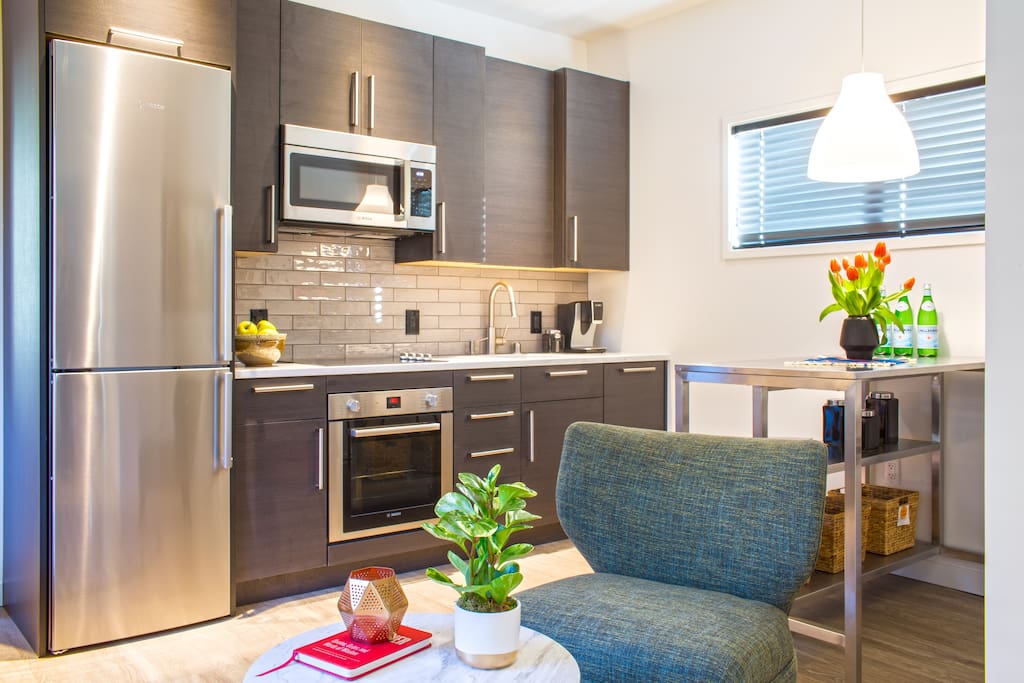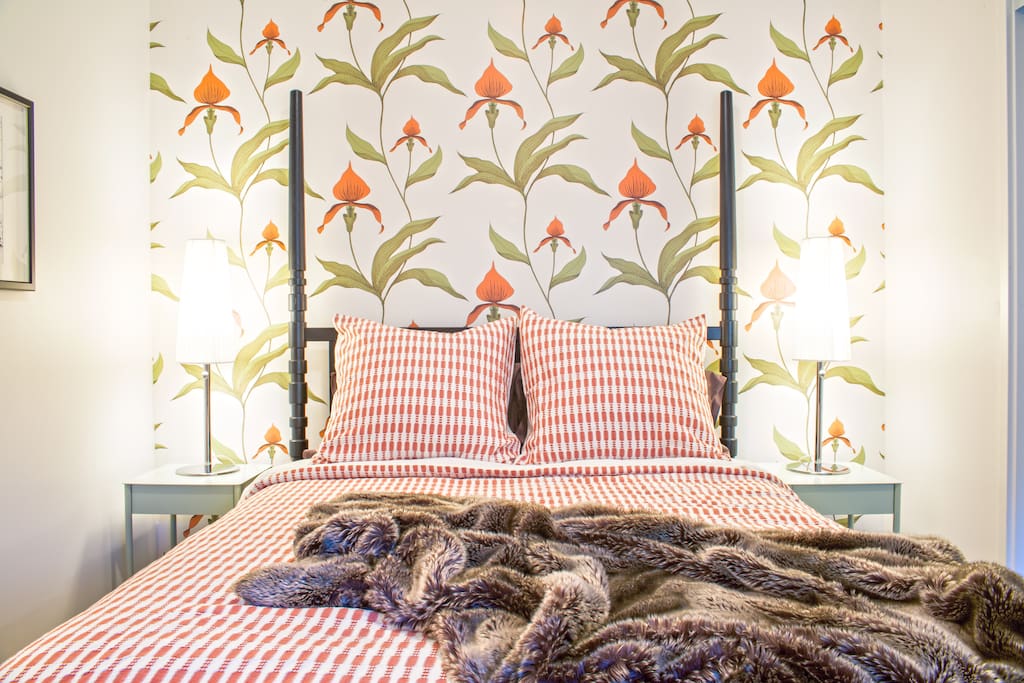 Enjoy living in the Historic Flats District with easy/walkable access to downtown, restaurants & bars, grocery stores, gift shoppes, hiking trails, Aurora Harbor, and the Gastineau Waterfront. It's also located above Modality (Juneau's newest massage therapy center), next to Goal's Gym, and one block away from Coppa coffee shop & ice cream parlor!
For business traveler's, the Alpine Suite is also walking distance to State & Federal office buildings throughout the downtown area.
房源
Alaska living at its finest! Come stay in Juneau's brand NEW luxury apartment development; developed by award-winning design firm, Bauer/Clifton Interiors. This fully-furnished one bedroom apartment is conveniently located within the Historic Flats District in downtown Juneau and is well-appointed with quality finishes throughout. Including a modern kitchen with white marbleized quartz countertops, open floor plan with designer furnishings, and a modern bathroom with a deep soaking tub.
This building was once a 2-story Blockbuster Video Rental but was transformed into a modern, mixed-use facility in 2016; incorporating three residential apartments and three commercial suites.
房客使用权限
As a haus-guest, you'll enjoy the landscaped grounds of the property and your own private entrance through the back courtyard. Upon entrance, the well-appointed 1-bedroom apartment includes all amenities for you to thoroughly enjoy your retreat.
与房客的互动
Your hosts live within a quarter mile of the Alpine Suite and are often onsite, maintaining the grounds and overseeing business in Frenchie's Floral Studio located in the commercial suite below. Both Hosts are available when needed, but give you space in the meantime.
---
---
---
---
不适合婴幼儿(2岁以内)入住,或不能为婴幼儿提供安全的住宿环境
• Guests: No other persons shall occupy the Rental Property at any time. Except those registered in this Rental Agreement. Occupancy of the Rental Property is limited to two (2) persons except for occasional daily visitors. Violation of occupancy limits can and will result in forfeiture of Tenant's security deposit.
• Noise: The Tenant shall not make or permit any excessive, disturbing, or annoying noise in or on the grounds of the Rental Property by himself, his family, agents, servants, or visitors, nor permit such persons to do anything that will interfere with the rights, comforts, or conveniences of neighbors or other persons in the surrounding area. No noise is permitted after 10:00 PM.
• Consumption of Alcohol: There shall be no consumption of alcoholic beverages in or on the grounds of the Rental Property by any minor less than 21 years of age, and there shall be no congregation of drinking in areas on the street or adjoining areas surrounding the Rental Property. This includes communal outside areas.
• Smoking: There shall be no smoking inside the apartment. Should it be determined that Tenants, occupants or visitors smoked inside the apartment, the security deposit is forfeited.
• Illegal Drugs: There shall be no use of any illegal drugs by any Tenant, occupants, or visitors in or on the grounds of the Rental Property.
• Pets: Pets are not allowed on the Rental Property.
• Complaints: Any complaints to the Police Department concerning the behavior of the Tenant, Tenant's family, other occupants, guests, or visitors, or pets while occupying the Rental Property shall, at the Owner's sole option, result in immediate termination of this Rental Agreement.
• Right of Access: The Owner or the Owner's agent shall have the right but not the obligation to enter into the Rental Property and upon the premises at all reasonable hours for the purpose of inspection, but the Owner agrees to not exercise this right in such a way as to unreasonably interfere with the quiet enjoyment of the Tenant.
• Parking: One (1) parking spot is available in the parking lot of the Rental Property. The Owner does not assume any responsibility for any damages to Tenant cars or any contents.
• Damage to Rental Property and Contents: The Tenant and all registered occupants of the Rental Property shall be liable for all damages caused during their occupancy. Cost of repairs and/or replacement shall be deductible from the security deposit, and if security deposit is insufficient, additional costs shall be assessed and Tenant agrees to be responsible for any attorney's fees and costs incurred in collecting those sums.
• Tenant's Personal Property: The Tenant will remove all personal property belonging to the Tenant or other occupants at the end of the Rental Period. Any property that is left becomes considered abandoned and may be disposed of as the Owner wishes.
• LIABILITY EXCLUSION: Tenant's sole remedy for owner's failure to make the property available for the rental period is a refund of the fees paid.
Owner shall not be liable for loss, injury, r damage to any persons or property. Tenant and all occupants agree to indemnify and hold harmless the owner from any liability and costs arising from injury to any occupant, their children and guests, unless it is expressly due to the act of the Owner.
TENANT'S RESPONSIBILITIES AT CHECK-OUT TIME:
At Check-Out Time, the Tenant shall give over possession of the Rental Property to Owner in the good condition and order and repair as it was when the Tenant took possession at Check-In Time. Tenant shall ensure that all of the following items are taken care of:
• Appliances and work surfaces in the kitchen must be reasonably clean
• Dishes, pots and pans, and utensils must be clean
• Bathroom must be reasonably clean
• Linens and towels must be placed in laundry basket
• The furnishings and grounds shall also be left in the same state they were in at Check-In Time
• ALL trash & recycling must be bagged, taken out, and placed in the trash areas provided
• ALL occupants must vacate the Rental Property by the Check-Out Time. A late check-out fee of $50 per hour (or portion of each hour) will be charged for all late check-outs.
In the event that the Tenant fails to comply with this Section, the Owner may at his option, complete the work, clean or repair and deduct the cost from the security deposit held by the Owner. Nothing in this lease shall in any way prevent the Owner's right to recover any sum due in excess of the security deposit.
---
---
---
---
We arrived to unwashed dishes, cups etc... half a roll of toilet paper for a 4 night stay and other small but unexpected problems. However, these were all minor issues and probably would not have been mentioned except for the substantial street construction, including pavement millers, jackhammers and other noise and vibration causing equipment active 50 feet from the apartment from 7pm to 4am the last two nights. The bed and room vibrated much of the night. The noise was unbelievable, as if the equipment were in the apartment. The city gave notice to residents; we confirmed this before letting the owner know of our marked disappointment. We were surprised the first night of construction because it was not communicated to us. We slept less than 3 hours. Then we were told there would be only minimal noise the second night, and it was the same. Noise and vibrations throughout the apartment kept us awake nearly the whole night the second night, despite being exhausted. The owner of the flat refused to acknowledge his responsibility and criticized our complaint. Two nights of sleep deprivation ruined our vacation for the year. The owner's callousness toward the situation underscored the lack of understanding of how absurd and imposing the noise was. No responsible owner would have neglected to inform potential tenants of these conditions. By the way, we have never written a bad review on Airbnb in years of using the service.
READERS: please see the correspondence between myself and Kari below, as copied directly from our continued emails. I should also mention that I provided a refund for the two sleepless nights this guest endured. Unfortunately for me, I provided this refund prior to surveying the condition of the unit after their checkout. In my five years of managing residential properties as well as my years of volunteering at shelters, I have never witnessed more vile conditions a human could possibly be responsible for, yet alone create & live within, within such a short time period. I will be seeking payment for repairing damages and the cleaning fees involved. I have videos and photographs available of such damage for anyone to see upon request. EXACT RESPONSE SUPPLIED TO KARI PRIOR TO DISCOVERY OF DAMAGES: Hello Kari, I'm sorry to hear you experienced a second sleepless night. As I've already explained, not a single resident or business owner at our location, nor I at my own private residence located along the same street, received any sort of notification from the city about this disruptive road construction. As it's been an inconvenience for the entire residential neighborhood, I, personally, will not be held responsible for road construction that took place on public property within proximity of our property. Regarding your other points of concern: 1. The caretaker did not push the start button after loading the dishes prior to your arrival. Once this mistake was brought to my attention, I immediately apologized for this slight overlook and any inconvenience it caused you. 2. The toilet paper was increased to 4 rolls within an hour of my receiving this notification; again, a standard amenity overlooked by my caretaker prior to your check-in. 3. The washer & dryer, along with every other appliance within the apartment are brand new. It sounds as though the dryer was either overloaded or the wrong setting was selected. 4. The towel rack was in perfect condition prior to your check-in. Thank you for the notification and I will survey this damage upon your check-out. 5. Thank you for bringing this to my attention just now. Had I been made aware of this concern, a bottle of conditioner would have been provided to you. 6. You were made aware of my travels during your stay and supplied with alternative phone numbers to contact for any immediate concerns. Upon receiving your voicemail on Monday morning, I tried contacting you via phone (one of three times throughout your entire stay) but it was either refused or went to voicemail, in which, you do not maintain a proper voicemail inbox as it is full and does not accept new messages. You also refused to communicate effectively via text messaging. The Alpine Suite is committed to the providing the best quality service and amenities for each guest, as further illustrated by the free food and drink provisions provided to you. While I previously offered to credit your first sleepless evening and provided you the ability to check-out early for credit of last evening, you ultimately decided to remain on the property. Your threats of posting videos and photos to garner a full refund will not be tolerated and this suggestion will be shared with other Airbnb Hosts considering you as a potential guest, as it has now become clear this may have been your motive from the very start of your reservation. Overall, many of your 'claims' are rather insignificant, were resolved within a timely manner, or would have been; had you maintained effective communication. In efforts to maintain peace and lessen the inconvenience of two sleepless nights due to measures outside of my control, I will proceed with refunding the last two nights of your stay and wish you well on your continued travels. Sincerely, Jason Clifton
---
Alpine Suite at Haus is a modern and luxurious space that has everything you need for a pleasureable stay in Juneau. The apartment appears to be newly renovated. It's so well-kept and still has that new feeling that we questioned if we were one of the first renters. I also got the sense it may be a green property or at least it was renovated to minimize its environmental impact. Two thumbs up if that's true! I will admit that the aprtment feels a little small at first and that's coming from a New Yorker. But once you get your belongings situated it feels like home - actually even better! The bed is very comfortable. There's an alcove bedrooom getting minimal natural light once the shades are drawn which is perfect when you want to turn in early or sleep in late on those long Alaskan summer days. But the fully-stocked kitchen is brimmig with daylight and we enjoyed the convience of having breakfast there while planning out our day. The bathroom was large enough for my husband and I to occupy simultaneously. And the washer/dryer was a huge plus! One thing worth noting even though it was not an issue for us - there is one flight of stairs to get into the apartment. Haus is two short blocks from the water and about a ten to fifteen minute walk to the downtown area which my husband and I did often even though we had a rental car. It's on the edge of a residential area, and all in all very quiet. Jason was a super accomodating host. Upon finding out that we'd be arriving on a late flight and leaving early the next morning for a boat tour, he had the kitchen stocked with snacks, drinks, and a portable cooler before we arrived. His suggestions for where to eat and drink in Juneau were also spot-on! Haus is perfect for any couple (or single) looking for modern, urban accomodations in Juneau. We would certainly stay again if we're lucky enough to make it back to Juneau!
---