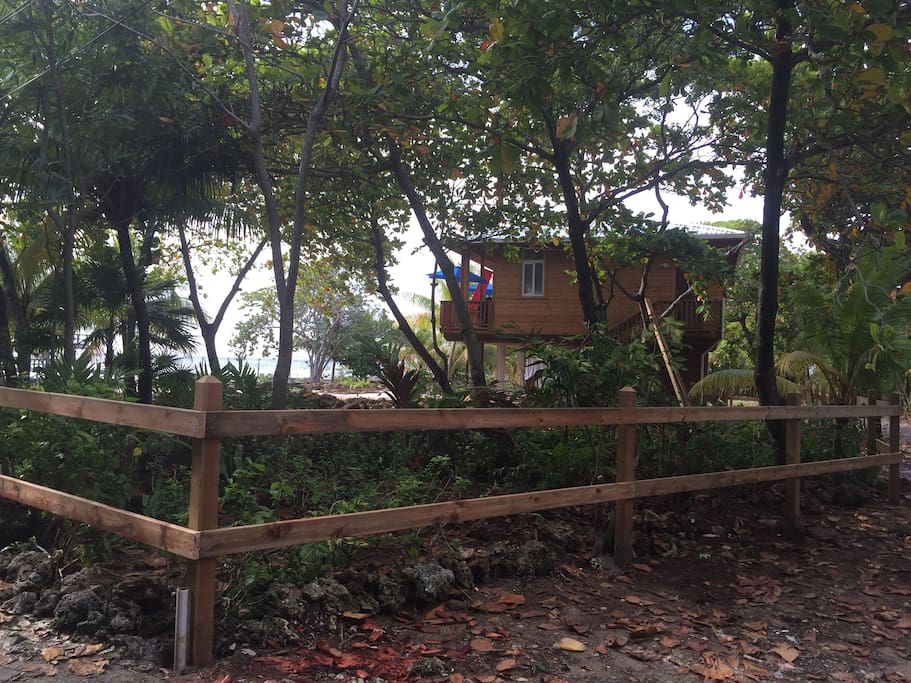 Our brand new house is on a very private bay with a large dock. You can grill on the deck while watching incredible sunset views and passing cruise ships! It's a 15 minute walk or a 5 minute inexpensive taxi ride to the funky little town of West End, where you'll find excellent restaurants, souvenirs, dive shops, clubs and local shopping. Live music abounds!
房源
Snorkel out to 2 dive sites right off your own dock, where we have seen eagle rays, lobsters and a huge variety of reef fish.
We're very close to half-moon bay in the village of West End and you can take a quick water taxi to the West Bay resort area and marine snorkel park.
房客使用权限
Private dock, high speed internet, smart TV, propane gas grill
Local phone with essential numbers supplied
Monitored and patrolled security system 24/7 by Bulldog Security
Complimentary drinking water supplied
与房客的互动
You will have the services of our property manager, who is available for any concerns during your stay.
We have a gardener, who comes by each week to clean the grounds and take away the garbage.
其他注意事项
Electricity is extra. We will take a deposit if $200.00 US upon arrival and read the meter. When you check out we will again read the meter and charge you for what you use from that deposit.
---
This place is great. The views are incredible and the area is very private and quiet. The house is very nice and has all the amenities you'll need. There is excellent snorkeling less than 100 meters from the house and the dock/deck with steps out into the water is a nice touch. Dive boats literally tie off a couple hundred meters from the house outside the bight, and we wound up diving there with our outfit once. Katherine was a very good communicator and left a thorough guide about the house and the local area with recommendations we used while we were there. There was a bit of a hiccup at check out time, but we were able to figure it out without much issue. If you see this place available, don't hesitate as it is beautiful, quiet, and a very enjoyable place to stay while on the island. Can't say enough about it!
---
The place was better than the pictures. We went snorkeling off the dock everyday and laid out on the hammocks often. It was so relaxing I actually fell asleep on one a couple times. I'd highly recommend this place if you like peace and quiet and a beautiful view. It was amazing and we'll definitely come back again!
---
What a beautiful, peaceful and fun place to stay. The service was first class and I was able to snorkel right off the dock and see all kinds of fish, and squid. We rented a car because even though the walk into west end isn't far, the highway is a bit scary. We loved the quiet evenings and setting on the dock. The house is new and clean and the perfect size for a couple. The air conditioning was nice when we came back after a day of zip lining and exploring. Marco hooked us up with everything we needed at reasonable prices. It was a wonderful experience. I'd be glad to do it all over again!
---
We stayed at Casa Pacifico for two weeks and it was fantastic! It's a little bit of a walk to get into town, but nice to be away from any tourist traffic. Our favorite thing about Casa Pacifico was the private dock that gave us access to the barrier reef. We were able to see things such as lionfish, octopus, lobsters, eagle rays, and even a sea turtle. You have the opportunity to see something different every day. The walk into town is approximately 15 minutes, however, if you prefer to take a taxi there are plenty available to do so. The neighbors and community were very friendly, and if we happened to have any issues they were quickly addressed and taken care of. We would recommend Casa Pacifico for anyone looking for a quiet and private location.
---
A lovely secluded place to enjoy Roatan. Something's to note however: 1) photos look beautiful, but don't bother swimming in the bay In front of the house - less than a foot deep and it's all sea grass 2) bring toilet paper and basically all food supplies that you need. No butter or oil or coffee or anything left at the place. We asked the manager to bring us toilet paper and he never did 3) electricity isn't factored into the price, and the guy will demand payment for electricity at 5:30am before you're ferry 4) manager is a bit odd and hard to communicate with, so plan early for your departure as he showed up 30 minutes before our taxi then stood impatiently asking for the key and then we had to sit outside with the bugs for 20 minutes Overall though it is a beautiful place and it's super easy to get to west end and enjoy the restaurants and beaches. The house is secluded and enjoyable and is a wonderful private retreat.
Hi Luke The bay is only shallow for the first few feet then it widens. The coral heads in the middle of the bay are about 20 feet and of course you can then swim over and onto the outer reef. The snorkelling is pretty amazing out there! We don't supply any food for guests but my apologies about the tp. We will contact our property manager about that as we always stock the house with bathroom necessities. We responded very quickly to the many times you let us know your arrival time was changing including the change of dates. We even followed up with a phone call to our property manager in Honduras when you missed the Ferry to make sure you got picked up on the new day/time. Please note that our site lists electricity is extra and in my email before you arrived I told you this. Marco our property manager is Spanish as a first language but we've always had no trouble speaking English with him. He is a very busy guy and being up and available to check you out 30 min before the taxi came at 5:30 am seems reasonable. Sorry you feel 20 minutes was inconvenient. Glad you enjoyed your stay and safe travels.
---
From Vancouver Canada I fell in love with the beauty, friendliness and people of Roatan. I'm an avid diver and sailor. I'm working on learning Spanish.
语言:
English