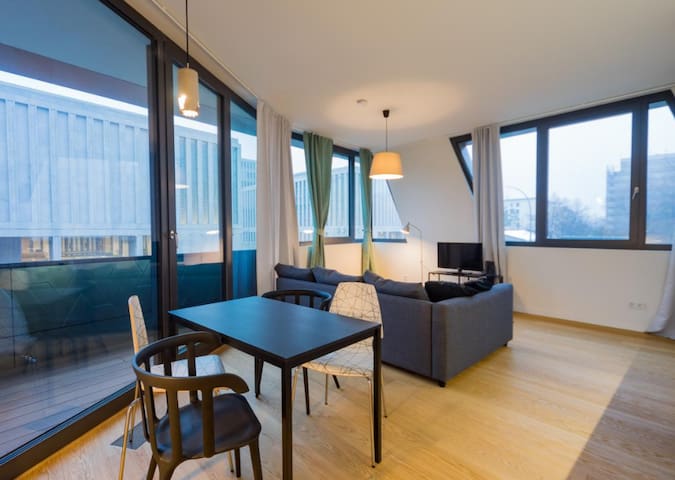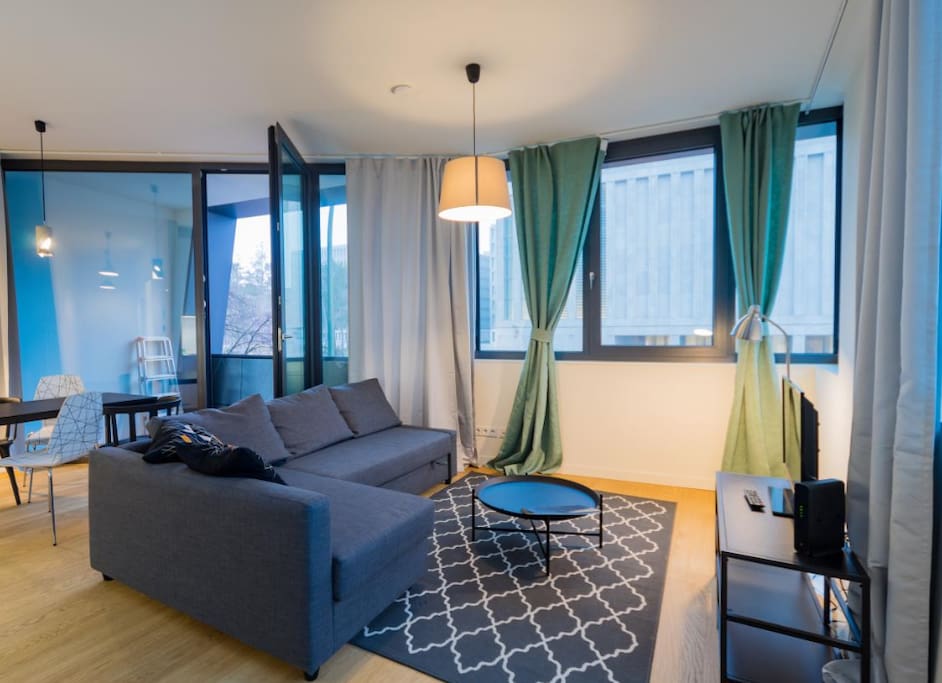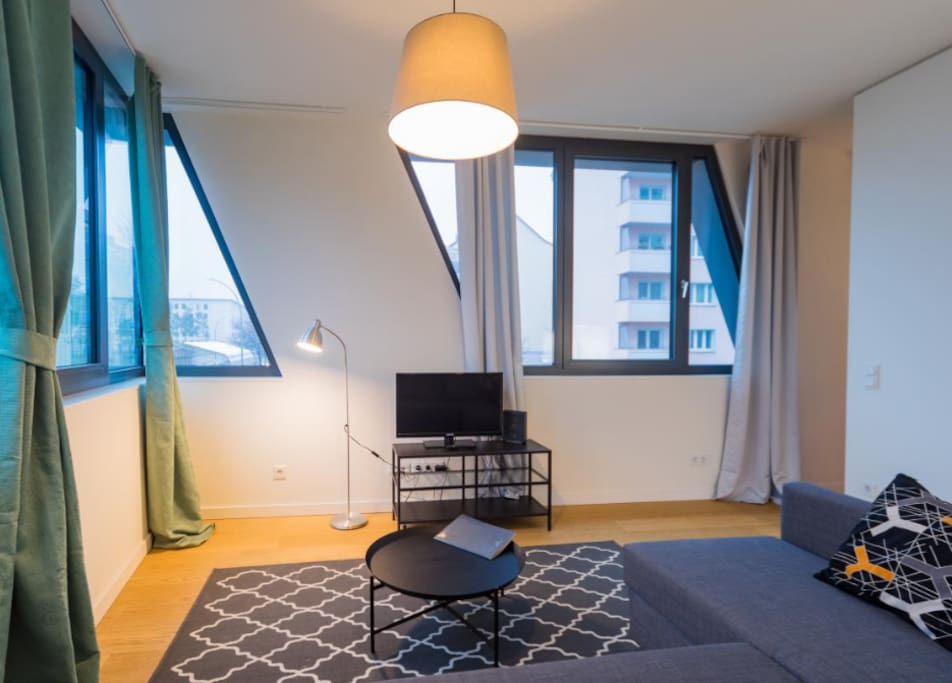 Daniel Liebeskind的最新项目启动您的下一次柏林探险,即现代探险家的跳跃点。我们所有的枢纽都位于中心区,交通便利(自然历史博物馆)。 Saffire Berlin酒店专为舒适和便利而设计,拥有超级宽敞而友好的公寓,无线网络连接和超现代化的设施。后院的健身房于2017年开放。 加入我们在共享的屋顶露台。从天空观看城市生活。
Kick-start your next Berlin adventure with Daniel Liebeskind's latest project, the jump-off point for the modern-day explorer. All our hubs are conveniently located in central neighborhoods with easy access to public transport (Natural History Museum). Designed for comfort and convenience, Saffire Berlin come with super spacious and friendly apartments, Wi-Fi and ultra modern amenities. The gym in the backyard opens in 2017.
Join us in the shared rooftop terrace. Watch city life from the sky floor.
---
First, Fabian & Daniel made it very easy to get the keys in the middle of a busy conference I was attending, stress levels zero! The space is amazing, especially if you are an architecture nerd. I mean, the exterior tile reappears in the bathroom, along with custom fixtures that relate to the building design. Clean, great location, quiet (at least over the weekend) and very convenient. Recommended.
---
From the pictures, the apartment is exactly as depicted. It's modern and new, and located in a central area right above a supermarket. So coming to Berlin for the first time, I felt more relaxed knowing we were staying at a nice place. However, there were so so many problems. When our flight landed in Berlin, our host messaged us that he couldn't leave the key near to the apartment, and we would instead have to get it from a mailbox that was 6-7 mins from the apartment. The walk ended up being close to 15 mins with our luggage. Once we got into the apartment, yes it was exactly as pictured, however, it was so stuffy. We tried to use the thermostat to turn on the fan, but it wouldn't work. I called the host, which is when I was informed that neither the AC nor fan was working. I know the apartment doesn't have an AC listed under its amenities, but a fan should have been made available or at least we should have been informed that the thermostat in the apartment wasn't working at all. This posed such a big problem for us because my dad is much older, so the stuffy apartment was making it hard for him to breathe. We tried opening the windows, but since it is summer, there were so many mosquitoes that we had to close them soon after. We even bought bug spray at the supermarket downstairs because of how many bugs came in. The first night was a nightmare. I only slept for an hour and then woke up because of how hard it was to breathe. I got so frustrated, that I just opened the windows and sprayed the rims with spray to keep some bugs out. This was how we had to spend the remainder of our trip. Our host did provide a small fan on the second day, but we could only keep that in one room, and it was pretty useless unless we kept the windows open because of how stuffy the apartment was. Another piece of information the host disregarded to share with us, there is construction going on. It starts at around 5 or 6 in the morning and goes on until the afternoon. We had to keep our windows open for ventilation, so we were always awoken once the construction began. These were our major issues, however, the problems were never ending. For example, we were provided with only one roll of toilet paper, and anytime you messaged the host, he was really slow at responding. Showering was also a problem because of how the bathroom was made. The shower is only separated by glass doors, and for some reason, the shower drain is very slow at letting water through. So the WHOLE bathroom becomes filled with water as you are showering. We eventually had to mop up after every use. So while this was a beautiful apartment, I would've much rather stayed...
---