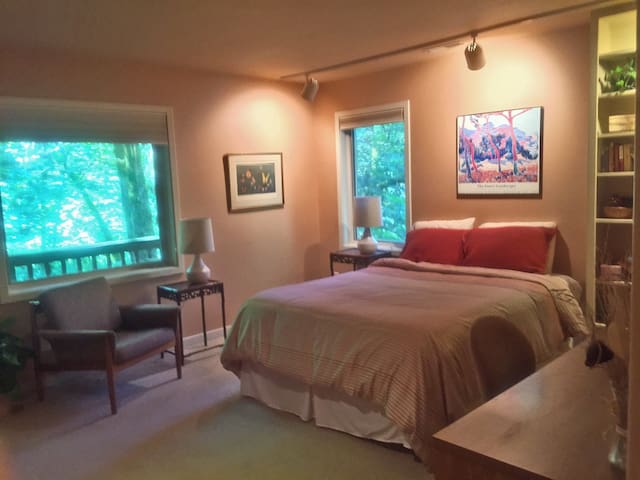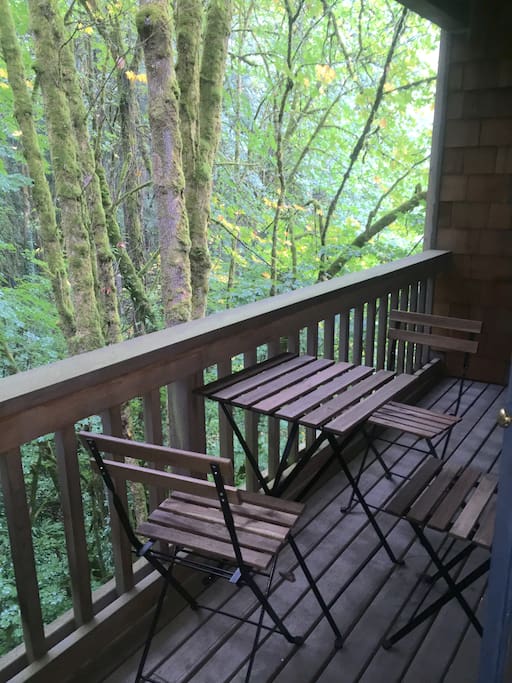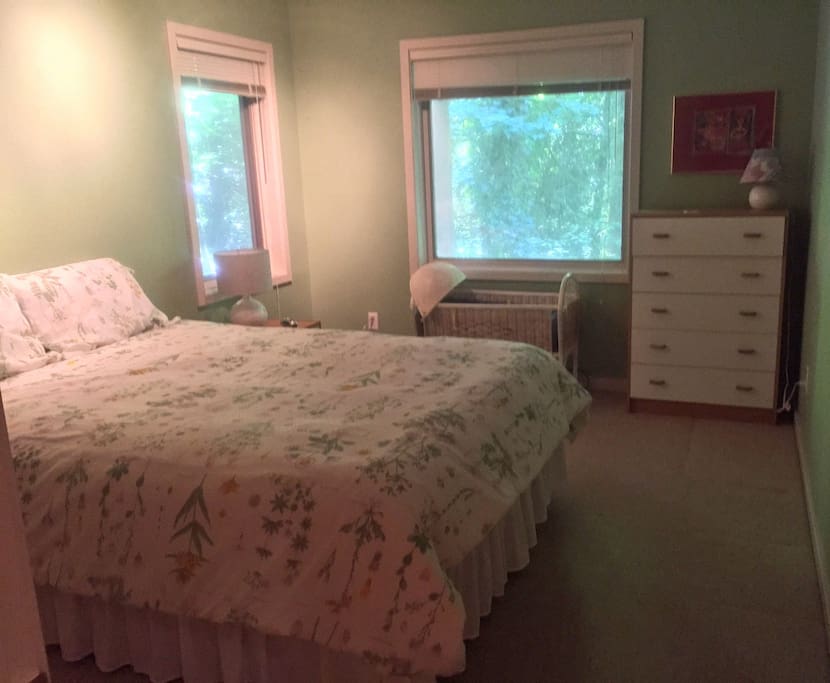 ---
---
---
---
Please contact Lisa if you have any problems or concerns.
Here is some Welcome information:
Welcome to our Forest Park suite!
I work upstairs most mornings and am available any time to answer your questions. Text me!
INTERNET
Ask me for password and network
FRONT DOOR
Sometimes the front door sticks on the way out. If this happens you can exit the playroom, which is directly to the left, or through the kitchen to the back deck. The key will let you back in without problems, but you may have to pull the door toward you as you're turning the key to the right.
KITCHENETTE
We want you to have everything you need. If you find you need olive oil, butter, eggs, or other essentials, just text me. If you want to wash your dishes upstairs or in our dishwasher, just let me know! Again, keep in mind that the upstairs has that lived-in look!
LAUNDRY
You're welcome to use our washing machine and dryer. Please text me if you are going to use them. They are located in the back of the kitchen to the left of the sink.
Please remove lint from the dryer's lint catcher. It's a fire hazard.
SMOKE ALARMS
We have NEST PROTECT smoke alarms. If there's smoke near them, you'll hear "Heads up. There is smoke in the kitchen. An alarm will sound. The alarm is loud." Text me if you accidentally set it off. When I greet you I'll show you how to silence them.
The smoke alarms also check for carbon monoxide.
FIRE EXITS
In the unlikely event of an emergency, you can exit the suite through the door in the kitchenette. Prepare for a climb uphill. Other exits are through the front door, playroom (just to the left of front door), and back deck.
FIRE EXTINGUISHER
Is located in the kitchenette on the back wall. We also have one upstairs in the kitchen.
PARKING
You're welcome to park on the street or on the right side of the driveway. I need the left side when I'm charging my electric car. Be sure to lock your car.
TV
The TV is located in the Wildwood Room in the upper cabinet that faces the bed.
RECYCLING
Portland recycles most everything-- glass, paper, milk cartons, cardboard, We also recycle our food waste. At the end of your stay, please bring upstairs your recycling and food waste. Receptacles for both are in the kitchenette.
CLEANING PRODUCTS
Cleaning products are in the bathroom. There's a vacuum cleaner in the door marked private. Ask if you need anything else.
NEIGHBORHOOD
This is a tight-knit, friendly neighborhood where most everyone has a dog and everyone knows everyone else. If you're lost, neighbors will be happy to help. You can access the trails by turning right out of our house and then taking the first right. A trail map is in the kitchenette.
If you have kids, Hillside Park is just down the street, about a mile. There's also a community center. Another park, Wallace Park, is off NW 25th Ave.
Please enjoy your stay, and again, text me if you need anything!
Lisa
---
---
---
---
There was a group of 4 of us that stayed with Lisa during some construction. Lisa was upfront and open prior to our stay about the work being done and how this may impact our stay. She was able to answer all of our questions. The rest of our stay was great and we really enjoyed the porch and forest-like setting. The only downside was the common area being a bit small for the group. Otherwise, we would all recommend!!
Thanks for your feedback, Heather. Our playroom is a big common area that our guests are welcome to use, complete with ping-pong table. Unfortunately, that's the room that's under construction right now. Our large upstairs decks are also available for guests to use. Sorry for any confusion. We enjoyed having your group!
---
Functional, clean and comfortable base for your Portland adventures. Great location and everything you need. Lovely back porch w wooded view. My only complaint is no kitchen sink, which in the scheme of things is very minor. It was only an issue for us because we had an infant and needed to wash bottles every night in the bathroom sink.
Hi Kate, Glad you had a nice time! As you mentioned privately after writing your review, our listing does mention (up top) that we don't have a sink in the kitchenette. We should have been clearer about the fact that we're happy to do your dishes or have you come upstairs to do them. Sorry about that!
---
I'm a writer living in the beautiful hills of Portland, Oregon, where my kids and I love to hike the trails of Forest Park, along with our golden retriever, Hudson. I have three kids aged 8 to 28 and they're all involved in the arts, including comedy, music and acting. My youngest is a book lover who reviews books on YouTube and helps me write children's books. I love healthy food, theater, comedy, hiking, swimming, reading and traveling. I write about environmental issues (especially clean energy), parenting and youth sports. We try to be as environmentally friendly as possible at home; I drive an electric car, use eco-friendly cleaning products and purchase green power. As a host, I'm friendly, open, and outgoing. Because I work from home, I'm available and eager to give you advice and help ensure you make the most of your visit to Portland.