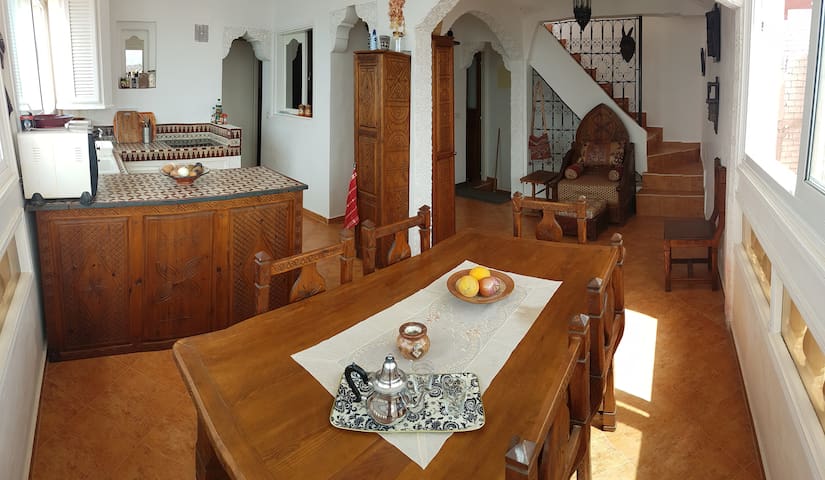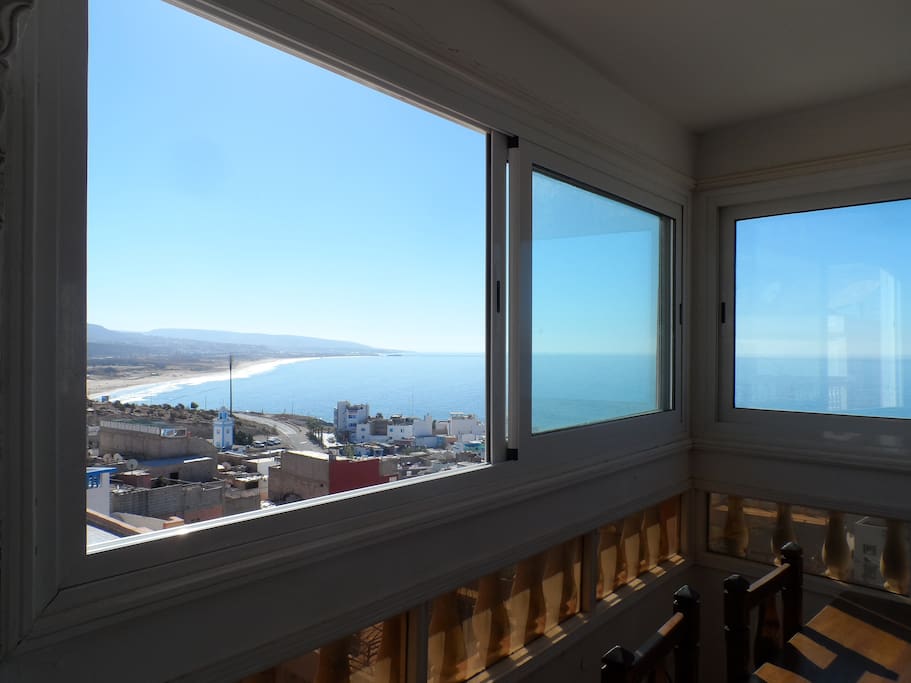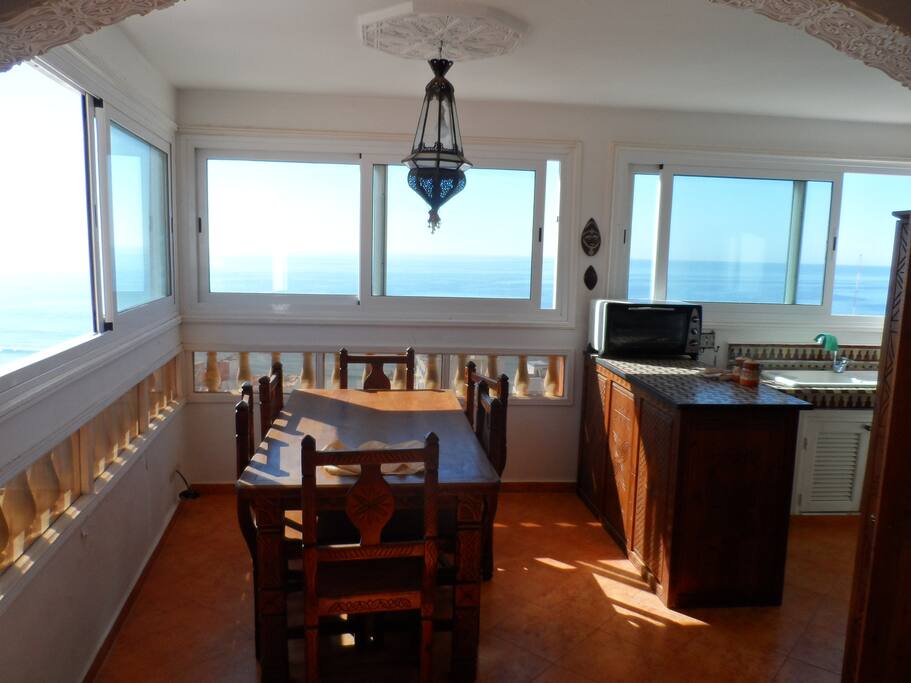 Our apartment is a home away from home, traditional decoration with all modern features. Light and bright with a sea breeze throught the apartment. The private terrace is the perfect spot for sunset views!
The spacious apartment has two levels, the lower with lounge area, single beds bedroom and bathroom. The upper level with kitchen, dining area, master bedroom and bathroom. The top floor terrace is a beautiful area for outside dining.
interdit aux couples non mariés
---
L'appartement convient à des gens peu soucieux de propreté : surfeurs, routards poussiéreux, etc. Pour les autres, il faut aller ailleurs et de manière générale éviter Taghazout. La nuit de notre arrivée, nous avons préparé le biberon du petit sur un plan de travail infesté de cafards... Le jour où nous nous sommes plaints, le propriétaire a envoyé une femme de ménage. En balayant un peu elle a fait des monceaux de poussière et retirer des éclats de verre de sous les canapés. Encore une fois, vous êtes jeunes et vous sentez des pieds, vous pouvez vous rendre dans cet appartement. Si ce n'est pas le cas, à éviter absolument
---
We arrived later than planned as our satnav struggled to find the accommodation and information provided (as it was off a side road). We tried to phone mohamed numerous times but it just rang out with no answer and it only due to some local morrocon that helped us track down who and where we needed to be. We finally arrived at 10.45pm exhausted after travelling all day to find the windows all open and the place was freezing cold and smelt of drains. Thankfully we found a couple of blankets to put on the beds. We were exhausted and just wanted something to eat and drink. There is no welcome or information pack and we were shown to a local shop that charged us a small fortune for bread jam and milk! The location itself is great and the apartment spacious with a great roof terrace with fabulous views. The steps up to the accommodation are steep and the outside ones broken and uneven so do be very careful. On our 3rd night we contacted the host as the neighbours were slamming doors and kids screaming well after 10pm at night. Someone did come straight round and it was sorted that night but throughout our stay we were kept awake by doors slamming or dogs barking so do be aware of this. The main outside door was broken and the handle hanging off. One day when just my daughter and I were on the roof terrace the host had let himself in and shouted to us. I had to quickly get dressed from sunbathing to hear him say our toilet was leaking into downstairs. He told us to push a button to correct this in future. I was not happy we were not contacted before entry to the property. The property was traditional morrocan decor which we loved but the drains were really smelly even after we cleaned them. This was really unpleasant to walk back into even with the windows left open all day. Light bulbs were missing from all lamps and some lighting not working in the bathroom and one of the bedrooms. The restaurants are close by with a good choice of food at a good price. In the day and evening the whole area is dominated by small groups of men. I personally found this quite intimidating however everyone seemed friendly when we spoke. Surfing equipment was offered by many shops on the street which my hubby and son used. We bought a 5ltr water for approx 80p from down the road however we found it was cheaper to eat breakfast out than buy the food in from the local shops. Overall this shows the morrocon lifestyle and we enjoyed our visit.
---
Hello I'm Mohamed Acherai, 28 years old, President of the Taghazout Soccer Club.
I'm an energetic and sociable person.
I like to travel and experience different cultures. I enjoy movies, plays as well as some good R&R at home with my children and wife.

语言:
Deutsch、English、Français、العربية