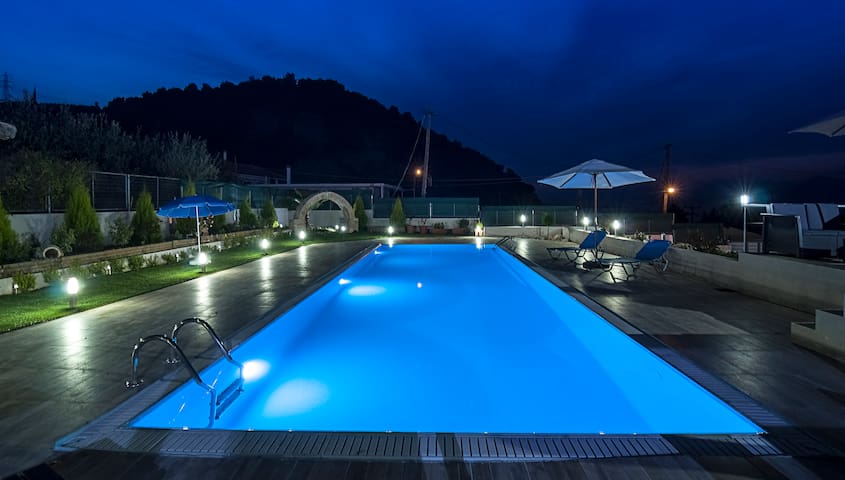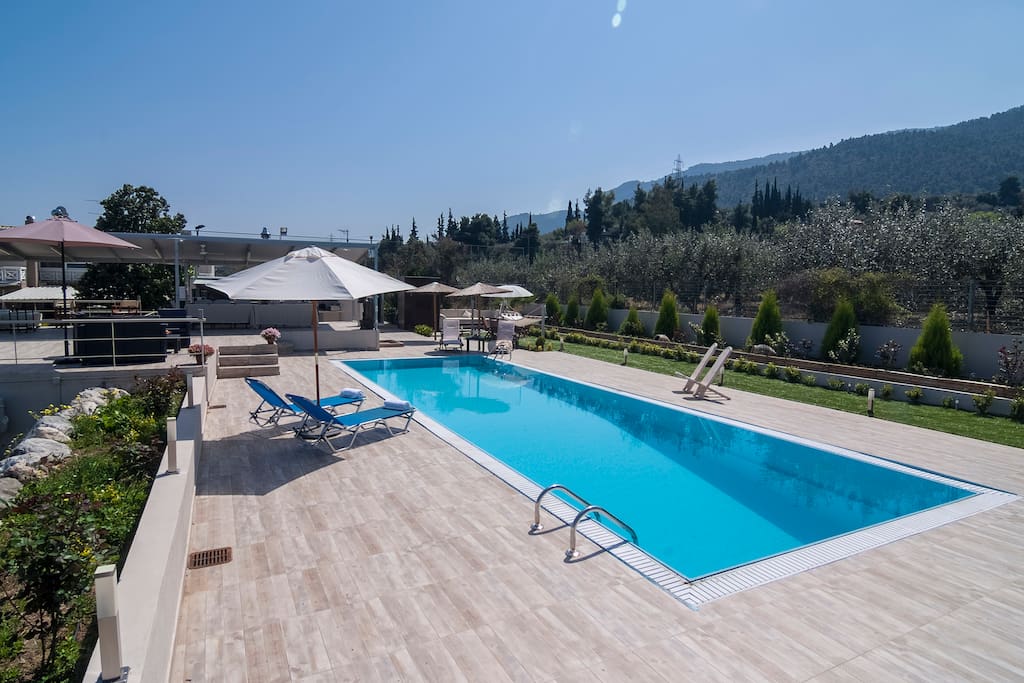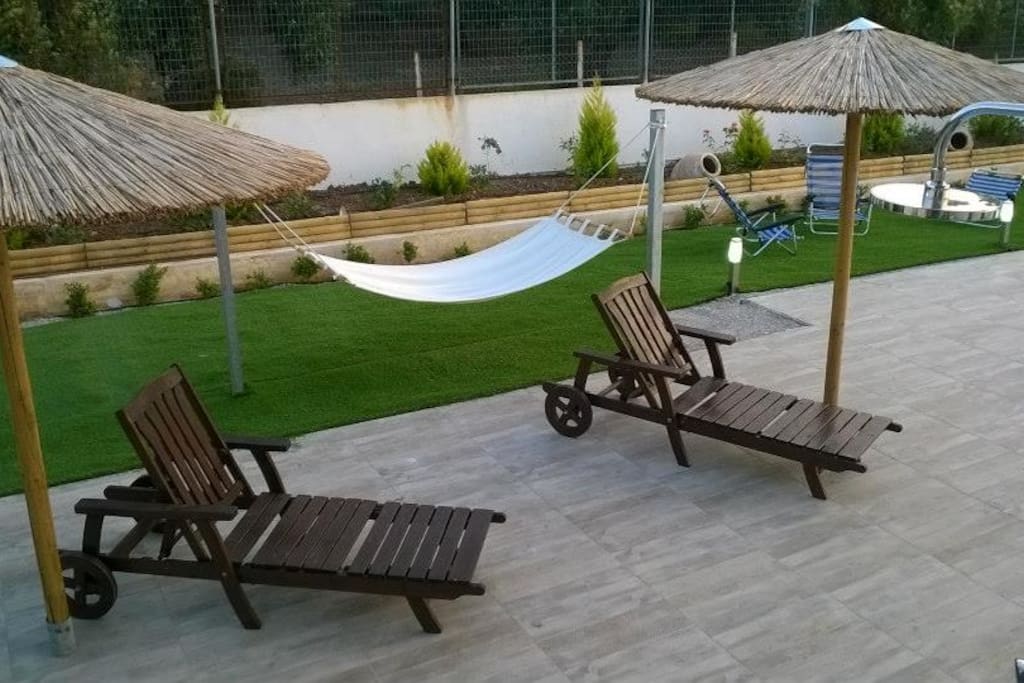 位于Arkitsa村一部分的海滨Agia Ekaterini住宅的两栋豪华三层别墅。我们的别墅是理想的休息和放松,提供无与伦比的海蓝色和山绿色组合。客人可以使用美丽的游泳池,宽敞的烧烤设施,热水浴缸和其他豪华的休闲设施。
Two luxurious three-storey villas located in the seaside Agia Ekaterini residence which is part of Arkitsa village. Our villas, ideal for rest and relaxation, offer an impeccable combination of sea blue and mountain green. Our guests can enjoy access to a beautiful swimming pool, a spacious BBQ, a hot tub and plenty of other luxurious leisure facilities.
房源
坐在一个花园里,一阵距离海洋的呼吸,我们的211平方米和155平方米别墅可容纳多达14人。 2间别墅分开,一个用餐区和一个20人容纳的公共室外大理石餐桌。它们由宽敞的阳台组成,具有每个方向的景观,允许利用气象条件(风,阳光等)和放松,同时注视日落或日出。几乎每个地块都可观察到大海。 周边地区拥有8英亩的绿色花园和现代建筑。 别墅可以单独或一起预订。
Set amidst a garden and a breath away from the sea, our 211 sq.m. and 155 sq.m. villas can accommodate up to 14 people each. The 2 villas are separated by a dining area and a communal outdoor marble dining table boasting a 20 person capacity. They are comprised of spacious balconies with an outlook on every direction of the plot, which allows for the exploitation of meteorological conditions (wind, sunlight etc.) and relaxation while gazing at the sunset or sunrise. The sea is observable from almost every spot of the plot.
The surrounding area boasts 8 acres of green gardens and modern architecture.
The villas can be booked separately or together.
房客使用权限
-8英亩的绿色花园和现代建筑 - 周围环境优美的地区: 游泳池区配有日光浴床,遮阳伞,沙发,吊床和秋千,音响系统,电视,烧烤,淋浴和卫生间。 -健身房: 拥有所有必需的健身器材(跑步机,划船机,运动自行车,长凳和重量等几种运动器材)。 -体育设施: 户外篮球场包括必要的设备和设计,成为一个五人足球,排球或网球场。 -停车位 - 按摩浴室: 地板采用镶木地板,通向一个风景如画的阳台,四周环绕着花园,俯瞰大海。客房设有按摩浴缸,扶手椅,两把按摩椅,淋浴间,特别定制的照明和电视。按摩浴缸配有加热系统(加热模式不包括在基价内)和瀑布,用于宫颈放松和训练。 - 私人教堂 -4设备齐全的烧烤 - 室外酒吧 - 室外木制烤箱 乒乓桌
-8 acres of green gardens and modern architecture
-Pool Area with beautiful surroundings:
The pool area is equipped with sunbeds, umbrellas, couches, a hammock and a swing, a sound system, a TV, a BBQ, a shower and a WC.
-Gym:
With all the essential fitness equipment (treadmill, rowing machine, exercise bike, bench and weights and a few other exercise machines).
-Sport facilities:
Outdoor basketball court including the necessary equipment and design to turn into a five-a-side football, volleyball or tennis court.
-Parking space
-Jacuzzi room:
The floor is made of parquet that leads to a picturesque balcony surrounded by the garden and overlooking the sea. The room contains the jacuzzi, an armchair, two massage chairs, a shower, special customizable lighting and a TV. The jacuzzi is equipped with a heating system (heating mode not included in the base price) and a waterfall for cervical relaxation and training.
-Private chapel
-4 fully equipped BBQs
-Outdoor bar
-Outdoor wooden oven
-Ping-pong table
与房客的互动
价格包括管家的服务。他们协助客人在逗留期间可能出现的任何事宜。我们还每3天提供清洁服务和床单更换。可应要求提供运输,烹饪和用品。
The price includes the services of a housekeeper. They assist the guests with any matter that may come up during their stay. We also provide a cleaning service and linen change every 3 days. Transportation, cooking and supplies can be provided upon request.
---
Very welcoming hosts and we loved the pool and surrounding area. They're is a basketball court with lots of balls and football nets etc by the bar which was an unexpected bonus! The hosts are always available and you can purchase drinks and food whenever you like from the bar. The rooms are clean and everything that we needed was there. The house is a little more disjointed than we thought it would be. With areas separated by the buildings and the guest house which other guests were using but once we worked out where everything was it was no problem. We found it very useful to have a car to visit Arkitsa beach and the bars and restaurants there. Thank you for a lovely stay ️❤️
---
We hade no problem staying 10 persons, all except 2 kids had separate rooms. The place is actually consisting of separate apartments with areas to share, although big enough to accommodate as many as the add said. To our surprise, the place is staffed and we got linnen changed and the rooms cleaned every 4 days. Stefano, who was the man that kept the place running was an excellent host and really made our time the best with his warm, friendly and service minded easy going way. We really enjoyed the evenings around the pool deck where we made barbecues and overlooked the Egian sea. Stunning views! It is actually not a private house but a small apartmenthotel with bar and a small staff. Maybe not 100 percent privacy if that is what you are looking for since you share the place with up to 4 other families but still really nice. Hats of for Stefanov! We drove around the areas and found nice beaches, of witch Arktisa was the best, especially for children.
---
We are Shading Blue, envoys of Mediterranean hospitality. We understand that the essence of a trip is the sum of all the experiences you accumulate and for that reason we are available 24/7 to help you enhance them. We bring our passion to the hospitality industry, a passion to not only offer a place for you to stay on your holidays but a place that feels like home. That's why we are constantly searching for houses to find the ones that meet our and more importantly, your, high standards.
语言:
English、Ελληνικά