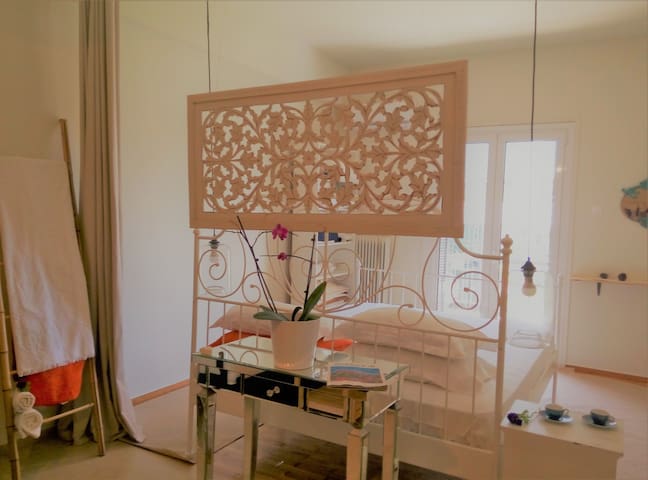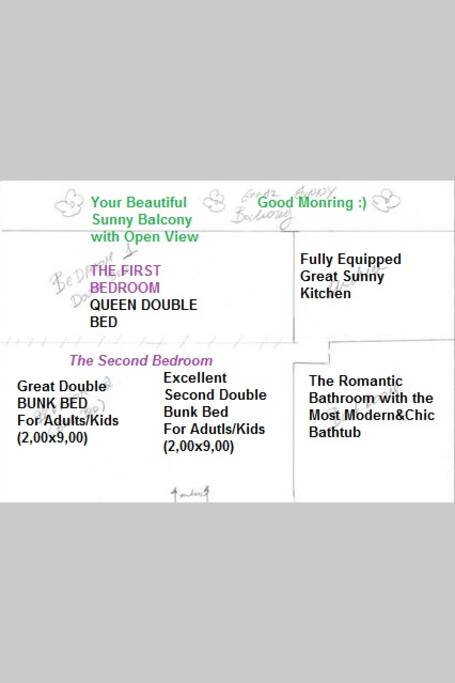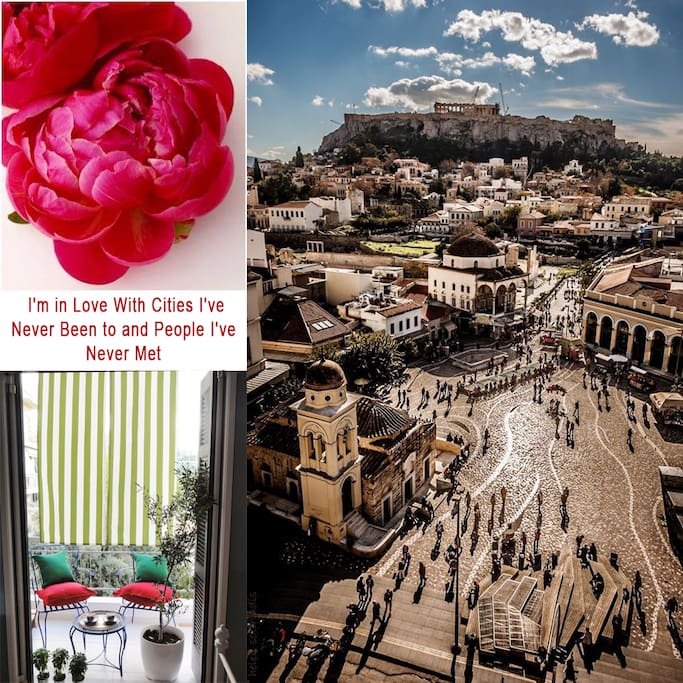 Everything that is worth seeing, when in Athens, is a breath away from our apartment. Staying with us, you will have a memorable lifetime experience!
A small paradise for vacationers seeking luxury Accommodation.
Fully Equipped,2Bedrooms,1 Bathroom,One Kitchen and a Lovely Veranda Created all With Forden Cement and wooden floors!
Get ready for an amazing holiday! Feel free to ask me any questions.
Bookings have been coming in fast. Email me now to guarantee your reservation!!!
房源
We welcome you to Athens and offer you elegant and comfortable accommodation,along with smooth accessibility to the sights and attractions of the city.
In an inspired setting, we have created a special place for you!
Modern architecture and minimal décor, earthly tones prevailing and abundant sunlight, luxury and modernity compose an excellent stay in Athens.
The forged cement with wooden walls in earthy tones and plants create a balanced and pleasant environment that a great house requires.
Situated in the Heart of ATHENS,
this 70sm apartment offers a unique combination of impressive monuments and Cultural dowtown with picturesque views,sunsets and beaches it enjoys an easy access to public transportation.
The apartment is your own!
Cleaned professionally with fresh luxury linens, it's prepared for each new visitor.
We are available for anything you need, any time 24h My house is your house!
Feel like that, treat it like that , respect it like that.
You can use everything there is inside.. From kitchen equipment -ingredients, books,balcony ,wi-fi and everything else u want.
With lots of charm and luxurious details Beautiful- Elegant and cosy with Very high ceilings,open horizons and Forged Cement Floors.
Located in an area with great selection of restaurants and bars, close to public transportation and with many stores and supermarkets nearby.
It has been very recently FULL renovated(Autumn 2016) with a very fresh, arty,chic . Here's a list of of things we provide to our guest/s:
• 24/7 warm water with Solar Panels!
•Family Houses 70 + M
•Up to 4 People
•Free Wifi
•Large Windows
•Fresh Bed sheets along with fresh Quality 100% Cotton Brand Name towels
• 100% Top Quality Goose Feather&Down
• A Very Modern Fully equipped Spacious kitchen with Brand New Modern Appliances such as fridge, oven and microwave,a washer,a waffle maker, a fresh juice maker, a toaster, a kettle,an egg boiler, a French coffee maker, a "Dulce Gusto" espresso machine /tea maker along with a rich assortment of various flavors of coffee & tea)along with cooking utensils, full dinner set, glasses, etc
•Flat-screen TV, Refrigerator, Microwave, Dishwasher, Kitchen, Dining area, Electric kettle, Kitchenware, Oven, Stovetop, Toaster, Coffee machine, 4 Seat Dining Table, Towels, Linen.
•Free breakfast amenities (for a 4 night stay of 2 prsns)
•Very luxurious bathroom with Unique Modern BATHTUB.
(Towels, toilet papers(extra), soap, hand wash and hair dryer)
• Two Bedrooms
(a double bed,two double Bunk Beds for Adults and a balcony with table and Built Bench.)
• Dinning Area- Excellent Collenction of Quality Dutch Porcelains Sets with soft belgian cotton velvet, will give your dinner a touch of luxury
• Internet Access
(Fast WiFi, ethernet network sockets)
• Air Conditioning
• Heating
•Wardrobe/Closet
• Portable Chargers/Fans
• Hair Drier
• A variety of comforters
•Elevator
•30" LCD screen TV
•Sim Card+Local Mobile.
•Complimentary Dolce Gusto capsules, tea bags and ground coffee, plus basics for cooking like oil, vinegar, salt and spices…
•Dishwasher Liquid&Sponges
•Dishcloth/s
•From any Reservation from 80e and staying more than 4days
KORRES" natural cosmetics (shampoo, a variety of foam gels, body lotion, cream soap)
•Washing machine, dishwasher, detergents
•Maps&Recommendations
•Iron/Iron Board
•Drying Rack
•Clothes Hanging
•A Nice balcony with a dinning table for all the hours of the day
•Courtesy of our apartment, basic breakfast amenities are offered (coffee,a rich assortment of tea flavors, Greek Safran, sugar, Greek honey, home made jam, eggs, olive oil, balsamic vinegar, juices and toast bread) enough for 2 persons staying for 4 nights.
•Traditional Cooking upon request (extras fees may apply)
• The whole house is fully air-conditioned
•24/7 communication&Care
We're here for you before, during and after your stay! :))
Check in and check out are flexible, except in cases in which there is a group coming/leaving the same day.
I always welcome guests personally to ensure they arrive well, understand all facilities and may have their burning questions answered.
I am pleased to assist my guests in anything I can. If you need tips, information or you want me to arrange any sort of service (taxi, reservations at restaurants, tickets, etc) prior to your arrival, please do not hesitate to ask me!
During your stay, you will be able to contact me anytime (sms, whatsup, email, phone...). I am always available!
Example is famous for being home to the majority of Athens Museums and the all New Acropolis Museum, and a high-class residential and shopping area.
The Museum is housed in a modern state-of-the-art building, with glass floors in parts, to see the ancient stones below. The displays are well organised, and it is outstanding to see such old statues in such close proximity. It is a large museum, and it is worth taking your time. If you want a break, the restaurant serves good food, and it has wonderful views of the Acropolis.
Example is a safe and residential part of the city but there is also a vibrant nightlife and a thriving café culture. Eixample is a beautiful district to wander round and people-watch from one of the many terrace cafes.
We offer a 70m2 sunny LOFT is located in the heart of the city
(Five min by Metro/Bus and other main sights of the city).
This Spacious Apartment has been designed with respect to the environment and is perfectly eco-friendly and sustainable.
Enjoy wonderful facilities and amenities and exquisite aesthetics in a warm and friendly ambience.
Situated in the CENTER OF ATHENS (two minutes away by walk from ONASIS Culture Center), it offers a unique combination of impressive monuments and Cultural dowtownwith picturesque views,sunsets and beaches nearby!
This stunning apartment in Athens is the ultimate indulgence of luxury and sophisticated accommodation covering fully the needs of 6 guests.
All the apartment is sunny, spacious and combine contemporary furnishings with vintage collectables and colors giving a romantic atmosphere.
Greece is known for its food!
There are loads of restaurants in the Athens Plaka, Psiri,Petralona and surrounding area. If you try these out you will know what a good restaurant should look, taste and feel like, and be less likely to get a disappointing meal in one of the tourist joints.
If you have any faves you want to add, take a picture and send me a review.
Remember that if you order fish it is often sold by the kilo so before you choose make sure you know the price since it can vary greatly from one fish to another. House wine (hima) is cheaper than bottled wine and is often better, as it should be. Vegetarians can find plenty to choose from even in the meatiest restaurant.
Think fresh vegetables (like olives), seafood, grilled meats, bread, feta cheese, yogurt – all the staples of a fresh Mediterranean diet.
Restaurants will cost about 20 EUR for a nice dinner, even in the tourist area.
If you add wine, expect to pay about 30 EUR. A meal at a very luxurious restaurant will begin at 30 EUR.
A whole fish is about 18 EUR.
If you really want to eat cheap, eat gyros (like kebabs). A Gyro is around 3 EUR and will easily fill you up. Most cafes will cost you around 11 EUR for a meal. If you cook your meals, expect to pay 35-45 EUR per week for groceries that will include pasta, vegetables, chicken, and other basic foods. It's easy to eat on the cheap in Greece.
Transport to and from the area is good. Eixample is serviced by several metro stops, as well all Buses.
Getting from and to the airport is also very easy. The airport public bus/Subway from our apartment very easily.
The apartment ,is very well-placed for public transportation towards the City Center, the Athens Riviera (south coast beaches) or the Port of Piraeus as you can choose between the train, bus, metro, tramway, trolleybus and also an abundance of local taxis.
Much more information about places to visit with maps will be given to you on arriving to the flat as well as our good knowledge for the best spots in the city (museums, restaurants, street food, cafeterias, cocktail bars etc)
Segway and Hop-On Hop-Off Buses are passing by Acropolis for tours
Communication Languages: English, French, Italian,Spanish, Greek,Armenian.
By Making This Reservation With Us You Are Getting Access To Many Suggestions and Recommendations for Tours or Accomodations For Any Place Vilage,City,Island All Over Greece.
The flat is ideally located for coming/going from/to the Athens International Airport or Piraeus Port (for trips to the islands).
You just found out a small gem, for your stay in Athens !!
Hooray!!
与房客的互动
I believe the comments of my previous guests cover everything but let me tell you some more as well...
My main concern is that the people visiting my country and my house, will leave with a great experience, full of positive memories.
Nothing worths,if my guests are not happy.
I wont just throw some keys to my guests and leave them searching for everything by therselves..l will use all my knowledge to help you make your trip unforgettable and your experience greater than ever..
The house has a/c and is very comfortable for up to 5 persons,a perfect family location regarding safety and transportation.
There are children furnishings&equipments that will keep them busy and happy.
(Please ask us in advance we have to bring from all from our storage)
I will be glad to offer you a first class stay all the way!
The last years I have hosted more than 500 people from all around the world.Some of them friends, some couchsurfers some from airbnb ...
I became a very good friend with all of them and they are revisiting me and my country almost every year!
About one week before you check inAt check in, we will be waiting for you at the apartment, for the keys handover, in order to show you around and to answer every question you might have, you will receive, by email, our apartment's "Guest's Guide" .
In addition, we will explain to you everything you need to know, in order to take the most of Athens, no matter how short your stay might be.
Small secrets regarding gem restaurants, trendy bars, smart shops, that are known only to locals, will be revealed to you!
As we live very near, our interaction will be easy, if a need might occur.
Anytime during the day we will be reachable on our cell phones and via the Viber / What's up / online messaging platforms.
*My famous Athens tour will pretty much show you the most famous places of Athens. Since I was born and raised in Athens I know everything about Athen's nightlife, culture,museums,history, mythology,SHOPS and antiqueries,that you would never find and most important the TOURIST TRAPS you should avoid.
Of course while i will be touring you I will be explaining anything you need about them!!
I have traveled all around Greece and world so don't hesitate to ask me to help you on your travel plans or destinations!!
My travel advises will prove invaluable!!I have done that a thousand times
and all my hosts really enjoyed it the hidden islands or places I sent them to!!
Of course in case you want your privacy I can always help you plan everything in the first and then let you enjoy your tour!!just dont hesitate to ask for my help!
We're here for you before, during and after your stay!
其他注意事项
We will be personally there and welcome you anytime during day/night by giving you direct explanation on how you will move in all Athens upon your arrival and all the ways you can come at the apartment(metro,bus)exactly after your booking.
We like welcoming and meeting people from all over the world.
We have a ton of answers and information for the city and its' secrets, but we can also be very discreet (or even invisible).
We are always available to assist, advice and help with any question or query, no matter how small or complex.
---
---
---
Please note for late check in , 10:00pm to 9:00am ,NO any extra fees!!
We are happy to offer you flexible check in or check out according to your needs.
This depends on availability of the property (if there is a guest before or after you), due to necessary time for cleaning the Suite. Otherwise, check in is 14:00 o'clock and check out at 12:00. But in any case we can keep your luggages for free!
The terrace is with some beautiful flowers and they need some water daily please.
Please Switch off all lights and electric devises when you leave the apartment and also make sure you haven't forgotten any electrical supply on.
The host cannot be held responsible for any accidents or injuries that occur to guests on the premises.
Guests are held responsible for their own actions if they break the law.
Use of drugs inside the apartment is prohibited.
The Greek law covers this agreement and any civil difference should be held in Athenian courts.
The apartment is available for exclusively use by tenants and it is expressly prohibited the staying of extra people, beyond those agreed, even for a short time.
I would appreciate if you take off your shoes on the wooden floors.
Clean and tidy people are more than welcome.
THANK YOU so much You are more than WELCOME :))
---
---
---
My name is Marie and i'm four generation Athenian.

I love Traveling,Cooking,Decorating,Gardening,Architecture&Trade.
I also work as a Passionate Interior Architect&Weeding/Christening Planner where Creativity is my daily Energy.
I have travelled a lot and I can appreciate genuine hospitalityQuite helpful, over- energetic and friendly i wont just give the keys of my home and say goodbye...I will make sure you will get a 100 percent of my country's hospitality and I will definitely walk some extra miles to help you anyhow i can..

I consider my self more as a traveler and less like a tourist since i always want to penetrate deep in the culture of every nation I visit and not stay with a surface image...And this is what i try to offer to my guests as well..

I would love to get to know interesting people from all over the globe I welcome ethnic diversity and culturea and look forward to show you my ''Philoxenia'' an act of hospitableness and welcome.But, above all, I adore decorating homes! :))

Consequently, When i travel i'm looking for a warm ambiance, amenities to live and eat on a budget BUT without any compromises in the elegance and style. Quite difficult!

I adore people who have the natural curiosity to explore other countries and cultures and we would be pleased to offer them an opportunity to relax and enjoy themselves.A full service airbnb concierge that will ensure you a great stay!

We provide a thorough cleaning before your arrival, clean sheets & fresh towels, a welcome pack with Shampoo & Conditioner, easy check-In, and many more offers and gifts and is a 24/7 concierge for anything you may need during your stay as:Car Hire / Airport Pick Up /Individual Tour Programs - Room Cleaning Service -Other Hotel/Apartment Reservations for your Possible Next Stops..

If you need any of these services please request and we will do our best to help you.But most importantly we provide a warm and personalized Welcome!

Having me as a host? Let's put it this way. If I was a guest somewhere, I am the host I would like to have.
Be My Guests :-))

语言:
English、Español、Français、Italiano、Ελληνικά