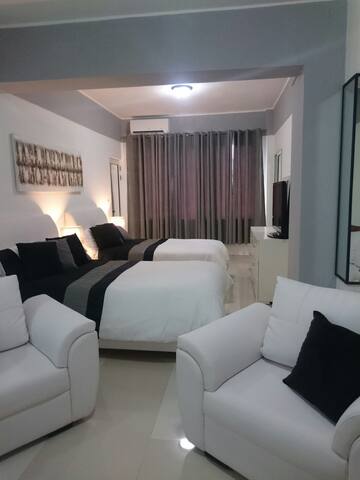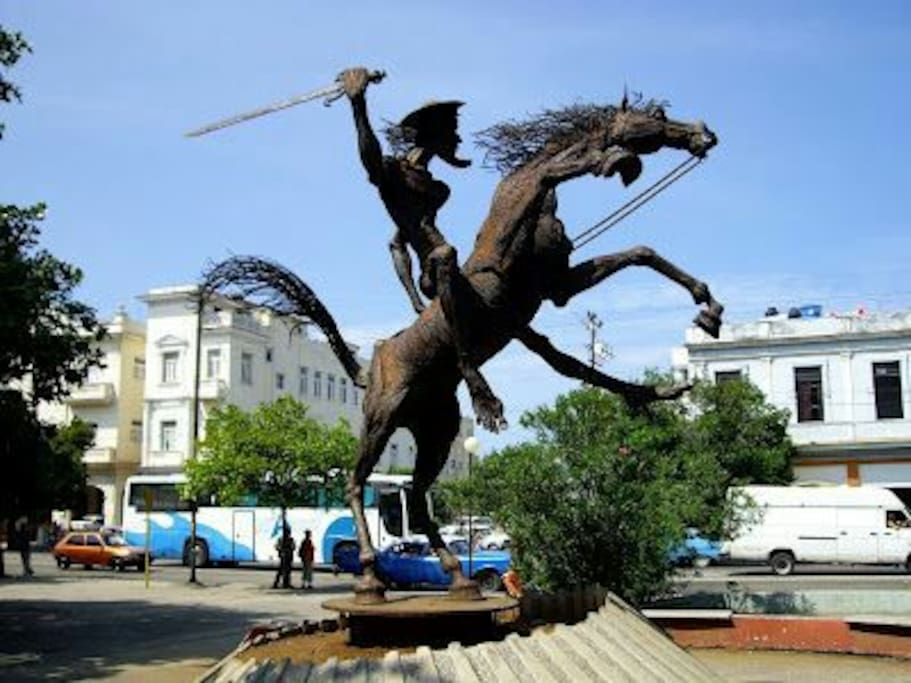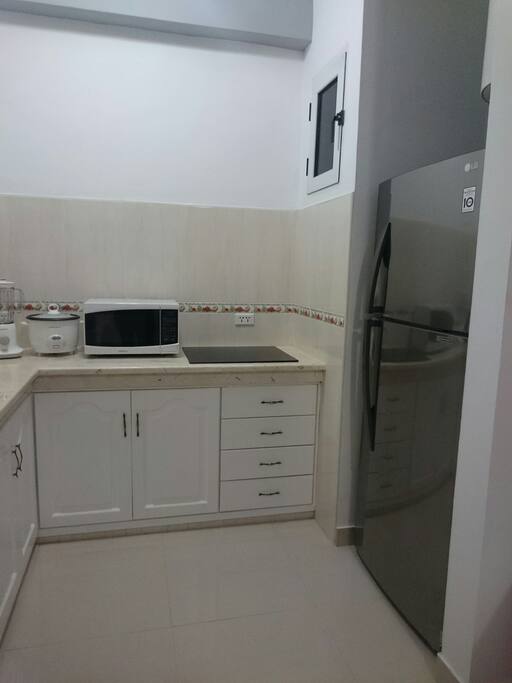 Location is on a main street that is very close to touristic sights. The place is very clean, spacious, air conditioned, and secured. It was also stocked with beverages that are very much needed on the day of our arrival. The host was very helpful in providing useful information. She was very kind to make a dinner reservation at a great restaurant the night of our arrival. The place was cleaned at the appropriate times. It had very comfortable furniture and bedding. I would definitely recommend a stay here.
---
I want to tell you it was a terrible place so that you don't rent it then when I come back it'll be available for me.... but that's being selfish. Once you're inside this room it's every bit as nice as any Marriott hotel room. It's very nice. It's still Cuba so the building is still rough looking on the outside and in the hallway but it is absolutely brand new in this room it's fantastic in this apartment!!
---
My stay at Karelia's apartment was great! Karelia and her husband were really attentive. They waited for us even though we arrived late at night; they were welcoming and very responsive :) Highly recommended. Here are some of the apartment's perks: - Great location, easy to find, on a main road; you can easily walk to the Malecon, Hotel Nacional, Habana Vieja, etc... - AC! I visited in the summer, so having a cool apartment to arrive to was priceless. - Safe: The apartment has its own lockable gate. - Clean & modern. - Phone: Handy for making restaurant reservations or getting in touch with Karelia - Comfortable beds :)
---
A Comprehensive Review Summary This is an amazing place to stay for the price, but you do have to factor in the cost of getting to and from the city center of Havana. Hotels are typically expensive and offer below average amenities like drab bathrooms and cheap beds - even resorts in Varadero had rusty shower heads for example. Karelia's casa is perfect for someone who values cleanliness, modern decor, and security. It's close to Hotel Nacional and Hotel Havana Libre to request a taxi. Stay here if you want something off the beaten path, and don't mind living like a local at an unbeatable price. I would for sure recommend this place to friends planning to visit this picturesque country. Thank you Karelia and Campos! Pros - Air conditioning is a life saver and works well. - Modern/new furniture - Very clean - Well decorated - Drinks in fridge come included - Close to Havana Libre where you can use their concierge services - Clean room, firm comfortable beds. - Clean bathroom with window for natural light. - Relatively quiet room. There is a family next door that shares a wall. There are usually kids at play downstairs on the street. You're in a city after all. - Multiple locked doors for security. The apartment is on the third floor. - Campos offered a ride to the airport directly from the Airbnb for 30 CUC Cons - Hot water is communal and you have to time your showers so that there is enough hot water for multiple showers. - The listing claims English and Spanish speaking but the welcoming host, Karelia's father, did not speak any English. Brush up on your Spanish. - Could have provided more than one toilet paper roll. - Could have provided more than 2 towels for a place that can potentially sleep 4 Additional Travel Notes - 25 CUC from the airport to Havana Libre - 10 CUC from Havana Libre to old Havana. - Havana Libre is about a 5 min walk from Karelia's apartment - WIFI is a street commodity. You can buy WIFI cards that usually allow for 1 hour of service for 1-2 CUC from kids on the street, or at hotel front desks, but they do run out at hotel front desks for the day. - Changing money at banks in the city is nominally cheaper than at the airport. Just go to whichever had a shorter line (shorter than an hour). There are huge waiting lines for all currency exchanges throughout the city. Fair warning. Usually, there is a guy next to the currency exchange counter in the Habana airport that will exchange USD to CUC at 1:1. This will feel sketchy, but it's may be a better rate depending on when you are going. - You can definitely find good eats in the city for 10 CUC a meal - 3-6 CUC for a cocktail is about average. If you're paying more than this, you are probably...
---
Beautiful apartment located in the famous 23rd Ave. at only a few steps from the lovely Malecón Habanero (Havana's Malecon), as well as the possibility of moving around the city very easily to the principal places of interest such as Old Havana, Plaza de la Revolucion, etc.
---
soy cubana ,alegre entusiasta trabajadora y muy comunicativa.
语言:
English、Español