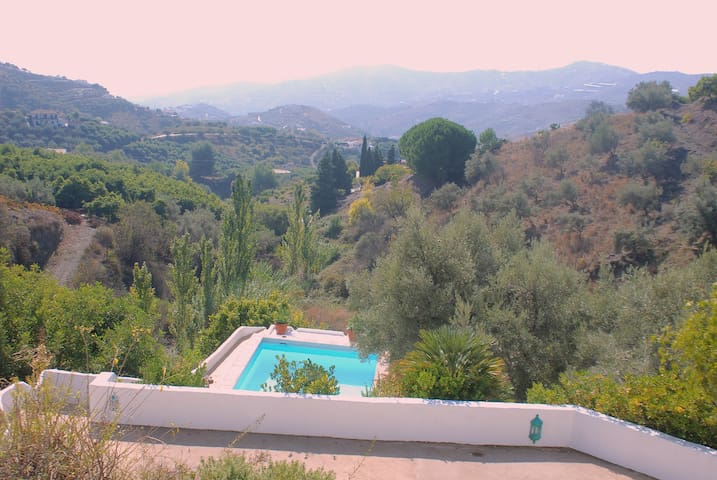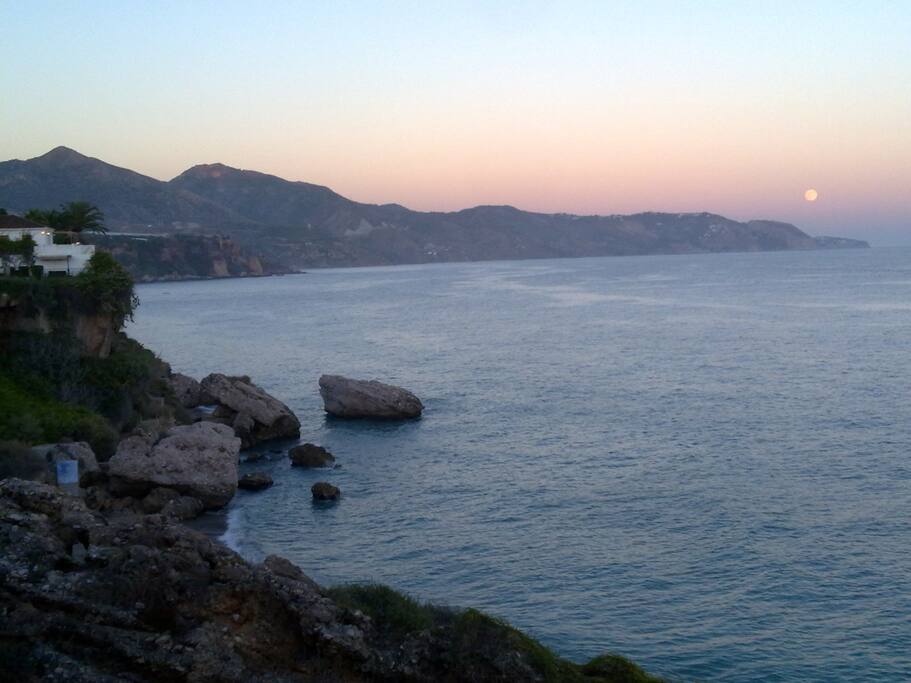 You'll love my place for its natural light, great whether all year around, beautiful views, very peaceful atmosphere.. The swimming pool, surrounded by olive trees, overlooks the country side. The house is very cozy and comfortable It is good for couples, families with children, adventurers and pets. · bedrooms, 2 with double bed and one with 4 beds.
You will find heat, washing machine, spacious kitchen with everything you might need, refrigerator, oven, dishwasher, barbeQ, wi-fi
房源
The cortijo is built in Mediterranean style, with a special atmosphere from of Andalucia, Greece and Marocco. White floors and walls, ancient doors , chimney, chill out areas, special details. Built on a terraced ground, it is surrounded by olive and avocado trees. Very fresh in the summer time, it has a swimming pool and a lot of open air space.
There are 3 different common living interior areas and different level terraces outside.
If you travel with small children be aware because there are slopes and some steps.
In the winter time the chemny by the big sofa invites to laziness and relax
与房客的互动
When I'm away, my friend Pati will take care of your needs.
In the house there is a notebook with instructions, emergency telephone numbers and places of interest.
---
This is the most stunning, well stocked, well kept and magical place to stay in all of Frigiliana!! The views alone of the orchards and the Mediterranean are magnificent from every window, terrace and the pool! The interior is authentic and decorated so beautifully! When we arrived after a long flight from Virginia in the US, we were greeted by Paty (the caretaker) and a fresh basket of fruit and essentials! Paty is just lovely and so attentive. She pointed out the best beaches and restaurants and gave us her phone number for any needs or questions we may have. After the 2nd night we realized we needed an extra bedroom fan and Paty brought one immediately! We also had a little plumbing problem and Paty called the plumber and he arrived that day....Camila emailed afterwards to check on things. They are so very attentive and gracious! This villa located perfectly with a short walk to a few lovely restaurants and only a 5 minute drive into Frigiliana and 15 minutes to the beaches. If we are ever in this area again we will ONLY stay here! It truly is a magical place!
---
Casa Ubique We had a wonderful stay in Casa Ubique. Paty met us in Frigiliana and guided us to the house. The localisation is just perfect when you want your own hideaway by the pool, and to enjoy long or short walks in the beautiful scenery surrounding the casa. We just loved sitting on the terrace seeing the sun rise and set, listening to the song of the crickets. Having a swim in the pool, followed by a shower under the olivetrees, overlooking the mediterranean sea - was one of the treasures of Casa Ubique. As we where only two persons staying in the house, we used the main bedroom. We opened the double doors, lying under the mosquito net, having this great mediterranien view - breathing the fresh mountain air...Really exotic! There was a problem though, with bad smell from the bathroom drains. We contacted Camila about this, and both she and Paty started immediately to solve the problem. They where really helpful. Still it seems like further plumberwork is needed. This was an offer from the owner to be fixed right away, but we decided to use the other bathroom to avoid noice from workers as we appreciated a quiet holiday. We enjoyed the well equipped kitchen and barbeque for several nights, but we also found some nice restaurants in Frigiliana and in Nerja witch both are in just a short distance by car. We also walked back home from Frigiliana in 30 minutes. The juicer and water boiler broke down during our stay, but new ones where brought to us immediately after we reported them broken. We are so pleased considering the service at casa Ubique! We will definitely come back. Elisabeth and Erik
---
La casa preciosa y el entorno maravilloso, pero el acceso a la vivienda es bastante complicado. Dentro de la vivienda hay muchos desniveles, por lo que no es adecuada para personas mayores. En nuestro caso había un problema de olor en el cuarto de baño pero supongo que sería puntual. Camila es una persona muy atenta y Paty también, con eso ningún problema. Informaos bien de todo lo que necesitéis saber y si cumple lo que buscáis es preciosa.
---
Great house with fantastic views - better than on the pics! Clean an well equipped! We had a wonderful 5 week holiday in Camilas countryhouse! Paty an Eduardo were there when needed and always available! Bring beach an hiking stuff - its worth it!!! Top experience!!! Thank you for making it possible Camila! Fam Luding
---
My boyfriend and I enjoyed every minute at this very unique property. The house has a special and peaceful atmosphere, beautifully decorated and with amazing views. Pati was a great host, the house was well heated, very clean and had everything we needed to spend a great relaxing break away from the stressfull daily life. Nights where quite fresh but the south oriented terraces allowed us an early and warm sunbath in February! Frigiliana, one of the most beautiful villages in Spain was only 5 minutes drive from the house. We also visited the Alhambra, just 1.30h drive. My only regret is that I wish I could have had more time to spend around the house, just relaxing! We will certainly return.
---