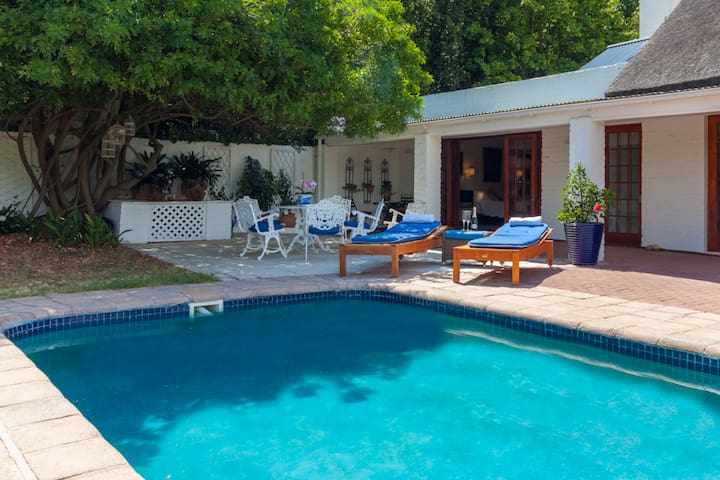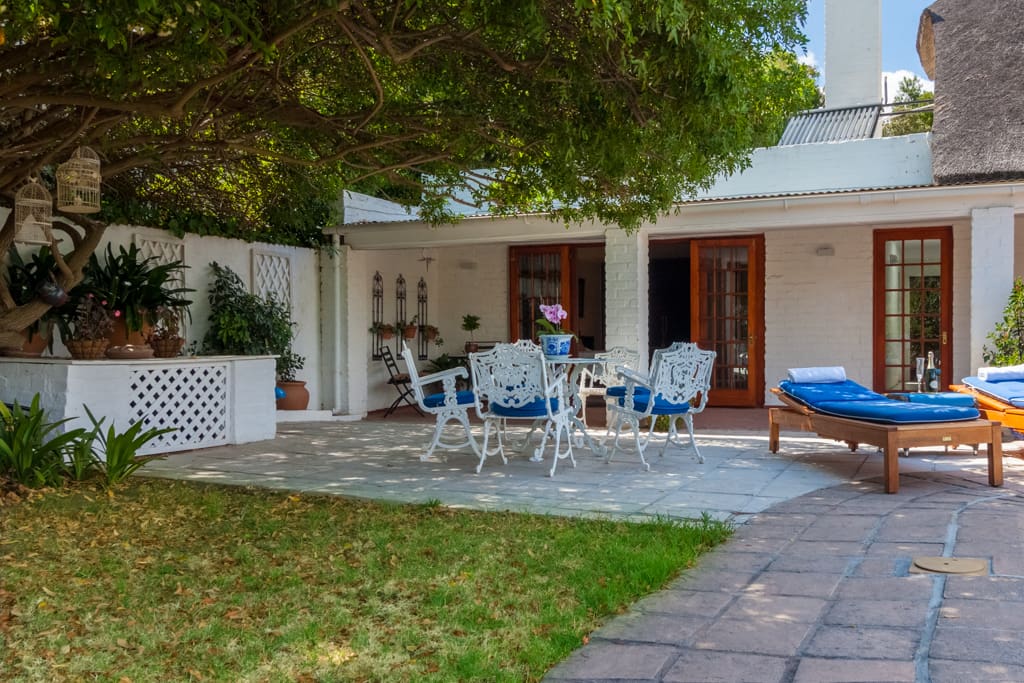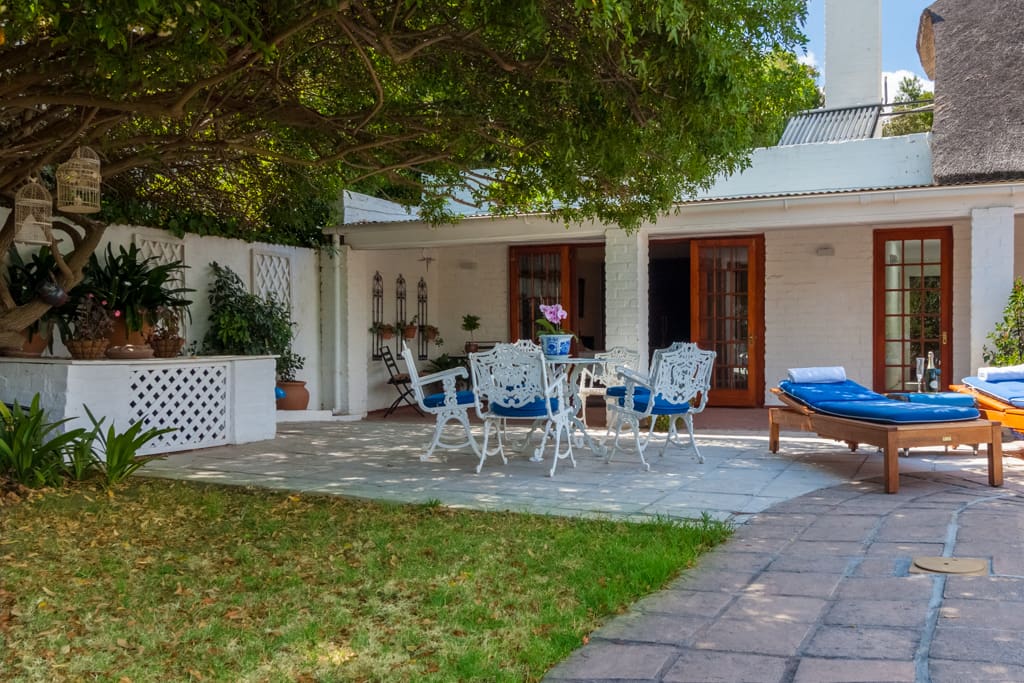 We are a new listing! A five minute stroll to the town centre. The suite is completely self contained and beautifully appointed with a private entrance to the property. There is full TV bouquet. The unit has its own patio and eating area overlooking a beautiful garden and pool. The kitchenette has a fridge, microwave, hob, sink, kettle, toaster etc. The pool area has two loungers for your use after a hard day of wine tasting and eating at our wonderful restaurants! There is also a sauna.
房客使用权限
Private entrance to the property and use of the private patio and pool area. A barbecue is also available for your use
与房客的互动
Marilyn and I will be delighted to assist with any queries or questions you may have. I am a qualified Tourist Guide and conduct wine tours of the area. We also love eating out so we can certainly advise you on the many restaurants in the area.
其他注意事项
Franschhoek Restaurant Guide By Brian Moor
Updated 11 January 2017
Introduction
What follows does not represent all the eateries in the area but rather the ones that we recommend or prefer.
Some restaurants do not open at night and some close out of season. It is advisable to book in advance. This is not necessary for the casual "drop in" eateries along the main street.
For lunches, we would advise that you eat at the wine estate restaurants, most of which have great views and atmosphere.
The 2016 Eat Out Top Ten Restaurants in South Africa Awards were recently announced. Three Franschhoek restaurants featured, namely The Tasting Room at Le Quartier Francais, Foliage and The Kitchen at Maison.
Restaurant at La Petite Ferme Wine Estate
Good food with probably the best view of the Franschhoek valley. Wine tasting by prior arrangement. Also a great place to sit in the garden with a glass or two of wine.
Restaurant at Haute Cabrière Wine Estate
Also has a great view of the valley. There is a small outside eating area and the main restaurant is in a cave like structure which is rather unusual. We have always had good food there.
Le Lude Wine Estate – Orangerie Restaurant
Very elegant restaurant with inside and outside seating. The chef had a stint at Le Gavroche in London. The estate only bottles bubbly.
Restaurant at Holden Manz Wine Estate
If you decide to go there, make sure that you book a table with a view. We have only had one meal there which good to average.
Café Bon Bon at La Petite Dauphine Wine Estate
A great place for an alfresco breakfast on a good day. Very pretty setting. The restaurant is also open for lunch and dinner. We have had mixed experiences with lunch and dinner.
Tuk Tuk Micro Brewery
A fun microbrewery on the main road which serves very good tappas type Mexican food.
Marigold Indian Restaurant
Recently opened, it serves good upmarket North Indian food. We went there very shortly after it had opened and the service was wonky. It doubtless has improved with time. On the main road towards the Huguenot monument.
Foliage
Number nine, 2016 Eat Out Top Ten Restaurants in South Africa
On the main road. An acclaimed "foodie" restaurant which has received very good reviews. From a personal point of view we have found the food to range from excellent to "trying to be too clever".
Café des Arts
Off the main street tucked away next to the library. This is one of our regular haunts which is very popular with the locals. Unpretentious interior with very good food. There is an outside eating area under the trees. Also good for breakfast.
The Tasting Room at Le Quartier Français
Number four, 2016 Eat Out Top Ten Restaurants in South Africa Awards
On the main street. This is one of South Africa's most famous restaurants and has regularly featured in the Pellegrino Top Restaurants of the World list. A very happy place for Foodies! We were there a few months ago and had a multi course wine paired menu which was outstanding. It is expensive but worth it. Not open for lunch and booking well in advance is essential.
From August, the premises will be taken over by La Colome which is currently situated in Hout Bay and is number two 2016 Eat Out Top Ten Restaurants in South Africa Awards. I have had two superb meals there.
Mellissa's
A very pretty setting surrounded by art shops, in an alcove off the main street. Best for breakfast or coffee and casual lunches. Stodgy cakes!
Sacred Ground
A casual eatery in the main street next to the Wine Tram booking office. Good quality fresh food. We have on occasion experienced bad service.
Allora
In the same complex as Sacred Ground. Well priced Italian eatery and pizzeria.
Le Bon Vivant
Up market restaurant in a side road off the main street. Pleasant garden setting with good food.
Café Franschhoek
In the main street. Casual eatery with an interesting breakfast menu. Good homemade burgers.
Elephant and Barrel
Pretty typical pub food. Located down an alleyway off the main street.
French Connection
Our regular! Very good bistro food and consistent quality. On the main street.
Colcacchio
On the main street. A franchise pizzeria very popular with families.
BICCS
On the main street opposite Colcacchio . A favourite casual coffee shop for the locals who take advantage of the free Wi-Fi. Good quality food.
Ryan's Kitchen
Also on the main street. Upmarket and quite pricey. Generally we have had good experiences there.
Mont Rochelle Wine Estate– Miko and The Country Kitchen Restaurants.
Mont Rochelle hotel and wine estate is owned by Richard Branson. Miko restaurant is located in the hotel and has a great view of the valley and the town. It is upmarket and we recently had a very good meal there. However, recently we have been receiving mixed reviews.
The Country Kitchen is located at the wine tasting building. It serves casual tappas type food which is useful to help soak up the effects of the wine tasting!
Franschhoek Cellars
On the main street as you enter the village. It offers well priced, mainly informal food. You can also experience three separate wine tastings within the building. It has a supervised play area for children.
Racine at Chamonix Wine Estate
Very good. Up a side road off the main street. One of our favourites. This fairly upmarket restaurant looks out onto a small green forest and stream. Reuben Riffel who is one of South Africa's most well-known Chefs oversees the running of the restaurant.
The wines at Chamonix are amongst the best in the valley. The wine tasting area is very cosy and traditional.
Roca at Dieu Donne Wine Estate
This is further up the hill from Racine. We don't rate the restaurant as amongst the best in Franschhoek but the views, particularly at sunset, are spectacular. Make sure you book a table close to the windows. There is also an alfresco eating and drinking area.
We find the wines at Dieu Donne a bit disappointing.
The Village Grill
On the main road as you approach the village. A pretty typical fairly upmarket South African steak restaurant.
Grande Provence Wine Estate Restaurant
On the main road as you come into Franschhoek. This is an excellent fine dining restaurant in a beautiful setting. It is pricey and is aimed at well healed foreign tourists. The Executive Chef, who is a tennis buddy of mine, invited us for a wine paired dinner a few weeks ago which was superb.
Paulina's at Rickety Bridge Wine Estate
This was a regular for us when we first moved to Franschhoek. It provided a limited menu selection of well-priced good food with a view over the vineyards. A new chef arrived and the standard dropped a bit. We have not been back recently.
We do not rate some of Rickety Bridge wines very highly. Their bubbly has recently won some prestigious awards.
The Kitchen at Maison Wine Estate
Number eight, 2016 Eat Out Top Ten Restaurants in South Africa Awards
On the main road as you approach Franschhoek. Fine dining and pricey with a lovely outlook over the vineyards.
Pierneef at La Motte Wine Estate
Nominated for the 2016 top ten restaurant awards.
On the main road as you approach the village. A visit to La Motte estate should definitely be on your list. It has very beautiful gardens and sculptures as well as an art gallery which houses works by some of South Africa's most well-known artists.
Pierneef restaurant is upmarket and the menu generally includes some typically South African dishes.
Bread and Wine at Moreson Wine Estate
The entrance is opposite La Motte. Bread and Wine restaurant is one of our favourites. The outside dining area is particularly attractive and the food consistently good. At the time of writing the restaurant offers a choice of either two or three courses at fixed prices.
The wine at Moreson is excellent so make sure you do a tasting. Their Mercator Chardonnay is delicious.
Restaurant at Solms Delta Wine Estate
Also on the main road as you approach Franschhoek. My wife stables her horse there so we have had many meals in the restaurant and have yet to be disappointed.
Hand Made Chocolates
Franschhoek has three excellent chocolate shops. Huguenot Chocolates is situated next to the Franschhoek Tourist office. Auberge Chocolates is opposite the small Pick 'n Pay in the town centre. To my mind De Villiers Chocolates which is in Heritage Square next to Marigold Indian Restarant, is the best. It is also serves very good coffee, cakes and ice cream.
Restaurants a short drive from Franschhoek
Boschendal Wine Estate
A visit to Boschendal should also be on your itinerary. The historic manor house and gardens are beautiful. The Werf restaurant is an up market eatery in a lovely setting. We will be eating there for the first time on Boxing Day. There is a casual restaurant under the oaks which is super. You can also pre order picnic hampers.
The restaurant at Vrede and Lust Wine Estate
A casual well priced family eatery with a renowned bakery. The view from the wine tasting area is beautiful.
Rupert and Rothschild Wine Estate
We had an excellent food and wine paring there. Their wines (expensive) are regarded as some of the best in South Africa.
Cosecha restaurant at Noble Hill Wine Estate
Another favourite of ours. Great, reasonably priced Mexican tappas type food. Make sure you try the guacamole which is mixed at your table.
Restaurant at Glen Carlou Wine Estate
Also a favourite of ours. Fairly upmarket with a great view. Good wines too.
Delaire Graf Wine Estate
Delaire Graf estate which is on the Helshoogte (Hell's Heights) pass near Stellenbosch is definitely worth a visit. The owner has pumped an enormous amount of money into the estate to ensure that
(Delaire Graf continued)
it is spectacular. Stunning gardens, views and art work. It has two upmarket, pricey restaurants, The Delaire Graf Restaurant and Indochine (nominated for the 2016 top ten restaurant awards). Special occasion eateries.
Tokara Wine Estate
Very close to Delaire Graf. We recently had an excellent lunch at the a la carte restaurant. Up market with great views. The estate also has Deli Cat Essen which is a super place for breakfast or a casual lunch.
Stellenbosch Restaurants
Stellenbosch is a beautiful and historic town to visit. There are over 200 wine estates and many very good restaurants. Two stand out for us; Terrior and The Restaurant at Jordon Wine estate. Both were nominees for the 2016 South African Top Ten Restaurants list. The Restaurant at Jordon Wine Estate has a beautiful view across the Stellenbosch valley. In addition, Jordan wines are excellent.
We also had a great meal at Simonsig Wine Estate. As a matter of interest, Simonsig was the first South African wine estate to make sparkling wine using the champagne bottle-fermentation process.
Somerset West
Two of the 2016 Eat Out Top Ten Restaurants in South Africa are in Somerset West. Camphors (number ten) is at Vergelegen WineEstate. The estate and historic manor house are very beautiful and definitely worth a visit. The name of the restaurant was inspired by the magnificent Camphor trees in front of the manor house. The trees are over 300 years old and have been declared a national monument.
The other top ten restaurant in Somerset West is The Restaurant at Waterkloof (number three).
Happy eating and Drinking!