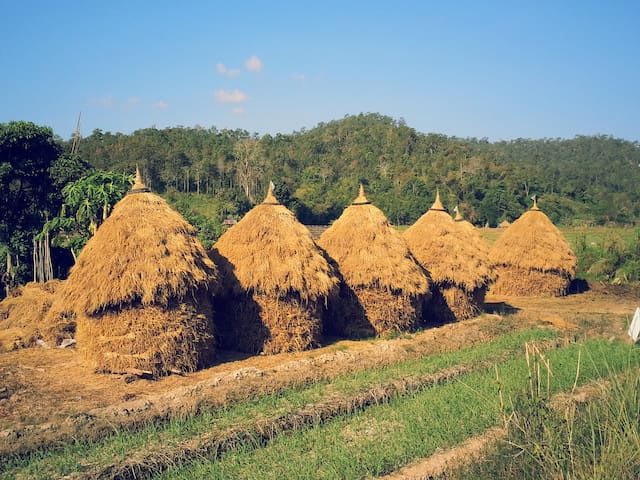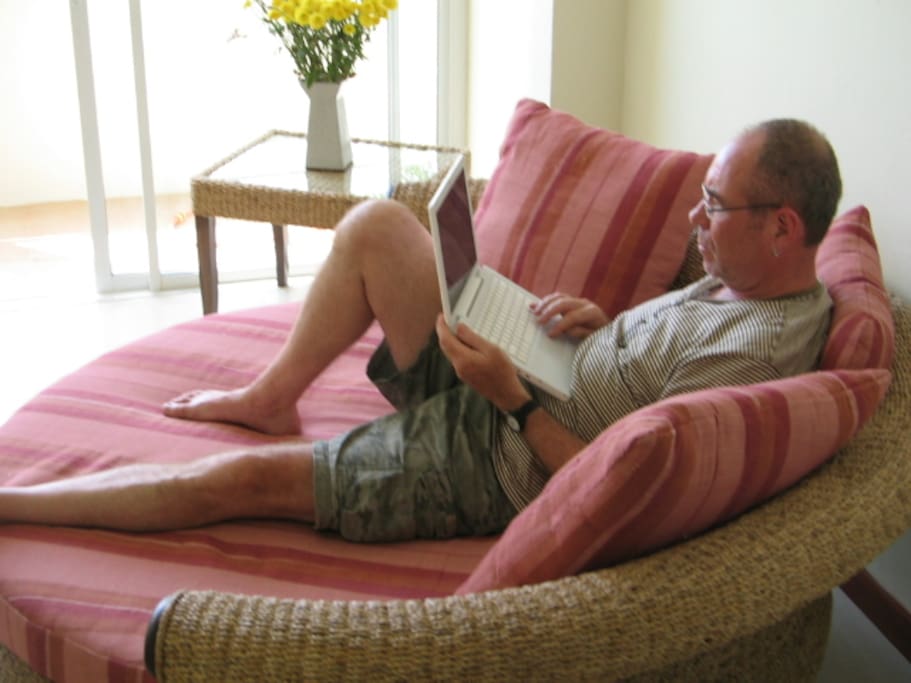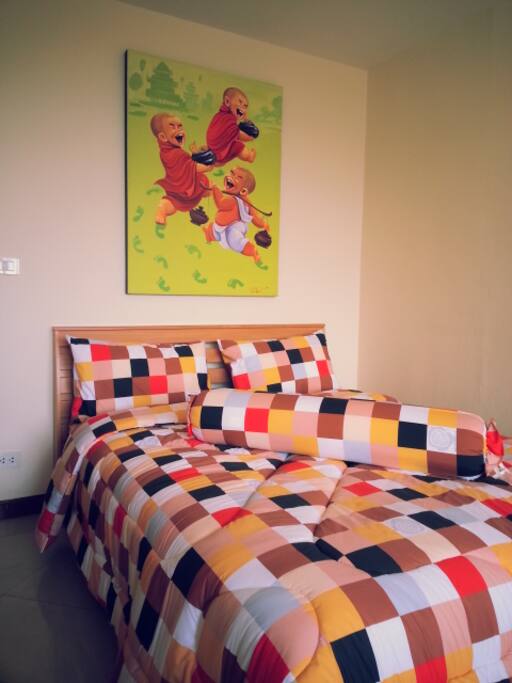 这个美丽的40平方米的公寓(不是一个房间)一直是受欢迎的,因为它非常舒适的圆形沙发和壮观的山景和大阳台的日落。桃色彩色的窗帘给放松的色调,使其成为午后小睡的理想场所,经过长时间的观光或游泳池的一天后,a / c。 其余的信息是在下面,但看看照片,他们会告诉你所有你需要知道的地方。
This beautiful 40 sqm apartment ( not a room ) has always being popular because of its extremely comfortable round sofa and the spectactular mountain views and sunsets from the large balcony. The peach coloured curtains give the place a relaxing hue making it perfect for an afternoon nap with the a/c on after a long days sightseeing or a day by the pool.
The rest of the information is underneath but have a look at the photos as they will tell you all you need to know about the place.
房源
靠近清迈火车站(无噪音),位于宁静的河流和高速公路南侧,距离着名的清迈夜市仅有10分钟路程,距离笃笃古城仅有10分钟的路程。清迈汽车总站距离酒店仅有5分钟的路程,距离清迈机场不到30分钟的出租车。如果您使用UBER应用程序,那么乘坐城市约40thb。 与靠近机场的Nimenhaemen路/大学区不同,这被称为一个安静的泰国社区,远离俱乐部,深夜酒吧和离港航班的噪音。如果你在清晨散步,你不会被醉酒的狂欢者绊倒(也许是我几次),而是当地的人们向当地的寺庙施舍僧侣。夜生活,外国餐馆和酒吧都只有大约10分钟的路程,所以你不是真的那么远从21世纪清迈,它不在你的脸上。 该建筑物拥有壮观的3米深的盐水游泳池,结合了一个美丽的热带瀑布,您可以在下面的地方下车,在炎热的清迈下午冷静下来。认真地说,你为什么甚至考虑在没有游泳池的情况下在热带地区租一间公寓。 有2部电梯和24小时保安,以及您的汽车或摩托车的免费停车场。 这是40平方米/ 450平方尺的住宅,而不是房间。两者之间有很大的区别,因为房间的面积大约为25平方米,很少有厨房或阳台可以放置多于一把椅子。实际的住宅公寓往往花费更多,但是您将拥有更多的空间,并且还可以在适当的厨房烹饪自己的饭菜,而不必使用水壶,烤面包机和迷你冰箱。 如果你想留在公寓里,那么确保你正在租一个公寓,如果你只是想留在一个房间,那么你可能会得到一个更好的交易在一个酒店,因为它是一样的事情。 床是一个女王大小,并配有一个Goldilocks认可的床垫,我将其分类为一个媒介,当坚持,所以它不是太难,不软。待定的可用性我可以为您提供一个乳胶床垫打顶器,如果你发现它太坚定。 你可以选择枕头的方式,软或硬,但让我知道,在你来之前,你喜欢。在炎热的季节,我们提供了浅毛毯,在凉爽的季节,提供了一件较重的羽绒被。 如果您使用CPAP机器旅行,请提前通知我,我可以为您提供一张桌子旁边的床,一个延长电源线,如果需要,还有一些挂钩将软管挂在浴室里。 如果您正在与电子产品一起旅行,请确保您携带自己的旅行适配器,并记住,如果您来自美国或加拿大,这里的电力供应量为220-240伏特。 公寓设有一间设备齐全的厨房以及您所需要的一切。所有必要的烹饪东西都是提供的,如果有什么特别的,你需要的只是问我,因为我可能会在另一个单位。冰箱不是一个迷你酒吧,不像许多在这里广告的租赁,它是全尺寸,一个冷冻室大到足以存储加仑的冰淇淋。抽油烟机将厨房的气味保持在公寓外。 如果您属于禁止吃猪肉的宗教团体之一,那么我可以为您提供一套特别的锅和锅,没有在其中烹制猪肉,但必须在预订时通知我,您需要他们。 每位客人都提供一个24瓶过滤饮用水的免费箱子,以及各种茶,咖啡和一些小吃。 如果你是一个咖啡迷,正在考虑租一辆摩托车,我可以给你一个咖啡种植园的地图,大约一个小时从清迈的山脉,你可以买到新鲜的烤山咖啡豆,看着那位女士的手把它们磨在前面您。 有些人晚上到达,需要食物,所以请记住,在建筑旁边有一个24小时的7-11商店,或者您可以从我在公寓的清迈餐厅列表中订购。 有一个带桌子和椅子的大阳台,您可以在晚上坐下,或者享用晚餐或享用清凉饮品的美景。一些公寓阳台上种植有茉莉花,晚上散发出可爱的气味。大多数人在阳台上度过夜晚,因为这里的天气非常醇厚,几乎就像有额外的空间。 淋浴有24小时热水和淋浴喷头 足够高以适应较高的游客。如果您喜欢不同的清洁体验,那么您可以在厕所旁边安装一个烧伤软管或任何您想要的配件。请务必首先检查压力设置。 包括卫生纸和毛巾,但如果您忘记了任何其他基本的洗浴用品,隔壁7-11店将始终拥有您最喜爱的洗发水,牙膏或肥皂。 在大楼的大厅里有洗衣机和干衣机,或者你可以在路上看洗衣服,那位女士将以非常合理的价格洗衣服。 公寓确实有基本的清洁材料和设备,但如果你感到懒惰(这是允许当你在度假时),我可以安排让女佣过来,为您清洁公寓只有7.00美元。 公寓最多可入住2人。 如果你和小孩一起旅行,我会有另一个单位,大致相同的价格是稍大一点,有足够的地板空间的折叠床垫。 欢迎儿童(2人),如果12岁以下,可以免费入住该单位。只要您入住至少1周,我将免费提供折叠床垫,床单和枕头。如果可用,应该在这里刊登广告或者请与我联系。 如果您与成年人一起旅行,成年人足以保持独自一人,那么如果我有空房,我可以在同一栋建筑的另一个单位容纳他们。在预订时请问我,如果我能给你第二个单位的特价。 公寓有一个快速的无线网络连接,到目前为止没有关于它的速度的投诉。公寓有有线电视,所有电视都有USB / HDMI端口,但您需要自备电缆。 电视有一个基本的有线网络,有很多国际频道和一些肮脏的电影频道,你可以一次又一次地再次看到回到未来1-5和爪子1-20的经典。花时间在阳台上观看视图,更加愉快。 所以希望以上涵盖了一切。如果您有任何疑问或需要任何其他信息,请随时问我。 在清迈见到你。
It is located close to the Chiang Mai Railway Station ( no noise ) on the quieter Southern side of the city between the River and the Highway and it is only 10 minutes away from the famous Chiang Mai Night Bazaar and the old city by Tuk Tuk. The main Chiang Mai Bus Station is just 5 minutes away and the Chiang Mai Airport is under 30 minutes away by Taxi. If you use the UBER app then a ride into the city is about 40thb.
Unlike the Nimenhaemen Road / University Area that is close to the Airport, this is known as a quiet Thai neighborhood and it is well away from the noise of the clubs, late night bars and departing flights. If you are out for an early morning walk you will not be greeted by drunken revelers stumbling home ( maybe me a few times ) but local people who are out giving alms to the Monks from the local Temple. The nightlife, foreign restaurants and the bars are all only about 10 minutes away so you are not really that far from 21st century Chiang Mai and it is not in your face.
The building has spectacular 3 meter deep salt water swimming pools which incorporates a beautiful tropical waterfall that you can hang out underneath to cool yourself down on a hot Chiang Mai afternoon. Seriously, why would you even consider renting an apartment in the tropics without a swimming pool.
There are 2 elevators and 24 hour security as well as lots of FREE parking for your car or motorbike.
This is a residential apartment of 40 sqm / 450 sqf in size and not a room. There is a big difference between the two as rooms tend to be around 25 sqm in size and rarely have kitchens or balconies that can fit more than one chair. Actual residential apartments tend to cost a little more but then you will have a lot more space and also the ability to cook your own meals in a proper kitchen as opposed to having to just work with a kettle, toaster and mini fridge.
If you are looking to stay in an apartment then make sure you are renting an apartment, if you are looking to just stay in a room then you might get a better deal in a hotel because it is just about the same thing.
The bed is a Queen size and comes with a Goldilocks approved mattress that I would classify as being a medium when it comes to firmness so it is not too hard and not to soft. Pending availability I can provide you with a latex mattress topper if you find it too firm.
You have a choice of pillows by the way, soft or hard but let me know before you come what you prefer. During the hot season here light blankets are provided and during the cool season a heavier duvet quilt is provided.
If you are travelling with a CPAP machine then let me know in advance and I can provide you with a small table for beside the bed, an extension power lead if needed and some hooks to hang the hoses to dry in the bathroom.
If you are travelling with electronics please make sure that you bring your own travel adaptor with you and keep in mind that if you are coming from the USA or Canada that the electricity supply here is 220-240 Volts.
The Apartment has a full kitchen and everything you would need to cook a decent meal. All the necessary cooking stuff is provided and if there is something special you need just ask me as I might have it in another unit. The fridge is not a mini bar unlike many of the rentals advertised here, it is full size with a freezer compartment big enough to store gallons of ice cream. An extractor hood keeps the smell of the cooking out of the apartment.
If you belong to one of the religious group that prohibits the eating of pork then I can provide you with a special set of pots and pans that have not had pork cooked in them but you must notify me in at the time of booking that you require them.
Every Guest is provided with a free crate of 24 bottles of filtered drinking water as well as a selection of tea, coffee and some snacks.
If you are a coffee fan and are considering renting a motorbike I can give you a map to a coffee plantation about one hour from Chiang Mai in the mountains where you can buy freshly roasted mountain coffee beans and watch the lady hand grind them in front of you.
Some people arrive late in the evening and need food so keep in mind that there is a 24 hour 7-11 store just beside the building or you can order in from a list of great Chiang Mai restaurants that I have in the apartment.
There is a large balcony with a table and chairs on it so you can sit out in the evening and either have dinner or enjoy the views with a cool drink. Some of the apartment balconies are planted with jasmine which gives off a lovely scent in the late evenings. Most people spend their evenings on the balcony as the weather here is so mellow and it is almost like having a extra room.
The shower has 24 hour hot water and the shower heads are fitted high enough to accommodate the taller Guest. There is a bum hose or whatever you want to call it fitted beside the toilet if you fancy a different cleaning experience. Be sure to check the pressure setting first.
Toilet paper and towels are included but if you forget any of the other basic toiletries the 7-11 store next door will always have your favourite shampoo, toothpaste or soap.
There are washers and a dryer in the lobby of the building or you can visit the laundry up the road and the lady will wash and dry your clothes for a very reasonable price.
The apartment does have basic cleaning materials and equipment but if you are feeling lazy ( which is allowed when you are on holiday ) I can arrange to have the Maid come over and clean the apartment for you for just 7.00 USD.
A maximum of 2 people can stay in the Apartment.
If you are travelling with small kids I do have another unit for roughly the same price that is slightly larger where there is enough floor space for a fold out mattress.
Kids ( 2 ) are welcome and can stay for free in that unit if they are under 12. I will provide you with a fold out mattress, sheets and pillows at no extra charge as long as you are staying for a minimum of 1 week. If it is available it should be advertised here or please contact me.
If you are travelling with adult kids who are mature enough to stay alone then I can accommodate them in another unit in the same building if I have availability. Just ask me at the time of booking and if I can I will give you a special rate for the second unit.
The Apartment has a fast Wi-Fi connection and so far there have been no complaints regarding its speed. The apartment has cable TV and all televisions have a USB / HDMI port but you need to bring your own cables.
The TV has a basic cable network and there are quite a few international channels and some crappy movie channels where you can watch classics like Back to the Future 1-5 and Jaws 1-20 again and again and again. Spend your time on the balcony watching the views as its much more enjoyable.
So hopefully the above covers everything. If you have questions or need additional information about anything feel free to ask me.
See you in Chiang Mai soon.
房客使用权限
客人可以在住宿期间使用他们住在的公寓,如我们所有参加的airbnb协议所概述。 客人还可以使用建筑中的游泳池,只要他们遵守公寓管理旁边的游泳池张贴的规则和规定。与世界各地的所有游泳池一样,他们确实需要定期维护/清洁,有时在这项工作完成时关闭几天。我没有提前通知关闭,如果您在逗留期间的任何时间找到游泳池,我将不胜感激您的理解。 停车是免费的,但请按照保安人员的指示,您可以停放在哪里(如果您能理解他),以及世界各地所有停车场的情况,我们不对您的任何损失或损害负责车辆或其内容。
Guests have the use of the Apartment they are staying in for the duration of their stay as outlined in the airbnb agreement we are all party to.
Guests can also use the pool in the building as long as they adhere to the displayed rules and regulations that are posted by the Condominium Management beside the pool. As with all pools everywhere in the world they do need to be maintained / cleaned on a regular basis and sometimes it is closed for a few days while this work is being done. I am not given any advance notice of closings and I would appreciate your understanding in this matter should you find the pool off limits at any time during your stay.
Parking is free but please follow the instructions of the Security Guard as to where you can park ( if you can understand him ) and as is the case in all parking lots everywhere in the world, we are not responsible for any loss or damage to your vehicle or its contents.
与房客的互动
There is always someone available 24 hours a day should you have a problems or an emergency and I am more than happy to answer any questions you might have about Chiang Mai, Restaurants, Music venues or great places to visit in and around the city.
Never feel that you are " bothering me " if you need to call me at any time of the day or night as I am always happy to do what I can to help you make the most of your stay here in Chiang Mai.
其他注意事项
泰国皇家警察局和泰国移民局要求所有在住宅物业或酒店过夜居住的外国人必须向其登记。作为财产的所有者,我有责任看到这个规则是坚持的,否则我将被罚款。 抵达时和入住时,请提供护照的身份证复印件和入境事务主任第一次通过移民局时将您的护照复印到您的护照上的复印件抵达泰国然后将此信息转发给泰国皇家移民局。 你会发现,当你通过泰国旅行时,每次你进入酒店,宾馆或公寓时都会要求你提供完全相同的信息。 我有一台复印机,如果你忘记拿到手上的副本。 泰国刚刚颁布了世界上最严格的互联网审查法,阻止了许多国际网站,他们认为攻势性赌博网站,一些新闻网站和批评军方或君主制的网站。如果您想在公寓中使用互联网,您必须了解这一点,并且试图规避这些网站上的街区现在在泰国被认为是违法的。 请保持与大哥正在看的网站观看或发布。 另请注意,法律规定您必须随时携带您的护照或您的护照副本。另外,如果您租用摩托车,您必须拥有有效的国际驾驶执照以及您的常规许可证,因为我保证您将被停止并被罚款。 交通警察每天都有检查站,抓住和罚款不戴头盔的人,外国人没有正确的文件。
The Royal Thai Police and Thai Immigration require that all Foreigners residing overnight in a residential property or a hotel be must registered with them. As the Owner of the property it is my responsibility to see that this rule is adhered to or I will be fined.
On arrival and at check in please have a photocopy of the ID page of your Passport(s) and a photocopy of the white TIN card that is stapled into your passport(s) by the Immigration Officer when you passed through Immigration the first time you arrived in Thailand. This information is then forwarded to the Royal Thai Immigration.
You will find that as you travel through Thailand you will be asked for exactly the same information every time you check in to a hotel, guest house or apartment.
I have a photocopy machine should you forget to get the copies before hand.
Thailand has just enacted some of the strictest internet censorship laws in the world and blocks many international websites that they consider offensive, gambling websites, some news websites and sites that criticize the Military or the Monarchy. If you wish to use the internet in the apartment you must be aware of this and any attempt to circumvent the blocks on these sites is now considered an offence in Thailand.
Please be conservative with what you view or post online as big brother is watching.
Please also note that you are required by law to carry your Passport or a copy of your Passport on your person at all times here. Also if you are renting a motorbike you MUST have a valid INTERNATIONAL driving license as well as your regular license as I guarantee you that you will be stopped and fined for not having one.
The traffic police have checkpoints all around the city everyday to catch and fine people who do not wear helmets or foreigners who do not have all the correct documents.
---
---
始终通过爱彼迎进行交流
为了保护您的账号隐私和付款安全,请不要相信其它任何平台的折扣或优惠券代订,并始终在爱彼迎站内转账和交流。
了解更多
---
No Smoking inside the apartment but you can smoke on the balcony as long as it does not disturb other residents.
No noise on the balcony after 10 pm. ( Neighbours get cranky )
No candles or incense in the apartment.
The cooking of microwave popcorn with butter in the apartment carries the death penality.
Please throw your rubbish out every day unless you really like ants.
Close all windows, lock the balcony doors and turn off A/C when you go
out.
Keep the unit clean and do not wear your shoes inside the Apartment.
Only the people who are on the reservation can stay in the Apartment. Third party bookings are not allowed and the person who is checking in must be the person who made the booking and whose profile / account the booking was made under.
If you break something just let me know, things are cheap and easy to replace here.
I am not responsible for any loss or damage to your personal property.
And the most important rule : Have fun and enjoy your stay in Chiang Mai.
---
---
---
---
Dee couldn't have been more accommodating. Checked me in, personally. Even suggested a few places to eat, including me following him on my scooter (Dee on his scooter) to dine at a couple places. The condo has a fantastic high rise view, an awesome pool (had it to myself most swims), and is just far enough away (but still close) from the tourist area to be completely quiet. The food is even cheaper in this part of town, with a great market within walking distance. Can't beat this condo's value!!
---
Great apartment, great host! Dee lives in the flat above so he's always there and knows everything about Chiang Mai so is a great source of advice. The apartment itself has a great view (can watch the sunset over the mountains of Chiang Mai). The bed is very comfortable. The apartment is right next to the train station so it's quite close to the main town centre. Burger King delivers to this apartment! The building's pool is on the second floor, it's quite large and is very clean. We'd definitely stay here on our next visit to Chiang Mai. Highly recommended!
---
Dee is very easy to communicate with. He responds quickly and the space is even nicer than the pictures make it seem. Everything is very clean and comfortable. There are lots of local restaurants and street food venders close by and Dee knows all the best places to eat!! It's only a half an hour walk into the old town!! Nice to be away from all the tourists and hustle and be closer to the locals. We adored our 8 days there and wish we had more time! Dee is one of the best hosts we have had on airbnb!
---
Loved staying here on our honeymoon! Beautiful sunset views! The pool was a perfect retreat in the middle of a hot day. Also having the water bottles provided was a great way to save a few bucks, but also eco-friendly as the bottles are from a local company that sanitizes and reuses them. Great location, especially if you arrive by train. Close enough to the old city (10-15 minute drive) but nestled in a mostly Thai community. Scooter rental downstairs. Last but not least, Dee was very helpful with suggestions for food, transportation, things to see our places to visit, and just overall a very nice guy. Can't go wrong with this place!
---
I have travelled the world quite a bit and stayed in my fair share of dumpy guesthouses and hotels when I was younger.
Now that I am a little longer in the tooth I tend to be a lot fussier with where I stay and my expectations are a lot higher.
I know what I want and and expect to get for my hard earned money these days and I will stop at nothing to make sure that you get exactly what you want and are paying for.

I am available 24 hours a day and on site should you have any problems and will do whatever is needed ( besides backflips ) to make your stay with me is one of the highlights of your holiday in Chiang Mai.

Since I eat 3-8 times a day I am very familar with some of the unique restaurants here in Chiang Mai that never pop up in the guide books. I am always happy to point you in the direction of some of my favourite little places and answer any questions you might have about what to do or see here.

See you soon.
语言:
English、ภาษาไทย