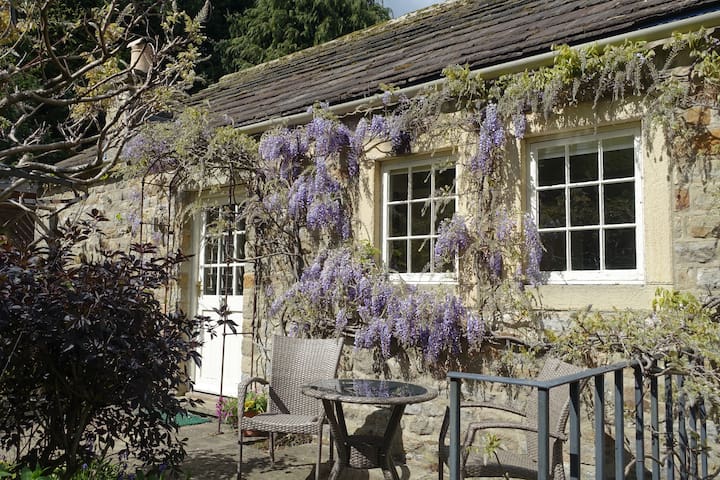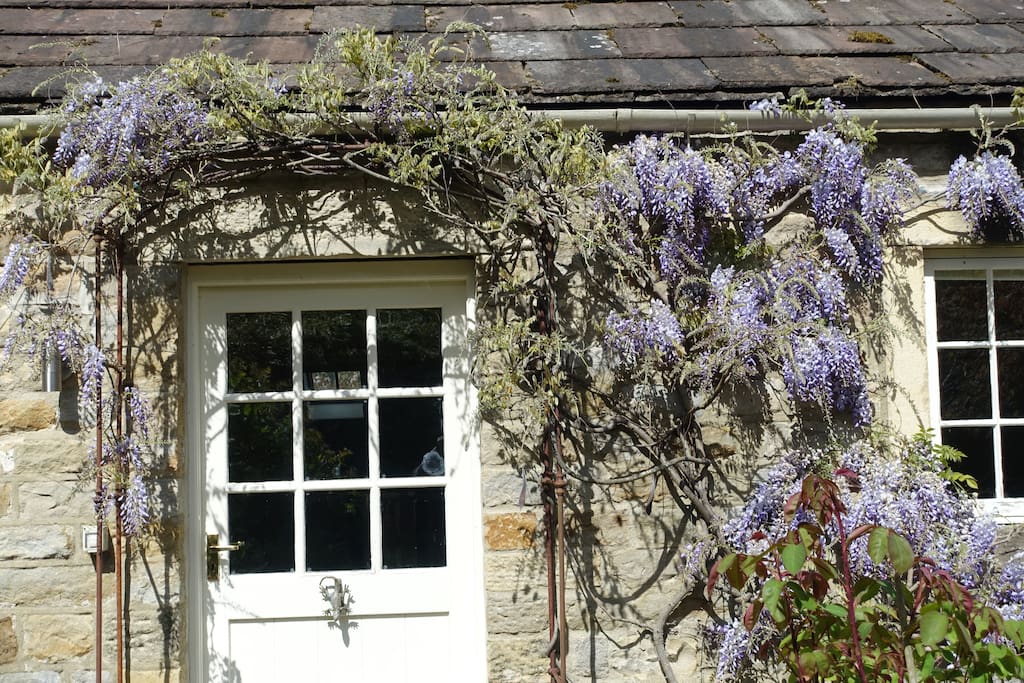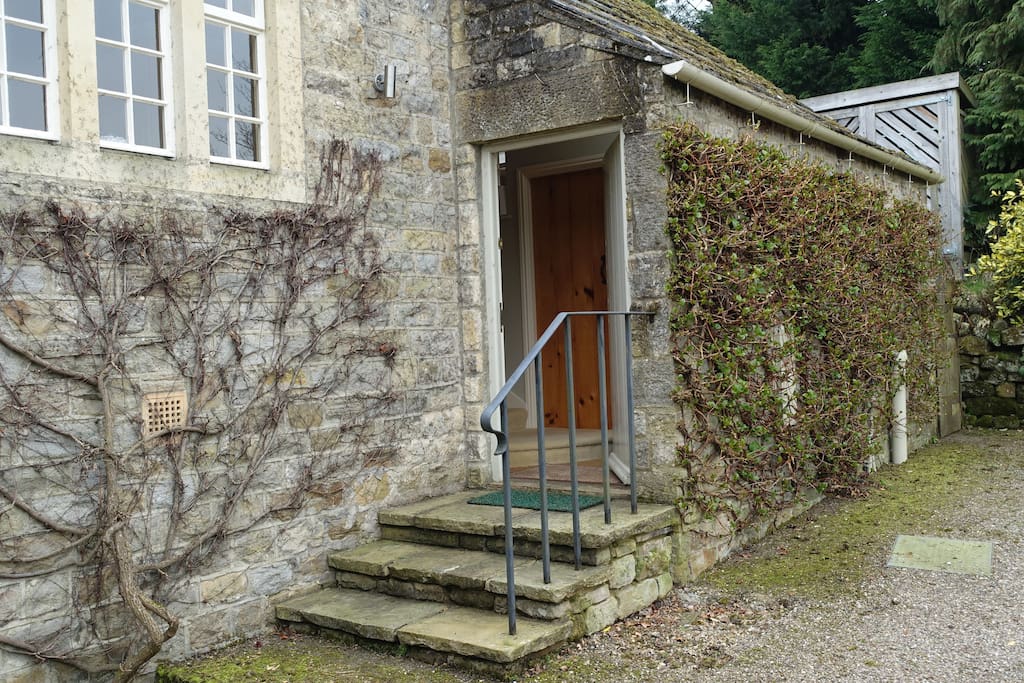 Thornhill cottage is set in the beautiful Dales village of Ramsgill at the heart of Nidderdale (an area of outstanding natural beauty) and close to Gouthwaite reservoir (a nature reserve and site of special scientific interest) with wonderful walks and bird life. Fully modernised, this 17th century one-bedroomed cottage has private access, ample off road parking, a private garden terrace and splendid views. A cot and/or folding single bed can also be provided on request. One Dog considered.
One dog only will be considered
We had a great time staying at Lynn's lovely cottage in a beautiful rural setting. Lynn's welcome was warm, and the cottage was clean, comfortable, and well equipped for cooking. There are plenty of books, maps, and pamphlets for exploring the area. The wireless internet was reliable. If you are looking for a charming, quiet spot from which to explore the Nidderdale countryside, the cottage is perfect, and a good value. We took Lynn's advice and went to the Sportsman's Arms near Pately Bridge, for Sunday lunch in the restaurant, and enjoyed both the fine food and characterful atmosphere. The start-up food supplies that Lynn provide (eggs, milk, juice, bread, fruit, biscuits, and homemade brownies) are generous and of high quality.
---
Lynne's scenic cottage was spotlessly clean and very cosy. Beautiful garden. Fantastically located for walks. Nice touches such as homemade brownies and bread (and chocolate on the bed stand) show she goes the extra mile to make guests feel welcome. Communication was prompt. Definitely recommended.
---
We stayed here for 3 nights at the end of April to watch one of the Tour de Yorkshire stages and can't wait to go back. The apartment is fabulous, the photos don't do it justice. It has so much character and charm and Lynne has made it feel really homely. As others have said, it's the lots of Lynne's little touches that really sets it apart. In the fridge there was fresh milk, butter, cheese, orange juice, apple juice and, oh yeah, a bottle of wine! We had fresh bread, coffee (instant and filter), tea and ginger parkin biscuits. And of course that homemade cake, if you ever stay you'll understand! Considering this is self catering accommodation this goes way beyond what you would normally expect. We had originally booked 2 nights but stayed an extra night, luckily there was nobody else booked for that night and Lynne sorted it an hour later. The area is lovely and peaceful too, we brought our bikes and it's a great base to do some exploring. We were able to lock our bikes in a shed on the property which was great, though to be honest you could safely leave them outside as you have your own drive with timber gates. I could go on about this place for another hour but it really is that nice. It feels like coming home.
---
Lynne's place is our favourite air bnb stay so far, and we have done quite a few around the world. Great communication, warm welcome, clean and very comfortable home and so many gorgeous extras including fluffy bathrobes and very tasty brownies!!! We stayed for 3 nights with our 6 months old son and could have stayed longer - the local pubs, walks and food scene were a great discovery. Lynne is an absolute gem and we cannot recommend this place enough!!!
---
Lynne met us to show us here stunning little pice of paradise. The Accommodation was excellent, comfortable warm & quiet. Lynne had left a nice bottle of white wine in the fridge, local eggs, bread, milk, butter, Orang juice, tea coffee & biscuits not to mention a lemon drizzle cake to die for. Lynne has a lovely home in the hart of Nidderdale with the added bonus of being opposite the Yoke Arms, a Michelin stared restaurant which is well worth a visit especially as it's only a stroll away. If you fancy something more casual the Crown at Lofthouse was very friendly with generous portion when it came to ordering food. The local area is stunning and would be a walkers paradise. You are surrounded by beautifully present market towns in every direction you care to travel. Highly recommend a visit you won't be disappointed.
---
We only had a couple of nights to enjoy this lovely apartment but thoroughly enjoyed our visit. Lynne was very welcoming and provided thoughtful goodies to enhance our stay. Wine, chocolate brownies, eggs, bread, milk, butter, fruit, tea , coffee...above and beyond any expectations. The apartment is tastefully decorated and provides everything you need for a comfortable stay. It wasn't cold enough to warrant lighting the fire but it would make things wonderfully cosy in colder months. The location is very convenient for exploring the Nidderdale Valley and a stone's throw from The Yorke Arms. We were a little anxious about our two dogs and cream carpets but we took plenty of dog towels and Lynne provided them too! She's thought of everything...
Jacqui, You left everything fantastic, thank you so much . We do hope to share our home with you again in the future. Did you get my message about your husbands cap? And me posting it on to you? If I give you my email address you can give me your home address without it being on your profile ? (EMAIL HIDDEN) Best wishes Lynne.
---