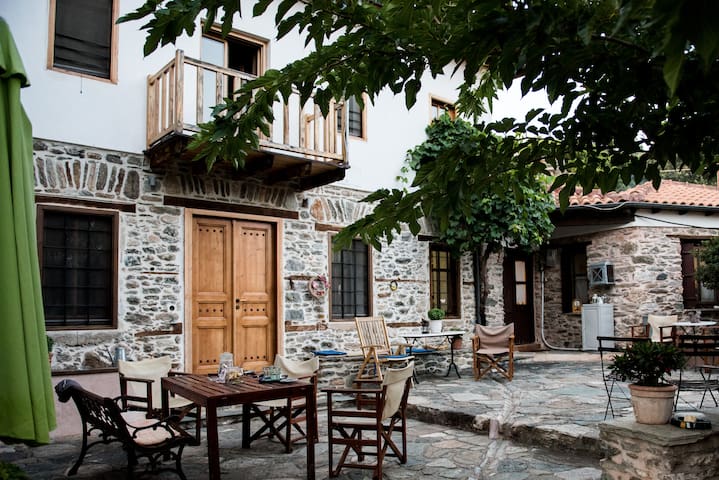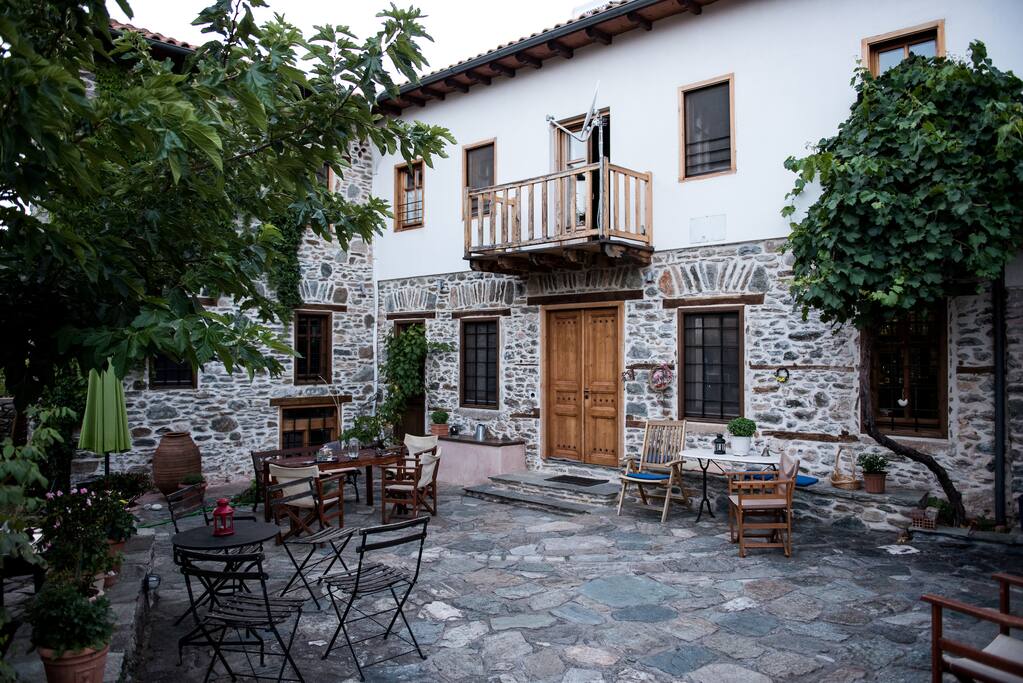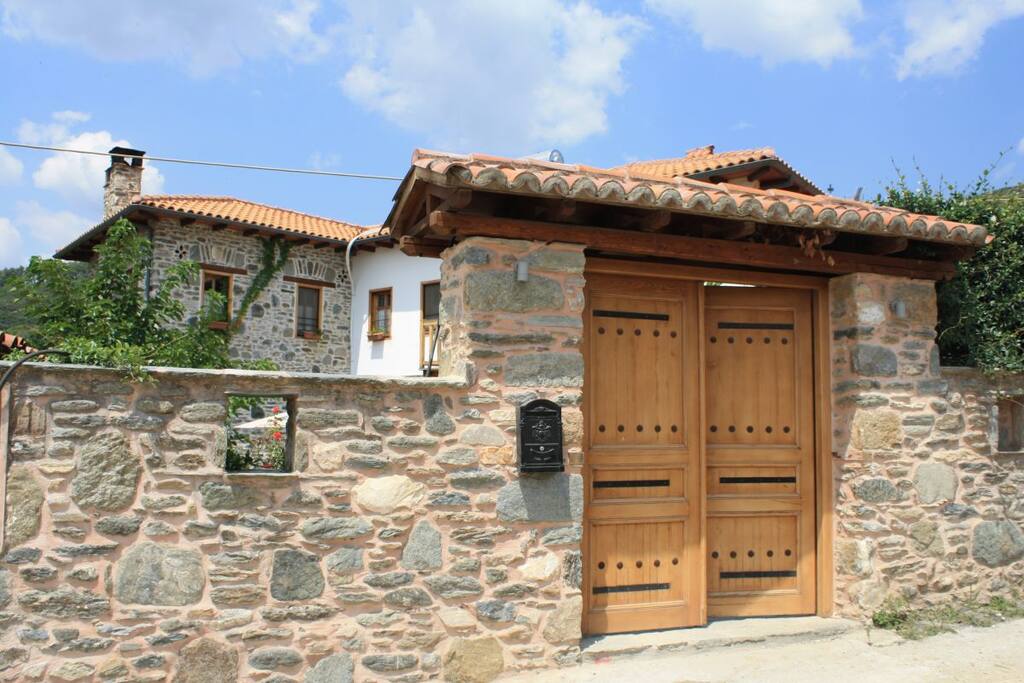 House/Mansion Hatzimichali, Metaxochori, Agia
Metaxohori (altitude 300 meters) is one of the most beautiful villages in Thessaly and is situated at the foot of Mount Kissavos (altitude 1978m). The Hatzimichalis mansion is one of the most dominant buildings in the village and is situated 50 meters away from the central square, possibly the most picturesque square in the coastal region of the Larisa Prefecture.
房源
The Hatzimichalis house is a restored neoclassical masterpiece of unique architecture, built before 1810, and named after the family. The family Hatzimichalis, with British ancestors from Kerkyra - practitioners and benefactors of the Agia region, were silk merchants as well as scholars with Theodore and Alcibiades Hatzimichalis their main representatives. The former was considered to be the greatest scholar of the Province.
This mansion is a preserved two-story house in which I reside permanently and my wife resides at times. The upper floor has 2 bedrooms and 2 large living rooms. In two of the bedrooms there are 2 double beds and there is the possibility to add a single bed to each bedroom. In each living room there is a single bed
There is also the potential for guests to sleep in either of the 2 lounges.
The lower floor has two bedrooms; one with a double bed and the other with a single bed and sofa-bed.
In the living room of the lower floor there is a fireplace for the winter months with 2 sofas which can be used as beds, one indeed as comfortable bed. The kitchen is large and located on the lower floor,where you can have coffee or tea for free.
The house has central heating and a fireplace on the lower floor while the upper floor has individual heating in two bedrooms and the bathroom. The house has 3 full bathrooms - one on the top and two on the lower floor.
The house also has a large yard that is appropriate for breakfast/lunch/dinner and evening relaxation in spring, summer and autumn months.
In Hatzimichalis house there exists, since 1850, a candle making workshop that, since being renovated, has become a small museum for art candle manufacturing.
The sea is 12 km away, about 15 minutes by car. The road is very good and access to the sea very easy. The coast is 10 km long with diverse scenery: picturesque beaches, forested hills, fantastic sea views. The Aegean sea is very clean and has a blue flag. There are several organized beaches with umbrellas, coffee bars, beach parties with internationally renowned d.j's, volleyball, tennis, ouzo, pizza, pasta. (July to September). Sea boat trips are available (July-September)
EXCURSIONS
Meteora, 1 ½ hours away. A formation of immense monolithic pillars and hills like huge rounded boulders which dominate the local area. It is also associated with one of the largest and most precipitously built complexes of Eastern Orthodox monasteries in Greece, second in importance only to Mount Athos. It is included on the UNESCO World Heritage List.
Dion, 1 hour away. Best known for the great, ancient Macedonian sanctuary of Zeus (Dion).
Vale of Tempe, ½ hour away. An impressive canyon between the mountains of Olympos and Ossa (Kissavos)
The Platamon Castle, ¾ hour away. A Crusader castle (built between 1204 and 1222), located southeast of Mount Olympus, in a strategic position which controls the exit of the Tempe valley, through which the main road connecting Macedonia with Thessaly and southern Greece passes. The tower (donjon) which overlooks the highway is an imposing medieval fortress
City of Volos, x kms away. One of the largest and most attractive cities in Greece which is also one of the country's most prominent ports with connection by ferry and hydrofoil to the nearby Sporades Islands, which include Skiathos, Skopelos and Alonissos. There are also connections to Limnos, Lesvos, Chios and Skyros.
Pelion, 85 kms away. It is considered to be one of the most beautiful mountains in Greece and a popular tourist attraction throughout the year: hiking trails and stone paths offer access to springs, coves and numerous beaches, sandy or pebbly, set amongst lusciously green slopes.
Mount Olympos, 100 kms away. The highest mountain in Greece and second highest mountain in the Balkans with 52 peaks, deep gorges, and exceptional biodiversity. Olympus was notable in Greek mythology as the home of the Greek gods and is also noted for its several species of flora. It has been a National Park, the first in Greece, since 1938. It is also a World's Biosphere Reserve.
其他注意事项
FOOD COFFEE BARS
All year round in restaurants, cafes and bars of the Agia region, Metaxohori, the surrounding villages and a few at the beach you can find very tasty local delicacies and dishes, fresh fish, seafood, wild boar, free range chickens, vegetables and fruits from the region which has many such products.

FESTIVALS-CELEBRATIONS
There is a cherry festival around the end of May each year as Metaxochori is famous for its cherries
On August 15, a bank holiday, the village celebrates The Virgin Mary.
The apple celebration of Agia takes place between September 1st and 7th. The town of Agia (1km from Metaxochori) is one of the most prominent apple growing regions in Greece. The patron saint of Agia is Saint Anthony.
---
Η διαμονή στο σπίτι του Δημήτρη και της Κικής ήταν μια μεγάλη, ευχάριστη έκπληξη. Το ιστορικό αρχοντικό είναι εντυπωσιακό, ευρύχωρο, με μια καταπράσινη, δροσερή αυλή. Το δωμάτιο και το μεγάλο μας μπάνιο ήταν πεντακάθαρα. Ο Δημήτρης και η Κική είναι φιλόξενοι, φιλικοί και διακριτικοί. Εμπιστευθείτε τους, ό,τι μας πρότειναν για φαγητό, παραλίες, βόλτες, αποδείχθηκε εξαιρετικό. Το χωριό είναι πανέμορφο, έχει μια μεγάλη πλατεία με πλατάνια και η απροσδόκητα ωραία παραλία του Αγιόκαμπου απέχει 15 λεπτά με το αυτοκίνητο. Θα επιστρέψουμε με την πρώτη ευκαιρία!
---
I'm so glad our travels found us in Metaxochori with Dimitris and Kiki. I couldn't imagine a better place in all of the region: only a short drive to the sea and many wonderful beaches, a few doors down from a great little cafe/pizzeria, and a great little restaurant no more than a 5-minute walk away. The home is lovely and the family made us feel welcome from the first. Kiki often served us coffee and marmalade in their kitchen and left fresh cherries outside our room (the area is famous for its cherries). Of all the villages and homes we've stayed in during our month in Greece, Dimitris and Kiki's is the one my partner and I are most excited to return to.
---
Our 3 days long stay with Dimitris and Kiki was surely the best experience troughout our 3 week long trip to Greece and also one of the best ever on my airbnb-history. This wonderful house and the hospitality of Dimitris and Kiki in the very charming Metaxochori village should inspire airbnb guests to remember what this all is meant to be for - living like a local. Kiki and Dimitris are very delightful and caring hosts - their mansion is a real home for them, as well for guests. They have a lot knowledge to share. It's a historically rich house to feel and enjoy with family, friends or on alone - the beautiful isolated garden, as well the city of Agia and the village will both be a romantic and an authentic getaway for visitors who seek shelter from noisy and spoiled tourist attraction points, though many worth to visit places are at easy-to-reach distance. Meteora, Tempe valley, nearby beaches, hills, nearby hidden trassures - monasteries, churches and villages. Your hosts will give you the best advices when asked. Just a few steps away there are 3 tavernas/ eateries/ cafes where one will experience the lively social life of the village, but city of Agia with more bars and restaurants is just about 20 minutes away by walk. We visited during extreme (for Greece) winter weather - it was snowing a lot, so the house, village, the fireplace Dimitris took care of and the hosts themselves truly made us consider to extend our sray! We will surely return during spring, summer or autumn. As Kiki told us, during summer the village is lively of visitors from bigger cities - artists and writers, as many have summer houses and the beach is just 10-15 min drive away. Guests should know that Kiki has better English-speaking experience, but Dimitris understands English well, so most likely Kiki will be answering your messages. We highly recommend to choose Metaxochori for your holidays not only because of the great hospitality Kiki and Dimitris provide, the spatious, clean and well cared-of house, charming town and wonderful summer garden, but also for very good local wine, authentic atmosphere, the good location and the bright personalities of the hosts that make you feel at ease and like home every moment of your stay. There are several private bedrooms for couples or families and a very spatious 2nd floor hall with beds for bigger companies of friends, and the garden will bring people together and make everyone feel like home. Every room and bathroom is unique and decorated with unpretentious, very lovely and cozy furniture. The hosts are both great cooks, but they will also give space to their guests to explore the kitchen on themselves. Thank you so much for a chance to meet You and to stay with You!
---
Είμαι ελεύθερος επαγγελματίας και ζω πολλά χρόνια στο Μεταξοχώρι.
Σπούδασα Νομική στο Πανεπιστήμιο της Θεσσαλονίκης και από μερικά χρόνια διαμονής στην Αθήνα αποφάσισα να δραστηριοποιηθώ επαγγελματικά εδώ.
Μου αρέσουν τα ταξίδια και απολαμβάνω να γνωρίζω ανθρώπους από όλο τον κόσμο. Αγαπημένοι μου ταξιδιωτικοί προορισμοί είναι η Κρήτη , η Ήπειρος και το Ηνωμένο Βασίλειο.Βιβλία πολλά . Ξεχωρίζω το 1984 του Τζόρτζ Όργουελ.
Αγαπώ πολύ τον κινηματογράφο . Αγαπημένες μου ταινίες είναι το Match Point : Woody Allen και Profumo di dona :Dino Rizi .
Ακούω όλα τα είδη μουσικής και προτιμώ την Εthnic και την κλασσική .
Ευχαριστιέμαι να τρώω έθνικ φαγητά . Μου αρέσει η πεζοπορία στο δάσος .
Στο χώρο μου θα βρείτε φιλικότητα , ευγένεια, χαλάρωση και ελευθερία.
Χαίρομαι να εξυπηρετώ και να διευκολύνω τους ανθρώπους ,πάντοτε με διακριτικότητα και κατανόηση .

语言:
English、Ελληνικά