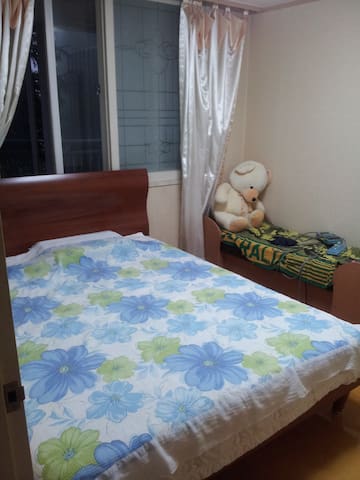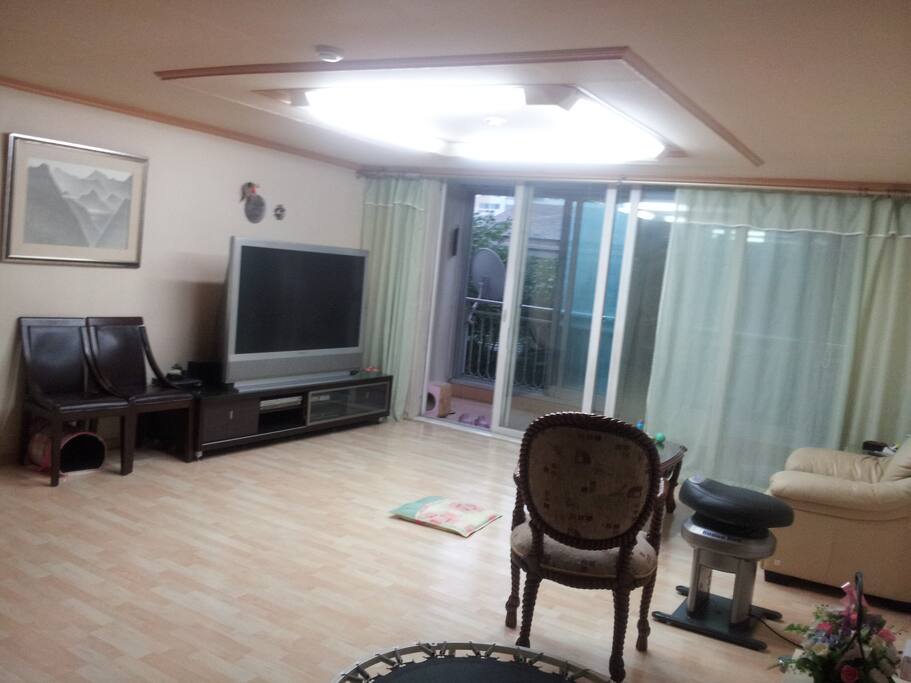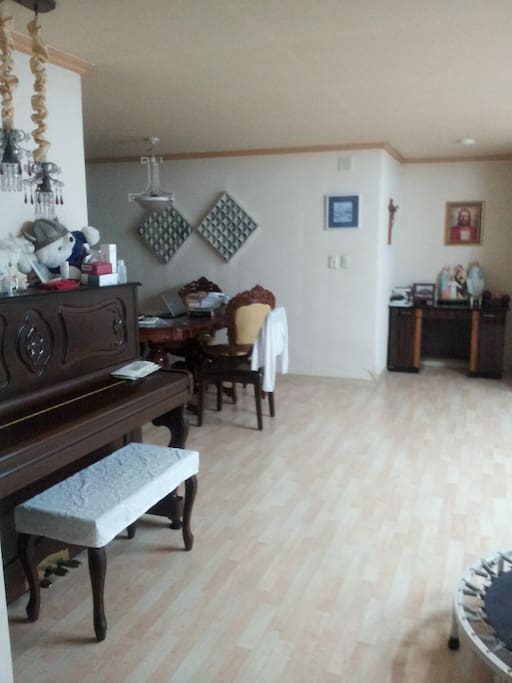 Local Experience: more than a Room!
Less than 15 minutes taxi ride from Chuncheon train station or bus terminal( less than 5 $).
Walking distance to food court , shopping mall, museum, indoor swimming pool and walking trail on the hill
房源
Our home is located on the ground floor of a nice apartment complex in a newly developed section of Chuncheon. It's a quiet, safe, and convenient apartment complex with gardens. It is not far from the train and bus stations. It is located close enough to Seoul for a day trip, but far enough away for a peaceful experience. It is a short walk to hiking trails, supermarket, and shopping centers. We have three bedrooms with double beds, large living room (with a big screen TV and piano) and dining room, two full bathrooms, one office (with high speed wireless internet and internet phone) and a fully equipped kitchen.

Chuncheon is a gorgeous area surrounded by mountains and lakes. There is a small mountain in my neighborhood with an outdoor gym where you can exercise and meet local people of all ages in a natural bush land environment(15 minute's walk). Modern shopping Mall is 5 minute's walk and has everthing you need. Indoor swimming pool, gym, and Museum are 10 minute's (website hidden) will be nice for you to stay in a city like Chuncheon as it is very relaxed and has a lot of things to offer and enjoy.

From Chuncheon it is very easy to travel to the rest of Korea. You can easily make day trips or use Chuncheon as a base and make longer trips to other parts of this great country. Chuncheon is about a 1.5-hr bus/train ride from Seoul which is a capital of Korea. Buses are available every 20 minutes(US$8). Trains run every 15 minutes($2.50)
与房客的互动
I am ready to be a local guide if you want more than accommodation when my schedule allows.
---
Juno graciously welcomed me into his home while I was briefly in Chuncheon to run in a 10k race. He also kindly provided breakfast for me and helped me get to the starting line in time. When I needed to take a taxi, Juno provided addresses and instructions so I wouldn't get lost. Juno was a great host and I was able to enjoy running the race in Chuncheon.
---
Besides of being a guide of nearby lake and local food, which is well-known in this comments page, Juno is also a kind-hearted host who will treat you Chinese tea and wine at his apartment, in which you may experience a normal Korean's living environment. As I was going to attend the Chuncheon marathon game, Juno cooked the breakfast for me, providing my necessary energy to achieve better scores. Thanks a lot to Juno, and I sincerely recommend his house with an unforgettable memory to you. Juno 是一个非常热心好客的房东,在他这里你可以体验普通韩国家庭的居住环境。正如其他评论中提到的那样,Juno还会开车载你到北汉江(衣岩湖)欣赏美景,并带你体验当地美食。在湖边我还很幸运地遇到了Juno的朋友Jeffery,一个在韩国外国语大学任教的纽约客,并一起共进晚餐,晚餐后还到Juno家里品茶饮酒。第二天一早,Juno还为我亲自下厨做早餐,对我当日的马拉松比赛助力很大。非常感谢Juno的盛情款待并强烈推荐!
---
I only stayed overnight but it was totally worth the money. The host talked to the taxi driver for me when I arrived and took me to the train station when I left. He also took me on a tour of chuncheon (which is beautiful) then took me to eat the regions famous chicken dish (Ddak Galbi) All in all super friendly host that showed me around and a cry bed room.
---
Juno provides hosting not only for staying over night but with sightseeing etc. around city. He took me in few very interesting restaurants where tourists don't visit and we also went in to Korean sauna (jjimjilbang). If you want more than just a host, Juno is your man! There is also a beautiful cat but he didn't like me :) What a shame...
---
Staying with Juno in Chuncheon is probably one of my few defining moments I have had in my 4 month stay as an Exchange student in Korea. His philosophy on the BnB culture has shaped his hospitality towards his guests, me including. Willing to share his house, his food, his family and friends.. staying with Juno is without a doubt one of the best experiences I am so thankful to have had. I would recommend everyone to firstly, come to Chuncheon, a very nice and enjoyable place, and secondly, to stay with Juno in Chuncheon. :) Thanks Juno.
---
My name is Juno Kim and I teach sociology in college. I have tried to travel around the world during the vacation period, fringe benefit of the professor. I lived in Austrailia in 1985, UK in 1987, China in 1994 , US in 2000 and Japan in 2009. I love travelling and exploring both the similarities and differences between people of all cultures.

I am ready to be a local guide if you want more than accommodation. I might take you local restaurants and give you a little tour of our nearby lakes or scenic area.
语言:
English、한국어