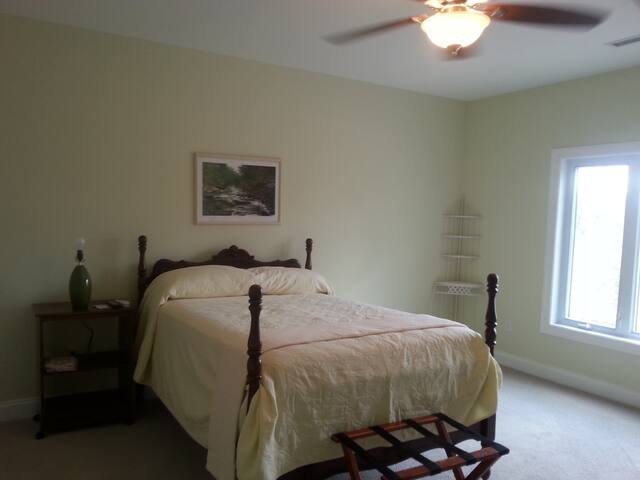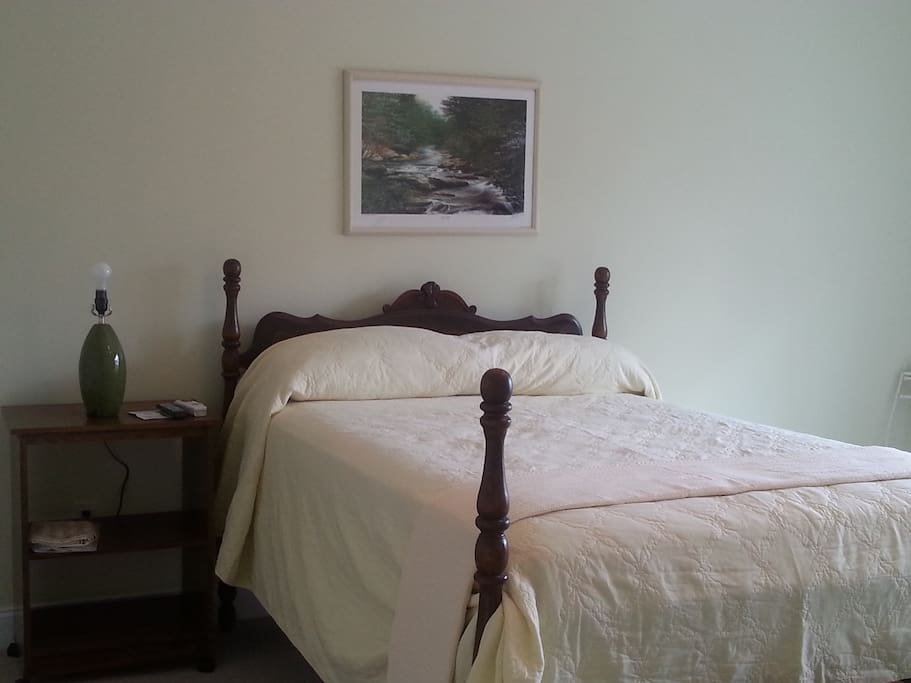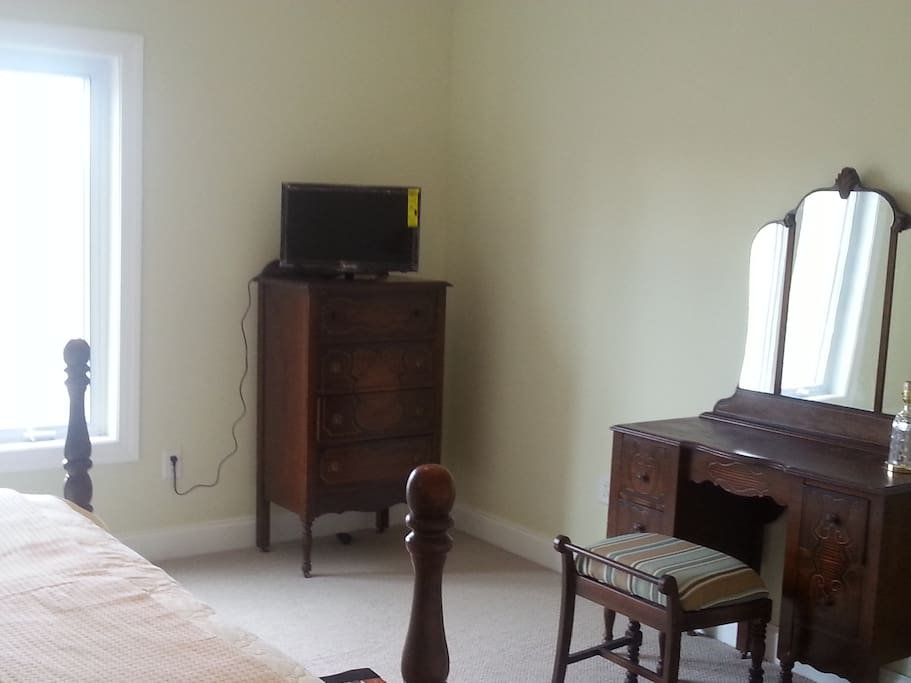 Bright Spacious Bedroom with Views
If you are that traveler that is just looking for a place to lay your head down and sleep, we have just what you're looking for. We have a large beautiful bedroom with it's very own bath.
房源
This large bedroom is located in our basement. There is a exterior door to the basement which means you can choose to enter the basement bedroom there, or you are welcome to come through the house, in the event of bad weather!! There is a large bathroom with a tub and shower and I have towels and washrags there for you. We have a washer and dry space in the utility room, but it isn't hooked up yet. In the event you need to wash you are more than welcome to use the washer and dryer on the main level. We wouldn't hesitate to allow you to use them, at all!! My husband is a collector, so there are a lot of items he has for sale in the basement. If something catches your eye, just ask and I know he'll give you a great price!! Parking for the basement bedroom will be in the main driveway, now as we have added our deck making it impossible to continue to park down there!! We have a Hoosier cabinet in the basement family room that holds all of your dishes in the event you decide to eat in. There is also a microwave for your use as well, and there is also a dorm sized fridge down there that gets cold enough to make ice!! If you need ice, we have an under counter ice maker that spits out a ton of ice everyday!! Just ask for it!! We've included a nice table with chairs in the bedroom as well, in addition to the table and chairs in the family room. Oh, I will have clean linens on the beds when you arrive. In the event I've forgotten something, please just ask!! The sun comes up over the mountain
房客使用权限
Our guests are welcome to use any and all of the basement. There is a private entrance down there but in the event of bad weather, they are welcome to come through the house to the basement stairwell.
与房客的互动
I will be as involved with any of my guests as they want me to be!! If you need ideas for great places to eat, just ask a we have several of our favorites!! As you may or may not know, Yanceyville is a very small town!! We do have a a Food Lion, as well as a few fast food restaurants, McDonalds, Hardees, Subway, and an Italian restaurant "Lil Pizza My Heart". The best subs you could ever want to find are found at the Yanceyville Mart at the junction of 86 south and 62 north junction. The best BBQ around is found there, too, at Briggs, but they are only open till 2PM. There are a few of our favorites are over in Danville, thirteen miles from our house. Just ask and we'll share them with you!!
其他注意事项
We do have two little "Dorkies" and we try really hard to keep them from barking, but you know how dogs can be!!
---
Jan's place is wonderful! It is 1 mile off the main road, and has a beautiful 0.5 mile driveway winding through the woods. The entire downstairs is yours alone, even with a private entrance. Jan was willing to meet us as late as we needed on our arrival, and showed us around like we were long time friends. The kitchenette with coffee, cream and sugar provided was a nice bonus! We had a lovely stay, and it was the perfect place to rest while we were in town for races at VIR. We will be glad to stay again in the future!
Awe, thanks for the glowing response, Jennifer!! I try to treat every one of my guests as family!! You are exactly right, I hadn't even thought of that!! I'm so happy you found our "kitchenette" useful!! You are the first guest we've had since we opened the downstairs up, again. We had a lot of miscellaneous stuff down there from my mom and dads home in Mebane!! We just sold our acreage there in Mebane and had to get stuff we wanted to keep out of both houses over the past several months and it was spread out all over the basement. Oh, you'll be happy to hear our deck is 90% finished, now and it is amazing!! I'm so happy we included a stairway to the basement as it's much safer than trying to navigate that hill after dark!! Thank you so much for pulling the linens and putting them in one of the pillowcases!! That little gesture helps me out so much!! I am so glad you two found the coffee and creamers as I totally forgot to even mention it to y'all!! I apologize for that!! But, anyway, you two are more than welcome to stay with us any time you need a place to stay in the area!! Please promise me you two will come see us again sooner than later!! Again, thank you for choosing to stay in our "Bright Spacious Bedroom With Views" as your home away from home and for the glowing review!!!
---
It is a very scenic, quiet place away from the crowd. Good place to unwind. Jan is a great person.
Good morning Abhishek!! You are absolutely right!! I was remiss in not sending you directions, as it is usually something I do because we are a bit out of the way and I have to apologize for that!! We do have the sign at the end of the driveway that announces, "The Beckwiths" but I guess you may not have remembered our last name. There WAS another metal sign that had our house numbers on it, but unfortunately, someone helped themselves to it and I have to have another one made. We normally have a sign that had the house numbers for our address on it that was put up when the house was under construction four years ago, but, unfortunately, we've had some pretty high winds recently and it was down. I will make it my mission to notate our address at the end of the driveway where it will be easily seen!! During the months that we normally do not have guests, I have DIRECTV turn off the genie in the apartment in an effort to keep the cost of their services down. I did in fact call DIRECTV and asked them to turn the service back on in the upstairs apartment!! Normally, when I go upstairs to get the trash, clean the bathroom, and change the sheets on the bed, I turn the TV on while I'm up there!! Little did I know DIRECTV now requires a code from the main genie to re-establish the programming in the apartment and I do apologize for not getting that done as well. You mentioned you would love to come back and bring your wife!! We'd love to have you both back at any time!! Again, thank you for choosing our "Bright and Spacious Bedroom with Views"!!
---
Jan and her husband were very nice and everything was as expected. Internet and cell service were tough to come by but we didn't come here to be on our devices so it wasn't a big deal. The room was much bigger then we expected which was great and they even provided snacks, coffee, and a mini fridge which was really nice.
Thank you both so much for the wonderful review!! We understand the internet and cell phone reception as the cell service even for us is sketchy unless you stand in the just perfect spot!! We have Verizon and it can be difficult at times!! We are so happy you enjoyed the the big bedroom as well as the view in spite of the rain!! I have heard there are internet "boosters" and I'm sure going to check them out to see if that indeed boosts our internet signal!! I definitely understand your comment about being shy. My grown daughter in her early forties just found her "voice" very recently and I assure you the same type of thing will happen to you as well. Me, on the other hand, in spite of my weight, never met a stranger, just like my dad. You can always find something to talk about like the weather, or an upcoming holiday or whatever. It will come, I assure you!! Anyway, back to Airbnb, we appreciate you wonderful review and would love for you to stay with us again, anytime and hopefully, we'll have the kinks all worked out by then! And, there will be no questions about Ava, as she's welcome, too!! Thanks so much again, for choosing our "Bright Spacious Bedroom With Views"!!!
---
What a pleasant experience! Jan is a wonderful host and she made us feel right at home. She anticipated all our needs, the room was immaculate, bright, very spacious and the bed was comfortable. The home is in a rural area in front of a Lake, very secluded. We had such a pleasant and restful stay, we would definitely stay here again and can highly recommend it.
Good morning, Riccardo and Mia, I truly appreciate the kind words of your review!! We definitely appreciate you and Mia choosing our "Bright, Spacious Bedroom with Views"!! Just so you know, we are going to replace the fan remote as there are too many different codes to figure out! Also, we have since cut all the tall weeds down and the beautiful views are back!! It won't be too awful long before the trees down below will drop their leaves and you'll be able to see the lake very easily!! As a matter of fact, some of the trees have already began to change their leaves! Fall will be here in just a very few weeks, wow, where has the year gone!! We really appreciated the tickets but unfortunately, Matthew has some sort of stomach upset and he was afraid to get too far from a bathroom!! I'm sorry I wasn't here when you two checked out!! I had forgotten about a trip I had scheduled with our senior center!! Just know any time you folks are in the area and need a place to stay, you are more than welcome here!! As a matter of fact, thank you both for choosing our "Bright Spacious Bedroom with Views" as your home away from home!! Be sure to check out our other listing, "Secluded Little "Peace" of Heaven"!! It truly has amazing views year round!! And, we are selectively thinning the trees below, too!! We can't thin too many at a time because of lake rules and it's buffer zones!! Okay, I know you two travel quite a bit so safe travels to you both!!
---
Jan welcomed us to their home and was very accommodating. Even before we arrived she had contacted to let us know of several options for dining in the area and offered to help if we had any questions. When we arrived she showed us to our room and it met exactly with our expectations; it was clean and comfortable just as described. We also had access to a kitchenette downstairs and she had even left some snacks for us. Fair warning to those staying here, AT&T and Sprint do not have coverage in this area, hopefully that will change soon as they continue to grow their networks. Jan was kind enough to allow us access to their WiFi which was really helpful.
---
I am a married grandmother with three grown wonderful children. I am a disabled/retired registered nurse. My husband, (of 33 years), Matthew and I are born again Christians that strive to adhere to the Ten Commandments. Together we built our beautiful dream home on almost nine…
语言:
English