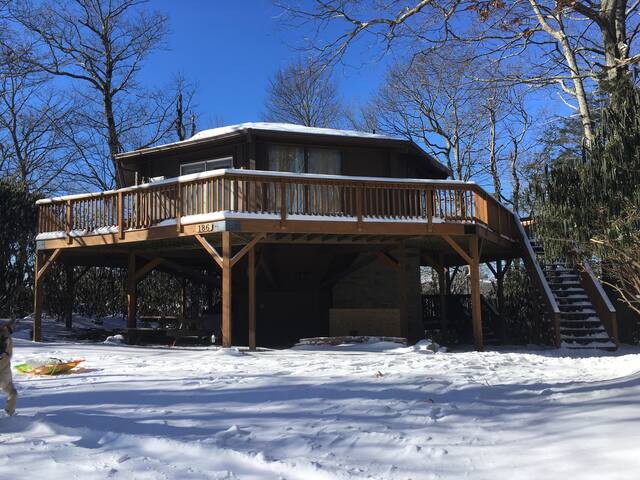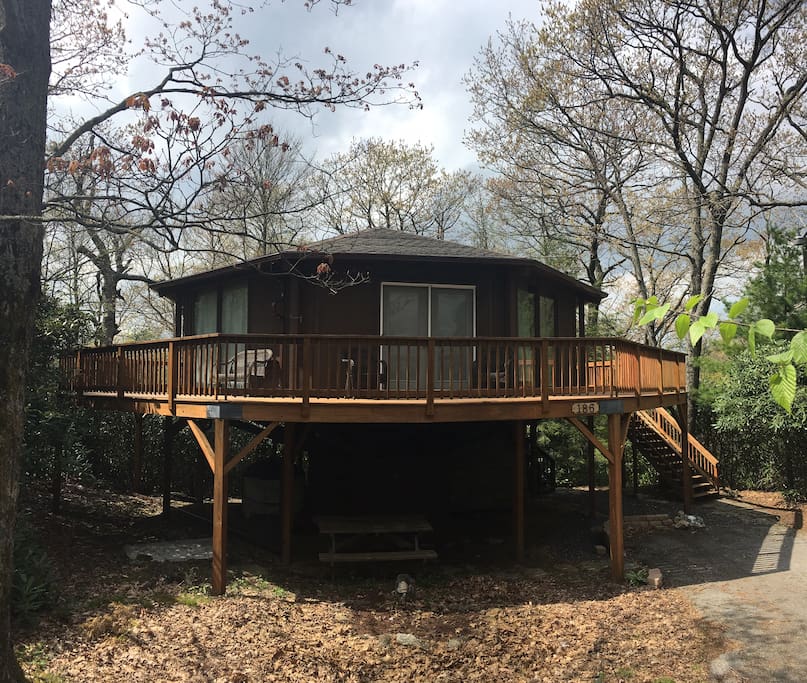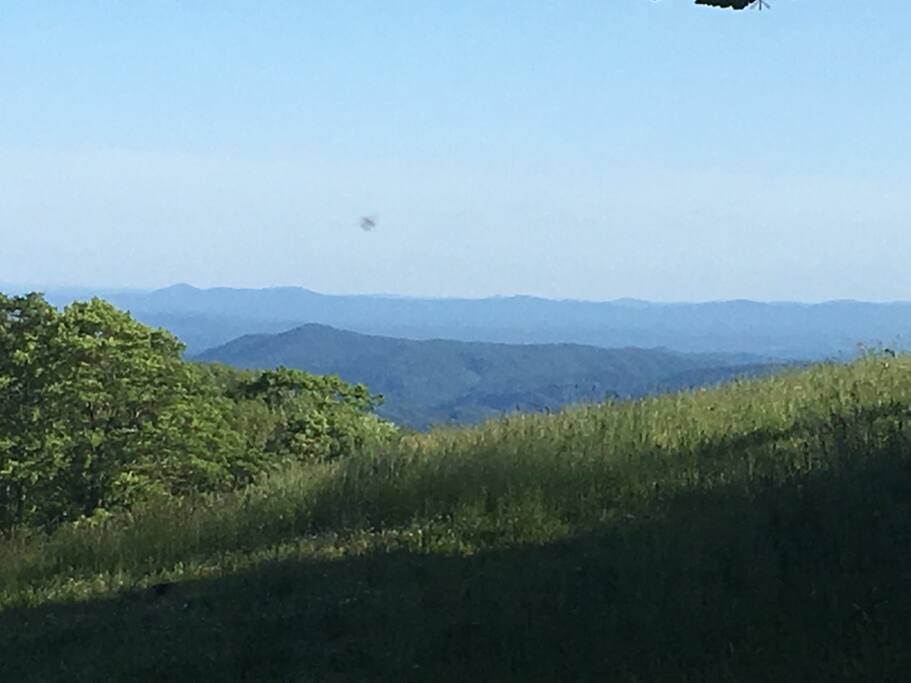 Lovely tree top getaway tucked in the heart of the Blue ridge Mountains, just moments from the Parkway with beautiful long range views and endless miles of hiking trails. This 2 bedroom (3 bed) 2 bath home is located on a private road across from a Christmas tree farm and features a cozypropane fireplace, floor to ceiling windows, wrap around porch & outdoor firepit, community lake & cookout area, microwave, stove, Keurig, dishwasher, washer & dryer, and accepts pets on an individual basis.
房源细节
This is a unique two-story round house enclosed by a wraparound porch and nestled in the treetops! With a Mountain View on one side (winter only) and a Christmas tree farm on the other you will feel like you are in a nostalgic time place from times gone by and yet you are only 10 minutes from either Boone, Blowing Rock or App ski mountain and less than a quarter-mile from the Blue Ridge Parkway!
房客使用权限
Whole House
Wifi
Community Lake
Outdoor fire pit
与房客的互动
As often as they want to!
其他注意事项
The roads are well plowed in the wintertime if it snows however the private road of Sammy circle is not if for some reason the snow is too deep you must either have a four-wheel-drive or you can park about 100 m from the house and walk.
不适合婴幼儿(2岁以内)入住,或不能为婴幼儿提供安全的住宿环境
This is the Rental Agreement that all guests must abide by & by booking on this site you are waiving your signature and agreeing to all rules & regulations. Please print for your trip. Thank you.
North Carolina
Vacation Rental Agreement
THIS IS A VACATION RENTAL AGREEMENT UNDER THE NORTH CAROLINA
VACATION RENTAL ACT. THE RIGHTS AND OBLIGATIONS OF THE PARTIES TO THIS
AGREEMENT ARE DEFINED BY LAW AND INCLUDE UNIQUE PROVISIONS
PERMITTING THE DISBURSEMENT OF RENT PRIOR TO TENANCY AND EXPEDITED
EVICTION OF TENANTS. YOUR SIGNATURE ON THIS AGREEMENT, OR PAYMENT OF
MONEY OR TAKING POSSESSION OF THE PROPERTY AFTER RECEIPT OF THE
AGREEMENT, IS EVIDENCE OF YOUR ACCEPTANCE OF THE AGREEMENT AND
YOUR INTENT TO USE THIS PROPERTY FOR A VACATION RENTAL.
Name of Landlord (owner): Sara Neomi Giron
Name of Agent: Preston Mays
Address of leased property:186 Sammi Circle, Boone NC 28607
Arrival date and departure date: see Online agreement
The guest is responsible for payment as directed by either (SENSITIVE CONTENTS HIDDEN) or AirB&B.
*For Travel Insurance Information, Please call CSA Travel Protection at (PHONE NUMBER HIDDEN)) Agency: As the Owner/Agent, we hereby rent to You and You hereby rent from
Me the Owner, the Premises in accordance with the terms and conditions contained in this
Agreement, including, but not limited to, the time period during which You are entitled to
use the Premises, check-in and check-out times, and payment of the rental amount and
other fees. In the event that any term of this Agreement varies from any term set forth in
the Owners use of web site to advertise (including, but not limited to, the rental amount),
the term specified in this Agreement shall govern absent written confirmation of a
change. The information set forth above is incorporated into this Agreement by
reference.
2) CHECK-IN/CHECK-OUT: You agree that check-in time is no earlier than 3:00 PM and
check-out time is no later than 11 AM. Owner will use reasonable efforts
to have the Premises ready for your occupancy at check-in time, but Owner cannot
guarantee the exact time of occupancy. This agreement does not create a tenancy or
residence. You must depart at the appropriate time. Upon check-out, please leave home
in the same condition as when you arrived, including but not limited to, cleaning of grills,
if used. If departing on a weekend or holiday, two bags of trash may be left bagged in
outside trash can (as long as lid will close on both bags). Any additional trash must be taken with you. There is a dump on 321 just prior to Aho Rd. You must be out of the home by 10:00 AM.
After all windows and doors are secured and Tenant's party has vacated the premises keys must
be left in lock box and box locked and combination reset.
3) PAYMENTS: A credit card is required to make reservations. All payments will be made through (SENSITIVE CONTENTS HIDDEN) or Air B&B website as instructed by the site.
Once the reservations have been made, you must fill out the appropriate portion and sign this agreement and return it within 5 days of confirming your reservation (online) or your reservation will be automatically canceled without notice. If you are making a last minute reservation this agreement MUST be submitted within 72 hrs of your stay.
Your right to receive a refund of the Initial Payment Due will be governed by Paragraph 10 of this Agreement.
4) PAYMENT METHOD: Through (SENSITIVE CONTENTS HIDDEN) and/or AirB&B website only as applicable.
5) FAMILY GROUPS WELCOME: All rental homes are for family groups only. No
sororities, fraternities, or other unmarried groups will be allowed. Should a group
misrepresent themselves, they will be required to vacate the premises immediately,
without refund. Non-family groups may be allowed if Owner grants prior approval. In no
event shall Guest assign or sublet the Rental Property in whole or in part. Violations of
these rules are grounds for expedited eviction with no refund of any kind. Guest hereby
acknowledges and grants specific permission to Agent to enter premises at any time for
inspection purposes should Agent reasonably believe that Guest is causing or has
caused any damage to the Rental Property. Guest further agrees to grant Agent access
to Rental Property for purposes of maintenance and repair. If the property is listed "For
Sale", Guest agrees to grant Agent access by scheduled appointment upon 24 hour
notification.
6) RENTAL CAPACITY: The maximum number of people is 4 adults and two children age 12 and under. Any child over the age of 12 will be considered an adult for the purposes of this agreement. This reflects the septic capacity of the property and beds in the home, and should never be exceeded. If your group exceeds the maximum occupancy as stated, this is treated as a material breach of your lease agreement and
grounds for an expedited eviction proceeding through the Vacation Rental Act of North
Carolina. Additional guests visiting for a limited period of time such as Wedding groups
or Family Reunions must be approved in advance.
7) RATES: Rates and amenities on this website are subject to change without notice. Rates
quoted are for up to four adults. Anyone additional will incur an extra person fee per night. Rates vary according to the season and holiday, thereby assuring vacationers the best rate possible.
8) MINIMUM STAYS: A two-night minimum is required. Holidays and Peak
Seasons may require three nights.
9) HANDLING/PROCESSING FEES: Handling fee is determined by (SENSITIVE CONTENTS HIDDEN) and AirB&B and will be charged at time of booking. Owner/Agent does not receive the service/processing fee.
10) CANCELLATION AND REFUNDS:
There will be no refund for early departures or no-shows.
(SENSITIVE CONTENTS HIDDEN) Cancellation: Bookings cancelled at least 60 days before the start of the stay will receive a 100% refund.
Bookings canceled at least 30 days before the start of the stay will receive a 50% refund.
AirB&B Cancellation: Strict: 50% refund up until 1 week prior to arrival, except fees.
Trip cancellation/interruption insurance is highly recommended to protect potential
financial loss. (SENSITIVE CONTENTS HIDDEN) recommends CSA Travel Protection at (PHONE NUMBER HIDDEN). REFUNDS: Simply stated, once you have entered into a contract to rent a property, you
are binding yourself to that property for that time. There should be no expectation of
compensation or relocation because you are dissatisfied with the property or something
in the property isn't working to your satisfaction. Unlike a hotel, we cannot relocate you
without specific authorization from the homeowner. As previously stated, we will make
every effort to correct any malfunctions or problems encountered, but no refunds should
be expected. Every effort is made to ensure all information in Owners advertising is
accurate and complete. However, Owner cannot be held responsible for typographical
errors, omissions, price changes, and other changes made by owners within the unit.
A) No refunds will be given for delayed arrival ~ No Agent(s) cannot guarantee against mechanical failure of heating, air conditioning, TVs, Satellite Receivers, VCRs, or
other appliances. Please report any inoperative equipment to our agent/Owner immediately. Agent will make every reasonable effort to have repairs done quickly and
efficiently. No refunds or rent reductions will be made due to failure of appliances or equipment.
B) No refunds for early departures.
C) Acts of God - Neither Owner nor Agent shall be liable for events beyond their control which may interfere with Guest(s) occupancy, including but
not limited to Acts of God, acts of governmental agencies, fire, strikes, war, or inclement weather. NO REBATE OR REFUND will be offered in these circumstances.
D) Watauga County is home to a variety of flora and fauna to include mice, termites, roaches, ants and many other type of insect and animal. Owner/Agent maintains the home in the best possible condition as to deter any unwanted houseguests, however, if any critters or animals are discovered inside the home, guest will immediately advise the owner who will take action to correct the problem in a timely manner. In no way will the "observance" of an insect, rodent or animal on or in the property constitute reason for a refund.
12. SECURITY DEPOSIT: By signing this agreement you are agreeing to a security deposit that will be held in a non-interest bearing account that may be withheld from you if there are damages incurred beyond normal wear and tear to the unit. Security Deposit will be returned within 30 days or sooner following the last day of tenancy if there is no damage beyond normal wear and tear.
13. Disputes: This Agreement shall be governed by and interpreted in accordance
with the laws of the State of North Carolina, and shall be treated as though it were
executed in the County of Watauga, State of North Carolina. Any action relating
to this Agreement shall be instituted and prosecuted only in the Watauga County,
North Carolina. You specifically consent to such jurisdiction and to extraterritorial
service of process.
14. Pets - You acknowledge that NO PETS are allowed in or on the premises unless Agent has expressly authorized such use. You must personally request for your pet(s) to stay (DOGS ONLY). The NON-REFUNDABLE pet fee is $35.00 PER pet. This fee does not cover damage, breakage, or extra cleaning caused by the pet. Prior permission must be granted for pets. Specific rules must be followed. IMPORTANT: Unauthorized occupancy of pets will result in a $200 fine, immediate eviction and loss of all rents and security payments.
Please correspond with home owner /agent prior to bringing a pet & by confirming your online reservation you are agreeing to pet policy stated.
15. Expedited Eviction. A material breach of this Agreement by You, which, in the
sole determination of the Owner/Agent, results in damage to the Premises, personal injury
to You or others, a breach of the peace, a nuisance to others, or a violation of
criminal law or local code, shall be grounds for termination of Your tenancy. If the
tenancy created hereunder is for 30 days or less, the expedited eviction
procedures set forth in the Vacation Rental Act will apply. You may be evicted
under such procedures if You: (i) hold over in possession after Your tenancy has
expired; (ii) commit a material breach of any provision of this Agreement that
according to its terms would result in the termination of Your tenancy; (iii) fail to pay
rent as required by this Agreement, or (iv) have obtained possession of the
Premises by fraud or misrepresentation.
17. Other Addenda. Any addenda to this Agreement are described in the following
and attached Rules and Regulations. Tenant agrees that Tenant has received and
read the Rules and Regulations. Tenant agrees that Tenant has received and read
the Rules and Regulations, and that they shall constitute an integral part of this
Agreement.
Vacation Rental Agreement
Rules and Regulations
1.Two sets of keys will be provided at check-in. Keys not returned at check-out will
result in a service charge of $25/set being deducted from tenant's security deposit.
2. Linens and towels are provided with our rental units at no additional charge. You
will find your unit clean and all beds made upon your arrival. Maid service is NOT
provided during your stay.
3. Three rolls of toilet paper per bathroom are provided as well as a limited amount of dishwashing liquid and handsoap. Additional products are the responsibility of
the tenant.
4. All units are equipped with a color TV and VCR. No replacement or repair
guaranteed and no refunds will be given for TV or VCR malfunctions.
5. NO CAMPFIRES
Accommodation Rules
• NO SMOKING ON PREMISES! You may smoke on the paved portion of the driveway or off premises, if there is evidence of smoking inside additional charges will apply.
• NO PETS LEFT INSIDE UNCRATED OR ON BALCONY UNATTENDED Your pet must go in the OUTDOOR kennel OR you must bring your own crate for him/her if you leave your pet unattended. Any violations may incur additional charges.
• NO ILLEGAL DRUGS Any evidence of illegal drugs will permanently bar you from renting.
• NO HOUSE PARTIES Unit occupancy is for the number of people agreed on in your rental agreement and any loud or unruly parties will not be tolerated.
• PROPANE FIREPLACE Fireplace will operate from October 1 – mid April. Both knobs should be at 9 oclock. DO NOT ADJUST THE KNOBS. If you desire to change the setting simply use handheld thermostat. When leaving for the day turn it to 60 degrees or lower. Any issues (pilot off). Flames won't turn on, instructions are on wall & on metal plate behind fireplace and/or call (PHONE NUMBER HIDDEN).
• DEADBOLT DOORS Wind gusts here get up to 60 mph. Doors MUST be deadbolted at night and when leaving the house. Key works for both the upstairs lock and the upstairs deadbolt. You can use key to deadbolt upstairs door when leaving.
• WEATHER / RUN WATER 20 deg. or below. Run water (slow drip) in all three faucets at night.
• SPACE HEATERS Use as needed. DO NOT LEAVE ON WHEN LEAVING HOME!!
• WASHER / DRYER Use as desired. DO NOT LEAVE DRYER ON WHEN LEAVING HOME (#2 cause of house fires).
CHECKING OUT ON YOUR LAST DAY
• TURN OFF ALL SPACE HEATERS/AC UNITS
• TURN FIREPLACE DOWN TO 45 DEGREES (LOWEST SETTING)
• TURN OFF ALL LIGHTS
• WASH ALL DISHES &/or LEAVE THEM IN WASH CYCLE IN DISHWASHER
• LOCK & DEADBOLT ALL DOOR & PUT KEYS IN LOCKBOX Failure to deadbolt doors /leave keys may incur additional charges.
• TAKE ALL BAGGED TRASH & PUT IN BIN ON BOTTOM PORCH (2 BAGS MAX)
You are responsible for taking any trash that does not fit in the bin!
Failure to turn off electrical units / fireplace in the home as described above may incur additional charges.
======================================================================
For all purposes hereunder by booking this property through (SENSITIVE CONTENTS HIDDEN) and AirBNB you the tenant have agreed to these terms, rules and regulations and no signature is needed accept the booking process.
THE PARTIES ACKNOWLEDGE THAT THEY HAVE READ THIS AGREEMENT,
UNDERSTAND IT, AND AGREE TO BE BOUND BY ITS TERMS AND CONDITIONS.