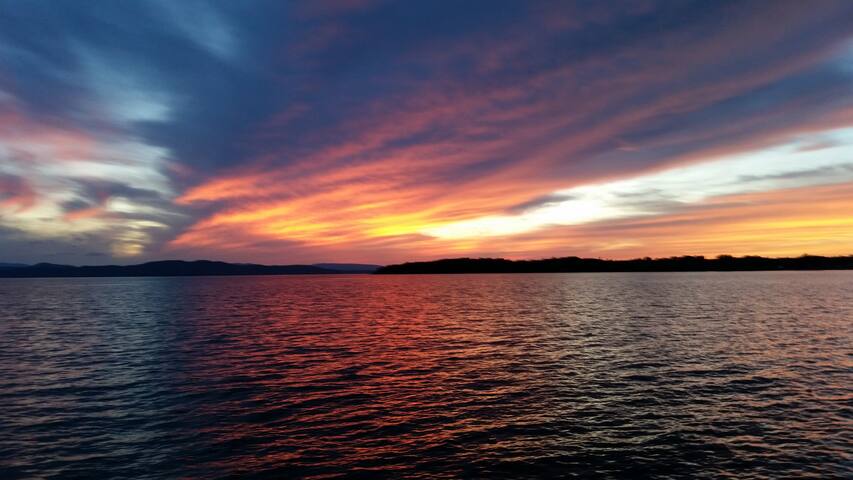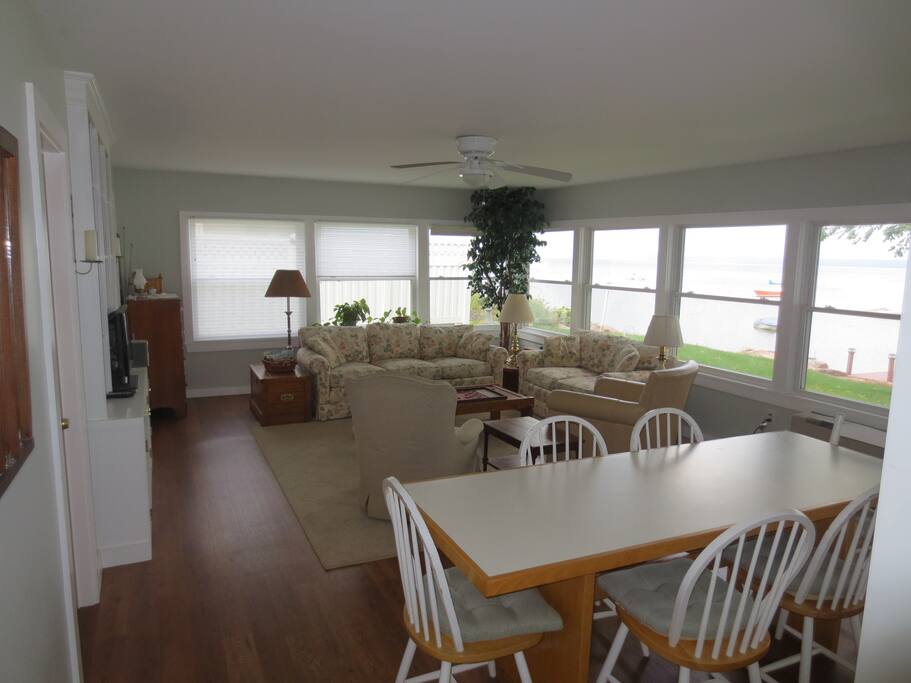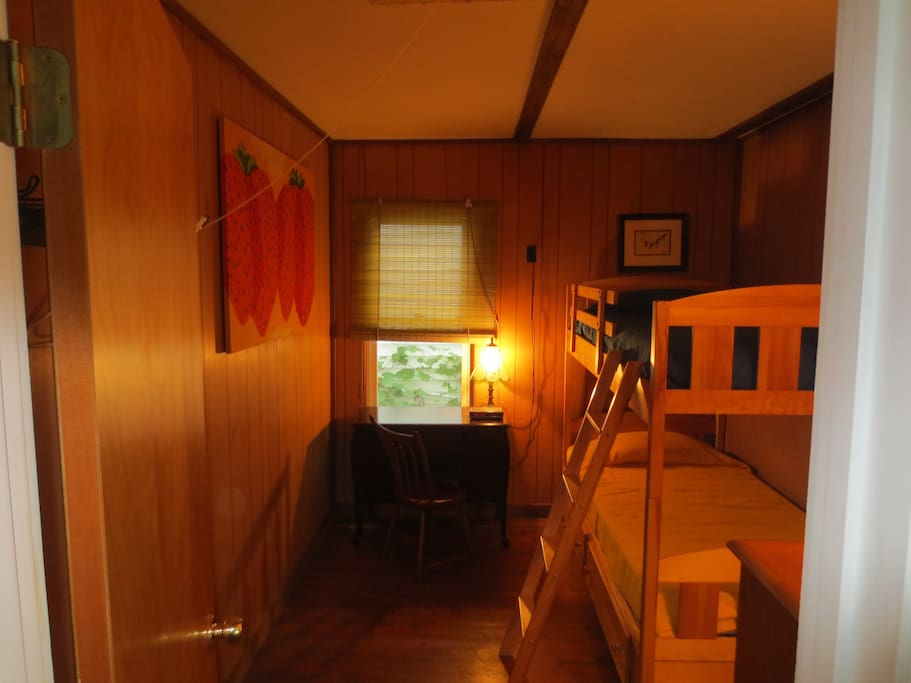 Watch the sun come up over the Green Mountains as you have coffee on the lakeside lawn of our three bedroom cottage on Whitecap Road, Mills Point, in Colchester. Right off the Causeway/Burlington bike path and 10 minutes from Burlington, this is the perfect location for getting away without having to forego access to "stuff". The lake side has a flat lawn, 7 foot seawall, and a private, rocky beach. Cable TV, DVD, WiFi and washer/dryer. No smoking. Some pets negotiable - beforehand only.
房源
This is a simple three bedroom cottage with the open living/dining/kitchen area on the lakeside to enjoy the views during the day. As far as equipment, we have a heater, ample fans, an over/under washer/dryer, city water but private septic (no "flushable" wipes or hygiene products, please), flat screen TV, DVD, cable, WiFi and a pile of great board and card games. Add to that the bike path, Airport Park, the Sunset Drive-In and downtown Burlington, we guarantee that you can find something to do or a place to relax.
房客使用权限
The attic, outside closet and shed are for use by the owners. The blue kayak and red rowboat are available for use by guests at their own risk. The fire "pit" can be used only after reviewing safe operation with Andy.
与房客的互动
Andy is always available for questions or problems. (PHONE NUMBER HIDDEN) (home and messages) and (PHONE NUMBER HIDDEN) (cell).
其他注意事项
The camp was purchased to give the owners access to the lake, usually so they can boat to Sunset Island. They will occasionally pass through the property but will not enter the cottage.
---
---
Dispose of items properly:
• Vegetable, coffee, eggshells, and fruit wastes in composter
• Returnable glass and plastic bottles and cans in green barrel
• Recycling in blue tote
• Trash in green tote
• Food scraps (no bones or thick rinds) in disposal
• No hygiene products or "flushable" wipes in toilet (private septic)
• Uncoated paper and cardboard may be used as fire starting material
Below are the land owners' rules for us that we have to pass on to you. Break these very simple and reasonable rules and we will respond up to and including immediate eviction, regardless of any AirBNB allowances.
HVL RULES AND REGULATIONS FOR MILLS POINT
Effective date July 1, 2015
Rights Of Way/Common Area Rules and Regulations:
1. All lessees are allowed to use all ROW/Common Areas to: view the lake (sitting or standing), provide access to the lake and gain access to their mooring.
2. All ROW/Common Areas must be kept open, clean and accessible.
3. Some ROW/Common Areas have private docks at the waterfront. Since they are private property of the lessee, they must not be used without the permission of the owner.
4. HVL is not responsible for any personal property of lessees in a ROW/Common Area.
5. ROW/Common Areas are not an extension of the adjacent lessee's lot; therefore, encroachment is not permitted.
6. Each lessee is entitled to the written rights contained in their lease, no more, no less; length of occupancy does not provide additional rights beyond that stated in the lease.
7. It is essential that all lessees and their guests consider their neighbors when using the ROW/Common Areas, Boat Access, lakefront land and lake. Normal nuisance and noise laws apply.
8. All ROW/Common Area issues must be addressed directly to Appletree Bay Property Management (not Mills Point Association) for resolution. Contact: Dena (ABPM) at (PHONE NUMBER HIDDEN) or email (EMAIL HIDDEN)
Boat Access:
9. The Boat Access is for Mills Point homeowners only. Guests of a Mills Point lessee may use the access only when accompanied by a Mills Point lessee – blanket use authorizations for guests are not permitted.
10. The Boat Access will be defined by shrubs and a gate. The gate will be kept unlocked as long as the access is not abused. If abuse occurs the gate will be locked and keys issued.
11. There is no parking at the Boat Access. Vehicles must be removed from the Boat Access promptly after launching. Vehicles may not park along the road leading to Mills Point.
Pets/Animals:
12. All dogs must be under the control of their owners at all times or on a leash. All town ordinances regarding dogs and/or animals must be obeyed. Animal Control – (PHONE NUMBER HIDDEN)
13. All owners of domestic pets will comply with the State of Vermont Statutes relative to rabies shots and licensing. All dogs must be licensed either with the Town of Colchester or your home town and renewed annually. Dogs and cats must be vaccinated and licensed as required by the State of Vermont. Lessee shall supply Lessor with written documentation as to licensing and rabies shots if requested in writing by Lessor.
Lessee acknowledges and accepts complete responsibility for the proper care of their animal.
Lessee certifies that the animal is disease free, pest-free and that the dog or cat is not vicious, and has not bitten, attacked, harmed or menaced anyone or any other animal in the past.
Lessee must control the noise of the animal so that such noise does not constitute a nuisance to other residents or interrupt their peaceful enjoyment of their premises. This includes, but is not limited to smells, loud or continuous barking, howling, whining, biting, scratching, or other such behaviors.
Lessee shall be responsible for the removal of waste from the leased land and common areas by placing it in a sealed plastic bag and disposing of it properly in the trash.
14. Pets not kept in accordance with Mills Point Rules and Regulations and/or State statues must be promptly and permanently removed. Failure of Lessee to remove a nuisance, vicious or neglected animal is a default of the terms of the Lease.
15. The following breeds or partial breeds of these dogs will not be allowed without prior written approval by Lessor: American Staffordshire Terrier, American Pit Bull Terrier, Rottweiler, Doberman Pinscher, Chow Chow or Wolf Hybrids and any other breed prohibited by Lessor's insurance carrier.
16. No livestock of any type is permitted at Mills Point (including but not limited to cows, pigs, sheep, chickens and ducks, etc.)

Other Rules and Regulations:
17. Parking: Absolutely No Parking on or alongside roadways AT ANY TIME. Emergency vehicles MUST have access.
18. Speeding: The speed limit on Millis Point is 15 MPH …these limits must be adhered to. Speeders can be warned and you can report repeat car offender's license numbers to the Colchester Police Department.
19. Boating: The speed limit at the boat access is 5 MPH. All residents shall abide by the Vermont boat laws. (see Handbook of Vermont Boating Laws and Responsibilities)
20. Motorized Vehicles: For the safety of all residents unlicensed motorized vehicles (including go-carts, mini-bikes, 4-wheelers, etc.) are not permitted on Mills Point roads.
21. Recreational Vehicles: RV's, campers, pop-up campers and/or any other form of recreational vehicle (registered or unregistered) are not allowed to be used as a residential dwelling at Mills Point.
22. Noise and Loud Music: Normal nuisance and noise laws apply. Please be considerate of your neighbor.
23. Fires: Please be considerate of your neighbors. Observe wind speed and direction. Please make sure all fires are out before you leave them.
24. Dumping of Refuse along roadway or other's property is strictly prohibited.
25. Fireworks: Must be restricted to July 4th weekend.
26. Leasing: It is the responsibility of a Mills Point Lessee to provide any and all renters with the above Rules and Regulations.
---
This home is in a wonderful location with nice views of the bay, and plenty of chairs to sit in while enjoying that view. It's super-close to the causeway, so there is always a great place for a walk or jog. It was very quiet as well. If you are searching for a peaceful place for a restful few days, this is a good choice. It's not fancy, but it's not advertised to be fancy. We enjoyed our time there. The kitchen was well stocked with the basics you need for cooking, which is a considerate touch for those of us who are staying only for a few days (no need to purchase salt, pepper, condiments, etc.). Make sure you get up in time to enjoy the sunrise... either from the front lawn or from the causeway. It's worth it!
---
Beautiful house on lake Champlain! Andy was very communicative and helpful, and the place was clean and had all the amenities we needed. It's in a great location to enjoy the lake and also only a 20 min drive to Burlington. Would highly recommend!
---
This was our first experience staying at an Airbnb and it won't be our last. Staying in a home is so much better than a hotel. Andrew's place was clean and the living room/dining room was spacious. The beds were very comfortable and the lake view from the living room was beautiful. Make sure you get up early and see the gorgeous sunset.
---
Andrews house is in a great location and has a beautiful veiw. Unfortunately, my fellow guests and I became uncomfortable when he began showing up multiple times during our stay in a most disgruntled manor. We would have enjoyed our stay much more if it had not been for the way in which he accused us of mislead violations. Nevertheless, my guests and I did our best to abide to his requests, although this did not seem to subdue his temper. Knowing that this was his first experience with Airbnb , I might recommend any future guests to be wary of his temperament and expectations of you as a guest.
---
A very lovely cottage on the lakeshore with amazing views of the lake. Quite a spacious cottage, rooms for 6. Andy was very helpful in our communications prior to arriving and was quite understanding when we requested to add an additional person to the itinerary, and contrary to an earlier reviewer's comments, did not appear to intrude at all during our stay.
---