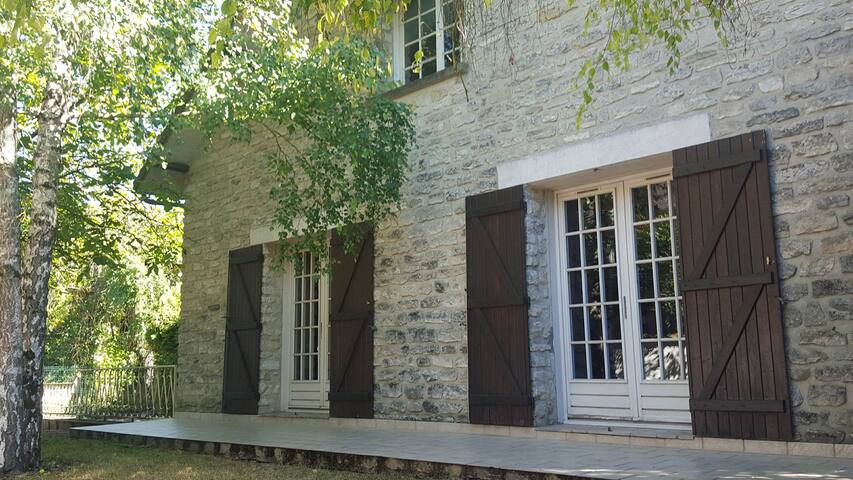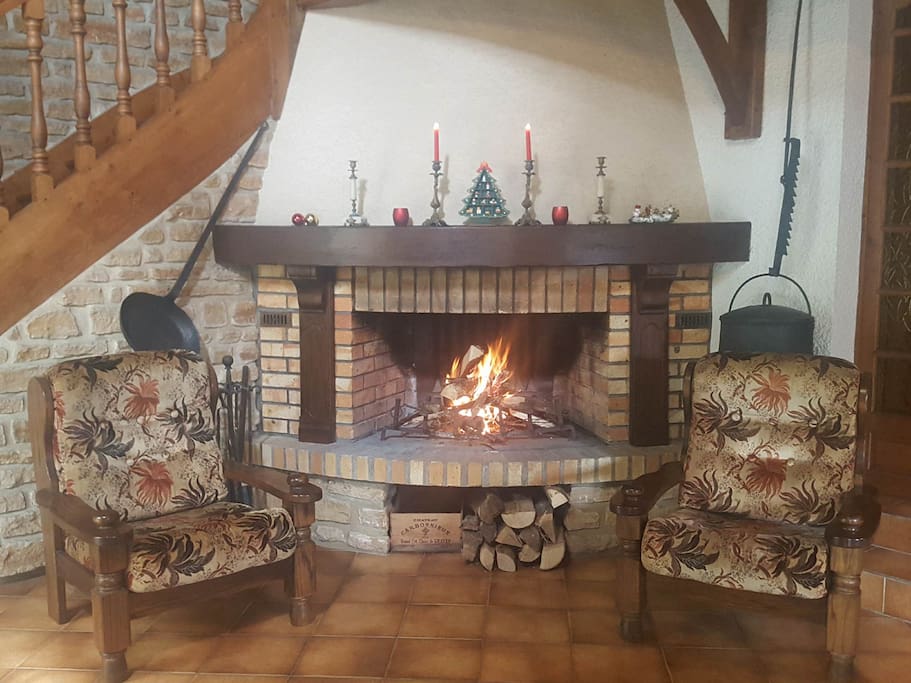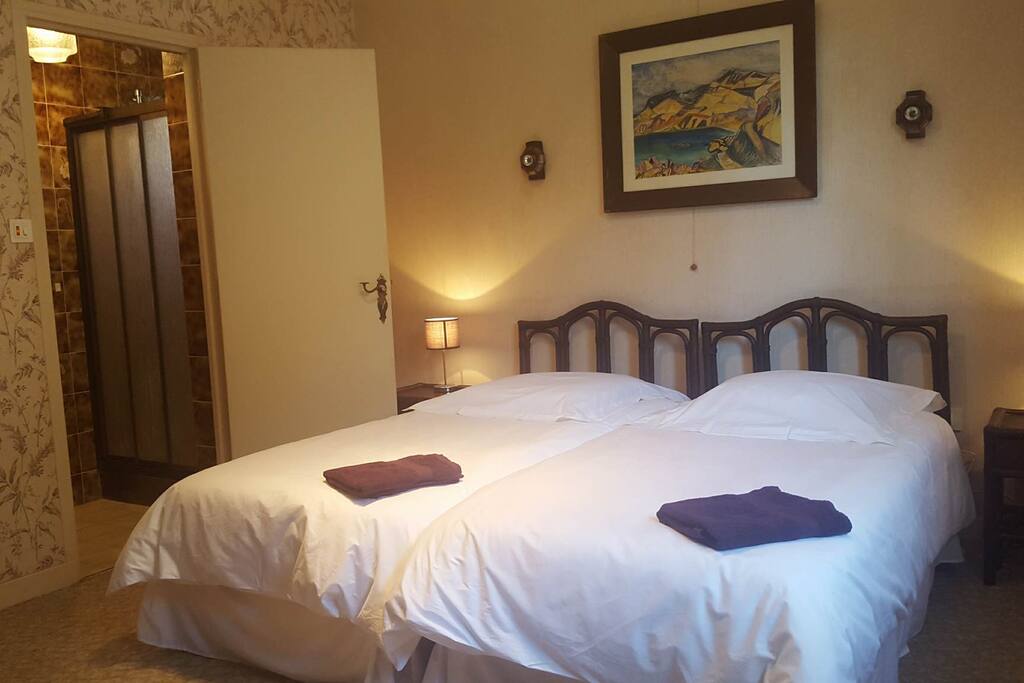 Lesmont country house -maison campagne - Champagne
Lesmont country house -maison campagne - Champagne
If you are looking to experience a French village life, this is the place for you. Our beautiful house is located in the middle of a small historic village in the southern area of the Champagne region and is a perfect place to base yourselves whilst exploring this culturally rich region of France. Walk, cycle or sail in the stunning Orient Forest and lake district, sip champagne at the many champagne houses, bargain shop at factory outlets of Troyes or take the kids to Nigloland amusement park.
---
Attention système électrique défaillant lors de notre visite mi juillet!! Electrisation pendant plusieurs secondes d'une personne sous la douche. pas de disjoncteur. Réparation doivent être faite par la propriétaire rapidement. électroménagers très anciens (frigo ferme mal, grille pain dangereux, four très vieux) pas de micro onde. Gérante de la maison très agréable, disponible et accueillante, propriétaire voyageant beaucoup injoignable au moment des faits. Maison très bien située (rivière situé à 5min à pied de la maison et lacs à 20min en voiture) calme, cadre très jolie, très propre, beaucoup d'espace. Petit jardin mais suffisant grand pour manger dehors et beaucoup d'espace au alentour de la maison.
Bonjour Sophie, merci de votre critique et nous prenons vos commentaires très au sérieux. Nous sommes désolés, vous avez eu un incident à la maison et nous avons remboursé votre séjour et avons fermé la maison jusqu'à ce que nous ayons réglé la situation. Nous avons demandé immediatement à notre électricien de vérifier le système électrique de la maison entière et il a confirmé que les appareils électriques sont bien connectés, le disjoncteur sont la et il marche et sont sécurisés. Par conséquent, il a été surpris par ce qui s'est passé. Dans tous les cas, nous avons effectué des mises à jour sur les appareils électriques, donc ce type d'incident ne se reproduira plus. C'est une maison assez ancienne, mais en très bon état et nous avons amélioré la plupart des appareils, y compris le réfrigérateur cette année et nous continuons à mettre à niveau tous les appareils. Ceux qui restent sont encore en état de fonctionnement et sont constamment examinés par notre responsable. Sur la base de vos commentaires sur notre grille-pain, nous mettons à niveau ceci, alors merci. Notre gestionnaire, Audrey, est toujours là pour nos invités pendant leur séjour pour accueillir tout le monde et gérer tout problème qui pourrait survenir, nous ne sommes donc pas sûrs de savoir pourquoi vous avez eu un problème avec nous. Nous souhaitons que nous puissions être là plus souvent mais malheureusement nous ne le pouvons pas. C'est pourquoi Audrey est là et elle fait un travail merveilleux, comme vous a dit. Nous apprécions vraiment les commentaires de nos clients.
---
I love traveling, cooking and enjoying good food and wine with friends and love meeting interesting people! Everyone has a story and I love hearing all about them - every person I have met along my journey are amazing in their own ways - how brilliant!

I enjoy a good hearty discussion about anything - even the taboo dinner table subjects of politics and religion.

I am an avid music listener and a devoted dog lover and can't think of life without both of them. My dog currently is a beautiful black Labrador Kelpie cross called Oscar, and I think he is the most beautiful dog ever- biased view of course!

I believe you should never stop learning and trying new things, which I do often.

I love my friends and family and think I am a loyal friend and good sister and daughter.

I am passionate about tourism and travel, having traveled all my life - thanks predominately to my parents who started us off on this love affair with travel, when we were very young.

The best experiences I have ever had when traveling is meeting the locals and learning about them and their history. AirBNB has helped bring these experiences to all travelers and today I mainly stay at AirBNB places when I travel.

So when we decided to put our family home in France up as an AirBNB home, we wanted to make sure our guests are well cared for and can meet and engage with our family. Although I am not on site much, my wonderful cousins Audrey and Benoit are our on site managers in France, so that we can still give our guests a family welcome. France and especially the Champagne is a very special place for us as our family has been in the village of Lesmont for generations so we are delighted to be able to share it with others who come. And visitors really should not miss out on the great food, stunning countryside and the best champagne in the world!!!

To finish off my monologue, I close with my favourite life motto quotes of all time comes from the inspirational Nelson Mandela: Our deepest fear is not that we are inadequate, our deepest fear is that we are all powerful beyond measure. We ask ourselves who am I to be brilliant, gorgeous, talented, fabulous? Actually who are we not to be? Your playing small does not serve the world. We are all meant to shine as children do. As we are liberated from our own fear, our presence automatically liberates others.


语言:
English、Français